Tuesday morning up early and out exploring in the car. First, we went to West End and, after following a sand road for a while, came across Trattoria Tramonto where we enjoyed the views of Shoal Bay while sipping a cappuccino and deciding where to go next!
On the way we found a back track which took us along the cliffs overlooking Road Bay so got a couple of shots of the anchorage and Morphie swinging on her hook…. We also saw the salt pond behind which is just one of many that abound on this island – although I haven't seen any evidence of the salt actually being processed commercially.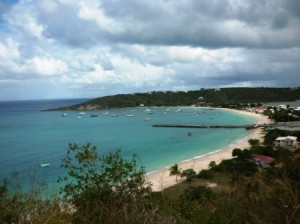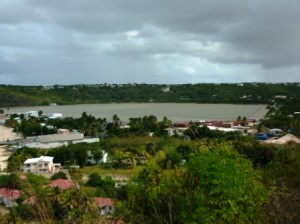 Moving on we decided to visit the bays along the north of the island – and came across Blanchards which has become famous by the book called "Trip to the beach – living on island time in the Caribbean" This is one of the best fine dining restaurants in the Caribbean apparently – but we gave it a miss – as our preference today is for a nice lunch and eat back on board later…. Food and drinks here in Anguilla are pretty expensive because of import taxes and there really isn't a happy hour culture so not many special offers around!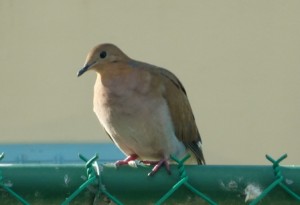 Having now covered the whole island pretty much, including visiting The Valley – the capital – I have to say that Anguilla is one of the friendliest places we've ever visited. Only one rastaman hissing through his teeth at us when we stopped to take some photographs – and guard dogs running out of their properties to chase the car down the tracks….with mad staring eyes and looking like they fancy eating us pretty soon! Not sure what you would do if you broke down out here…get eaten or starve to death waiting for rescue in the middle of the scrub???!!!
Anyway… back to impressions of the island… Anguilla is hard to describe as it feels like a large rock with a flat top – so all the roads are flat until you come to go up and down to the bays and numerous spectacular beaches. The locals live in relatively simple housing with the odd interspersed fancy villa. There appears to have been a bit of a building boom as loads of properties and land is advertised for sale and unfinished properties are everywhere – so looks like the economic downturn was felt here. Most of the resorts / villas / condos are perched on cliffs or nestled down on the beaches themselves. From the main road you wouldn't know they existed apart from the signs pointing you in that direction. Otherwise there is little agriculture but lots of heritage sites with old white wooden boarded properties and original churches dating back a couple of centuries. What I really like is the road names – all named after influential people – so have driven down Albert Hughes Drive and Rupert Carty Drive in the last couple of days.
We decided that we really couldn't come to Anguilla and not explore any of the fancy resorts and to see if we can get some beach time surrounded by luxury. First stop was Cap Julaca – very pleased to see us and welcomed us into the hotel. The beach was stunningly beautiful – and empty! Nobody about at all… but we were not welcome to use their beach furniture even for a fee…. so we moved on relatively quickly.
Next stop was the Viceroy. Wow this place is something else. Chrome and glass edges with infinity pools and a vast collection of stunning wooden art strategically placed around the place. Were made very welcome and had a special cocktail in the Sunset Lounge while we were there. Really enjoyed this place.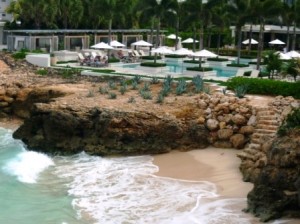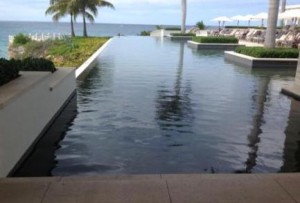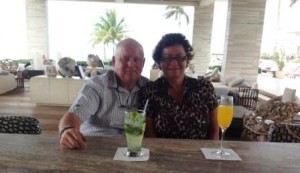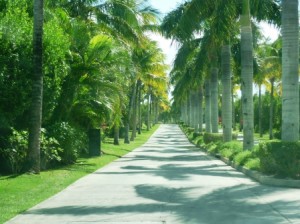 Moved on then to find somewhere for a late lunch – so went to D'Avida in Crocus Bay, had a nice lunch and were able to use their lovely beach chairs for a few hours while we chatted, snoozed and bobbed.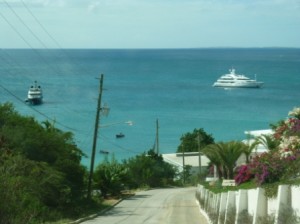 Oh well…time to go back… got back on board, quickly got cleaned up, and headed off to The Pumphouse for a couple of drinks. By the time we got back to Morphie – only about 8.00 pm – we didn't fancy dinner so just listened to the wind and waves lapping doing some star gazing before turning in for an early night.
On Wednesday we had organised a trip over to Sandy Island – this is a desert island in the middle of the sea with just a beach bar / restaurant on it. While waiting for the ferry to come and pick us up we got talking to a local sitting on the end of the dock. His name is Bernard St Joseph Richardson aka Ragamuffin Jimmy and his dog Black Jimmy. What a hoot – looks like a ragbag but is actually a property owner and a highly educated architect. Just shows the truth that you shouldn't judge a book by its cover!
The ferry powerboat arrived, and we are the only ones boarding – so off we go at speed into very rough swelly seas and eventually got through the reef and waded ashore. This was great fun! Sandy Island is a little reef-surrounded oasis – unfortunately the swells meant that the snorkelling gear was redundant – so we just lazed around, bobbed (with beer as we weren't responsible for the boat today), and had a fantastic crayfish lunch.  Wandering around the island we came across the remains of the bow section of a large yacht – and the staff told us that the guy had anchored the other side of the reef and came ashore and when the wind changed direction he dragged his anchor and the boat was quickly trashed on the reef.   Ouch!!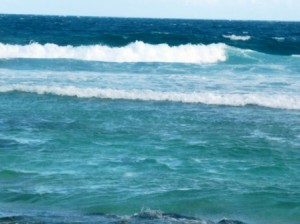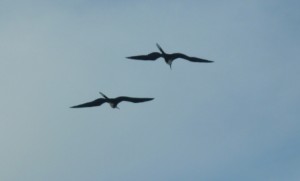 During the day we got talking to Jeff and Tania from Dallas – the only Texans we know who don't ride, don't have horses or even possess a pair of cowboy boots! They also don't work in oil… Seriously they were great fun – and on their honeymoon too, so congratulations again – and we spent the rest of the day with them, including bobbing and copious amounts of beer! They were staying at the Viceroy so was nice that we had visited there…very envious of them having a bath! I miss that option….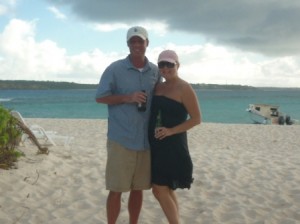 Back to Road Bay and we said our goodbyes…and Richard didn't want to go back on board just yet. It was only 5pm…. so went to Elvis' beach bar and had a few sundowners. Going back to the boat at 7 o'clock the heavens opened – we got absolutely soaked through. Didn't stay up for long and just had an early night.
Today we are staying on board Morphie all day – boat jobs to be done, including some hand washing, and doing the pilotage for our next adventure. Tomorrow we are heading down island to visit St Barts so this is a non-alcohol day. We have to go ashore to check out with customs and immigration – but that's it. So a bit of swimming off the back later maybe if we get all the jobs done….and general lazing around. So tomorrow we leave but a little bit of my heart will stay in Anguilla as this is a really special place.
Bye for now
Jan