We started sailing Lasers on holiday – and having seriously got the bug – we wanted to have access to unlimited sailing on future trips.    Sunsail beach clubs met the bill… so we headed off to Turkey not quite sure what to expect but it was fantastic and we happily played on little boats the whole week, chasing each other around the bay in the afternoons when the wind got up.  Although Jan's fascination with boat speed meant she spent more time in the (freezing) water than she had planned and a lock-in with the staff in their bar when other guests had gone into town was a bit unexpected but huge fun!   Next trip was to Greece and we played around with as many boats as we could get our hands on – from doubling up in Wayfarers to performance boats with outriggers and spinnakers.  Richard quickly became a bit of an expert on a Dart 18 and enjoyed speeding around on one hull.
We were also sailing in the UK and after crewing on a X412 yacht for a few weekends in the Solent around Southampton water and the Isle of Wight we knew that our future lay in yachts rather than dinghies….
So back to Greece and this time we did a yacht training course to gain our first RYA certificates.  This was a great trip with the potential for some confusion as the instructor's name was also Jan, so our Jan got christened 'Oi' and answered to that all week which amused everyone.  But we obviously made an impression on the instructor as he recognised us in English Harbour in Antigua a few years later.
At the same time we were enjoying racing on the South Coast – usually in the cold and rain under grey skies.  When the sun does come out often the winds die so we have been known to go backwards on occasion when racing near the Isle of Wight when the current takes over.  We were even crazy enough to do the winter series on the South Coast and the Frostbite series up on the East Coast (where the seals are the only ones out on the river to keep you company) with the last race on Christmas Eve.
Eventually we were lucky enough to be selected to crew for the Fastnet – which is The Royal Ocean Racing Club's blue riband event, a biennial 608-nautical mile race to the Fastnet rock.   This involved some further compulsory training and a range of qualifying races in, around and across the English Channel.  One particular race across to Cherbourg was an eye-opener when a man fell overboard from a fellow racer's boat and the cruise ship Aurora provided lee for the rescue – at midnight in a Force 10.   Luckily the guy survived and although there were ripped sails and dismastings everywhere, we had no boat damage nor casualties that night although waves as high as the spreaders sprinkled with phosphorescence was an awesome sight.  It certainly made us realise what we had signed up for.   But the actual race itself was pretty tame with light winds on the way out to the rock although it picked up nicely for the run back home.   The highlight of the trip was spotting a submarine doing exercises during one of the night watches in the Celtic sea.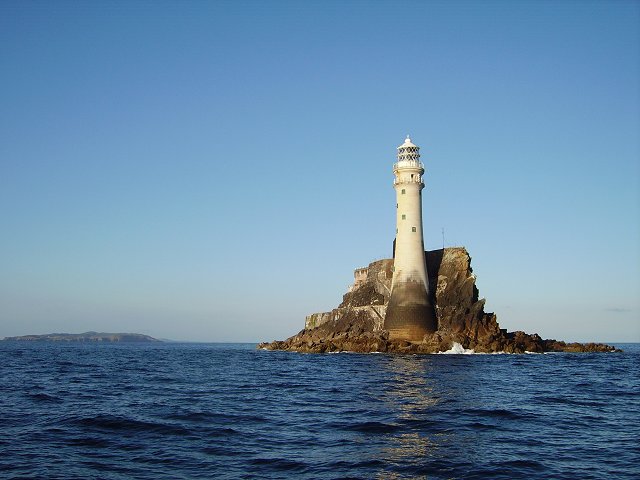 Throughout this time we thought it would be a good idea for us both to get formal qualifications so we undertook various courses which enabled us to become skippers.  We've also done other useful stuff like sea survival, first aid, VHF licences and offshore yachtmaster navigation certificates.  Eventually we decided to go it alone and did a flotilla onboard a small 30 foot Beneteau in the BVIs – which was the first time we had sailed with just the two of us onboard and we had a great time – the key learning point was that you should never charter a boat without an electric windlass LOL.
That experience made us realise that we had been over cautious in going on a flotilla and that we were more than ready to bareboat.   So that was it – off we went – to the BVIs, Antigua, Greece and Turkey on numerous occasions.  All very different experiences with wind, weather, scenery and sailing conditions – and this is how we ended up stormbound in that harbour in Skopelos dreaming of living on board one day.
Whilst Morpheus was in charter we sailed around the USVIs, the BVIs and the Spanish VIs for around 8 to 10 weeks a year (taking unpaid leave whenever we could) and had a great time.  There have been friends trips, stag trips, girlie trips and couples trips over the years….   As well as some amazing times we also made some great friends in the islands and were sad to say goodbye to these people when we started our cruising life.
Why is it that whenever we get settled into an anchorage either cracking open the first cold one of the day or enjoying a 'pontoonie' in the cockpit after an evening ashore it seems someone, somewhere, has a problem????  A few escapades have included rescuing a parrot in Cane Garden Bay;  a honeymoon couple too drunk to get back to their boat;   a few dinghies which have mysteriously come untied on their own from peoples' sterns;   a distressed shopper whose outboard died coming back from Leverick;  and charterers who were struggling to anchor as the sun died down.     That said, we have been grateful to others when they have helped us over the years….    So we expect there to be a few more along our travels – but are always grateful for the willingness of the sailing community to help each other out.   You never know when you might need it.
In our last year prior to going cruising we weren't involved but we did watch a family run aground in Anegada (after trying to warn them of the shallows), and as they backed off they caught their dinghy painter which promptly got wrapped around their prop – not funny – but later we heard one of the daughters asking staff at the Anegada Reef Hotel if they could supply another mooring ball as all of the ones in the anchorage were already taken… Now that was priceless.
Ever since coming up with this dream we have tried, where we can, to avoid life's banana skins but sometimes they are unavoidable…
Did we tell you that Jan is clumsy and accident prone?   The first time she almost scuppered our cruising plans was when she slipped off the bow of our charter boat onto the harbour wall 6ft below in a beautiful little hamlet on Alonissos – damaging her back and smashing her elbow to bits – the only detail you need to know is that a local puppy ran off with some of the pieces.  After a long series of operations and intensive physiotherapy the doctors managed to save her arm – amputation was a real threat – and we got back onboard as quickly as possible by doing a crewed charter to Grenada and the Grenadines.
And then we bought Morpheus and the rest is history so they say….. although Jan did try to wreck the dream again by managing to break her ankle really badly by falling off a kerb… but after three loads of reconstructive surgery she was back on form and is trying to be really really careful from here on in.
In the middle of all this Richard was made redundant and, thankfully, quickly re-employed – and we've had some family bereavements along the way – but the desire to run off to sea continued to drive us forward.  Thankfully there were no more banana skins and we were able to quit our jobs and go cruising in 2012.
We knew that we were going to miss family and friends so the plan was to go cruising for about nine months each year so that we could catch up with them whilst at home.   We followed this pattern for the first four years…..which took us throughout the Western and Eastern Caribbean.   And, the most recent – Season 5 – we were away for a full year and crossed the Pacific travelling all the way from Guatemala to New Zealand.
So what next?   Well we are spending Season 6 in New Zealand taking a breather from long ocean passages and then….onwards towards Australia…..South Africa……and all the way back to the Caribbean to complete our circumnavigation.   But there are always banana skins to avoid and we may change our mind so you'll just have to keep watching our progress and see how far we get.