It's hard to believe we have been home for just over a year. And, yes, the blog has not been much of a priority. After all you originally viewed this site to keep up with us on our travels and you may not be interested in our home lives (although future travel blogs are to be expected – more of that later). But for those of you far away who we don't get to see very often, I thought it was time to post an update on what we have been getting up to…
Christmas Day 2022 we spent at home, alone, for the first time in many many years. As we had changed the window blinds and curtains we now had more space in our lounge bay window so our tree felt a bit small but we persevered with it. A larger version definitely on the shopping list for this year LOL. Boxing day we were welcomed over to Rachel & Neil's home to spend the day with their wider family including the kids of course…. Was lovely to spend this special family time with them all. We had so much fun we failed to take any photographs which is a bit of a theme so bear with me – must try harder!
We then headed to Mudeford in Dorset to join Carolyn and Ron at their seaside lodge and we had a fantastic time with them celebrating New Year's Eve. I even had a bit of a boogie at the dinner dance which was the first time in a very very long time, fantastic! Here are some photos of the NYE silliness…..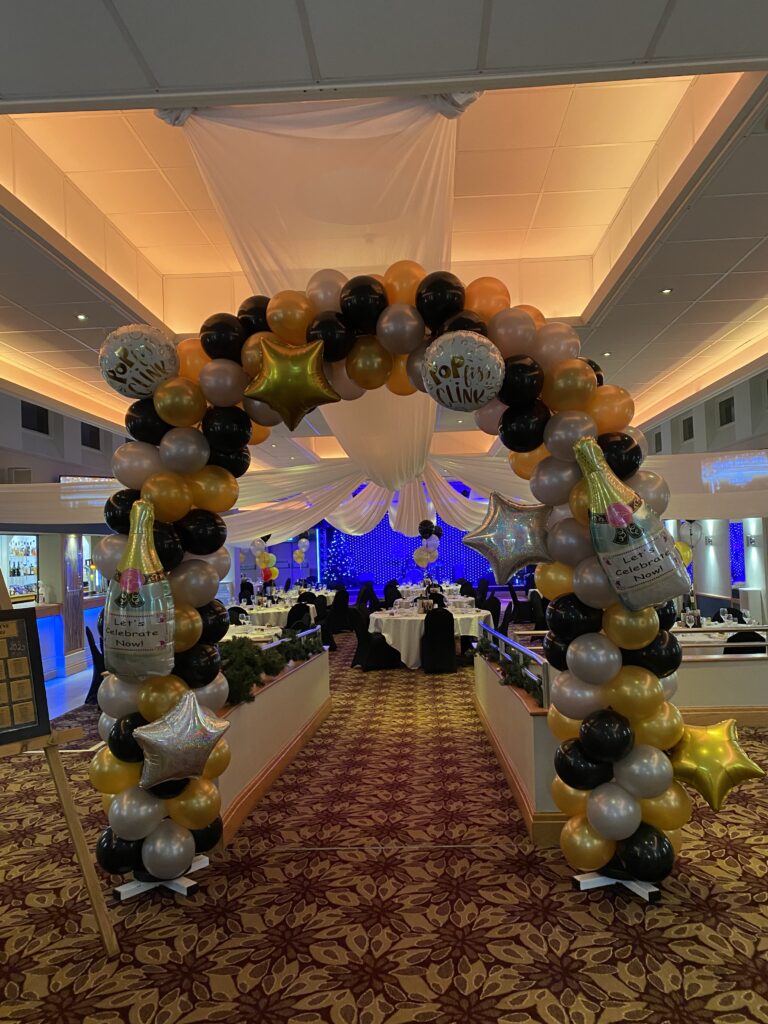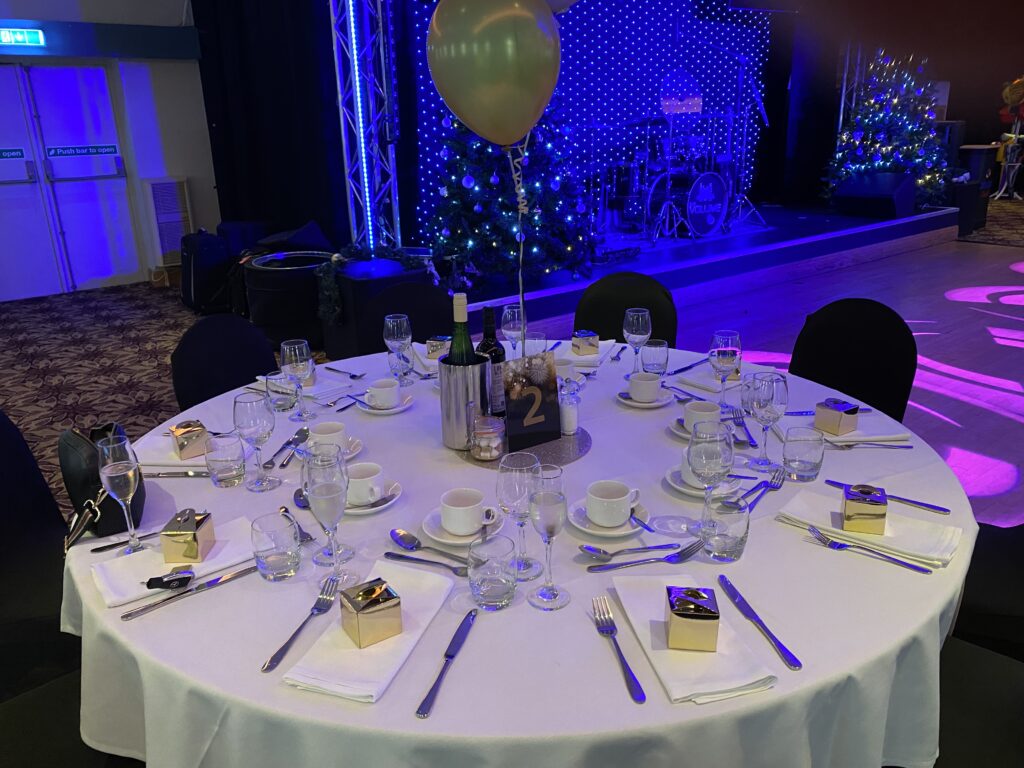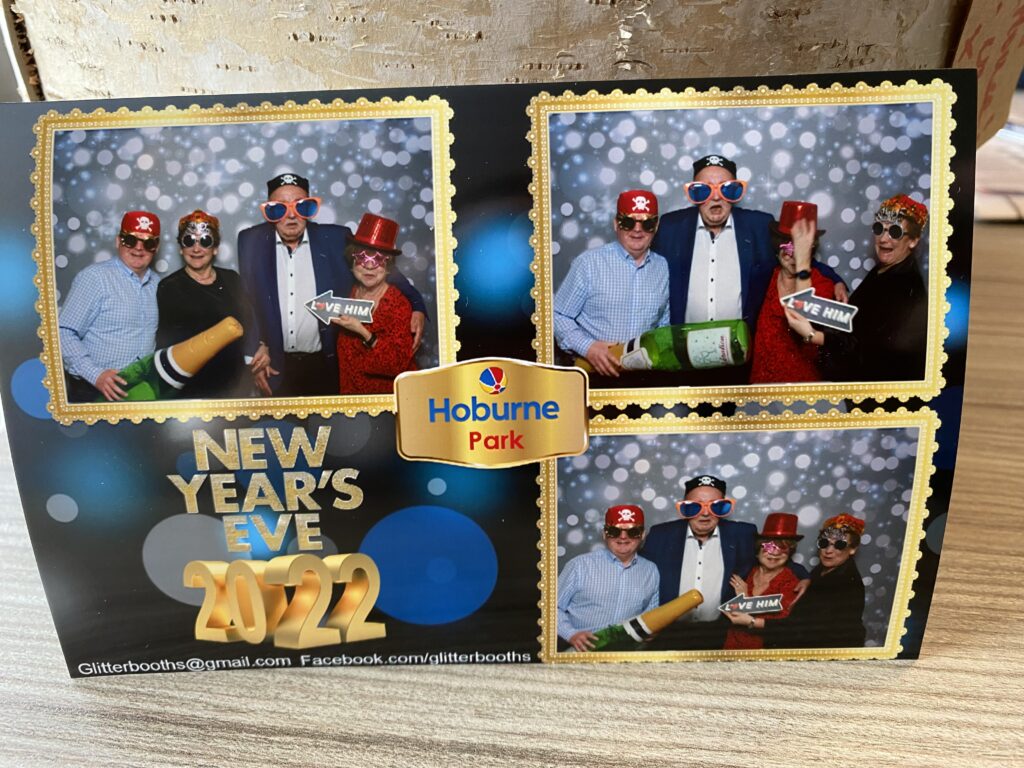 Back home early January we started to decide what else we wanted to update in the house. Have to say we weren't enjoying winter at home and the heating bills would have been horrendous if it wasn't for the new energy-efficient boiler we had recently installed. And I can't remember the last time we saw snow!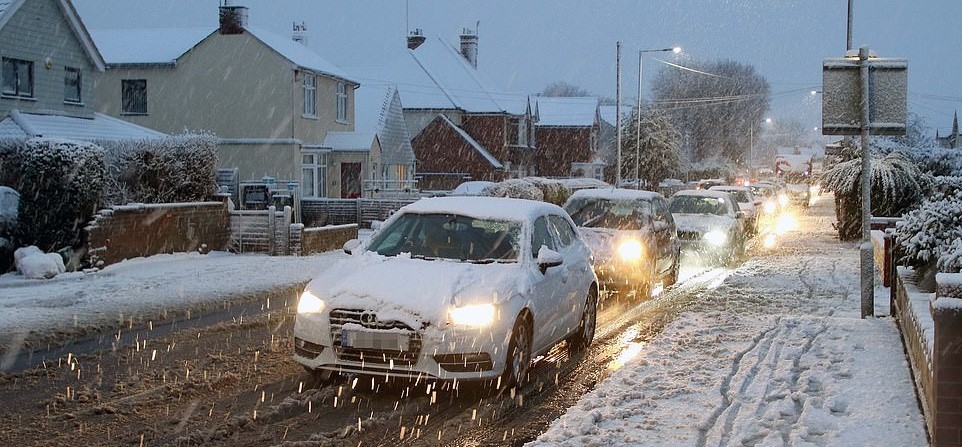 We eventually agreed on a list of tasks and invited trades to give us quotes. Once we had made our selections it was up to me to manage them whilst Richard continued to work full time in London. He is enjoying being back at work and is still debating when he is going to retire (again) for good so watch this space. It is good timing that his industry is pretty buoyant right now and chartered electrical design engineers appear hard to come by if the number of job offers he receives on a weekly basis is anything to go by. So very grateful that he is willing to do this to top up the kitty towards the home improvements.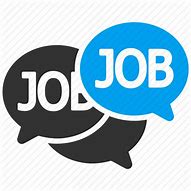 First task was getting the ceilings skimmed in the lounge, hall and dining room to get rid of the old-fashioned artex so once the new plaster had dried out Richard painted all the ceilings. The new blinds, curtains and radiators in the lounge look really nice so pleased with all that. Replacement sofas, ceiling lights, carpets, and wall mirror were all ordered and now it was just a matter of getting them all to arrive in a sensible order…. Oh yes and we got a large smart TV too amongst other things.
Come February and I was at the six month date post surgery. Yay! Finally allowed to get back on an airplane so, we headed off with Carolyn and Ron over to Lanzarote for a relaxing week in a villa. We had a lovely time – a few hiccups with the accommodation – but thoroughly enjoyed getting some winter sun.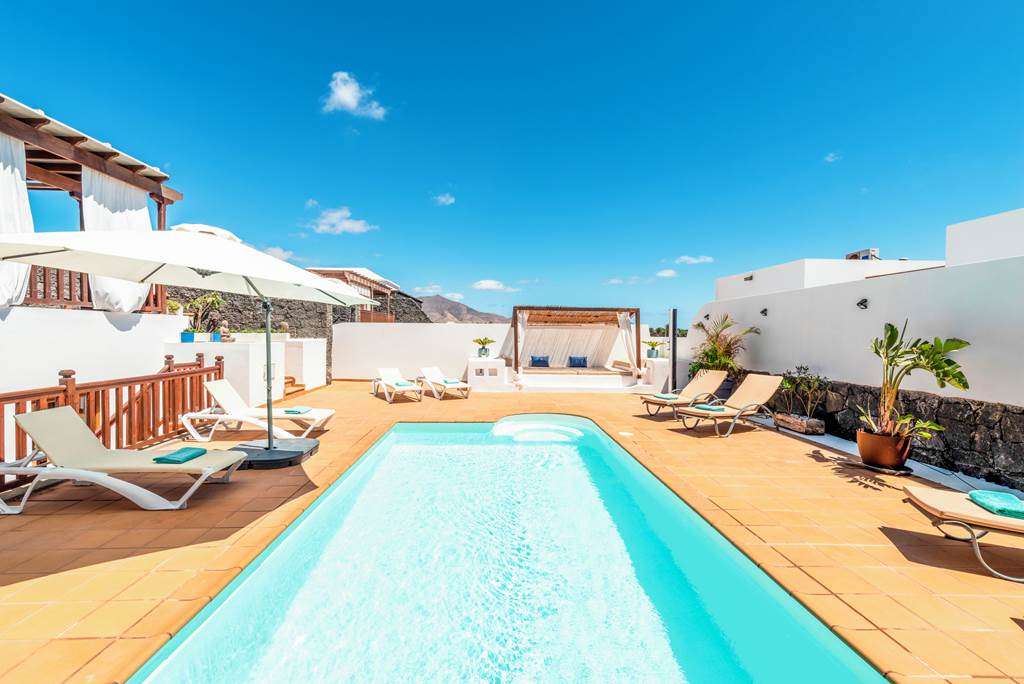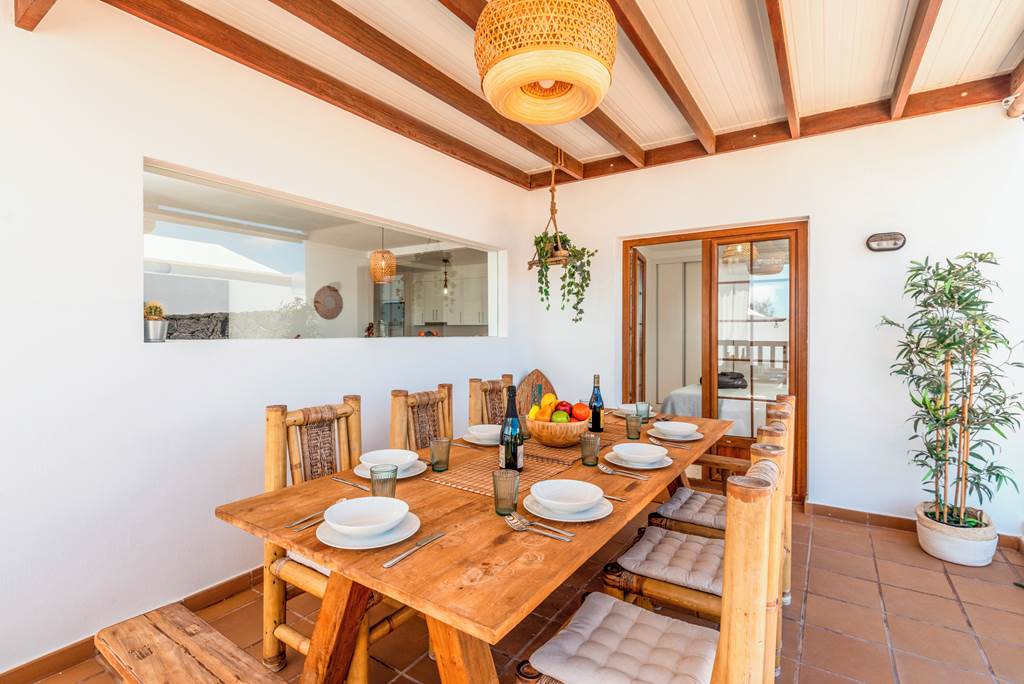 We arrived home and Richard returned to work. Now it was time for me to get organised. We had ordered new carpets for the whole house so I had to make sure rooms were ready for the guys to move furniture around. All our breakables were packed up and stored, it felt like we were moving house! I took the opportunity to clear some old stuff out too – now this is not something I enjoy doing – so it was a huge sigh of relief from Richard LOL. Anyway it was a mad time but eventually the carpets were removed and the new ones were laid. Fantastic – very happy.
A couple of days after that the new sofas turned up and we put the room back together again. Really pleased with how it all looks now. The majority of the discarded items we sold online and our original sofas were purchased by a couple of young men who were going to deliver them to Zimbabwe for their parents! Stuff that didn't sell we put up on Freecycle and it all got taken away pretty quickly. Anyway here are a couple of pictures of our lounge as it looks now – very happy.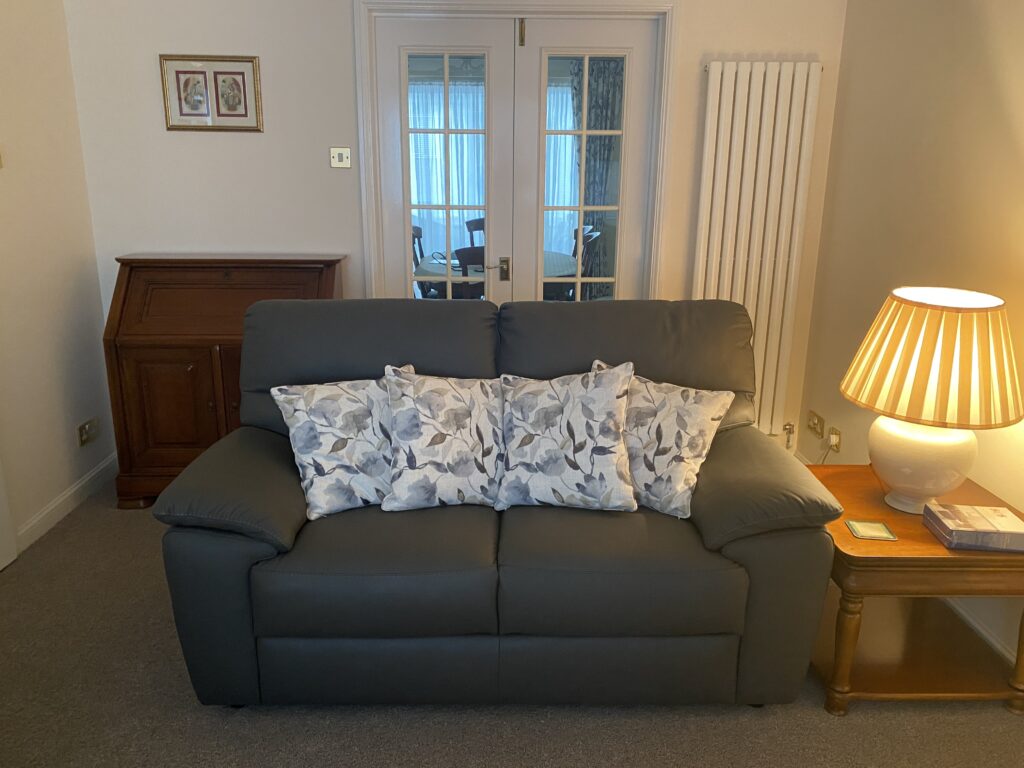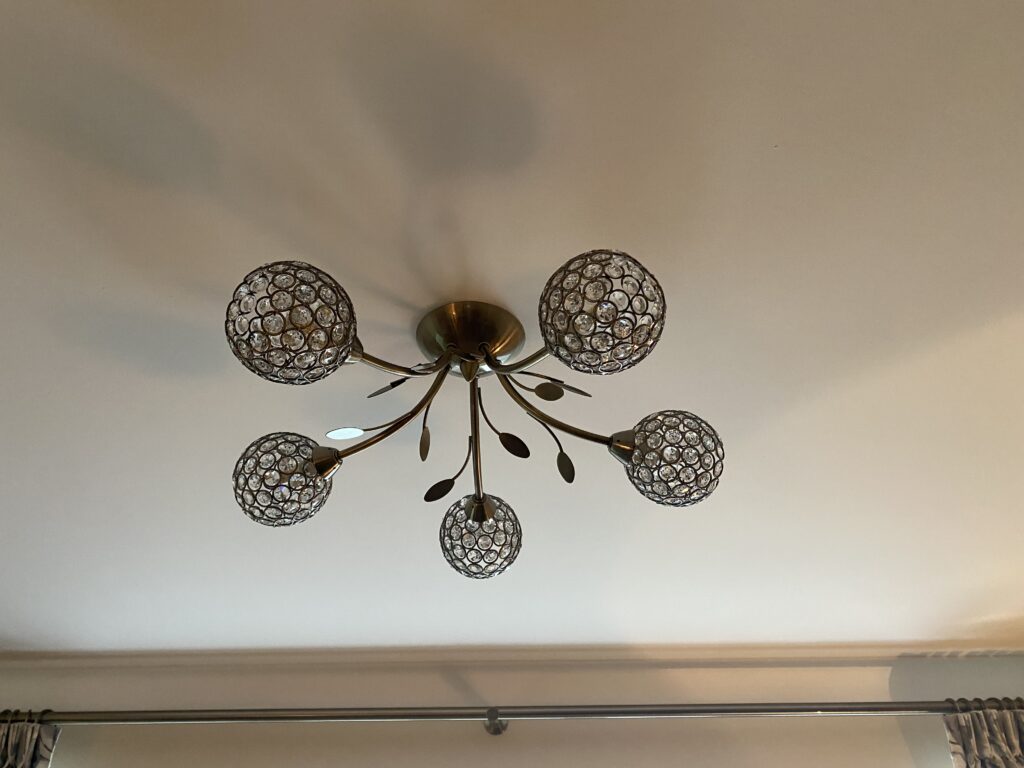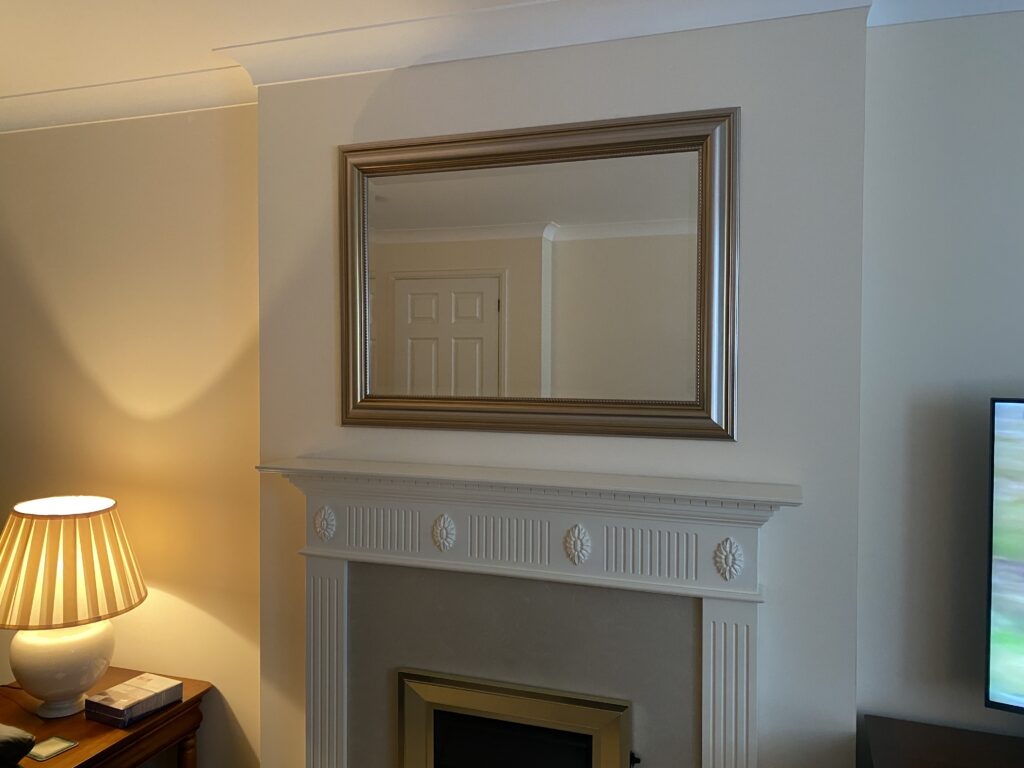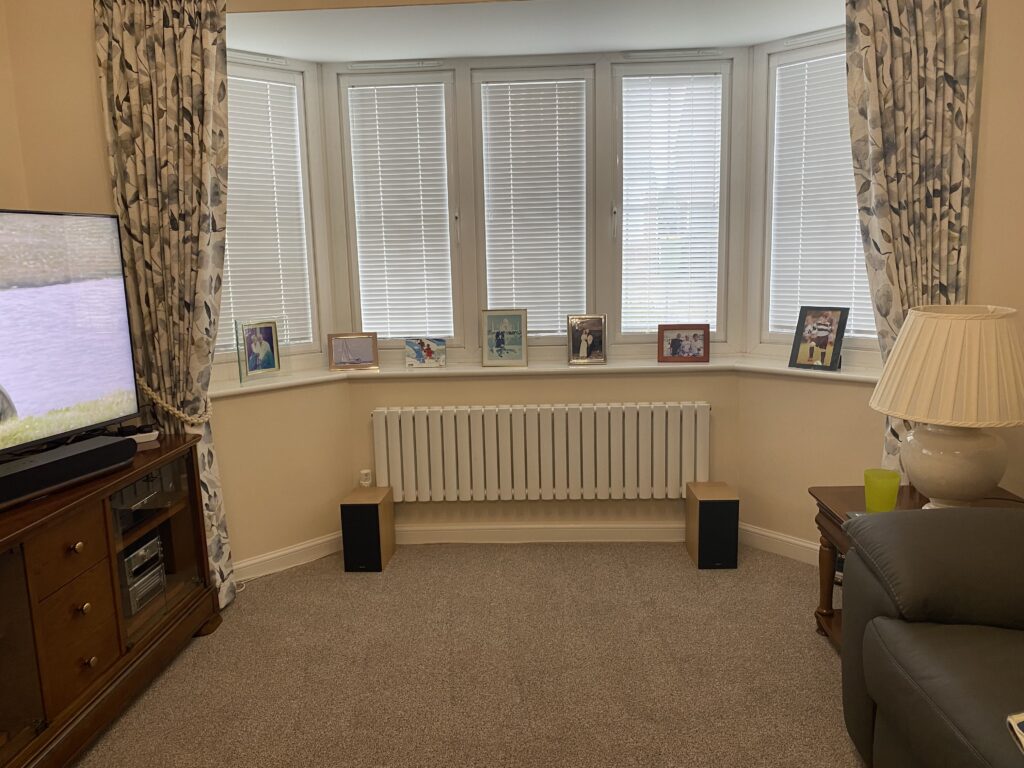 We also took delivery of new furniture for the conservatory so this was finally finished too. And this is the end result. Looking forward to sitting out there more often now.
Come Easter we headed off on a mini cruise to Amsterdam from Southampton. We had a great time and was glad to be back on the water again although the ship was a bit bigger than what we are used to LOL.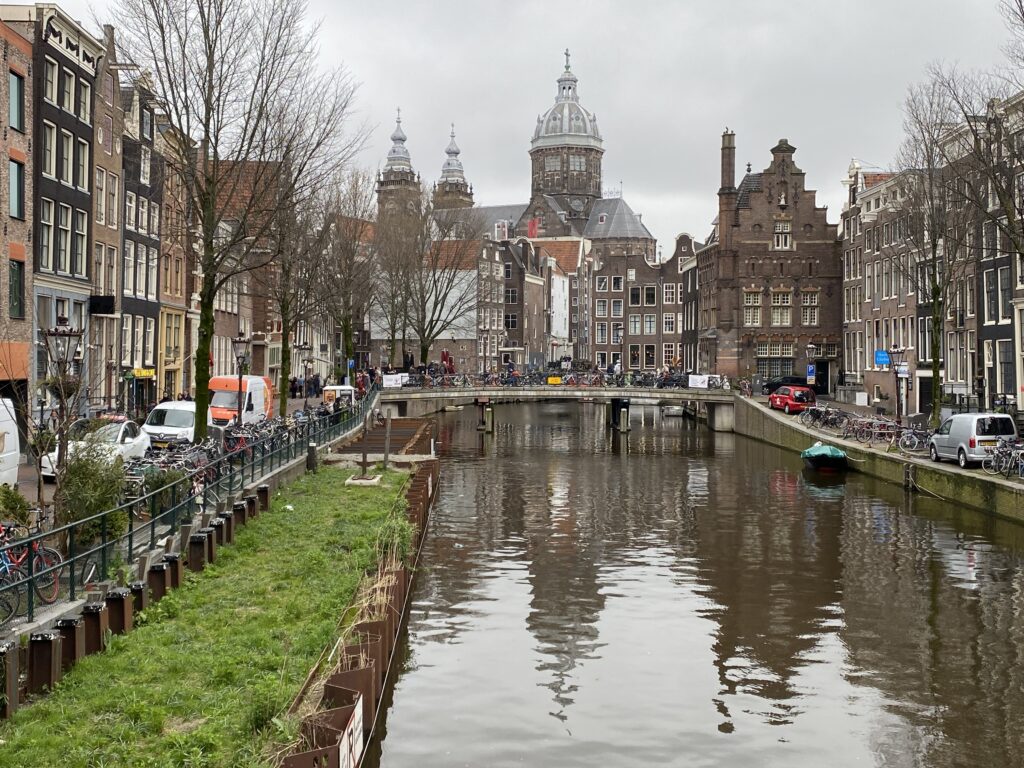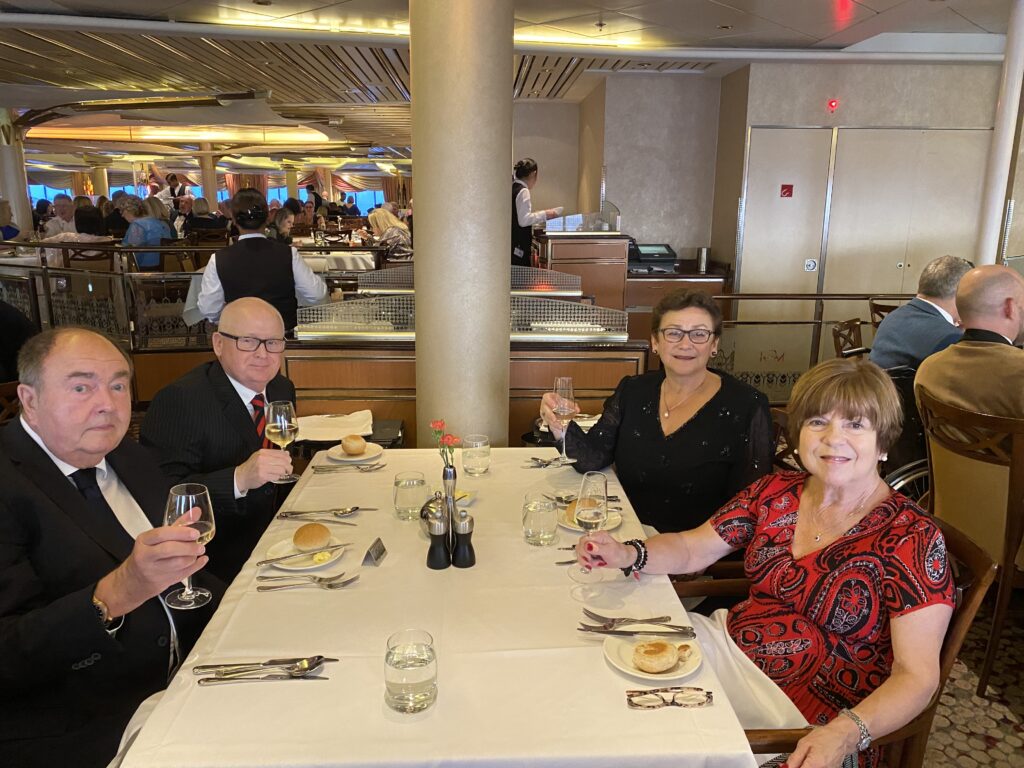 Returning home we continued with the house updates. This time it was the front drive, front garden and back garden. The years of neglect showed here and it really was not recoverable. So we decided to go for it and have it all done – we chose a resin drive to be different from our neighbours and we wanted a bit of a wow factor. Here are the before, during and after pictures of the front.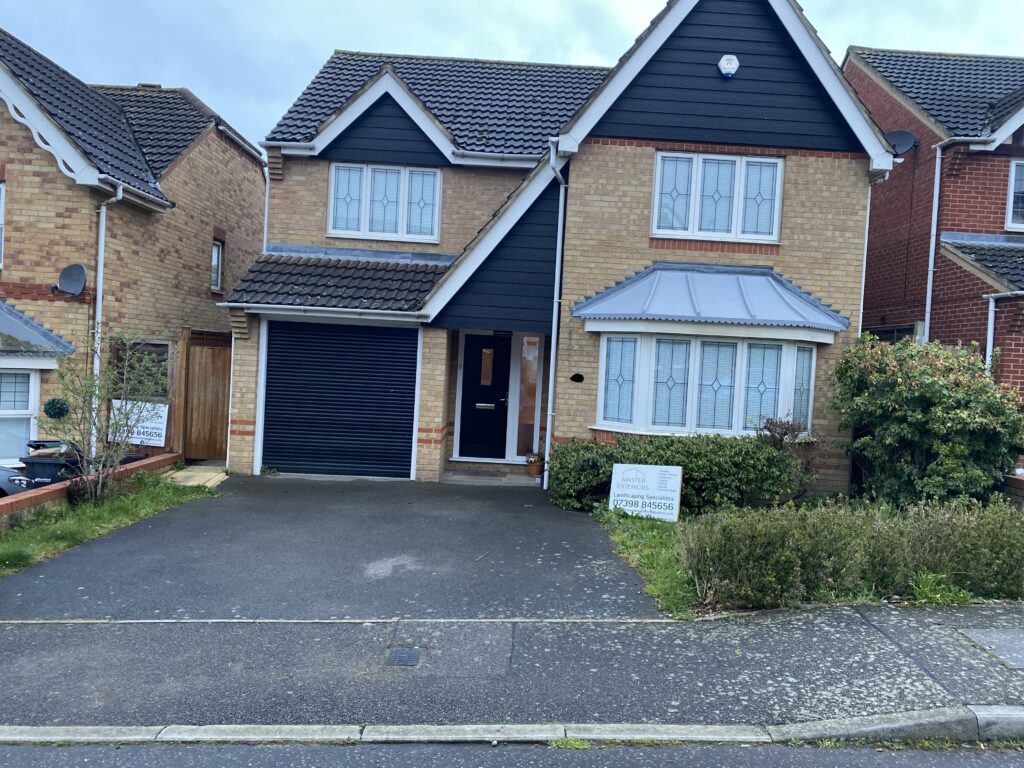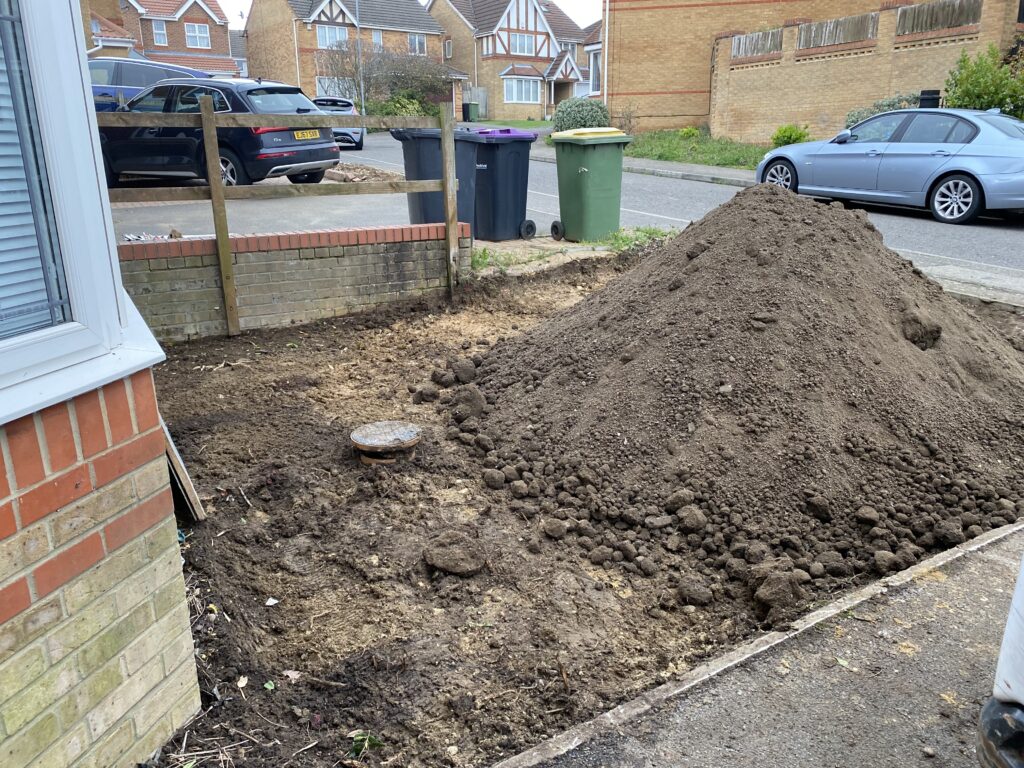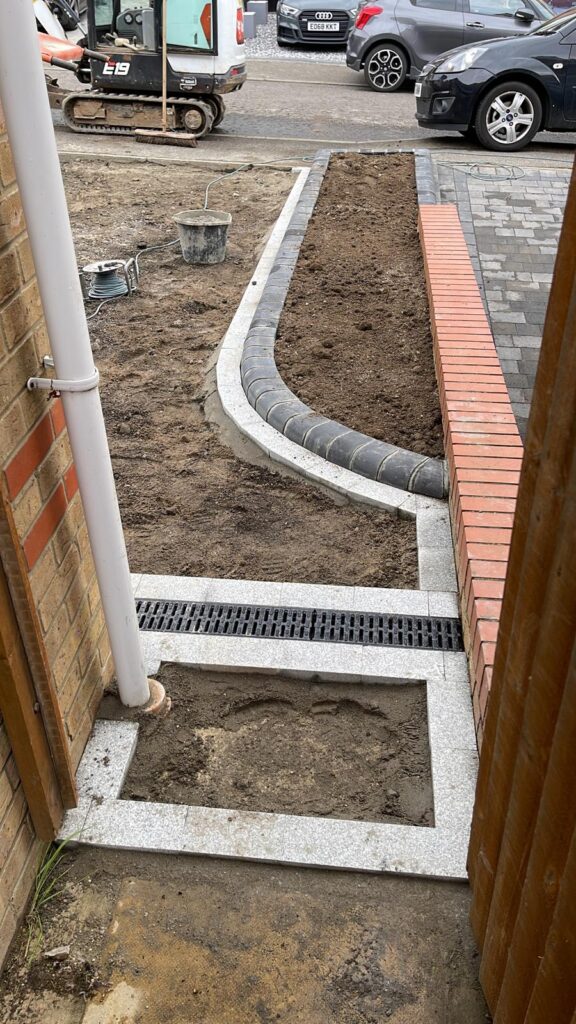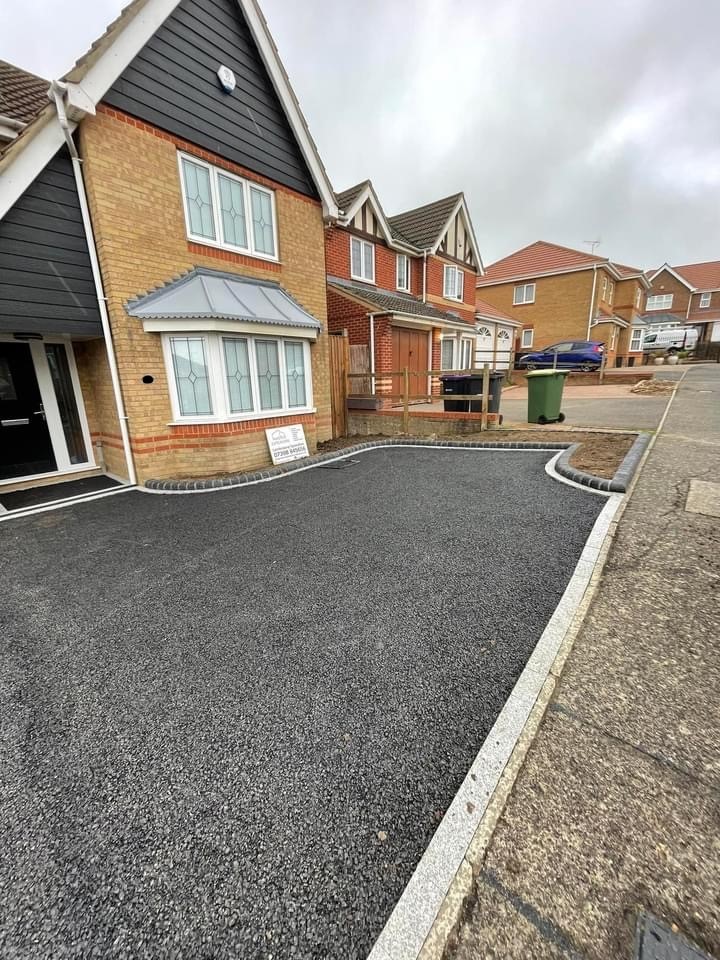 So now I have flowerbeds but no flowers – and there was a lot to fill. Richard found this online company that design flower beds for you, supply the tools, plants and plans and you do the hard work putting them all in. So here are the first batch going in and the front garden just planted….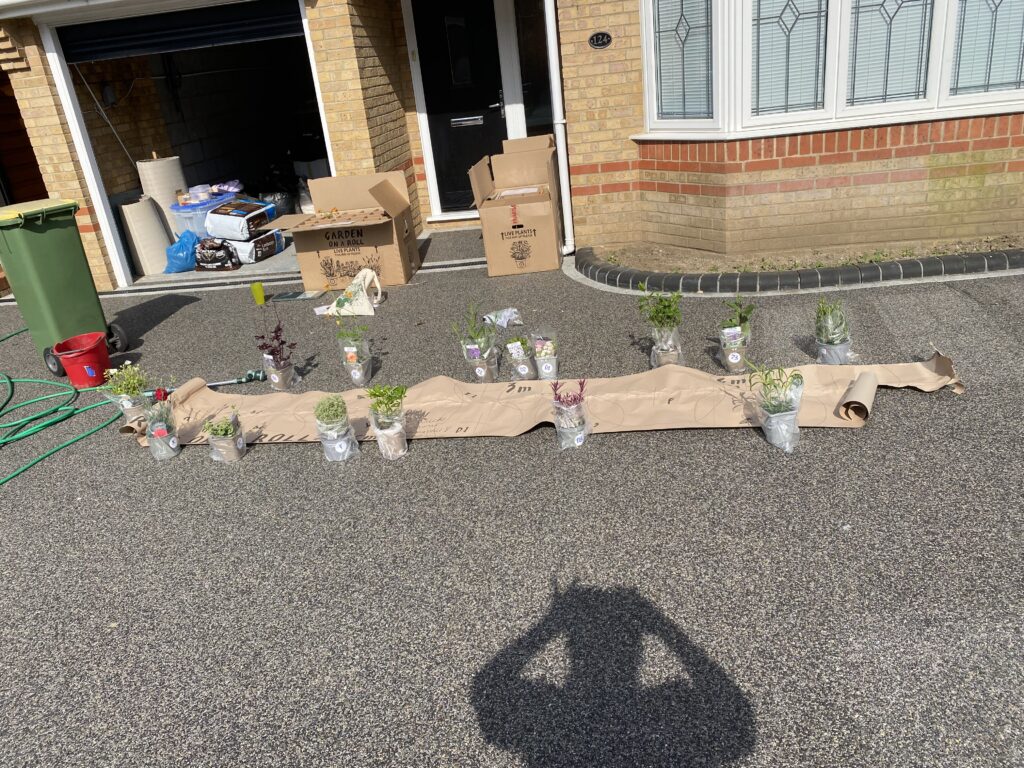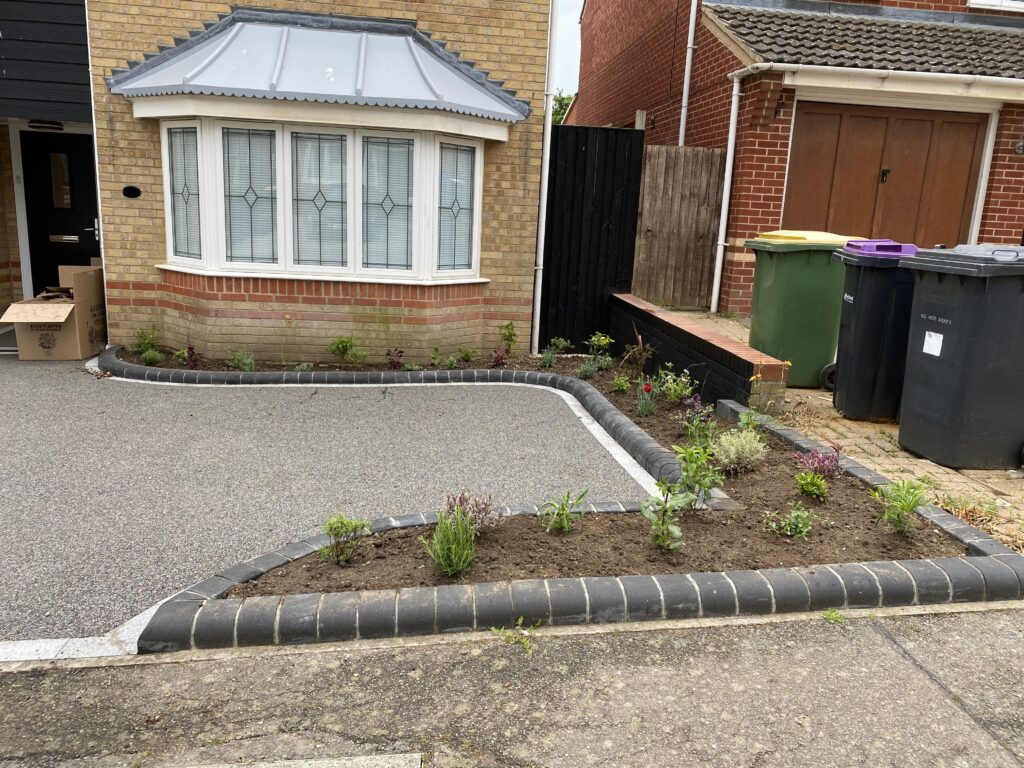 So onto the back garden. The patio needed cleaning, the wooden decking was rotten and again I wanted flowerbeds. Here are the before pictures, Richard hard at work painting fences and the after pictures showing the garden just planted. What a transformation!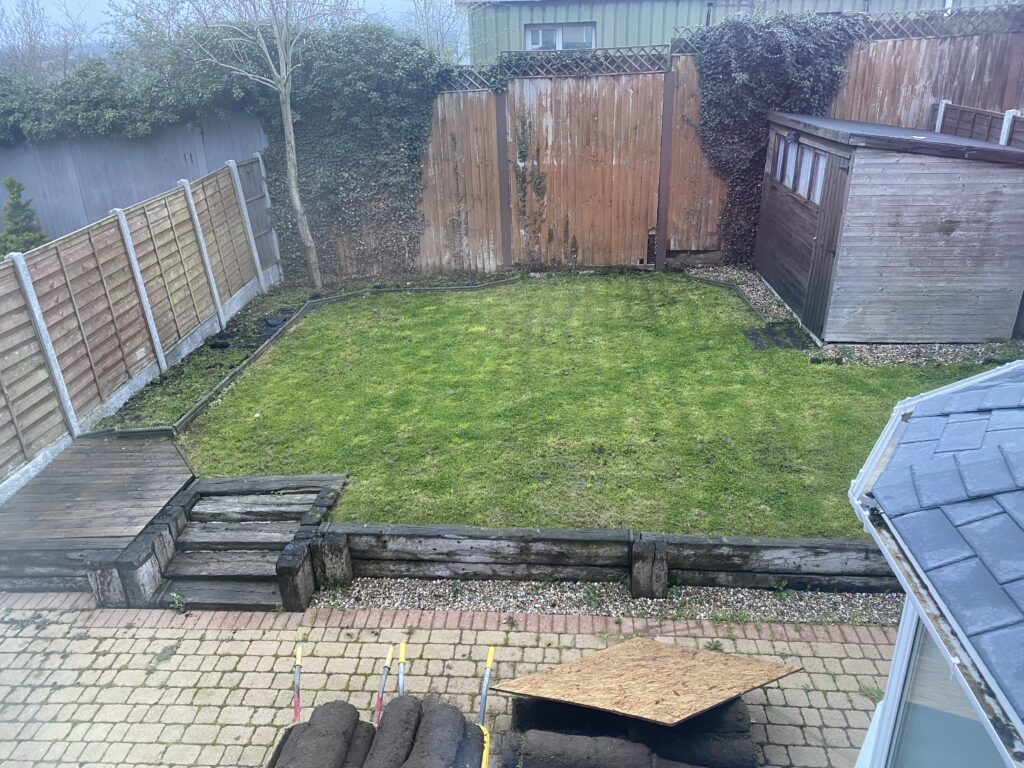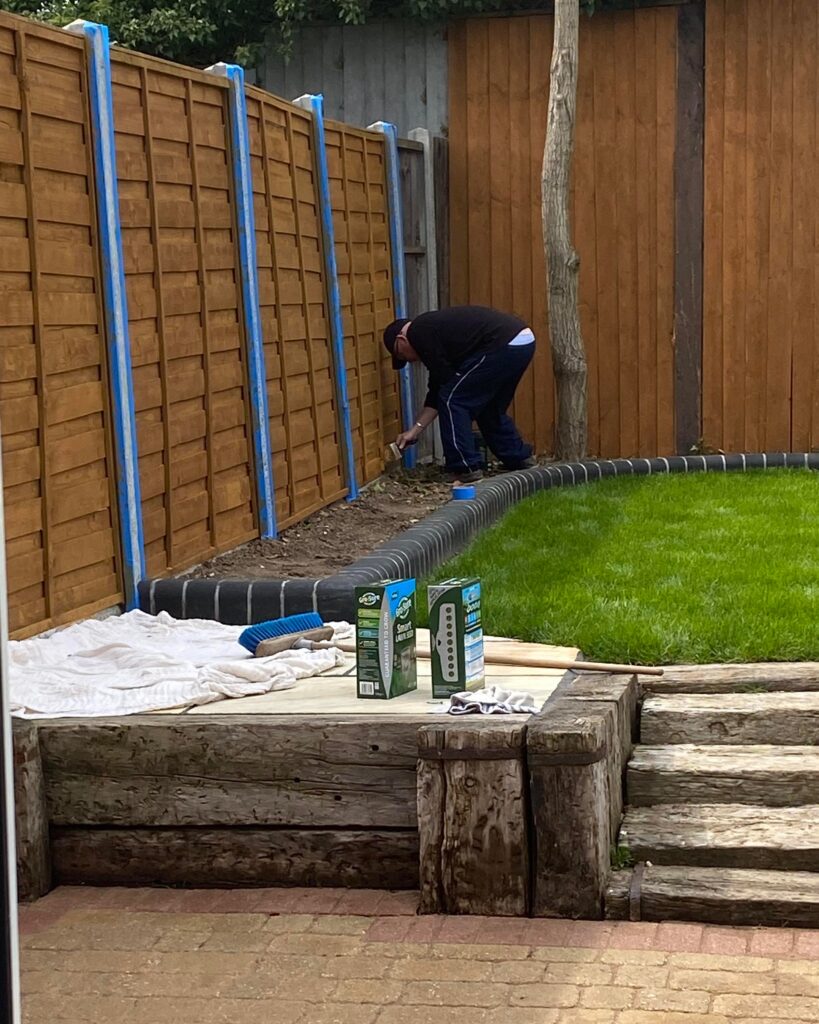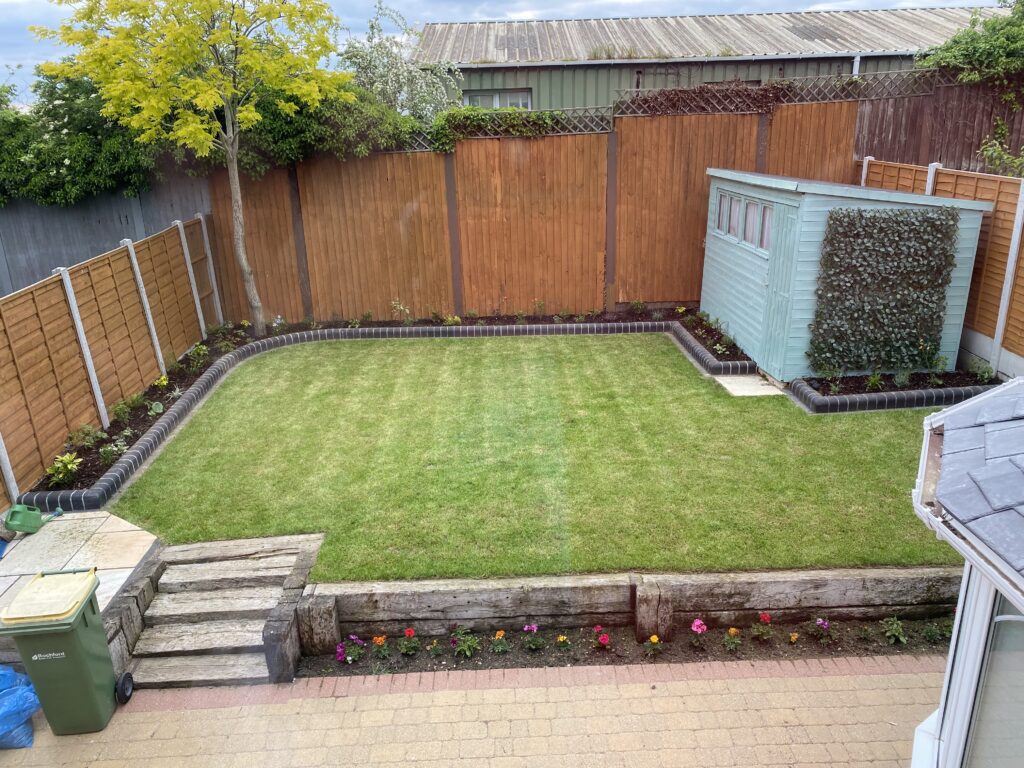 Then it was time to focus on the front guest bedroom as we were expecting Helen and Lester – previous owners of an Island Packet we had met in Australia – to visit us at the start of their UK tour. So new bedding, curtains, runner, cushions etc and voila we have a new look. Needs decorating really but we ran out of time….. Throughout this time Richard continued to work really hard during the week whilst I enjoyed any spare time to catch up with friends and be that "lady that lunches" that I enjoy so much LOL. It has been really lovely to re-engage with friends and be able to see them more than once a year which was the norm pre-Covid. And of course that means there is over two years of news to catch up on with them all… Weekends usually get reserved for friends and family that we both see as a couple so we continue to be pretty social.
Our Australian friends arrived into London on the Eurostar train from Paris. We then spent six days in London as tourists, including a West End show and an overnight in town. They were pretty amazed by the architecture and the history which, of course, we take completely for granted. A good time was had by all. Then it was time for them to pick up their hire car and head off around the rest of the British Isles.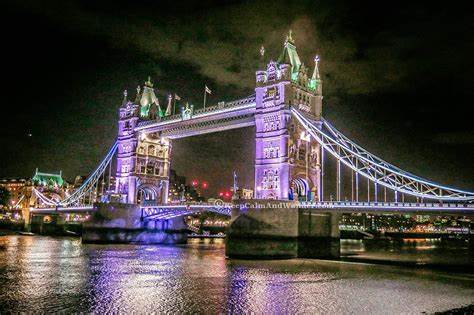 Richard returned to work and I continued to be out and about as well as maintaining the garden and house (although Richard doesn't trust me to use the new mower to cut the lawn LOL). And, if you wondered how the new plants have fared, then check out the gardens now. A couple of casualties – two caused by a neighbour's cat deciding that the leaves were just too tasty annoyingly – but they have been replaced and I am loving having a garden to tend again.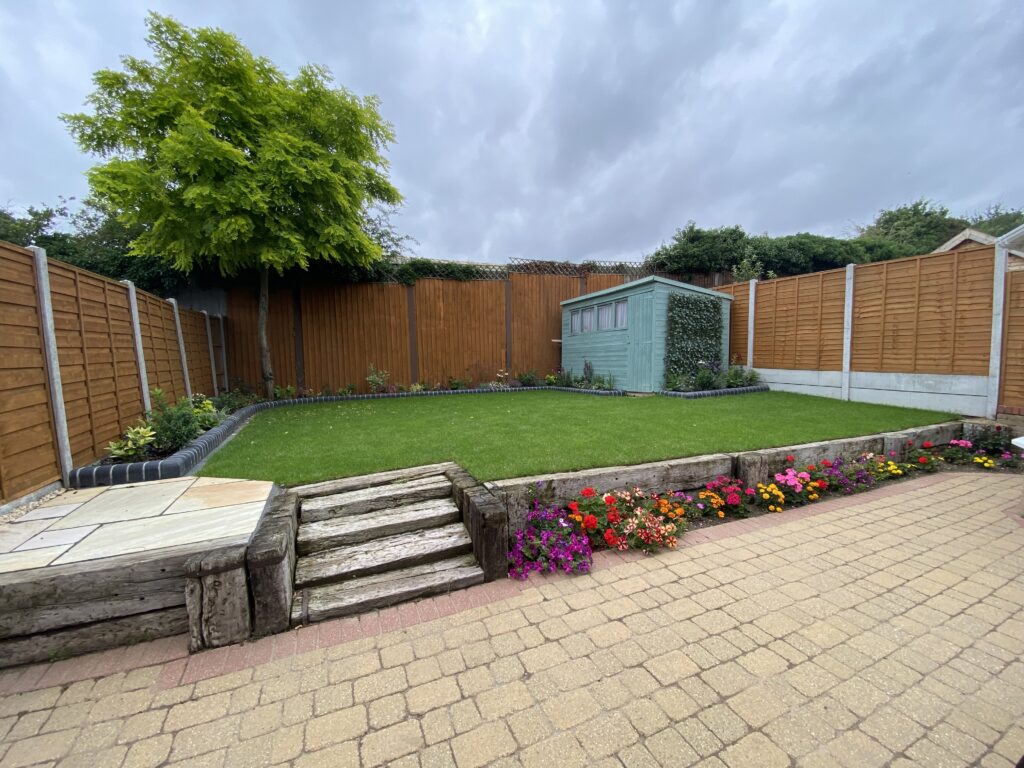 A month later Lester and Helen returned and we spent a local day together before escorting them back to St Pancras. As they went through customs and immigration we headed to the local champagne bar in St Pancras overlooking the outgoing Eurostar trains – so we toasted them farewell.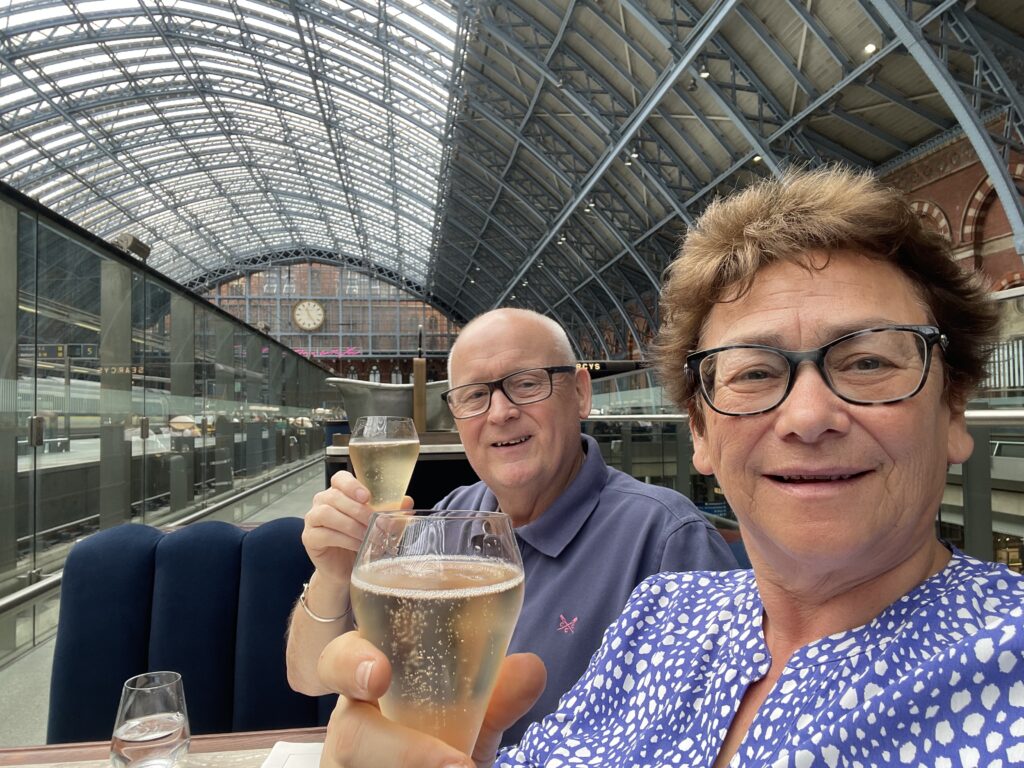 So that's about it for now but we have a few trips planned – which I'll blog about on return. Hoping for some better weather we are planning a UK staycation and then a couple of big trips after – one to Asia and the other to Africa. All very exciting! After that I have ideas but am banned from booking anything else right now LOL.
Before signing off I need to respond to the question we are continuously being asked. "Do you miss the boat?" Well, we miss Morphie of course but not the work involved in keeping her in tip top condition. I mean who could miss varnishing all that wood LOL. What we REALLY miss is the freedom of the lifestyle. Huge change for us but so long as we always have future travel plans then I'm happy.
Anyway, that's it folks, bye for now. Take care of each other and keep healthy.
Jan