Sunday night having had a few beers and got up to date with internet stuff, we went back on board to find that we are really close to the catamaran behind us. We know that we got a good set but we have been swinging 180 degrees at times today….  And with no wind we often swing different to others because of our long keel – but still a bit confused as to why this happened now.   Richard went over to chat to the guy and it turns out that this catamaran is not actually anchored but on a block fixed to the sea floor – as he is responsible for maintaining the dive sites.  So in effect he's on a mooring (without any physical sign grrrrrr….) and we would never have anchored near him if we had known…..  Well obviously he's not moving – so as the light has now gone we are faced with re-anchoring in the dark. We managed it without incident, got a good set and reset the anchor alarm.  Of course – the wind now decides to pick up and blow hard – so we have a really sleepless night.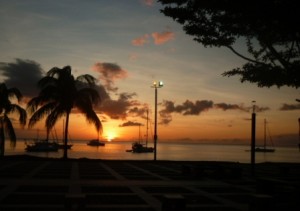 By Monday morning we are shattered so we head off early into town to do the customs clearance – and we are the fourth boat in line although it is only just gone 9 am.  Didn't take too long – fill in the form, print it off, get it stamped and signed and we're in. No fee this time either – nice!  We then went for a wander to look at more ruins from the volcanic eruption – especially the theatre and the prison cell where one of only two survivors were found.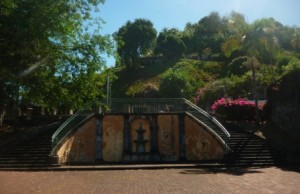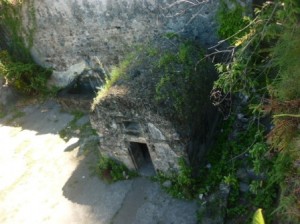 After lunchtime we picked up our hook and headed down towards Fort de France – Martinique's capital. As we headed out to sea to run down the beautiful coast the wind was non-existent…..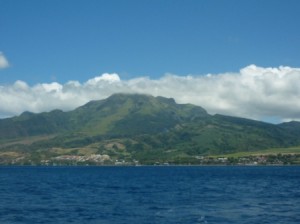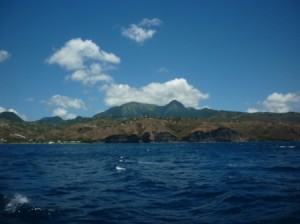 We got sails out but struggled to go anywhere – which was a common theme listening in to all the VHF radio traffic. Then – hang on – it's a rodeo ride. The wind suddenly shot up to 30+ knots as we moved further away from the coastline and the seas also picked up. We reefed down and settled in for a really exciting ride. We were moving in excess of 8 knots at one point – absolutely fantastic. Having so much fun on this 10 mile trip that we stayed out for quite some time and ended up at our destination – Anse Martin – later that afternoon having covered 28 miles tacking around including having a peek at Fort de France – the capital of Martinique – along the way. Oh yes, and although still no glimpse of the elusive whales, we were joined by a pod of dolphins who frolicked in the water alongside us during the day. This was a great antidote to a stressful night…. Monday night we didn't go anywhere – just had a quite one on board and an early night – and enjoyed another beautiful sunset.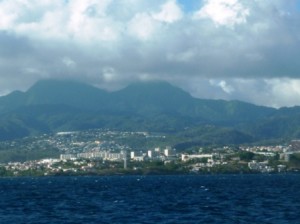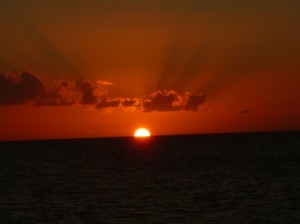 Tuesday morning up early and wandered the town – found the local boulangerie for breakfast and the nearest supermarket for supplies. We also did a few boat jobs when we got back and unpacked the shopping. Then we were joined in the anchorage by Dan and Ruth on Evensong – who we had last spent time with in St Kitts – and Ann and Ed on Windswept Dreams (another Island Packet). So quickly arrangements were made for sundowners onboard Evensong and we went over around 4pm…. Well, usually sundowners last for a couple of hours, but reunions are always great when fuelled with rum so we actually ended up having quite a late night and played some domino game for the first time which was great fun…..
Wednesday we had planned a beach day. We went into town for breakfast first – and to get more provisions as we are hosts for sundowners this evening. Well we just sat down with our grande cafe and pastries and the heavens opened…. A huge downpour which we just sat out. Eventually we dodged the rain and got back to Morphie a bit damp – but the heavens opened again and we had monsoon like weather for the whole of the day. At one point Richard – my hero – had to get into the dink in the middle of it all to bail out as it was in danger of sinking under the weight of all the rain water… So we pulled dink up onto the arch and pulled the bung – so the water runs straight out….  And because we were boat bound in the rain Morphie got a complete spring clean…..
Sundowners went off OK – and my home-made pizza seemed to go down very well!!!! We eventually ended up the evening watching a pre-recorded DVD of greyhound racing and did some mad betting – which was the first time any of our guests had seen dog racing. I'm not quite sure what our neighbours in the anchorage might have thought though, with all the cheering / shouting and screaming going on! And …. just like the night before…. the winner was Dan.
Thursday we all decided to go into the capital via the local ferry that runs every half an hour from our anchorage…. Had a great day wandering around and admiring the architecture – which covered all styles including art deco; some colonial; quite fancy (albeit decrepit) balconied houses; along with some pretty rough looking office blocks. And the library which looked more like a folly – although it turns out it was originally built in Paris, dismantled, shipped here and rebuilt in the late 1800s… We also enjoyed the local markets and definitely didn't fancy crab for tea from the cages of them at the fish market…. And Richard made us all laugh when he tried on daft hats in the market.   Great time had by all – although we missed Ruth who was poorly today.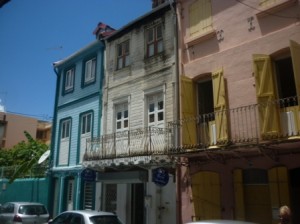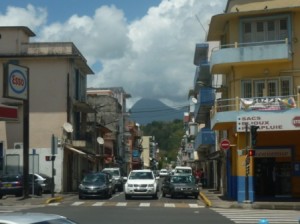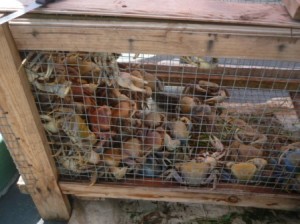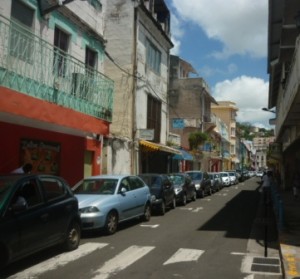 Back on board now for a quiet night and planning that elusive beach day tomorrow – so fingers crossed for a sunny day!
Night night….and Happy Easter to you all.