Had an incredibly hectic week or so trying to say goodbye to everybody – had some great laughs, amazing generosity and kindness shown, as well as some sadness at parting again…..  Thank you all for making our few months at home so special.
Finally we were packed up and headed off to Heathrow with as much hand luggage as we could physically manage and bags for the hold on the limit in terms of weight! And I promise only about 20% was clothes related…..  We are travelling cattle class this time – no turning left for this girl now that we are cruisers.  Well, after a slowish run around the M25 through the miles of roadworks we arrived to be confronted by huge British Airways signs warning us about everything, but especially about heavy bags and over sized hand luggage!   Oh dear…  So we headed off to the "weigh and repackage area" – supplied just so that we take them seriously I guess??? – and made sure we only had one checked bag that would incur the extra £40 charge. Now at the drop bag desk and the BA woman was a bit concerned that we didn't have ESTAs on file – and was very relieved to find that we had US visas… So much so that she forgot to charge us. Result!
After getting through security checks we ended up in the departure lounge admiring the very trendy Christmas trees that adorned the terminal. Eventually our gate was announced so off we go – full of strange feelings and a little nervousness – thinking of friends and family we are leaving behind at the same time as being excited about seeing Morphie again.
Was an OK flight – chicken or pasta meal choice as usual – please change the tune.  Oh yes, and if the chicken is in a mushroom sauce tell me. Yuck!!!   To make up for it there was a nice Pinot Grigio available so we settled down and enjoyed a couple of good movies. Filled in the US customs declaration and steeled myself for the usual two to three hour nightmare that is immigration in Miami – what!?!?!?   Through in less than an hour – a record for us – and, in fact, it took us longer to walk there from the plane than it did to get processed!   Feeling a little smug – we got a cab to the hotel and checked in. Richard usually likes to hit the bar for a night cap but he is shattered and wants to go straight to bed. Very unusual but feeling pretty tired myself so didn't argue…
Up very early – that five hour time difference always does that to us – so had breakfast and headed out to Home Depot to purchase a 110V sander. Mission accomplished – but frustrated that our US bank account cards were rejected at the ATM. WTF??? So got back to our room and I called them – luckily it was a free call – to find out that they had not been activated on their system and could not be done retrospectively. Soooooo frustrating as we had done this in London in August. Oh well I guess that small pot of dollars is safe this trip!
Now it was time to go to the airport – usual Miami chaos resumed – and it took a while to get checked in.    We avoided the $100 excess baggage charge again because we offloaded 9lbs into our hand luggage because they didn't care about the size. But am pretty fed up with repacking constantly!  Finally all done and we wandered through the terminal admiring the fish art on the way…..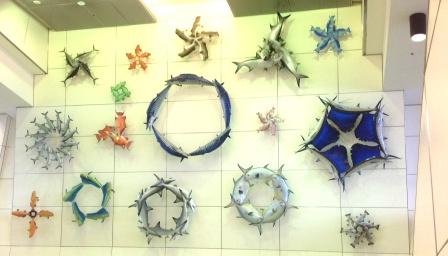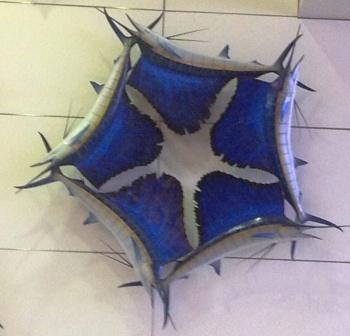 Then we finally settled into our favourite bar which just happened to conveniently be opposite our gate.   Shared a lunch of fish and prawn with fries … along with a Corona. Life is good!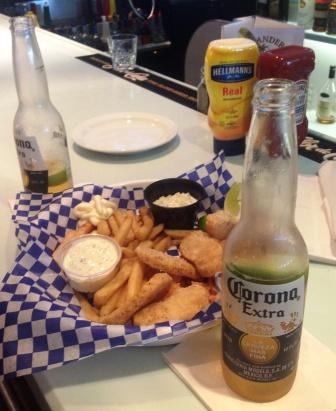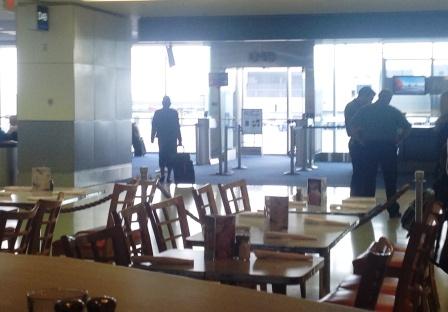 Onto the next flight – a few hours later and we are arriving into Grenada. Queued up in the red channel at customs and declared all our boat spares / tools, paid the duty, and was warmly welcomed by Martin the "yellow taxi man" that we had used last time. Quick road trip and we are checking into our lovely self-contained villa at Le Phare Bleu – and went off to the bar for our first ice cold Carib. Fantastic – and was warmly welcomed back by the staff who all remembered us. Lovely….and so to bed in the air conditioned bedroom after Richard had dutifully dispatched the very large cockroach who had taken up residence in the mosquito net over the four poster.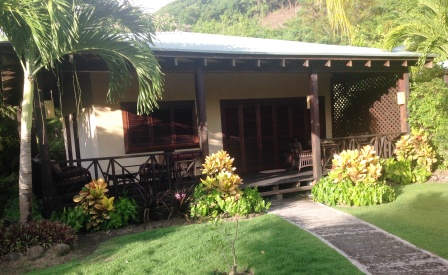 Awoke this morning to a hot day – what a difference from freezing London!    And I was puzzled by all the noises outside – had a peak and it was a huge flock of starling-like birds who had taken a shine to the tree outside our door. When they spotted me they all flew off – and resembled a Hitchcock scene!   Spooky… After an early breakfast – enjoying the lovely views from the restaurant – we took delivery of our hire car and headed off to Grenada Marine to see Morphie.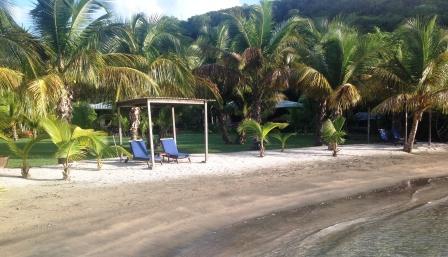 Very nervous now – would she be OK?  We know that recently some boats had been broken into – and, assuming in the absence of news we are unaffected – but still nervous!   And did we do it right?   Will we be bug infested or mould ridden?  Thankfully she was looking great waiting for her protective wax to be removed and no problems on any front. Phew – relief.  Felt great to be reunited….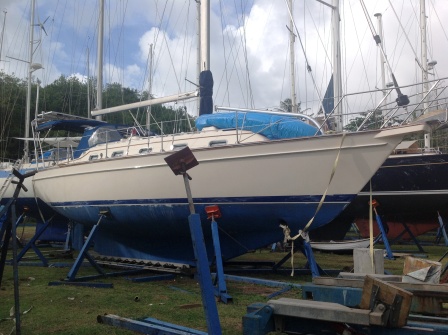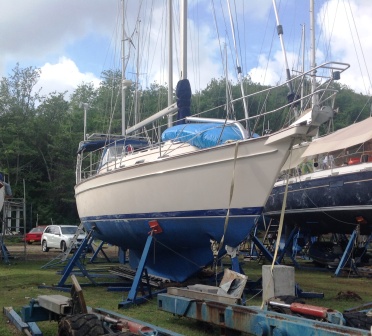 Spent a busy (hot!) day unpacking some of her contents, airing stuff, and putting some canvas back on…. Called it a day at 4pm and came back for pool happy hour, followed by a quick noodle dinner and so to bed.
Bye for now
Jan