In Leverick we found a really nice anchoring spot at the back of the mooring field which will keep us away from all the madness and mayhem of the weekend ahead!!!  We got ourselves settled and then went ashore and immediately bumped into Chris and Tracy – who we have been talking to on-line for a long time….. So was great to catch up with them plus Monica and Nick who run the resort. We met quite a lot of new people too, although we knew many of them virtually by their TTOL presence. Really fun afternoon had by all.
We headed back to Morphie for a shower and dinner and then went back out. The Jumbies were performing and we hadn't seen them for a very long time – so enjoyed the show, which was quite different, particularly the Michael Jackson one-glove dancing jumbie!!!!  Had a great evening, including a little dancing, and headed back onboard. The anchorage was really quiet and was so flat calm it actually felt like we were in a marina! Lovely….
Saturday we had a lazy day on board – did a few jobs – and headed back into the marina for a few drinks around 5 ish. We chatted with loads of people including an older American couple who had sailed the Pacific on a 30 foot yacht in the 80s. They had fascinating tales and some really useful advice for us for the future. We left them to eat their dinner in peace and headed back to the bar and caught up with the rest of the gang again. We had a great fun evening.
Sunday and it's the Poker Run day. We went ashore around 10 – the little helicopter who was going to film the event had already landed in his very tight spot – and some boats had started arriving too…….
And then the people starting arriving too…… Not sure on the maximum numbers that should be on that ferry, but looks like it may be exceeded!
And then even more boats and people – it is organised chaos!  We got our Poker Run tee-shirts – and thought one of the predominant sponsor's names was a little unfortunate to say the least. Check out one of our shoulders in the selfie!
We wandered around admiring the boats….
We talked to the gang who were all volunteering selling Poker hands, tee-shirts, giving away beer to the registered boats… and noticed a couple of people in lemur costumes hitting each other with their tails… Didn't realise that one of them was actually Richard Branson dressed up – poking fun at the furore that has surrounded his decision to install lemurs on Mosquito Island!   [Photo borrowed from Facebook – thanks Bruce!]
Found a good spot on top of the fuel dock to people watch…. And then suddenly they are off, followed closely by the helicopter…. And the water was boiling…..
We headed off to the bar – saying hi to Mickey and Minnie Mouse on the way – and then the clouds rolled in for a quick cooling shower.
Then we realised that a VISAR rib (Virgin Islands Search and Rescue) was towing back a large power boat…. OMG it has a huge hole in the side…and people are clearly injured…. Then the next one comes in and the whole front of the boat has been smashed off – we were surprised it was still able to float. The police congregate, the crowds watch, the VISAR volunteers are truly professional tending to everybody, some injured people go off in an ambulance and others are taken on the two VISAR ribs…. We retreated to a safe distance hoping that everyone was OK.  Speaking to Nick later – who knew both crews as the event's patron – he confirmed that Top Gun lost its steering and had veered off into the side of Red Zone. Sadly – according to the latest local news reports – four people remain hospitalised with two in a serious condition. Terrible news – our thoughts and prayers go out to them.
Later on in the day we had a pizza lunch and caught up with some of the gang who were taking a breather before the boats came back in.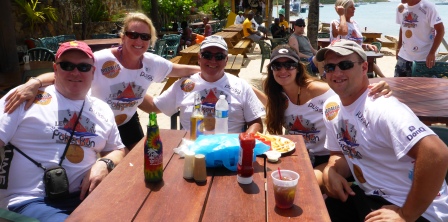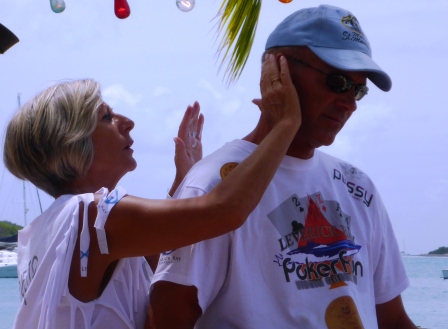 So we went back to Morphie for a break and returned later – suitably cleaned up – for the post Poker Run party. There was a DJ – the top prize of $8,000 was awarded – there were girls quirking on the catwalk across the pool, there were people enjoying the pool, there was a model show… and then the sun went down for the night as local guy Elvis started strutting his stuff with his band. It was absolutely rammed with people everywhere and boats were rafted into places you would not believe….
Later on we joined the gang at a table…and had more laughs…and eventually returned to Morphie at about 10 pm. We did ask Nick about the injured people during the evening but he said everyone was fine – clearly he was trying not to put a damper on the day for us, if the local news reports are to be believed (although I did note they were 'unconfirmed').  You could tell he was pretty shaken up by it all….
Overall it was a great day and we thoroughly enjoyed it, although obviously saddened by the accident – so glad we stayed around.  Nick, Monica and the volunteering gang did a fantastic job and worked really hard.  Safety was very much highlighted throughout the day, including disqualification for anyone speeding through the mooring fields – and big kudos to them all for bringing together a great event!   In fact, apart from the mooring balls very close to the entrance to the marina / fuel dock where they would have been impacted by all the arrivals and departures, I would say the anchorage was pretty much business as usual.  We were sorry that Arndt didn't make it across from Saba Rock….
Monday morning we were up at a reasonable time and got ready to pick up anchor and go alongside the fuel dock.  Full of boats filling up … and the minute a little boat took off another one snuck in.  Was getting a bit fed up and radioed the fuel dock to ask if they had a queuing system.  Er no was the answer….  We picked up a mooring ball for a while as some of the huge power boats were refuelled – not a 10 minute job! – and then slipped again as a large sport fisher boat moved out ready to go into the vacated space. And guess what – a very large power catamaran just barged in, taking advantage of his manoeuvring superiority with his twin engines…… and then the wives got off with their handbags and went shopping.   Grrrr…….  Pretty fed up by now – we had been waiting over an hour – and we need to get going.   So we decided to just leave after making some loud comments as we went past the power cat which just vented our frustration at the waste of time….   Bye gang….. so sorry we did not get the chance to say goodbye properly.  As we left Virgin Gorda we admired the construction of Richard Branson's new resort on Mosquito Island…  Looks like it is going to be pretty nice!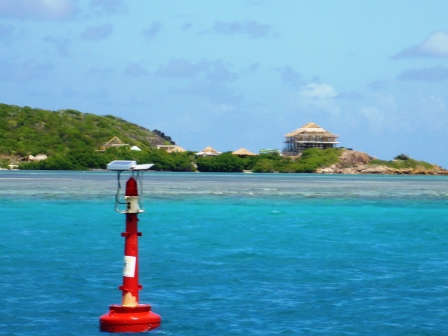 Had a lovely downwind sail – under genoa alone – to Tortola…. passing the familiar sights of the Baths, Round Rock, Ginger Island, Cooper Island and Peter Island on the way. And of course altering course any time another boat looked like getting close – even if we were the stand on vessel….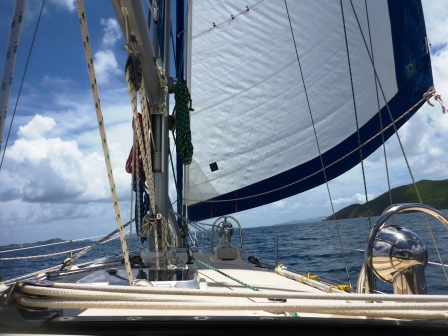 About a mile off of Nanny Cay we radioed in for our slip assignment. They answered on Channel 16 and asked us to switch to 68. And of course we couldn't hear them on 68. So we tried 16 again…and switched again…to no avail. Thinking maybe it was our RAM mike playing up I went below and did it from the VHF itself. Same thing…. So tried our handheld…. Same thing….. Grrrr…. So I stooged while Richard got us ready for both port or starboard slip and we headed towards the small entrance…. and then I finally made contact on channel 16 followed by 69. Funny how that works eh??? Every time…… Got our slip assignment and ended up alongside some Puerto Rican speed boats from the Poker Run.
We got ourselves organised and I checked us in. Not the greatest welcome to be honest – think she was fed up with the radio antics which were our fault of course!!!!  She was also very unhappy that all the measurements on my boat papers are in metres when she wants them in feet.  And although we have been here before we weren't on the system which means more work for her.  At this stage I found it quite difficult to keep the smile plastered on!   Oh yes, do we get a discounted rate because we have come in for work to be done?  (Which was suggested by the rigging company itself).  No came the sharp retort. I left at this point…
Back on board and I strip beds and sort laundry…. and take myself off to find the self-service machines.  Richard was getting stuck into replacing the copper earthing strip in the bilges, which had deteriorated badly.  Laundry done and when I get back Richard is still down various holes….. so we clean up and have a quiet night on board with a chicken curry.
This morning – Tuesday – and we were up early waiting for the riggers. They arrived, dropped the genoa, and went up the mast using the genoa halyard.
They fixed the problem we had identified and inspected all our rigging. No problems found other than a couple of maintenance pointers – all of which, in their opinion, will comfortably wait until we haul out in Curacao.  Overall they thought she was in good order. Hurrah!  Well done Morphie!  So good news all round.
Richard has just gone off to Budget Marine to buy some more things armed with a credit card so that could be dangerous….. and I'm here blogging while I have an internet connection, although a bit flaky as it fades in and out.  We have a guy coming over to look at our outboard again too soon.   Richard has spent more time on this than anything – it just gets stuck and the revs race – so I get slammed into the dock – or it dies and won't idle.  Hopefully we'll get this fixed once and for all!
We are planning to stay here tonight and head out tomorrow for Norman Island – with fingers crossed that the outboard doesn't need too much work…..
Bye for now
Jan