Tuesday morning – 25 November – we were up virtually in the middle of the night for our 4.15 am ride to Heathrow.   Always feels sad to have said our goodbyes to family and friends and it was no different this year.   But we were also very excited about this season and keen to be reunited with Morphie.
Check in went fine – boarding passes for both flights in hand – and onto security.   Of course we carry all our electronic gear in hand luggage so the whole bag had to be emptied and x-rayed again.   Boring – yawn – but it happens most of the time so hey ho….   And Christmas has arrived in Terminal 5 to cheer everybody up!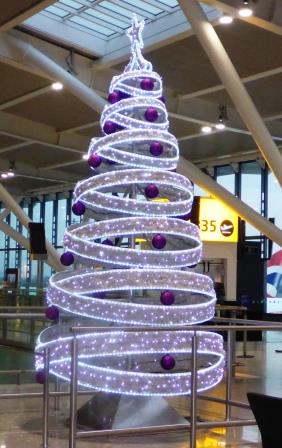 To the gate – quick coffee – and we are boarding.   Settling back for the first flight to Miami we get served Buck's Fizz and then lunch at 10.30 in the morning…    Guess BA are operating on Miami's time zone rather than our own LOL.   But we hadn't had breakfast so we're happy until I found out it was chicken or pasta – AGAIN!   Really – please – stop!   Want something else!    Richard ate his while I pushed mine around.
We arrived into Miami on time and did the obligatory three mile walk to immigration.   Queues not too bad and we have a record – 45 minutes only.   Woo hoo!!!   Then straight through customs as our bags are – unusually – checked through to our destination.   Through security again – no problems with our electronics this time – and to the gate for our connecting flight to Curacao.   On the way we stopped for something to eat as we don't get fed on this plane and I am, by now, very hungry!    After a snack we went to the gate – just as they are calling our names.   I went up and was told there was a problem with our tickets – what??   But I have a boarding card already issued by British Airways.  I was told that wasn't valid as I needed a voucher.  I asked what a voucher looked like as I'd done everything on line and all I had was my booking reference.   So she decided she couldn't deal with me and sent me off to the rebooking desk.  They were confused as to why I wouldn't have a voucher but realised that I did have valid tickets as I was actually in front of them in Miami. Doh!!!!   Not really sure what was going on – they kept talking Spanish between themselves and way too fast for me to make any sense of it – so I was pretty relieved when they gave me two new boarding passes….
Problems averted we finally boarded the delayed plane – broken parts again – and then pushed off almost an hour and a half late.   Then we parked up just off the runway while the captain burnt off excess fuel because we had too much!   Thankfully we finally got underway and had a smooth flight into Curacao.   Picking up our checked bags we realise that the external straps on both are missing – what?   Oh well never mind – into the waiting taxi – and we were escorted to our apartment in Pietermaai by the security guard as it was late – giving us a total travel time of 26 hours.  Unpacking our bags quickly we realise that the American TSA have been through them all – which probably explains the loss of the straps….    Thankfully the tools and spares in the checked luggage arrived safely.   All a bit odd – the bags were supposed to be moved from one plane to another – having been security cleared in London – why did the TSA get their hands on them at all???   Grrr….. Rant over.    We felt better after a complimentary beer to help us sleep!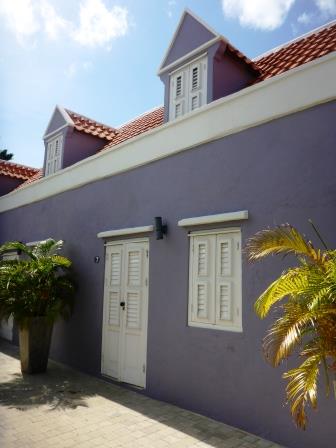 Up early on Wednesday morning and we sorted out a cute little hire car as we had been unable to get hold of our contact who rented us the wreck in August.  Over to Morphie by 11.00 am and we were very pleased to be reunited with her.   She's pretty dirty on the outside but thankfully no mould or anything down below.   We spent most of the day sorting things out – including reinstalling our cockpit canvas – and headed back to our apartment for a quick bob in the pool at 5pm.   Definitely need to work on our tans!    A steak salad tea in our apartment and we crashed at 8 pm.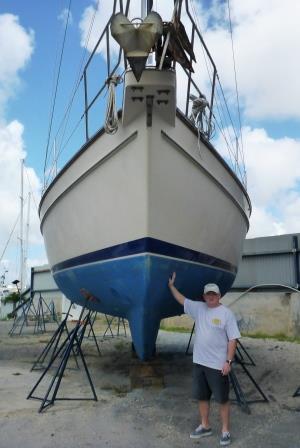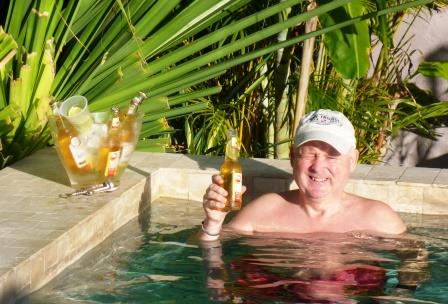 Thursday morning and we started anti-fouling.   And we have lined up someone to make us a new cupboard where the microwave lives – which we never use and are going to dump – and to cut an access hole in one of the panels below the port saloon cushions.    We're still cleaning and sorting stuff out too – but Morphie is looking tidier with some canvas and even a new Ensign!   A long hot busy day so we ended up back in the pool for a quick bob around 5pm and another salad tea – with chicken this time.    Was going to go out but we crashed again around 8 pm!   But slept really badly….
During the evening we heard the devastating news that Aurora – a large Island Packet in the Island Yacht fleet was smashed to pieces on the rocks off St John.    Details are yet to be confirmed but it looks like the charterers on board got a line propped and were unable to sail away from danger.    They were lucky to escape unharmed thanks to the bravery of the emergency responders and the U.S. Coast Guard.   Terrible photos courtesy of Sea Tow Virgin Islands….   Our hearts go out to the poor owner – what a tragedy.
Friday morning and up early – wood guy behind schedule – obviously on Island Time.   But stuffing gland repacked – yay!    Anti foul finished too…..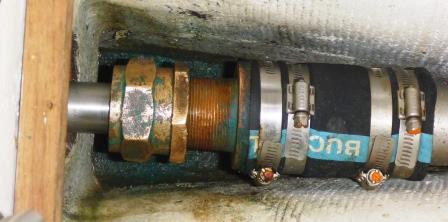 But we've spotted problems with our awl grip paint on the water line – which is coming off in places….  As this was done fresh last year in Grenada we are not happy!   Richard currently drafting an appropriate e-mail to them but, as a result, we are going to have to spend some time (and money!) on getting this repaired – so will probably end up having to sleep on the hard until we splash, as we check out of the apartment next Tuesday morning.    Not ideal – but what can you do?   Hoping it will not be long and we can splash on Thursday.
We have a long list of jobs to do this weekend so we're going to take a couple of hours off this afternoon to work on those tans again……  and to cool down of course!!  Richard is going to take me out to dinner tonight as a treat – so hoping for a later night and a proper night's sleep.   And tomorrow evening there is a Christmas Fayre in the area so we are looking forward to joining in and eating lots of street food!
Bye for now
Jan