Saturday evening we went out for something to eat in the marina bar / restaurant.   It was pretty busy with loads of large family groups – so we sat at the bar and had a snack and a bottle of wine. It was clear that some members of one of the family groups were already under the influence – they were very loud and it was apparent that not all was well with some relationships…   Then the heavens opened!   Luckily we were under cover but no-one else was – so they all had to run inside.   The bar staff – who had been getting a bit of a raw deal from these particular rowdy customers – found this all quite funny and so did we!!!   After a nice evening we managed to find a gap in the rain to head back to Morphie and so to bed.
Sunday morning we were up early – settled our bill – and moved out of our slip. We were not looking forward to getting out of the narrow marina entrance straight into the wind and waves – but we managed to punch our way out…and Morphie handled it brilliantly.   We did wonder whether this was why the marina was so empty though as we headed out??? Sadly no dolphin visited today!
As we turned the corner onto the south coast of Puerto Rico the wind and waves were now behind us.   The seas were not particularly large or lumpy and the wind was blowing steadily. This was the best sail we have had in a very very long time…..   Absolutely fantastic!   And we were visited by a huge leatherback turtle – the size of a small car – coming up for a few breaths…. Radical dude…. Sadly we weren't able to get a photo of him / her.
 We made good time, averaging 6 knots over the 25 mile sail, and turned around the cayo towards the anchorage that nestles between the mangroves.   And, of course, the minute we drop the sails and head into the wind and waves trying to navigate through skinny water the wind picked up and the rain came down…..   If you are wondering why our speed is Zero – that's because a little crustacean has taken hold of the impeller and we have not had nice water to dive under and dislodge it!    We managed to make our way in safely and dropped our hook in 9 feet of water and got an instant set into the mud. And, of course, the weather cleared the minute we were in.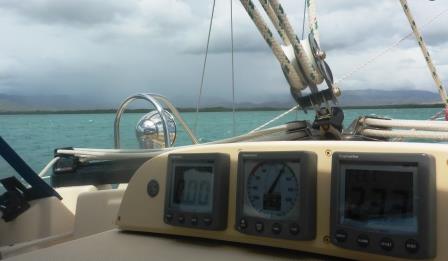 Salinas is a lovely anchorage.   Absolutely flat calm and felt like we were tied up to land.   We deliberately decided to stay at the back of the field to give us more privacy – especially as we knew that this anchorage was very crowded with private mooring balls and liveaboards closer in to shore.   We enjoyed the sights and sounds of the pelicans fishing and the views of the mountains behind the boats… and the police boat that used us as cover to caution people for going too fast through the mangroves, which is a manatee area. We decided not to go ashore and just enjoyed being at anchor again and watching the sun going down, having dinner in the cockpit.
Monday morning and we cleaned Morphie up.   I went around the outside rail in the dinghy as, when we had removed the blue tape after varnishing, the anchorage in St Thomas was very rolly and dangerous so it was not as perfect a job as it could have been.   So I cleaned up some bits and bobs that had escaped us the first time round. Richard did some engine maintenance tasks and, late morning, we went ashore to explore.  On the way we dinked slowly around the anchorage looking for manatees but to no avail – Richard even offered them salad if they showed up, but they weren't playing LOL.
Salinas is a sleepy place – and has a gastronomic route to follow which is quite famous apparently.   So we wandered around – saying Buenos Dias to anyone who smiled – but it was largely empty, shops shut, restaurants shut and apart from admiring the huge propeller someone had installed in their front garden, there wasn't much to see.
We wandered back – a bit disappointed – but found a sea facing bar open and went in and tried some local appetisers.   Cheese balls sound horrendous, but actually were very tasty, especially with the guava dip.   Richard had huge shrimps and enjoyed them too…   Whilst sitting there we watched pelicans resting up on the broken down pilings in the sea.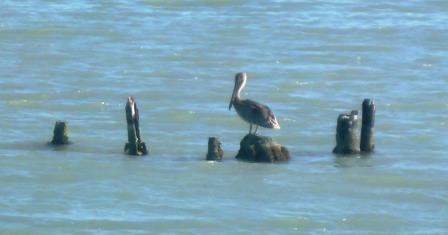 Having had an enjoyable hour or so we wandered back to the marina – enjoying views of the ocean when we could catch it between buildings – and ended up in the marina bar where we quickly caught up on emails and then returned to Morphie in time to watch a stunning sunset.
Tuesday morning and we were on the move again – this time our destination was Ponce – and we enjoyed looking at the windmills along the coast. Again, it was another 25 mile downwind sail which was both brisk and breezy.   Loving this.
We reached the main channel into Ponce when we heard Triton on the radio letting people know that he was leaving Ponce port and was towing a large barge so was restricted in his ability to manoeuvre.   We hailed him to find out his requirements and we decided to leave him the whole width of the channel as, at the point we would pass, we had enough depth to go outside of the channel itself. He was very grateful and thanked us for our consideration especially as the wind was howling and he wanted to go down the 'wrong' side of the channel to avoid getting swept down onto the green channel markers.
Once we had passed port to port we returned to the main channel to avoid shoals that were now ahead of us….   We were getting beaten up with the waves hitting us on our side and our first sight of the anchorage was not an inviting one.
The main yacht club was full of power boats, the inner harbour was full of private mooring balls, and that only left anchoring room outside and opposite the main industrial port. It was 30 feet deep so we made sure we had a lot of swinging room and dropped 150 feet of chain into the mud. We got a good set straight away and sat back and watched for a while.
Later on we dinked across to the yacht club main building – which was absolutely deserted and obviously not in use – and found the main office in the car park. We enquired about a slip but decided to decline at $2 per foot per day.   We also enquired about leaving dink there during the day – and decided not to bother at that either at $10 per person per day.   Not sure what the cost was for – there wasn't an actual dinghy dock and there was no security either – no problem we'll find somewhere else.   We did, however, manage to get a useful map of Ponce town, which is about a 10 minute drive away from the anchorage.
Later on we dinked around and found a little dock near the boardwalk which was marked 'dinghies only'. Hurrah!   We went to the boardwalk and wandered up and down – surprised that it was all little kiosks rather than nice bars / restaurants – but we had a couple of cold ones and some more local snacks. Unfortunately it would appear that most Puerto Rican appetisers are deep fried so we'll have to avoid these in future.  On the way back to dink we spotted a huge Zumba class going on – they seemed pretty keen!   Back on board and we enjoyed the sunset before turning in for the night.
Wednesday morning we tried to hail a taxi – but failed miserably.  So we walked to the security gate of the marina and the guy there was kind enough to call one for us.   He arrived – I attempted some Spanish – at which point he replied in English!  Oh well – I did try…..   He dropped us at the Fire Station in the centre of Ponce and what a treat….   Fantastic place….with an antique pump and a weird display of carnival costumes.
Around the corner we visited the Cathedral which was absolutely stunning….and pictures really do not do it justice.
Outside the cathedral in the main square we found hand-painted lions by local artists. Not sure what the lions signify but they were all individual and an interesting sight, especially when we realised that there was a parade of them on every corner to this park.
It was, at this point, we were approached by a couple of beggars which is the first time since we arrived in Puerto Rico.   Ponce is very Spanish, has lots of history with fantastic architecture, and we enjoyed the sights and sounds a lot.   We even went shopping in the very reasonably priced local outlets – so cheap that I got two pairs of shoes for $35.  Bargain!!!!   They are made in China and will probably last less than one season but hey, a girl can never have too many pairs of shoes, even on a sailboat LOL, although Richard did make me throw away some old ones later!
We made our way back to the boardwalk via another taxi – this time the driver did understand the Spanish yay! – and had a few beers.   We bumped into this tour group from the US whom were keen to chat when they realised we were English – so we had a good time with them before they returned to their hotel.
Back on board we enjoyed the Ponce sunset, had dinner, and a nice evening in the cockpit before retiring.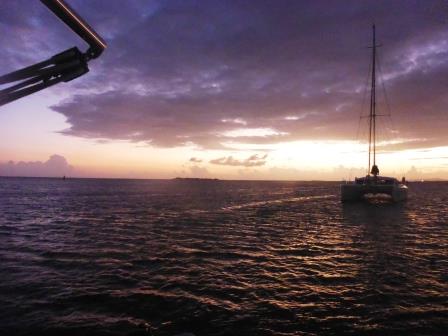 Thursday morning and we were up early – we motored out through the channel, cleared all hazards, got the sails up and ran downwind towards La Paguera.   The sail was brisk – with a very big sea running behind us – and it slapped us quite a few times with waves breaking under us, over us and surfing us along in the wrong direction a few times!   But we still had a great time and enjoyed the coastline – and wondered what this huge industrial area was all about? That's when we could see it behind the waves of course….
La Paguera is well hidden behind cayos and through reefs – so very careful navigation was needed here. We kept an eye on the charts, on our depth, on our plotter and felt our way through.   The main anchorage opposite the town was empty – and we weren't sure whether we wanted to be the only boat there for security reasons – so we crept through towards the marina tucked away around the corner of a little island.   We realised that our chart plotter was completely inaccurate in this area as we actually appeared to be sailing on land at some point…..  Oh well, gave us good practice at eyeball navigation and reading the colour of the water to determine depth…..   Thankfully we managed to get anchored in 10 feet of water behind a cayo and we realised that all the boats ahead of us had actually been left here unattended. So we are on our own anyway – and then a French boat turns up and anchors alongside – clearly they were looking for safety in numbers too.   The sail had been very tiring – we had hand steered most of the way as the waves kept knocking Colin our auto pilot off course and we didn't want him to work that hard – so we decided to rest up for the rest of the day and had another quiet night on board.
This morning – Friday – and we were out and about pretty early.   We dinked through the cayos admiring all the little houses scattered along the shoreline, although most of them seemed to be deserted.   We dinked along the coast to find a place to put dink and failed miserably…. although did find the only hotel!   So we returned to the marina to be told that it is private and members only – no transient visitors allowed.  Not very welcoming eh???
But we did found out where to take dink in town so turned around and went back again – finding a small floating dock in about 18 inches of water behind Johnny's boat rental. Phew…..     The town is tiny and under construction – so nothing much to offer really. We are now holed up in the only local restaurant that has internet coverage and will return to Morphie once this is finished.   Oh yes, and we have found that the huge blimp up in the sky is actually a spy checking out for drugs!!!!
Another quiet night on board beckons.  Tomorrow – Saturday – we are planning to sail to the end of Puerto Rico's south coast and anchor on the West Coast…. Another different customs zone so will we need to check in again once we arrive.  We are hoping for a bit more life ashore on the West Coast – fingers crossed!
Bye for now.
Jan