Thursday afternoon we spent a few hours bobbing on the beach watching the races before heading across the channel ourselves to Georgetown. Sadly very little wind for the racers but it did mean we managed to get ashore without getting soaked….
We went to the Peace and Plenty Hotel to listen to the live band, have a bit of a dance, and enjoyed people watching.   Check out the girl in the big hat and not much else – we thought she might be a relation of Sinitta LOL.
Afterwards we ended up back on Government dock and had a few beers at the temporary bars that have sprung up for the regatta. We got chatting to quite a few people and had a great time – so good we actually didn't get back to Morphie until 1 am….
Friday morning and the heavens opened. And that set the scene for the day really – rainy and squally. We did boat jobs in between watching the different races from the cockpit – felt sorry for the guys out there trying to race in those poor conditions. We decided not to go ashore and just relaxed the rest of the day.
Oh yes, and of course we get the numpty who anchors too close to us – so we politely asked him to move…..   This anchorage is huge – there really isn't any need to get close to anyone – not sure what they thought they were doing.   Thankfully they did as we asked…..   Fantastic sunset before we turned in for an early night.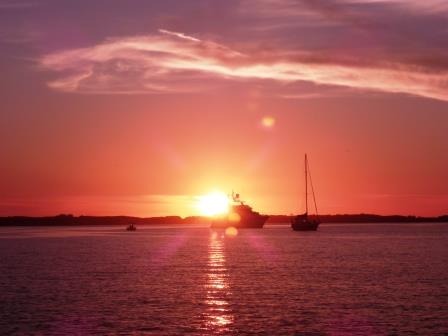 Saturday morning and the sun was back – but still no wind. Such a shame as this is the last day of the regatta – the guys made the most of it – and we enjoyed watching them in action.
Later on we went ashore as there is a parade before the closing ceremony and prize giving…..   This was a real family day with loads of kids around and the conch salad and BBQ guys were doing a great job keeping everyone fed!   There were loads of small tents erected selling local products and memorabilia – I fancied a straw bag but didn't fancy the price….
Anyway – we had a couple of beers at our favourite spot – and then wandered back to the main road for the parade.   It was teeming with people and loads of police around….dressed in their ceremonial best.   And they were happy to pose for photos too – which was nice.
The crowd was getting noisy and people were trying to get a good spot – with loads of kids sitting on the roof of one of the gift shops…..
Eventually – about an hour late – the first band arrived.   Not like anything you have ever seen before – dancing girls, dancing band members, all playing their hearts out and doing intricate moves, often impeded by the crowds that engulfed them. What fun!
Then the police band turned up – and entertained us with their dance moves too – all dressed in traditional garb including real leopard skins and pith helmets.   Can you image the whole band swaying "to the left, to the left, to the left"?   We thoroughly enjoyed ourselves.
We then headed over to the Government building and checked out all the huge trophies and beautiful medals – and talked to the police band and chatted / posed with them too…  We asked the guy about the leopard skins – they are very old and date back to colonial days – the newer ones are, thankfully, artificial.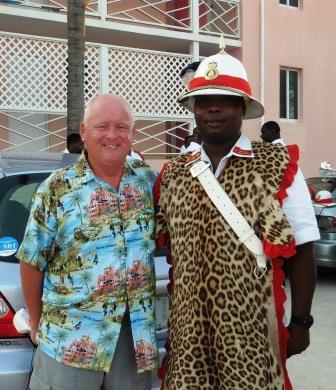 Then it was prize giving time – the dignitaries arrived – and the band started it all off playing the National Anthem.   The prize giving went on for a while – and most of the trophies ended up with Stefan Nodes of Long Island whose family has a long tradition of boat building and sailing.   Some of his family members won trophies in different categories too…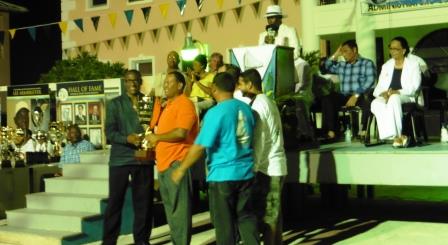 After it was all over we wandered back to the Government dock and chatted to people again – and had great service from our favourite bar tender….
Prices had been reduced for the final night – three beers for $5.   Yay!     Kids were still out late into the evening and there was a pretty little girl who kept coming up to me to do high fives.   Her dad said she liked me – ah bless…..
We eventually got back to Morphie quite late having thoroughly enjoyed our regatta experience.
Sunday morning we had a late start – and spent the afternoon on the beach bobbing and talking to the sting ray that patrols up and down. Richard even managed to stroke him at one point … all the time under the watchful eyes of the huge gulls that shout out 'mine, mine, mine' at every occasion.
Lovely day…..followed by a great sunset just before we returned to Morphie.
Monday and we're back into town – and hoping for an update on when our cards might arrive…. The tracking system still says it is in Nassau.   Well the store we had addressed it to now say they can't accept UPS….only DHL. Try the Post Office.   The Post Office says no, we don't get UPS either.   Back to the chandlery and a different women says try Forbes. We got directions and went there – they are closed. Oh well – off to the laundry then. Got that done and back to Forbes – and the guy says yes, all UPS packages come here once they've been cleared by customs in Nassau.   He says Tuesday or Thursday so fingers crossed…. Feeling more hopeful than earlier!
We had another bobbing few hours on Chat 'N' Chill beach before returning to Morphie for a quiet night on board.
Today, Tuesday, it is pretty windy and choppy so would be a very wet dinghy ride over – so we're probably going to stay on board today, unless the letter arrives….   Once we have that we can start planning on moving on up through the Exuma Islands – lots of new places still to explore.
Bye for now
Jan