Sunday afternoon we got together and had a snack lunch at the Holiday Inn poolside. And it was sunny – still chilly – but definitely some improvement.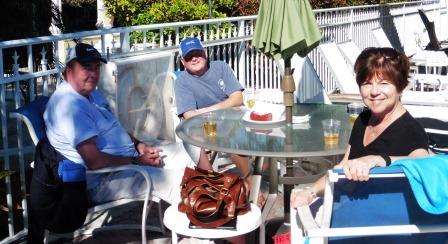 Then we picked up a cooler from Morphie for the afternoon's adventure – we were going on the original African Queen – woo hoo!!!   This boat has an interesting history – being built in 1912 and made famous by the 1951 movie with Kathryn Hepburn and Humphrey Bogart which was filmed in Africa, hence her name.   We climbed on board and were fascinated by the movie stills that the captain showed us in his albums.
We opened the champagne and did our selfie before casting off.   We helped steer; we blew the whistle; we enjoyed the ride; inspected the famous gin box and the steam engine; and just had a wonderful wonderful time…..   Amazing…….and the most perfect weather too although still a little chilly.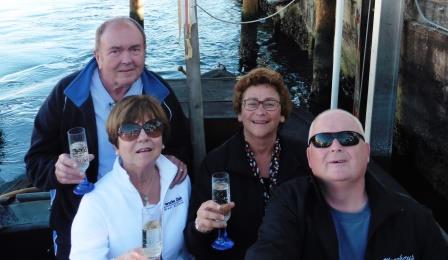 On the way back up the canal we enjoyed the fancy houses and said hi to Morphie as we went by and then were greeted by our pelican welcoming committee as we docked the African Queen back along the wall.
Getting back to the hotel after almost two hours we headed straight over to Snooks for dinner.   The sun went down for the night – being celebrated by a guy with bagpipes – and we thoroughly enjoyed the beautiful sunset.   It was pretty cold so we went inside for dinner and had a great meal. Was very impressed….and then back to Skippers for final pontoonies before calling it a day.
Monday morning we were up very early and met at eight – and it was freezing at only 48 F. We found the fast route to take us to South Beach Miami and enjoyed the views of the city as we came across the bridge and found somewhere to park.
First stop was to a coffee shop for a quick breakfast – and was greeted by a girl from Scunthorpe!   We wandered to Ocean Drive and enjoyed the sights of the Art Deco historic district and came across the information centre – asked the woman what were 'the must not miss sights' as we were only in South Beach for the day.   She was English too and replied "I don't know!"  Really?!?!   Was a funny moment…. We carried on walking – and met our first American who tried to sell us a tour – and then wandered to see the beach. Pretty impressive but you can tell how cold it was as it was empty.
We then stopped for a quick beer – and Richard chose a gay bar called the Palace.   Their motto was 'Every Queen needs a Palace' so wasn't too difficult to work it out.   The weather had warmed up by now and was turning into a pretty nice day.
There were a few hustlers around; lots of weird dress shops which we think may have been catering for the cross-dressing community as many of the shoe sizes were pretty big; fancy cars; mad dog ladies; and lovely buildings.  Oh not to mention the young women teetering along on high heels not wearing much in the way of clothing….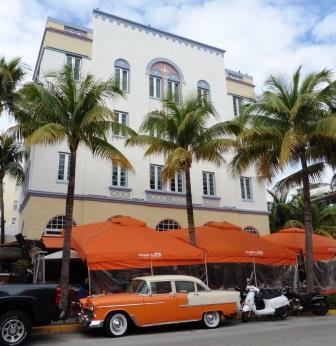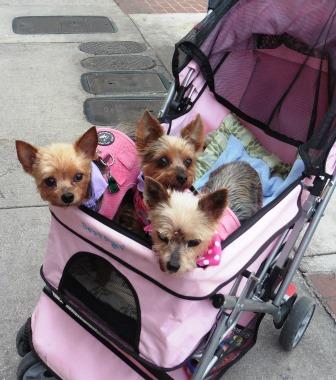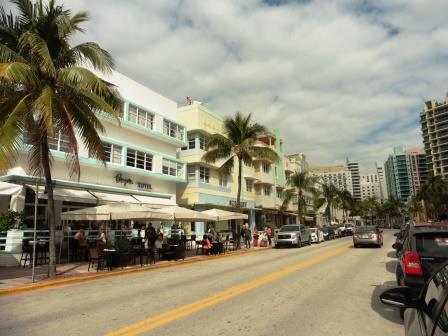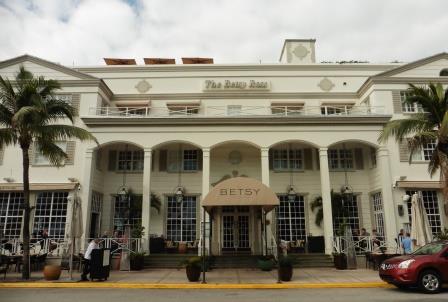 We were surprised to see quite a lot of vagrants too who appeared to be living in the park which sits between the road and the beach.  Finally we headed back towards the car and stopped for a great meal in a Cuban restaurant.   By the time we had reached the car we reckoned we had walked about 10 miles in all.   Pretty tired but had really enjoyed ourselves.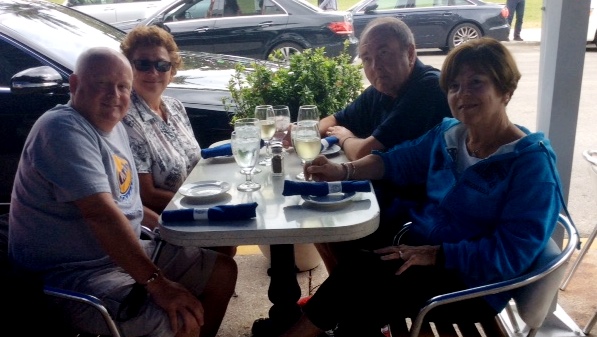 We drove US 1 back to Mile Marker 100 and then went to the pool area for a couple of glasses – was getting positively balmy by then.   We then took a break and regrouped for dinner at Skippers. We had had another great day exploring.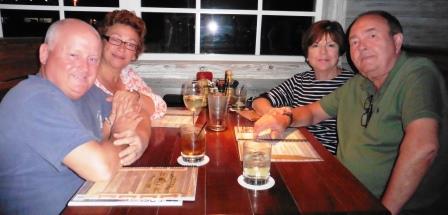 Tuesday and the forecast was for good weather.  So we optimistically planned a pool day – and woo hoo the Sunshine State actually lived up to its name. Almost made 80 degrees – we had a lovely time chilling, bobbing and just generally chatting in the sun.
Later on Ron and Carolyn came to Morphie for dinner and I only just managed to wake up from a nap before they arrived – so was a bit discombobulated for a little while LOL.   But I got my act together – we had a lovely meal – and sat in the cockpit listening to music with lots of laughter.   Around midnight it was time for them to leave and the step down from Morphie onto the small dock was pretty big – we got off and Ron followed except that he stepped straight to the dock and got his other leg caught up.   We tried not to laugh – very unsuccessfully – and he was trapped there while we all fell about in hysterics!   We finally got our act together and eased the ropes so that we could pull Morphie closer to the dock and he could extricate himself – and we fell about laughing again.   Seriously seriously funny moment – but felt a bit bad as it could have gone so badly wrong if he had toppled backward!   Luckily Ron is a good sport and let us off….
Wednesday was our last full day together and we had breakfast on board – it was very cloudy and humid. So we went off shopping before returning to the pool for Carolyn's final conch fritters of the trip – and the offering from Bogies, Holiday Inn, won this year's contest hands down. After a final wine bob we took a break and met up again for dinner, slightly glammed up for the occasion.
We returned to the Fish House Encore – we thought that this was by far the best dinner venue of the trip – and we ordered our food.   Richard went for the lobster bisque again as his starter and it came early, along with Carolyn's salad that went with her main…. He had finished it before their oyster rockefellers had turned up and this had the beginnings of a another disastrous dinner service. Thankfully they turned up and were eaten – we even got a break before our mains were delivered – and we had an excellent meal…..
We returned to Skippers for pontoonies and the inside bar was closed so we took up residence at the outside bar – and although they served us they started cleaning / clearing all the bottles away / and asked us to cash up very quickly. We got another round in and paid the bill – to the most miserable bar tender ever. We were clearly in the way so we left the bar and took a table instead – and then they closed up and turned the lights off…. Great – thanks a lot!!!
Thursday morning and, sadly, it was Carolyn and Ron's last day. We met them for breakfast in their hotel and then we borrowed the car to do a few boat-related jobs while they did their packing. We filled up a propane tank; topped up our phone card; and filled up diesel and petrol jugs for the rail….   We returned to Carolyn and Ron and went to the Tiki Hut for our final time together.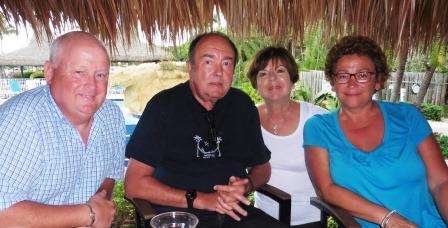 And, of course, the heavens now opened.   Was absolutely pouring down but it was time to go – so we had hugs all round and said sad farewells and waved them off into the rain….
Feeling very sad we returned to Morphie and that is where we stayed for the rest of the day – it rained very hard and was very windy – so we just tidied up down below and generally chilled before having an early night.
This morning, Friday, and we went out to the bank and to the dive shop – to buy new regulators for me….   We then came back and we gave Morphie some tender loving care down below until she was looking spic and span again. I'm blogging while Richard is on deck giving Morphie a scrub.   It is time to get her ready to go back to sea.
Bye for now
Jan