On Thursday Richard identified and fixed dink's leak so he was able to be lifted back onto his davits.   We then relaxed for a while before joining Ulla and Jo at the pool where we shared a pre-Christmas bottle of bubbly with them.  Very nice it was too before we returned to Morphie for an early night.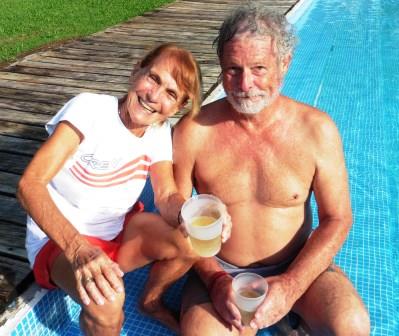 Friday morning we awoke to torrential rain again…but we needed to go into town to do some provisioning and also to check whether our cable had arrived.   So we dragged out our oilies and made our way across the river.  The package had still not arrived but we were promised it may arrive later in the day.    Oh well…so back across the river…until it was time to do it all again.  Check out this boat near us – can you believe that someone actually lives on it?!?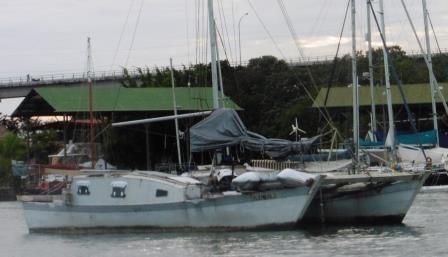 Just after three we returned and were amazed that, yes, our parcel had actually arrived.  Woo hoo!   We can make plans to get out of here now once we've done the installation and test that the Iridium Go is working with the external antennae.   We were both pretty excited and didn't even care that customs charged us £20. 
Back on board we quickly unpacked it and….oh no….they have sent four of the same connectors.   So we can connect to the unit itself but not to the antennae as the connectors supplied are too small.   This is turning into some sort of farce!   Feeling pretty despondent we fired off another email to the company.   We have decided we are not waiting around any longer – especially as they are probably closed for Christmas – so will try and get them sent to us in Panama. 
Saturday morning and the rain finally stopped.   Richard decided to cut the antennae connector from the original thicker cable to see if he can connect it to the new thinner version.   Check out the difference in size!   
Anyway….he managed to do it…and the continuity tests of the braid and the core were successful so he knew we had a good termination.    Fantastic…well done.   So we then focused on pulling through the cables into the boat.   Here is what the arch looks like now with its recent addition.
While Richard was terminating cables and reattaching the GPS I took myself off to the petrol station – and topped up with petrol, two-stroke oil and a gas fill for our BBQ propane bottle.   We then did some more pre-passage testing:  radar, check;  GPS, check;  Iridium Go, check.   Hey we are almost ready to go – really just the sails left to sort out.  They are currently loitering in the saloon and getting in the way.  When we leave here we are heading down the river about 15 miles to where Tom the rigger is located.  He is going to strengthen the stitching on the sacrificial strips for us.  We are also going to install an additional boom bail for the boom break while we are there.
Later on we went across to MAR Marine to join a group of cruisers who were coming down the river with us following Santa.   We all piled in – it was pretty full – and headed around to Backpackers to await Santa's arrival admiring the beautiful sky as the sun went down.  
In the meantime we checked out Santa's sleigh and said hi to Rudolph.   Finally at six the generator was started and the sleigh was lit up – Santa and Mother Christmas arrived and got settled – and we took off into the darkness.    Oh yes…and that hair and beard is real.
We skirted settlements and marinas along the way and there was a noisy reception from land as we went by.  We sang carols too…   Fireworks were going off all over and it was just an amazing journey. 
About 45 minutes later we arrived at Casa Guatemala and went into Santa's Grotto.   Here some of the resident children were waiting to receive their gifts.   Santa's helper is actually Heather who is the CEO of this charity and a very special hard-working inspirational individual.  The connection she has with the kids is amazing and they all love her back.   We thoroughly enjoyed watching them wait their turn for a hug with Santa and, surprisingly, not one of them opened their bags.   Can you imagine giving a two year a Christmas gift and them not tearing it open immediately??  Oh yes, and the blonde cutie, belongs to one of the resident volunteer teachers.
Then it was time for the local children from the surrounding villages to receive their gifts.  We took ourselves off to the gymnasium area – well it did have a basketball hoop – and we sat on concrete steps to watch the proceedings.   Fire crackers / bangers and other assorted fireworks were being set off all around us and the air was pretty thick with the smoke.  
Shortly afterwards Father Christmas arrived….and took his place on his decorated throne.  The villages were all asked to queue – the mums (some of whom are as young as 14 years old) with their children – and the dads (some of them were just boys really) watched from the perimeter.   They were let forward one family at a time.  There was no pushing, no shoving, nothing…just polite anticipation although there was some jostling as they first got into line LOL.   There were hundreds of them.
As each family came forward the children were identified by gender and age to ensure they got a relevant present, which was all gift wrapped and given to them by volunteer children. 
Then they had a hug from Santa before excitedly running back to their family groups to tear open the gifts.   Can you image the pure logistics of this huge endeavour?  No child left without a gift.   Fantastic or what?!?   This whole experience was incredibly humbling.   The pure joy on their faces – and their mothers too – was just stunning.  As this was their only gift some of them started quietly and politely bartering with each other if they fancied something different.   Cuddly toys seemed to win the popular vote!
After this huge present exchange we went to the kitchen where all the boarders were fed with a special Christmas meal – which included turkey and cake.   Once they were all tucking in more plates were distributed outside of the dining area to the village families.   Interesting  observation – not one child turned their nose up at anything….   When was the last time you gave a two or three or four or more aged child something to eat and they didn't complain they wanted something different or whinge about being made to eat vegetables???   We wanted to help give out the food but our launcha was about to leave so we had to make our way back to the boat.
The trip down the river was dark and fast.   Was a little concerned about how many of us were on board and the load was definitely not evenly distributed.   But we made it back in one piece and dry!
Back on board we had a few beers and Tim joined us to try out one of my Dark and Stormies now that I had found the ginger beer in the store.  It ended up a very late night – and we thoroughly enjoyed the huge firework displays across the river – and it was a perfect end to a very special and different Christmas Eve.
Christmas morning we had sausage rolls – sadly bread rather than pastry – but hey we are in Guatemala!   Thanks everyone for the lovely cards.   
We had a lazy time before getting ready to go out.    Tim picked us up at the dock and we headed over to Backpackers.  The noise levels were high with lots of locals sitting on top of the bridge throwing firecrackers into the water.   Who would know that setting off fireworks would be such a popular pastime here in Guatemala?!?   
We managed to get to Backpackers just before the heavens opened – looks like we are going to have a wet return trip!   We liked the nativity scene here….it certainly feels like Christmas….unlike our marina which still hasn't got a bit of tinsel anywhere let alone a tree!   
The lunch was an interesting plate of food – turkey, ham, stuffing, carrots, beans, cheesy mashed potato plus some unusual extras like roasted beetroot and tomato.   That said it was very flavoursome and three courses with a glass of wine for £15 is just amazing value.    Heather had set out a 'friendship table' for the cruisers to all sit together but this got ruined a bit by a bunch of them deciding to sit at the other end of the restaurant and watch American football…..and another bunch deciding to take a private table….   Never mind – there was enough of us – and we had fun and our waiters did a great job.
After we had had enough – and during a small break in the rain – we headed back and ended up stopping off at Seraphim for a few pontoonies before returning to Morphie.  Thanks for your hospitality and company Tim.  
This morning's weather download (Boxing Day) continues to point to a weather window on Wednesday  to leave Guatemala – and the high tide is conveniently timed at 7.45 am to get across the sand bar at Livingston.  So we are heading down the river today to get our sails re-stitched.   While we are there we are hoping to get a lift in a local launcha to Livingston on Tuesday so that we can check out a day early which enable us to head straight off very early Wednesday morning without being forced to do an 'officialdom' stop (which would mean catching the later evening tide).   Our next destination is actually Roatan but we'll be taking a convoluted route.   We'll head up first into Belizean waters to avoid the vagabonds near the coast of Honduras and then run down to Utila to check in.   This gives us a slightly better wind angle too.  But, of course, I don't need to tell you all this now as you can follow our track.     There is no internet or anything down the river so we'll check in with you all again when we can. 
Bye for now
Jan