Saturday morning we sat on Morphie watching the mud getting deeper and deeper around the boatyard.   Usually it comes to a halt over Le Weekend but Vincent and the guys were around as they had to haul another boat so the captain could get home to New Zealand for a family emergency.   As a result we had to be moved off the trailer and onto chocks which meant leaving the concrete hard behind…..sigh.    
Anyway we got off the boat and they manoeuvred the tractor.    We watched it slipping and sliding away and heaved a great sigh of relief when Morphie was finally in position and secured in place along with a new view from the cockpit.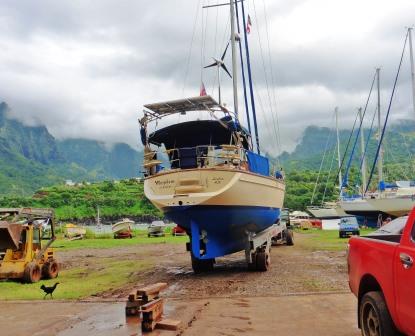 As the trailer pulled away, though, we noticed that there was a chunk of gel coat missing from Morphie's leading edge – all the way through to the fibreglass – but, thankfully, the fibreglass itself was undamaged.  This had obviously happened when we had been hauled.   Great….can anything else go wrong this season?
We told Vincent about the damage and, of course, he agreed to repair it free of charge.  At least we spotted it – had we splashed direct from the cradle on Friday as originally planned – then we could have had a problem with water being able to get in between the gelcoat and the fibreglass.  So staying put had actually done us a favour in a weird kind of way.
By now our water was running low with no immediate solution.   On the passage to Hiva Oa we had not made water for the last 10 days because we were otherwise occupied – and because of the harbour water being muddy from the continuous run-off we hadn't made any since we had arrived.  So our supplies continued to dwindle.  The water here in the boatyard is also muddy and cloudy – and not potable – so we do not want to put that in the tank.   We have a five gallon jug of drinking water we are trying to conserve so have been using the shack to shower in local cloudy water.   Absolutely horrible and I'm pretty fed up getting dirty to try and get clean!
Saturday evening we had a nice evening in the cockpit and were joined by a British lad called Jack who is on a mission to get to Australia without flying…. he seems to be doing quite well so far.   We had a laugh and drank too much rum – cold beers are at a premium on a boat without refrigeration – and put the world to rights.  Was quite a late night but I think we needed it.
Sunday morning and, yes, it was raining again.   The boatyard was deathly quiet and we were struggling with wifi access.  It comes and goes but not for any length of time to do anything useful with – and there are some things we need to do particularly for FedEx in Tahiti.   We ended up having a lazy day as we had finished most of our boat jobs.   Important things like cleaning the topsides, doing the laundry and cleaning down below will just have to wait until we get out of this muddy humid bug-infested environment.   
Monday morning and the boatyard came alive again as they hauled another boat out of the water.    One guy also patched the front of Morphie's bow so things are at least moving on that front.  
We also had two guys fitting the new windlass motor to solve the intermittent problem as we were not happy to continue our journey with an unreliable anchor.  When they took the windlass apart they couldn't get it back together again and spotted some erosion so they took it to the workshop to clean up and check it out.  Well, Vincent has just confirmed that it is dead.   Three parts have completely corroded through and are not fixable – so we need to buy some spares.    And, of course, we had a new motor in our spares cupboard but not the actual unit itself.   So frustrating….
We'll probably just buy a whole new unit and take the old one apart for spares.   But that means no anchoring until we get a new one – and, of course, this type of windlass is not currently available in Tahiti so will need to be ordered from either the USA or, probably, New Zealand as that is closer now.    Anchoring without a windlass in the depths of the atolls – often up to 50 feet – is not an option.   This season is turning into a living nightmare!
We debated what to do.   The next islands are called the Tuamotus and are often referred to as the dangerous archipelago or the dangerous middle – separating the Marquesas from the Society Islands (which is where Tahiti is located).    We obviously can't go to this remote area without a windlass as there are no facilities.   To wait for a replacement to reach Tahiti and then ship it here to Hiva Oa – especially as it means living on the hard in the mud – could take weeks / months.   So we have decided to do a straight shot for Tahiti.   This will take us about seven days at sea if we go the safer, longer route round.
In Tahiti we will have access to marinas;  shops;  restaurants;  chandleries;  fresh water and a laundry.   So we can be tied up safely and do a bit of exploring whilst waiting on parts.  It certainly seems a much better option than staying here in the mud.  We were hoping to visit a couple of other Marquesan Islands but that is sadly no longer than option.   It seems a shame to have to miss things out but we couldn't see everything anyway and this is the first season we have ever had so many difficulties to overcome.   We are disappointed and frustrated trying to cope with the latest setback and are both feeling quite low right now.    
We went back to the restaurant last night to get some internet items sorted.   I have made a tentative reservation at a marina, although they have so far failed to respond, and we are still trying to source a new GPS antenna – as the failed one has been discontinued.  Thanks again Garmin!   The pizza was recommended and it was not very good…really helped our mood….although they did take us back to the port.   We just had to navigate the mud to get back to Morphie.  
This morning, Tuesday, and we stored the failed windless and new motor down below.   Then we found some caps we could use to block the holes on the bow and siliconed those in place.  We'll add some plastic covering later and tape it up too.   The anchor was taken off and that is now also stored down below and the chain and wiring has been secured in the locker.  Hopefully that will be enough to stop water ingress into the bilges through the locker. 
The bow repair has dried and been sanded…not a great job but it will do…and we are just waiting on some antifoul on the patch now.    We have come into town to pick up some more tinned and dried food provisions for our passage and are now in Make Make having lunch and trying to finish internet jobs. 
We hope to splash on Thursday morning and will take off straight from there.   I'll continue to blog whilst at sea and you can obviously watch us move on the tracker.  We are hoping for a straightforward enjoyable passage – on a reach if the wind forecast is to be believed.  We definitely need a confidence boost right now….
Bye for now.
 Jan