Thursday we spent a lot of time looking at our new electronics and inputting our boat characteristics like setting it up for cruising, rather than racing, for example. We also used our new New Zealand and Australia chart chip and played around with the radar, AIS, chart settings etc. We came across a couple of things we couldn't work out but otherwise everything was working as it should. Very happy! We emailed Hans to say thank you again for sorting this in our absence and could he pop round to go through the few items we were puzzled by…. All in all a relatively quiet day but was very useful in familiarising ourselves with the new equipment. We had a quiet evening on board.
Friday was the last day of having a hire car, so we headed back to Kerikeri. We had a long shopping list and was relatively successful although the final items, new rugs for our saloon, remained elusive. We talked to a few people in town and were directed towards Whaipapa. We managed to find our way there (without maps or sat nav!) and came across a huge warehouse which reminded us of Costco. So we pulled in and had a look. They sold everything – including rugs – but the sizes didn't work for us. So we decided to give this up until we get to Auckland where, hopefully, there will be lots more choice. We did manage to get some other stuff though and all at bargain basement prices so pretty happy. Best bargain was a very thin 3mm yoga mat which is now pressed into service as a protective cover for our saloon table, as the old one had gone a bit mouldy.
In the evening, after dinner on board, we headed to the Cruising Club for a few glasses of wine before heading back through the boatyard to bed. Picked up a local magazine to find out that next week is the Bay of Islands Sailing Week so a beer tent was being erected in the car park. It looked like it could be fun.
Saturday morning it was back to boat jobs. We took everything off the rail and scrubbed the topsides. Then we used a de-oxidiser to clean the gelcoat. After that we Woody Waxed the non-slip areas.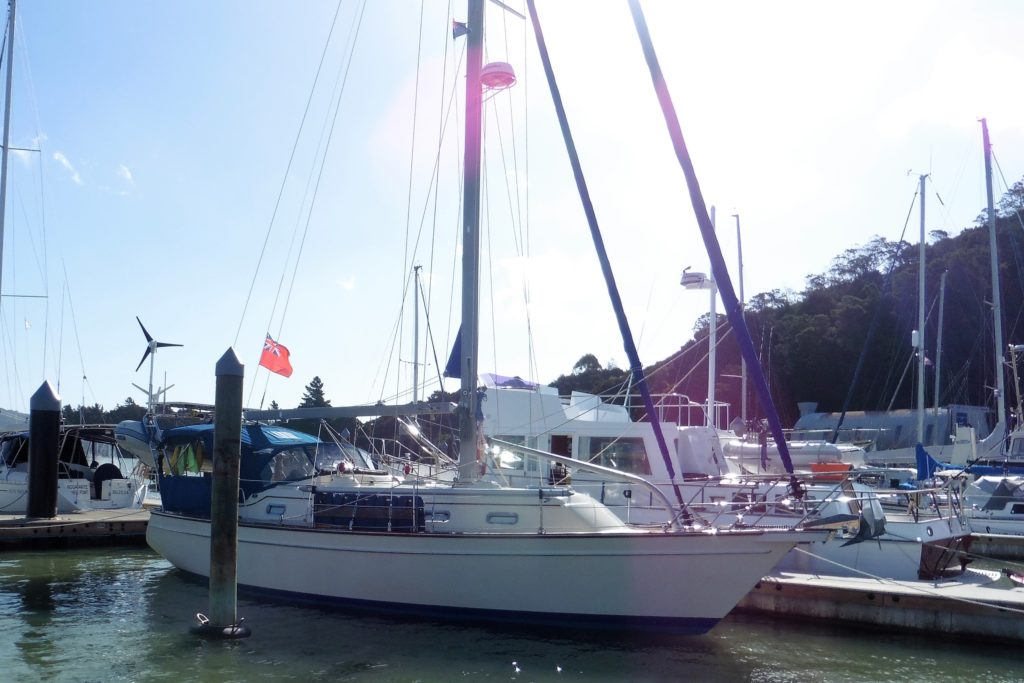 Finished up top for now we headed below and deep cleaned the heads. Phew, that was hard work. So we had a quiet evening on board in the cockpit watching the small racing boats arrive. Most of them are being temporarily housed on our dock or some are on trailers in the marina's car park.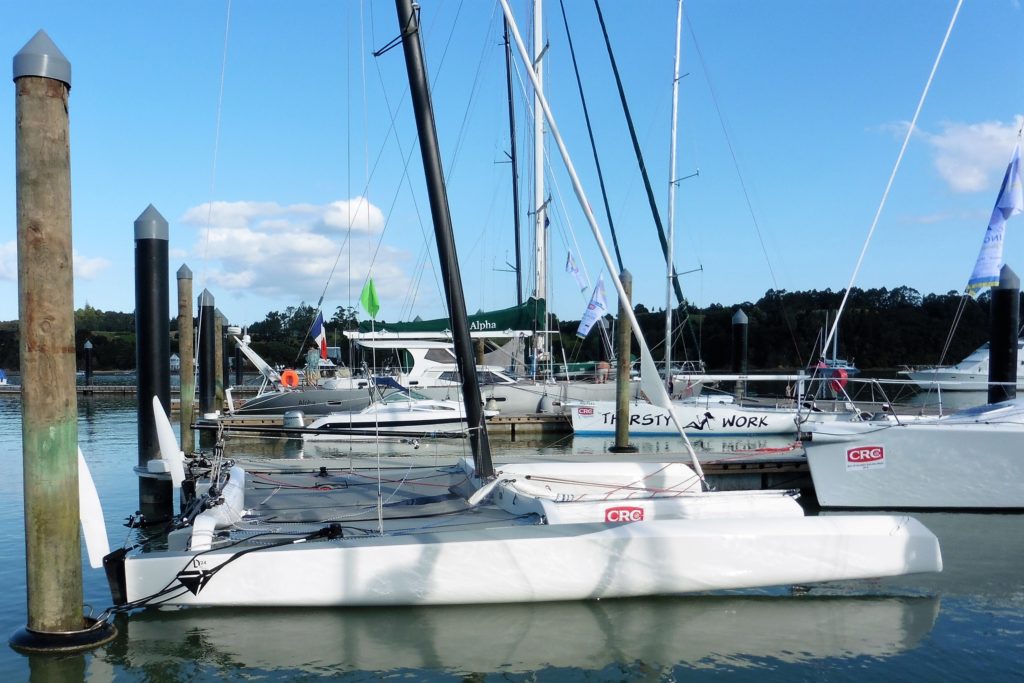 Sunday we waxed the topsides and cleaned the plexiglass and the hatches. I also repainted our dorades (wind scoops) bright pillar box red. Then we cleaned ourselves up and headed to the Cruising Club for our first Sunday roast in a while – was lamb with mint sauce – which was absolutely delicious and spent a nice evening with Bill and Peter.
Monday we 'protected' the topsides with a product they use here to avoid UV damage to the gelcoat and polished….all by hand as we don't have a machine…another item I hanker after LOL. When that was done, and after a breather, we got on with other jobs like servicing and testing the generator and the outboard. We also ordered some new locks for the cabinet doors as these all seem to be failing at the same time. Hans came by later and kindly answered our questions on the new kit. Richard also cleaned out our bilges. Morphie is looking quite shiny but there remains some work to do and that's without even thinking about re-varnishing the wood some of which is in a poor state right now (inside and out).  Absolutely shattered, we had a quiet night on board.
Tuesday we applied the second coat and finished protecting the gelcoat. Then it was time for the cockpit to get the spring clean treatment. Richard worked very hard on all this while I started on the stainless steel.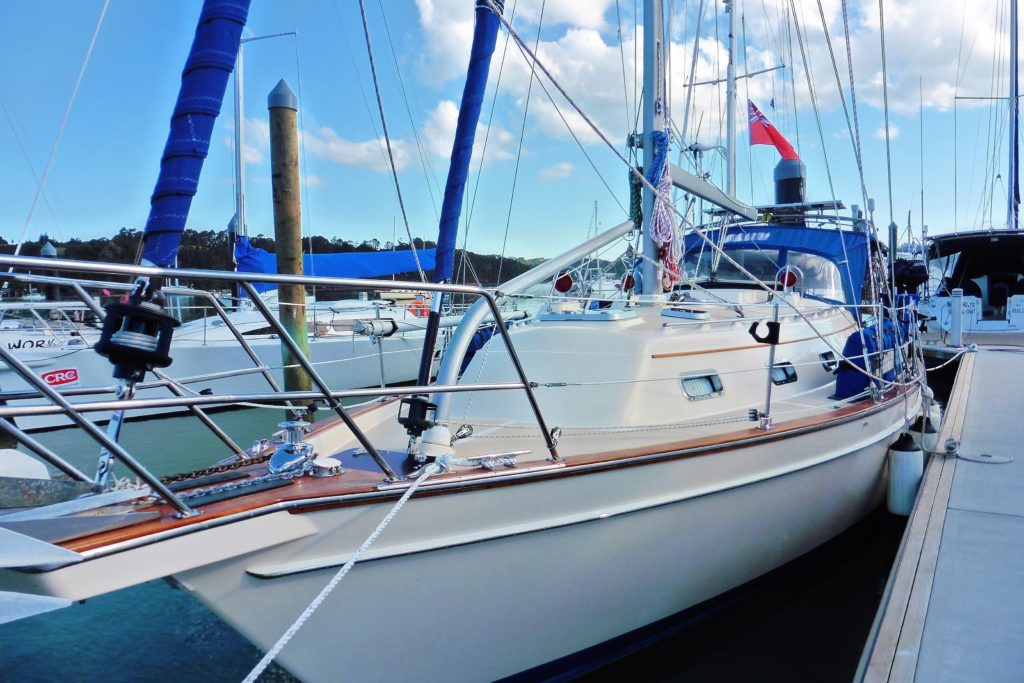 All done and we decided to take the rest of the afternoon off so headed over to Russell on the car ferry from Opua with the intention of seeing the kiwis (of the feathered variety). We enjoyed looking at the boats on the way.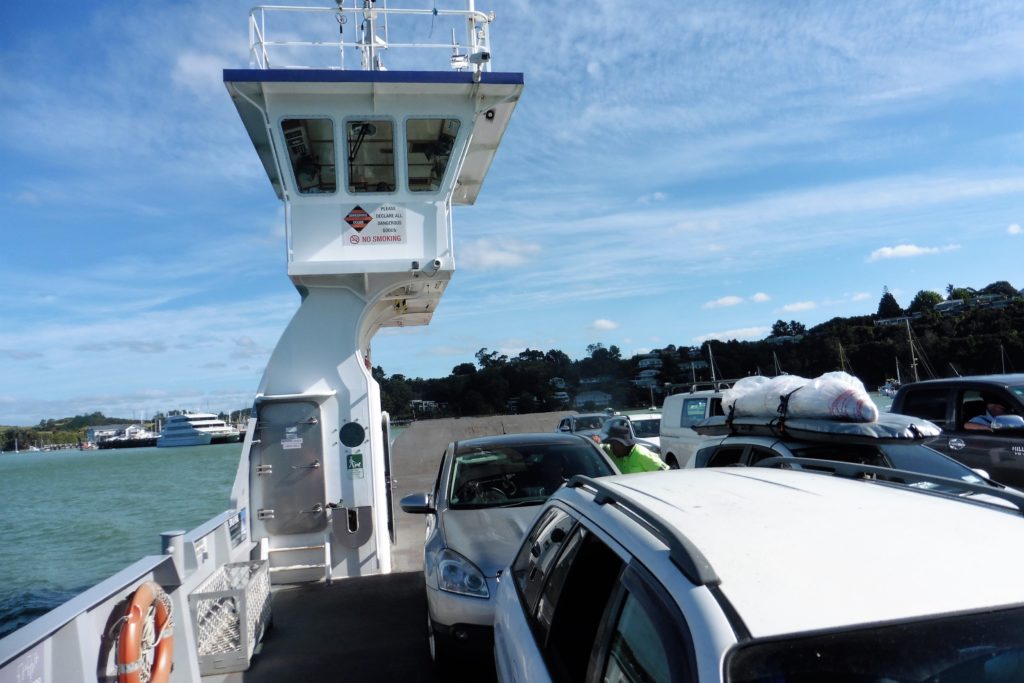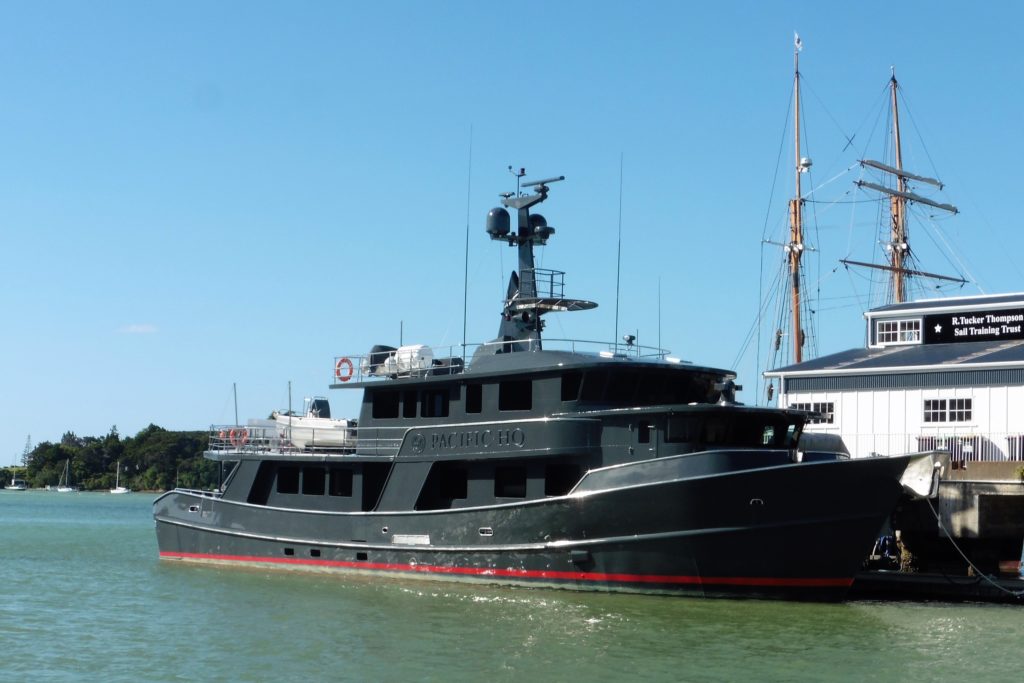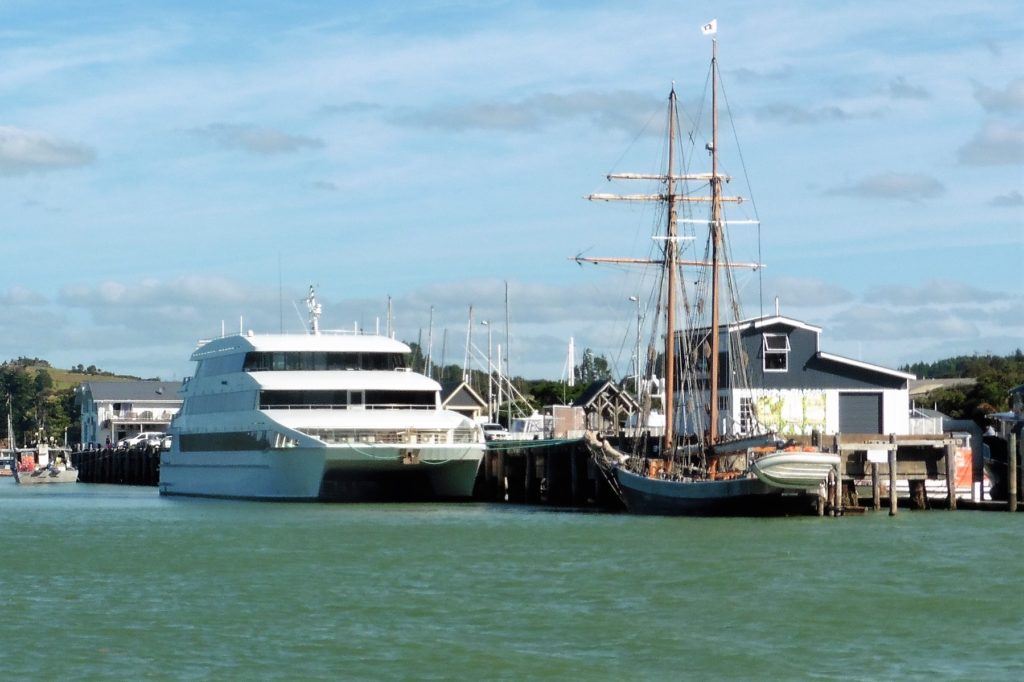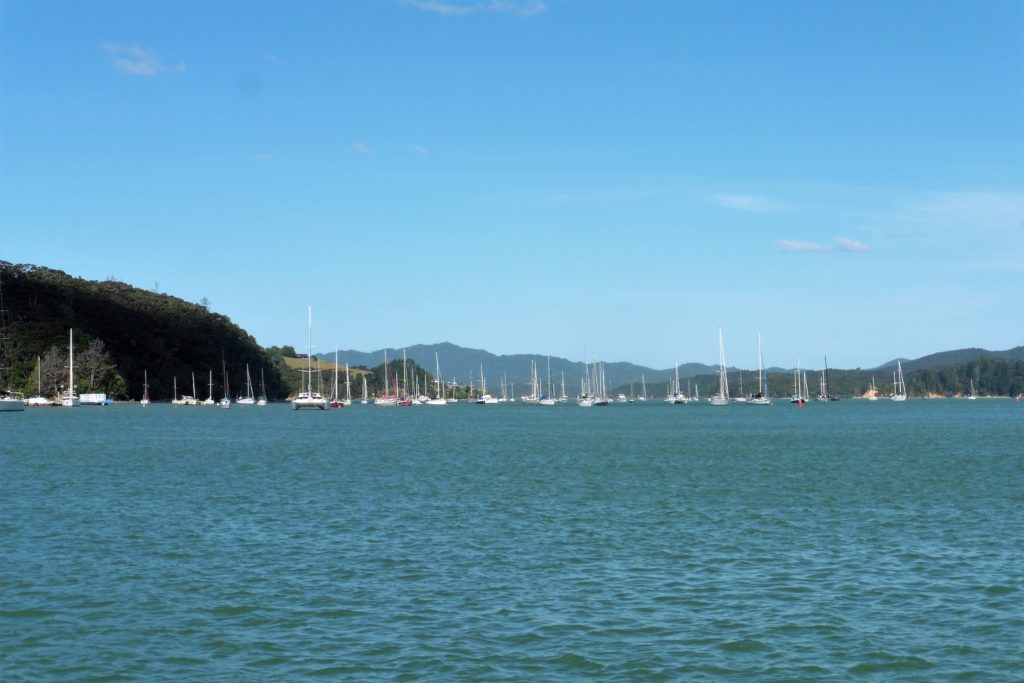 Kiwis are nocturnal birds, so while waiting for the sun to go down we wandered around this pretty historic little town which, originally, was called the Hell Hole of the Pacific.   This was the biggest whaling port in the Southern Hemisphere with one of its largest industries being prostitution. Up to 500 whalers would come ashore at any one time – having been at sea for 12 months – and there was no effective law enforcement. Apparently it was all a bit of a shock to the London missionaries LOL.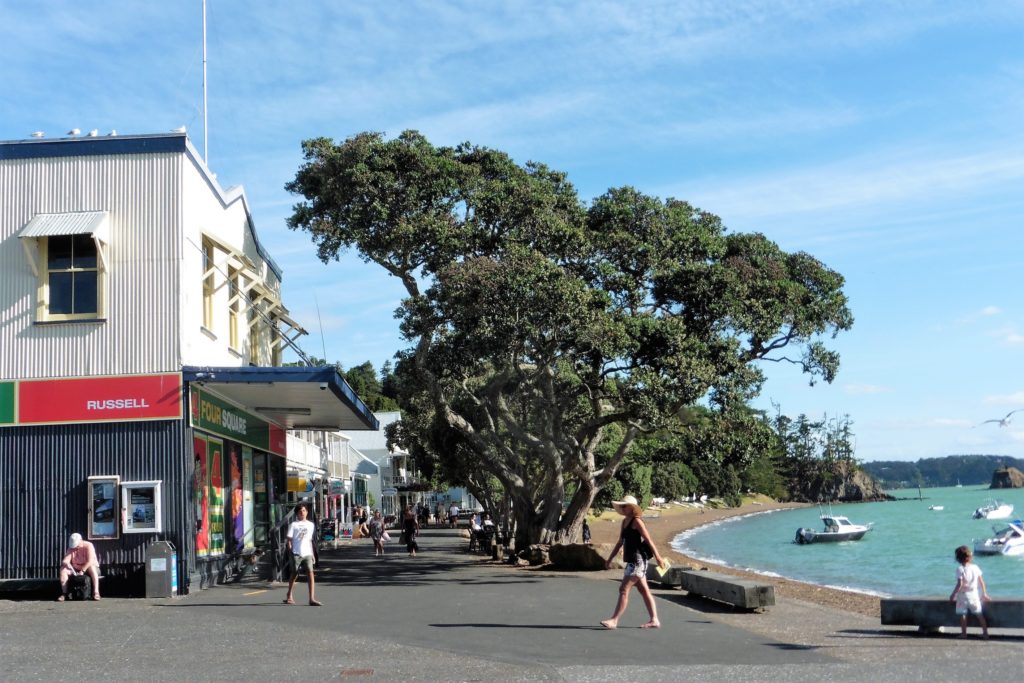 We then visited the Duke of Marlborough Hotel which has been refreshing rascals and reprobates since 1827 and was originally named Johnny Johnston's Grog Shop.
We had an excellent dinner in their restaurant overlooking the waterfront and then headed off to the look out having watched the sun go down over the bay.
Whilst this offered us great views over the Bay of Islands and of the moon coming up (no lunar eclipse visible here) the birds stayed away, probably because of the noisy rugrats running around!
Oh yes and Bill does not comply with road markings LOL.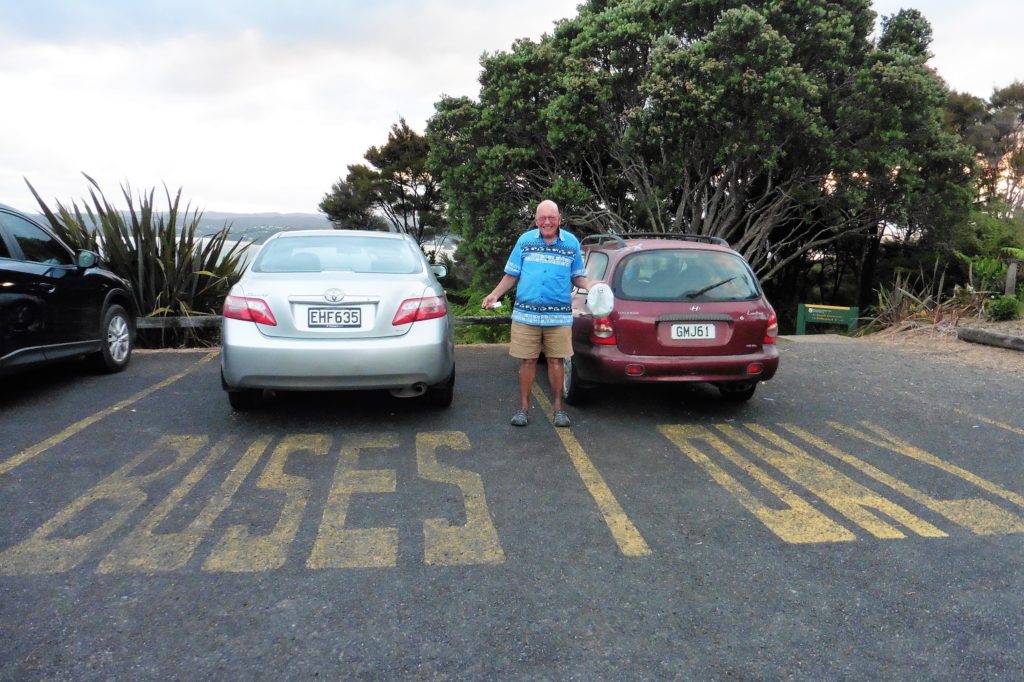 We headed back to the car ferry and returned to Opua where Bill and Peter came onboard Morphie for a final pontoonie. Was lovely to be doing something other than just working on the boat!
Wednesday I finished off the stainless steel. Richard was planning to service the engine but the Reverso oil pump decided to go on strike. Eventually it was resolved with a new impeller and a replacement hose but, by now, Richard had had enough and decided to leave the engine servicing for another day. So he started work on the pilot light to the heads shower sump pump but that didn't work either….not a good day for him….and it continued in that vein when he realised that he couldn't install the new LED light strip above the refrigeration units as he didn't have the right size drill bit to fit the switch! Language was quite workmanlike for a while LOL. The mood was not improved when we also found out that we could not get our Winslow (USA-made) liferaft serviced here in New Zealand as the cost of getting the licence is apparently too prohibitive and, of course, it is the ONLY make they do not have a licence for. Not impressed!
The one thing that did go well – hurrah – was that we managed to sell both the old Garmin radar dome and the Garmin AIS and posted them off to their new owners in Auckland once the money had been transferred. As this was the first evening of sailing week we decided to go along and join in the festivities….well that was a damp squib…..no live music and most of the racers had gone home by 9pm. Definitely wasn't like Cowes Week LOL.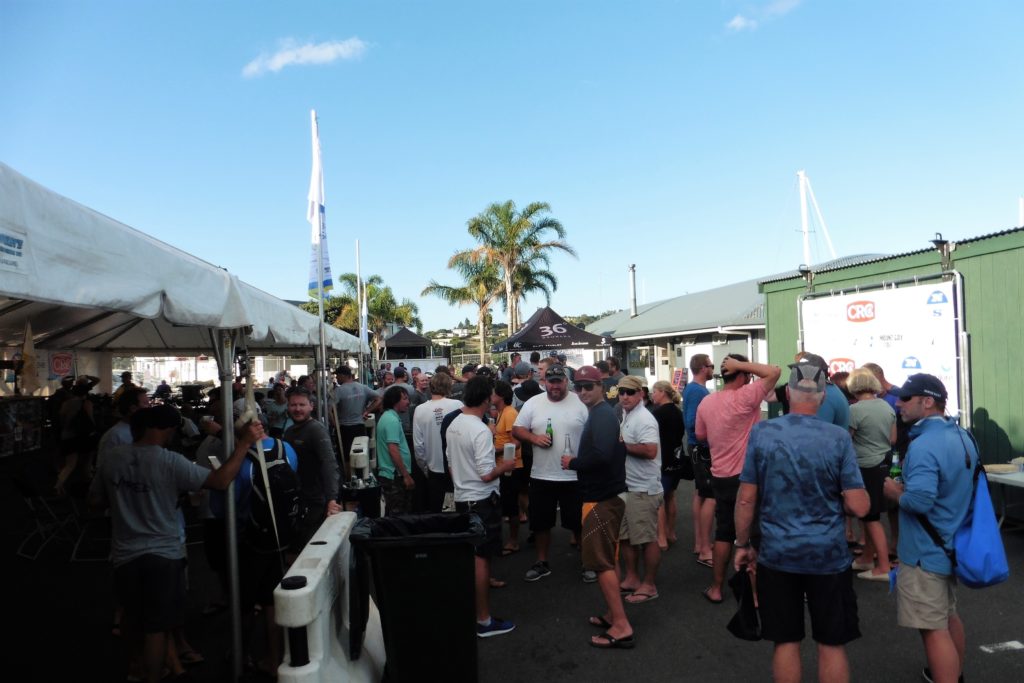 Thursday morning and we were up very early as the riggers were coming to start the installation of the whisker pole onto the mast and we needed to protect our lines from the drilling as little bits of metal will be flying around. Here are both the Robs getting ready to start work.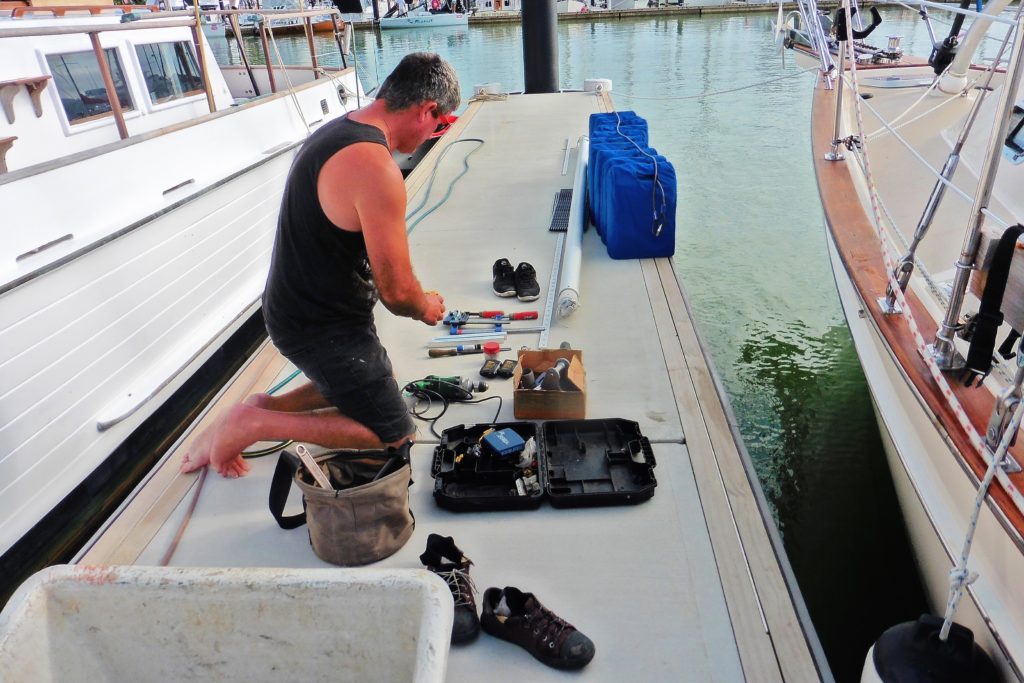 I then headed off into Paihia with Bill in his car…for some grocery shopping. I returned and Richard had fixed the new cabin locks to the locker doors and had also installed the LED light strip. Very impressed when I saw what a difference it made to this dark area.
Richard has been doing other small jobs all day whilst the riggers have been on board. They left late afternoon. I was blogging and had technical problems with the uploading of photos so had to get some support – thanks Paul for sorting it out overnight! We had a frustrating night in the cruisers lounge on the internet. Oh well, never mind.
Friday morning and the riggers are back and I'm finishing this blog. Think we are going to have a lazy day once the riggers have gone and then we are heading over to Music for dinner with Bill and Peter tonight, as it is their last night with us. It's all go on the good ship Morpheus.
Bye for now
Jan