Monday morning (18 May) we removed the stainless steel rub rails and picked up the new ones from the workshop. Annoyingly all the lengths did not exactly match the old ones (in terms of where the holes were located) as the stainless steel lengths apparently come with pre-drilled holes which meant that they had to improvise somewhat. Not a problem except that we now have to do more work to install them than we had planned.
In preparation for the first sanding of the whole rail we moved all the mooring lines away from the deck cleats and utilised our winches and anchor windlass instead. I then removed the tape from around the eyebrows as these were now finished and there is some residue left on the gel coat but as we will need to clean (and perhaps re-polish) the topsides once all this work has been finished we'll worry about this later.
Preparation done we then sanded the whole rail down, cleaned off all the dust, and called it a day. We had a lazy evening down below with everything closed up as it had turned really chilly. And of course it rained overnight.
Tuesday we were up very early to get on with the varnishing as rain was forecast later in the day. We managed to get the whole rail finished by 10 am. Phew! Just cleaning ourselves up when Bevan from the canvas shop came by. We had asked him to give us a quote for hatch covers (x4), sunshades for the spray hood 'clears' (x3) and a cover for our outboard engine. As UV here in Australia is so strong and we are not moving for a while, we have decided that we would cover up the hatches and the clears to protect them from sun damage. His quote was acceptable so we took the spray hood off and prayed that it wouldn't rain while he had it in the shop to install some fastenings. Within an hour he returned it and we got it back on straight away. At 5.30 pm, as forecast, the heavens opened. It was torrential but, thankfully, the varnish was dry enough to withstand it.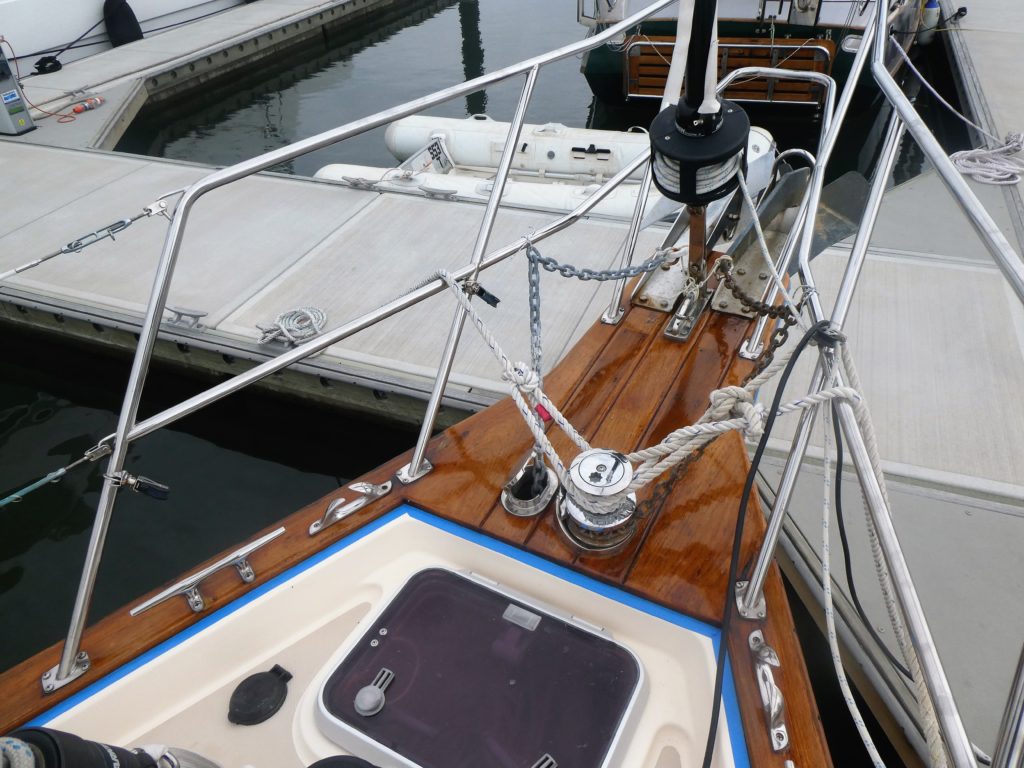 Wednesday morning and we had a lazy start as we were heading off to the heart clinic at lunchtime. Bevan came by to make up the templates and, once we were clean and tidy we headed over to collect our car and then drive down to Helensvale for the clinic. We had a good chat with the cardiac nurse and the pharmacist who gave Richard an ECG and took his blood pressure. The doctor has organised for further blood tests in two weeks and an echocardiogram for late August. We asked about moving on (when the restrictions have been eased to allow us to cruise the coast) but was told that they would prefer us not to go out on anchor until after that. Richard was disappointed at this news but was also pleased the medics were happy with his progress to date.
On the way back we did some food shopping and, when we were returning the car keys to the marina office, we heard some shouting and a loud crash – a boat had hit another boat. Chatting later we found out that the boat involved has since been moved to dry dock as it sustained damage to both its stern and bow as the gears got stuck in forward. Not a nice thing to happen, that's for sure!
When we got back to Morphie we found that Bevan had been by and had installed all the covers – doesn't she look smart with her new canvas?!?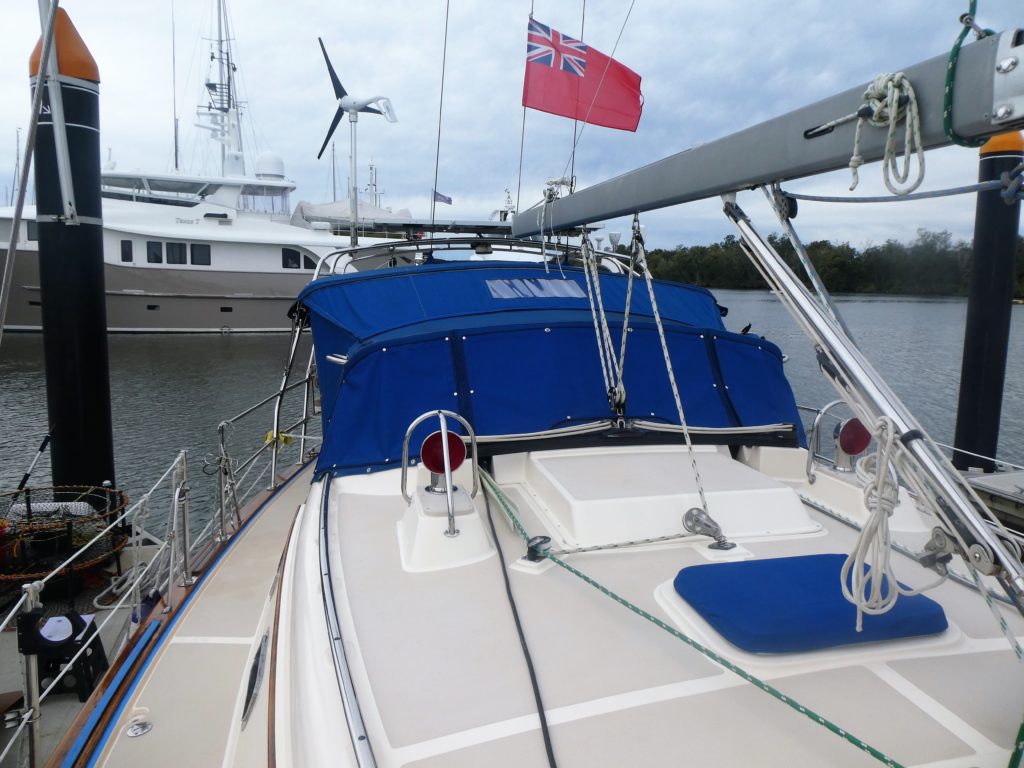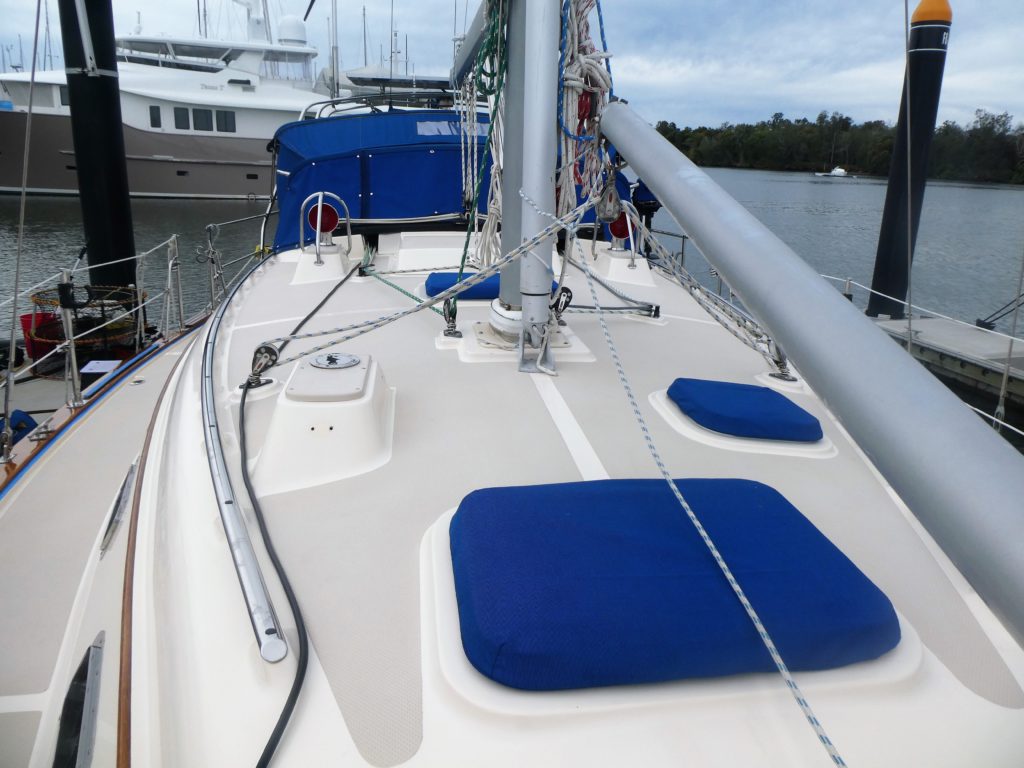 We were very happy. We then walked to visit the solar panel guy to discuss his latest email. Currently we have three solar panels which give out a total of 210W. The smallest footprint we can get of the newer more efficient type of panel would give us 345W which is the equivalent of having virtually two additional panels. By going for these we can also use the existing mounts, wiring and the current Blue Sky controller is able to cope with the increased load. So we went ahead and ordered them.
Thursday morning we were up early again and sanded down the rail. Bevan also came by with the outboard cover which completed the job so we paid him. Then it rained really hard and we lazed down below for a while before tackling the laundry. This was followed by another quiet evening watching a movie. Oh yes we were wrapped in blankets at this point too as the temperature has plummeted to about 17 degrees during the day and single figures at night. It's freezing and of course Morphie doesn't have a heater. Certainly didn't expect it to be this cold in Australia!!!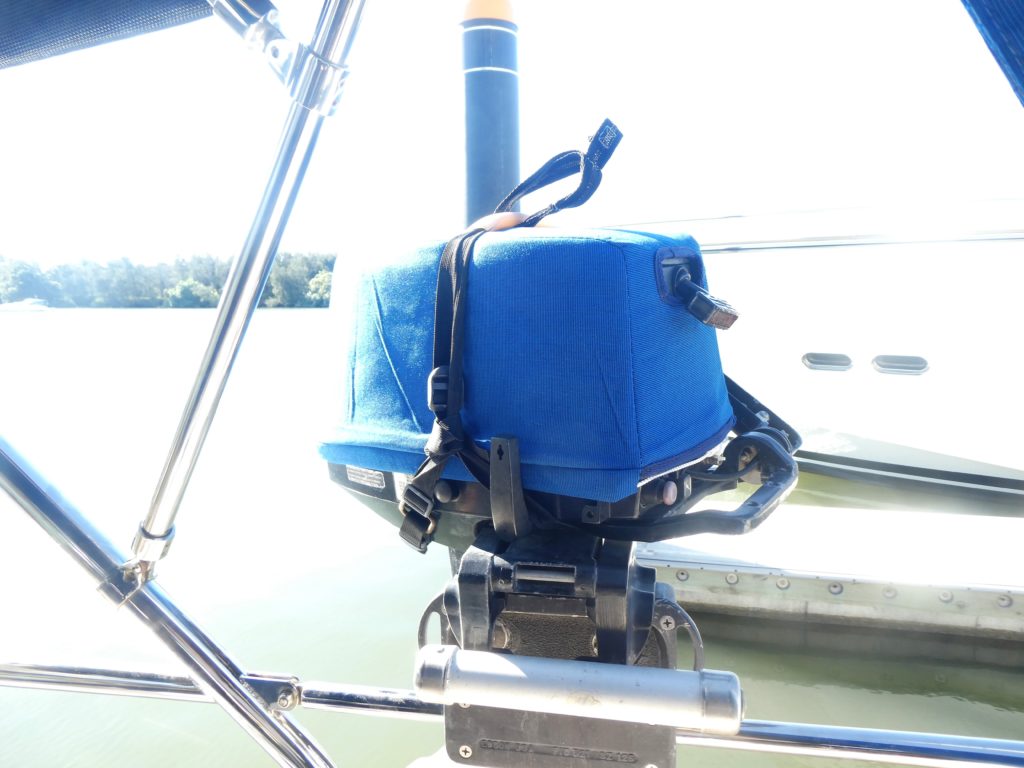 Friday morning we got up early and varnished again despite the forecast for rain – just fingers crossed that it would have enough time to dry. Oh yes and we also scrubbed the dock where the tannin from the new Merbau wood had leached into the concrete and pleased that it came off with a bit of elbow grease and bleach. It certainly looked much better – we don't want to get thrown out for making a mess! To stop this happening again we have now sanded and varnished these wood planks to seal them. We then got ourselves cleaned up and changed the bed, did some more domestic stuff down below, and headed to the laundry again. Thankfully the heavens didn't open again until much later in the afternoon so we survived another coat! Woo hoo.
Saturday morning and, sadly, no car available for us this weekend. So, yes you've guessed it, we rubbed the rail and the new boards down again and then hosed it all off. And that was it for the day. We just relaxed and read books locked in down below trying to keep warm.
This morning, Sunday and we have varnished the rail and the boards again. At least the sun was out this morning although still chilly. In addition this time we got the wood on the starboard side below the rub rail sanded and varnished too. We will have to turn the boat around and reverse her back into the slip over the next week or so when the new solar panels are installed so the trades can work from the dock rather than hanging over the water, so we can do the port side at that point. She is certainly looking shiny.
So that's going to be it for the day – fingers crossed the rain stays away for at least another few hours – and another quiet night on board beckons. Next week we hope to completely finish the rail varnishing by Friday as we have a car booked for the weekend so can go exploring again…. Really looking forward to that. Hope everyone at home enjoys the long Whitsun Bank Holiday weekend (it is not a holiday here in Australia) and stays safe and well.
Bye for now
Jan