Monday afternoon Richard attended the heart clinic, which included a physiotherapy session. They were all pretty happy with his progress and just wanted repeat blood tests done in a week before they increased the dosage of a particular drug (which is the plan). Whilst there we had copies of our passports 'certified' by the doctor to send to Medicare to try and get that finally resolved. We then headed back to Morpheus via the shops.
Tuesday morning we headed over to Australia Post to send the certified copies to Medicare. Fingers crossed this works!
On our return we also popped into the machine shop to see what was going on with the outboard. They were waiting on a particular part to fix the tiller arm and they had since found that the shaft had corroded so more work than expected but at least it is fixable. So we left it with them and will check next week on progress.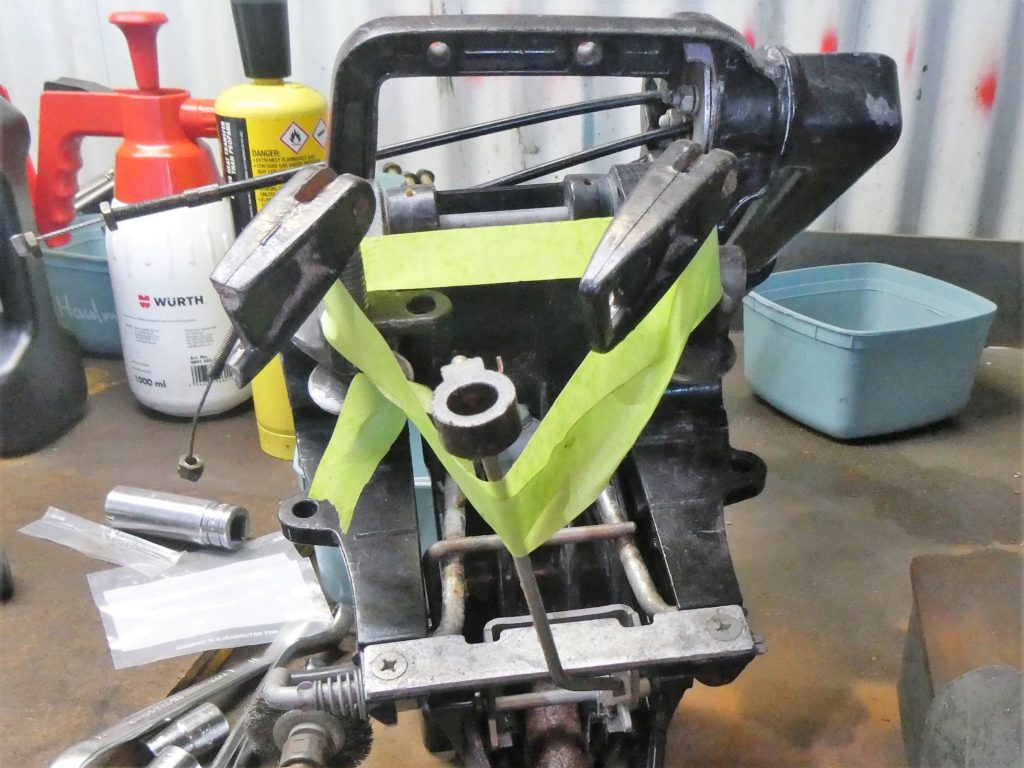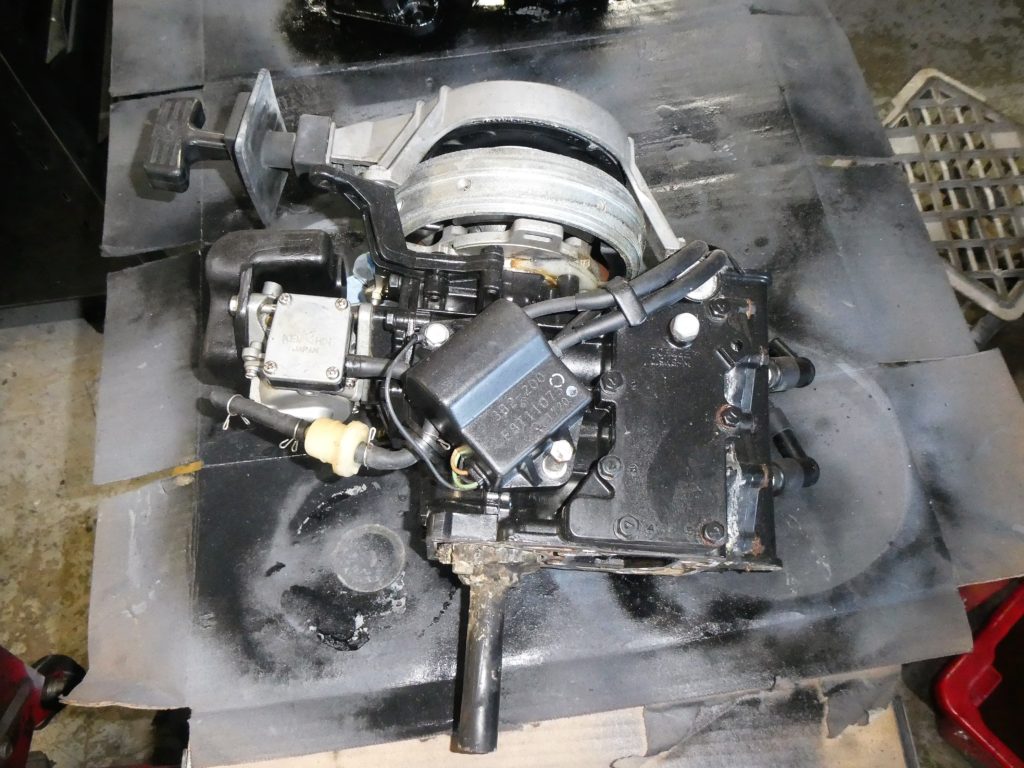 I then organised a hire car to be delivered the following morning so we started looking at places to stay. We decided on Mooloolaba as this seemed like a nice seaside town for some R&R. We found an apartment block called Sailport which was opposite the Wharf and the marina so were able to book ourselves into a one-bedroomed unit for five nights. So with all this organised the next job was to do the laundry and get our bags out and pack. Woo hoo….
Wednesday morning the car was delivered at 7am.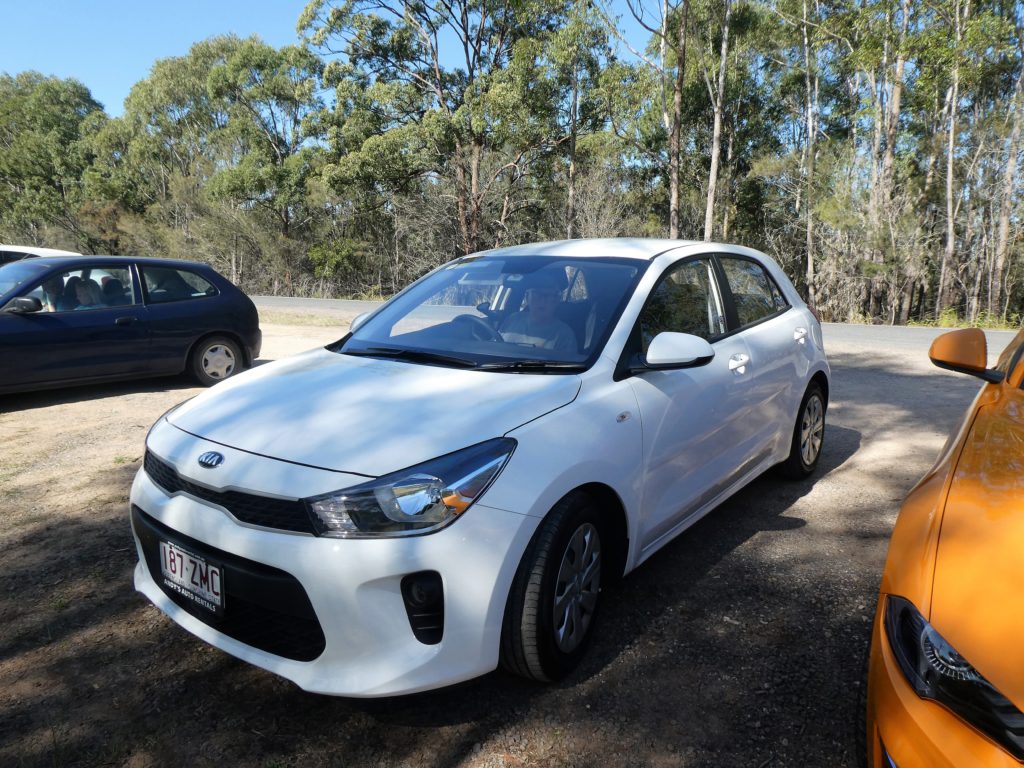 We did our final packing and drove about 100 miles north. We put 'avoid tolls' into the satnav so that we would go the scenic route and enjoyed the drive which included going through some of Brisbane's northern suburbs. Arriving at 2pm we checked in and were very pleased with the size and facilities within our apartment. We even had our own personal garage, so no worries about parking.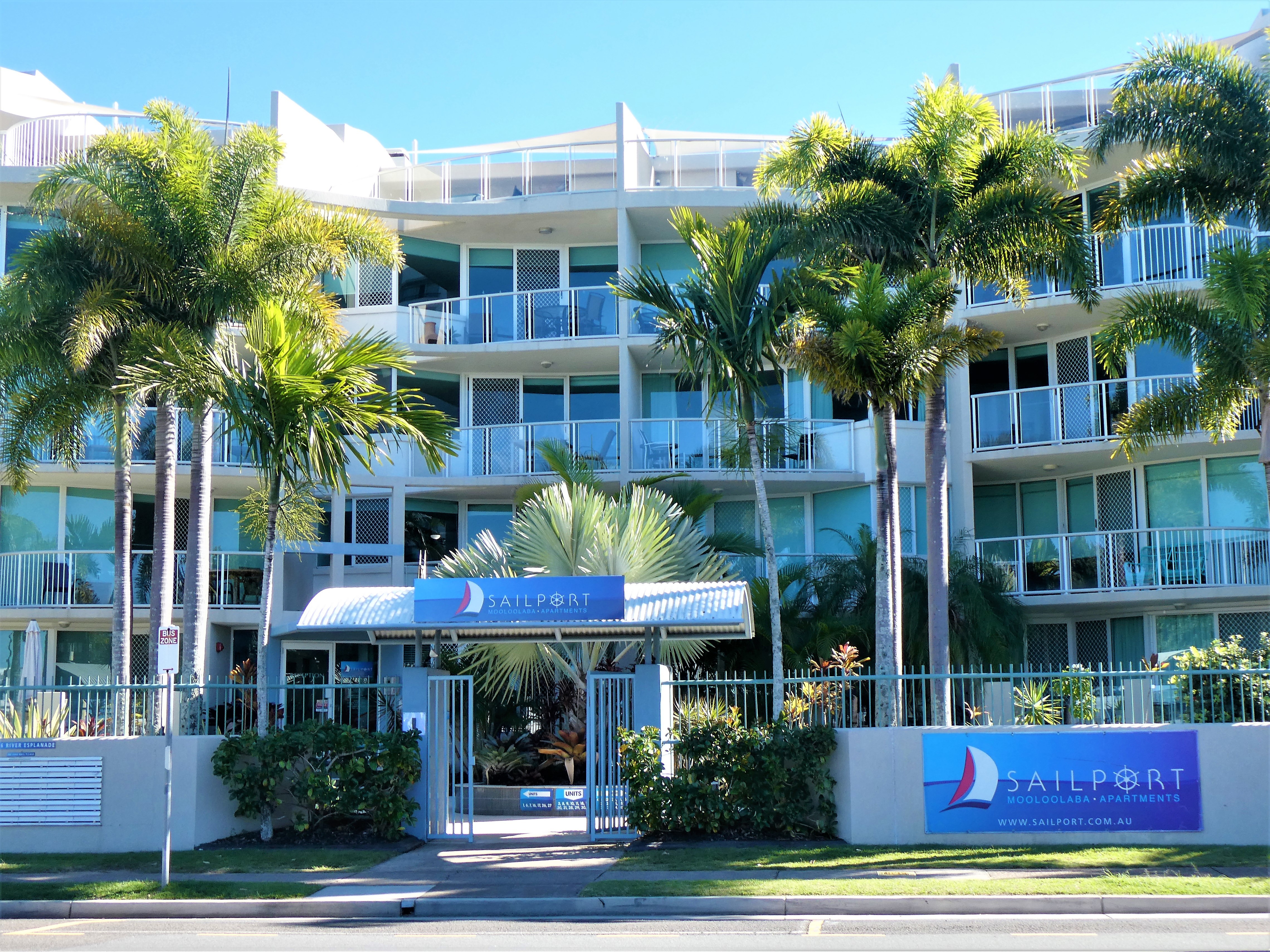 We then walked the promenade admiring the lovely beach which sweeps around the bay with rocks at one end looking north towards Noosa Heads. We came across a Steve Irwin commemoration statue on the seafront too amongst the nicely manicured gardens. Taking a closer look we spotted lots of huge spiders between the bushes so gave them a wide berth!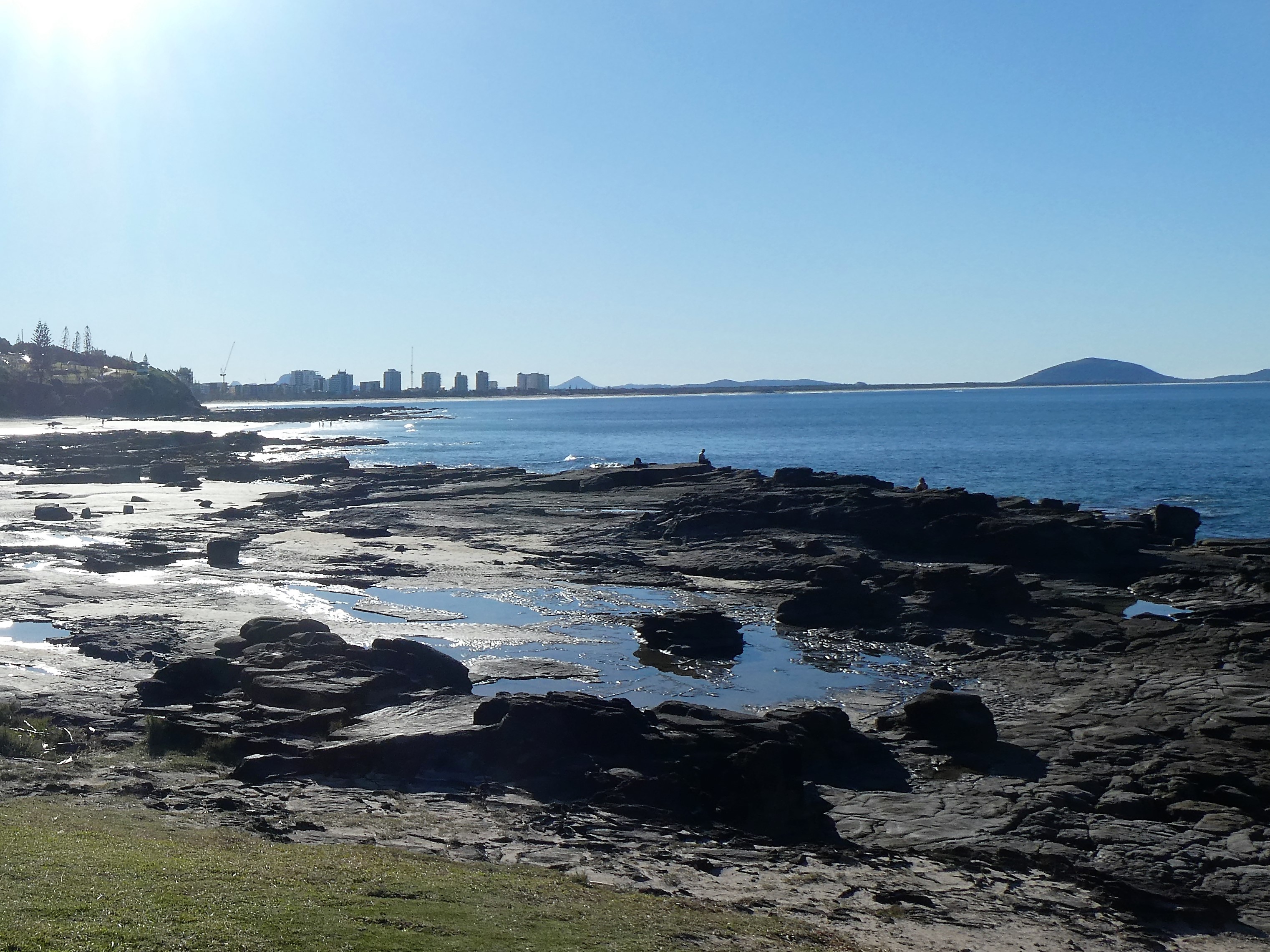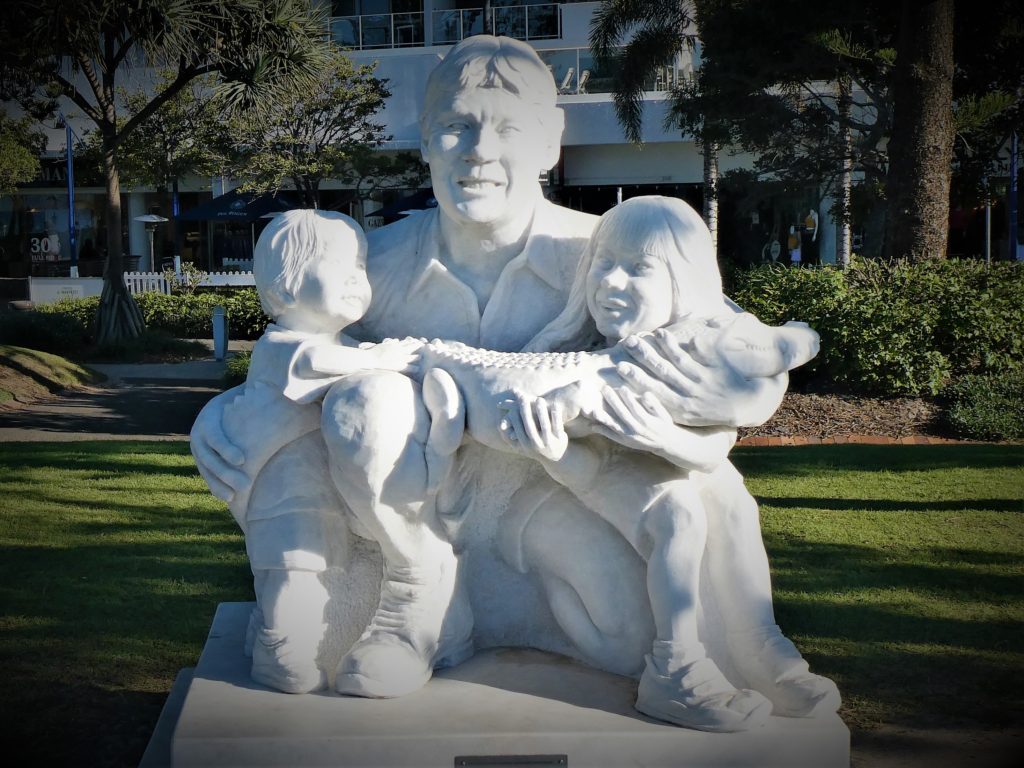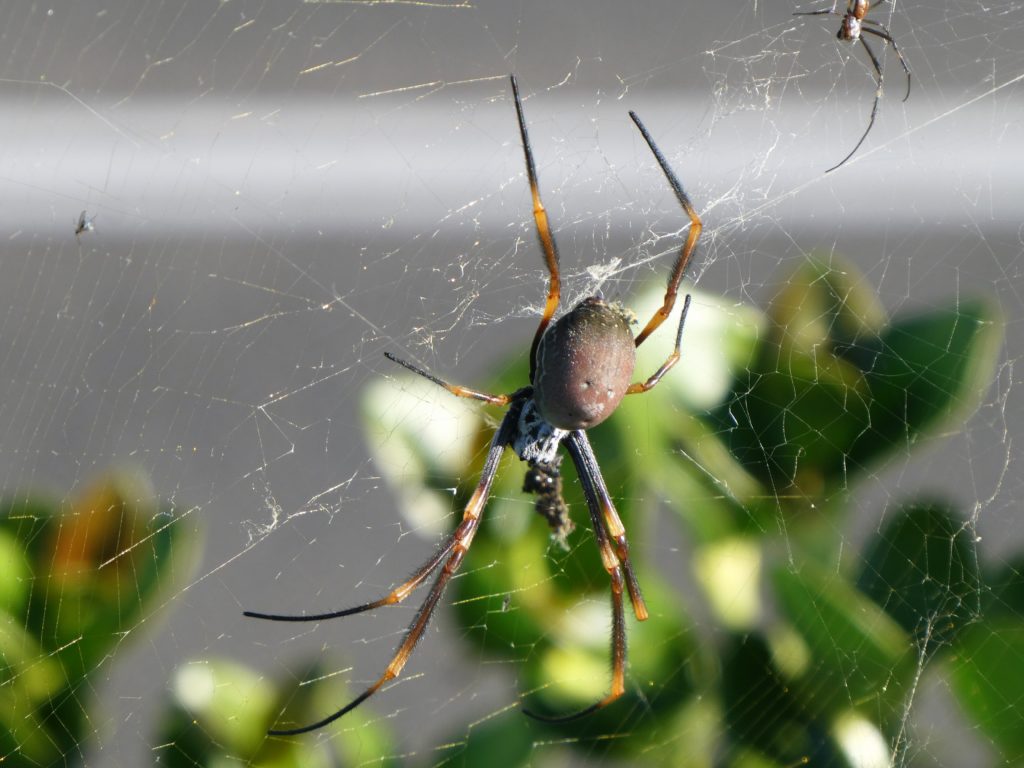 We stopped for coffee on the way back to the apartment and then enjoyed sitting on one of our balconies as the sun went down. Sadly no sunset views here with buildings in the way but was nice nevertheless. As the chill set in we snuggled up on the sofa in front of the TV with the heating on. Bliss LOL.
Thursday morning we walked out to the spit, checked out the bar entry into the harbour, and looked at the fishing fleet.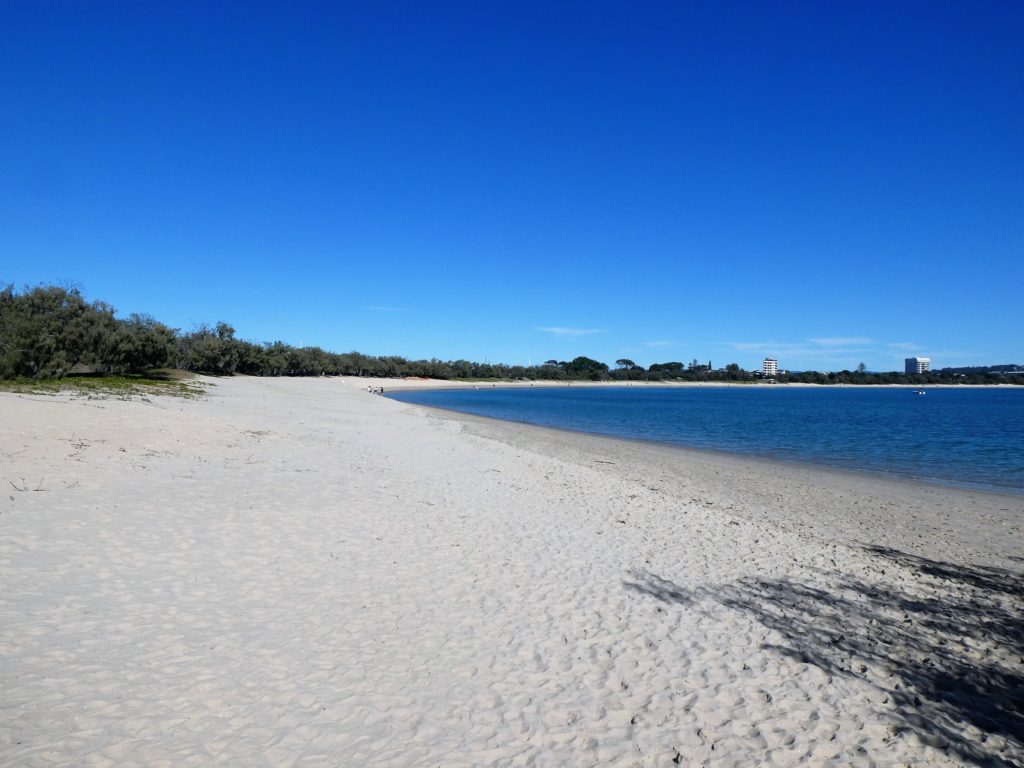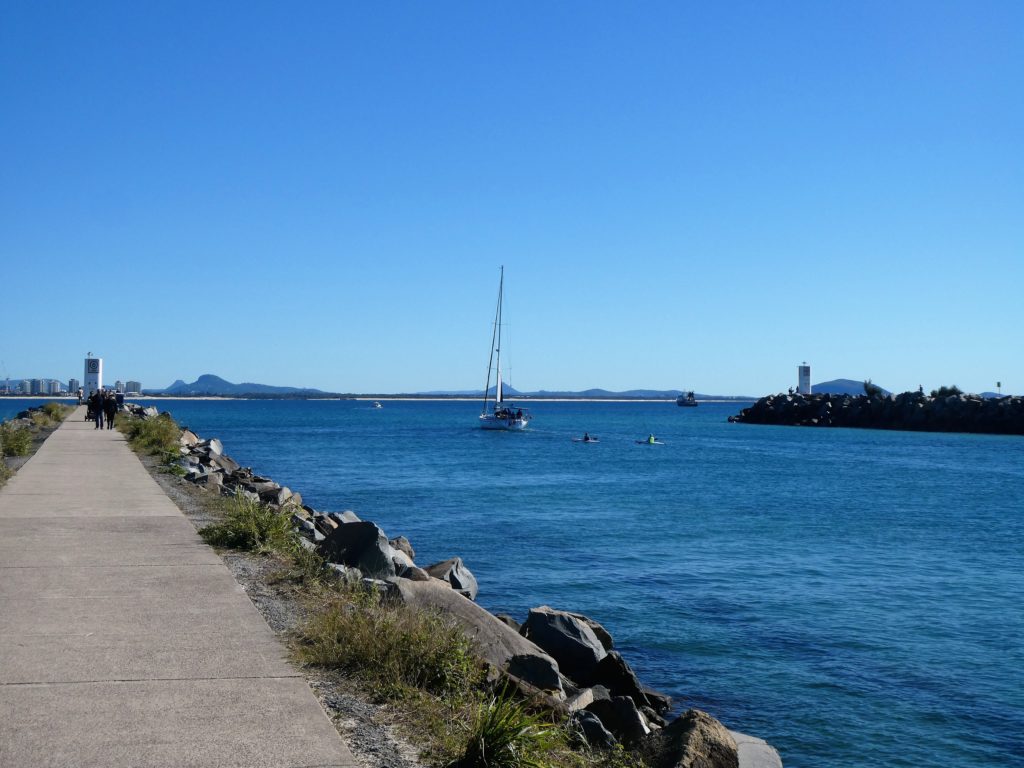 Mooloolaba is famous for its seafood so we headed to the seafood markets and purchased fresh swordfish and some beautiful fresh local cooked and cleaned prawns (medium in their sizing chart but king size in ours!) and then continued our walk (and yes, those prices are per kg). We came across another guy selling fish direct from the boats to the public so purchased more local fish fillets….yes, primarily for Richard as I'm not so keen.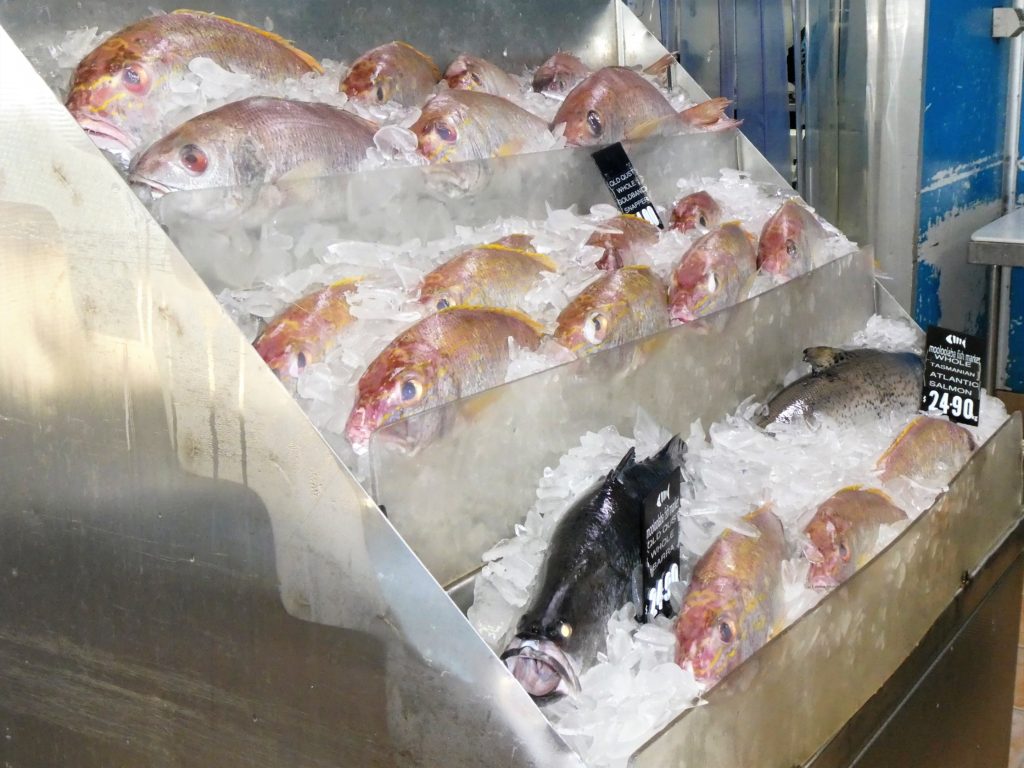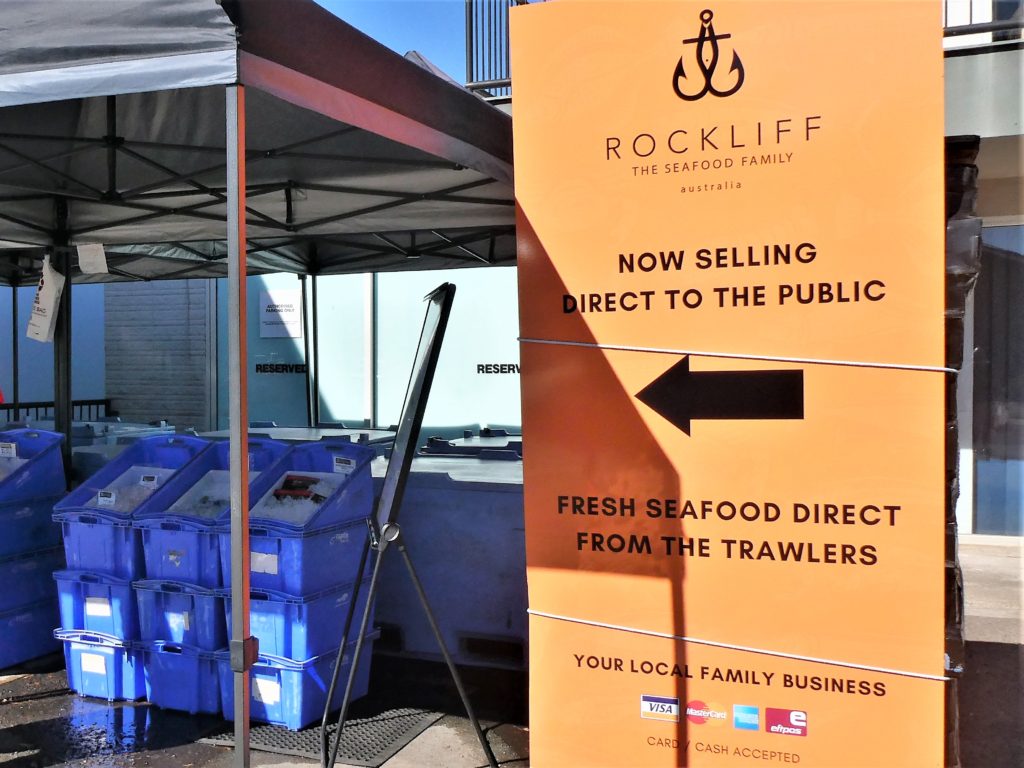 Having dropped off our shopping we headed over to the beach and spent a lovely afternoon just relaxing and reading in the sun. We did try the water temperature but, despite lots of people swimming, we thought it was a bit chilly so decided not to indulge. As the wind picked up later in the afternoon we headed back to the apartment for another quiet night in after we had enjoyed the remainder of the day's sun on our balcony.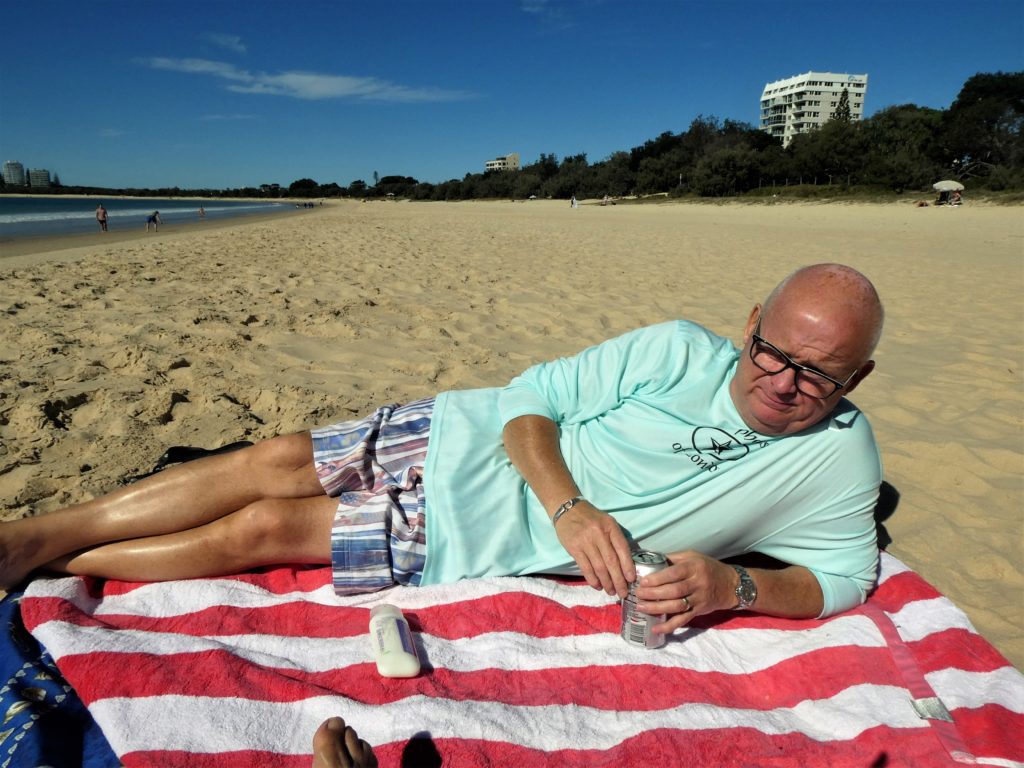 Friday morning and it was lovely and sunny again so we headed to the beach for the day. It got chilly mid afternoon as the wind picked up so we walked back to the wharf and found a nice bar on the waterfront which enabled us to remain in the sun but out of the wind so we sat here for a while just enjoying being out and about people watching. Then we headed back to our apartment for dinner and a movie.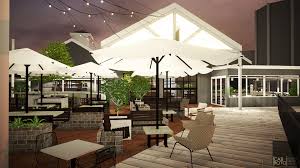 Saturday morning and the forecast was for 60% rain so we decided to explore the area a bit more. First place we headed to was the Wild Horse Mountain which had a lookout perched on top. We found the car park easily and then attempted the very steep walk to the top – this was a real test for Richard and his recovery. We made it to the top (with a few stops on the way) with no ill effects (apart from being a bit hot) so that was a great start to the day.
We enjoyed the spectacular views over the huge plantations of pine trees plus other fruits like pineapples and vineyards. And this gave us our first glimpse of the Glass House Mountains away in the distance. These craggy peaks tower above the surrounding landscape and are intrusive plugs, remnants of volcanic activity from around 25 million years ago. This area is also spiritually significant to the First Nations People and many ceremonial sites are protected here. The wood plantations were originally planted in the 1930s and now supplies about 85% of all Queensland timber to the industry (worth $1bn). The plantations themselves have buffer strips along the watercourses within them to protect water quality, prevent erosion and provide corridors for wildlife. It is a truly beautiful place. But despite our efforts we did not manage to spot any of the wild horses that are supposed to roam this area LOL.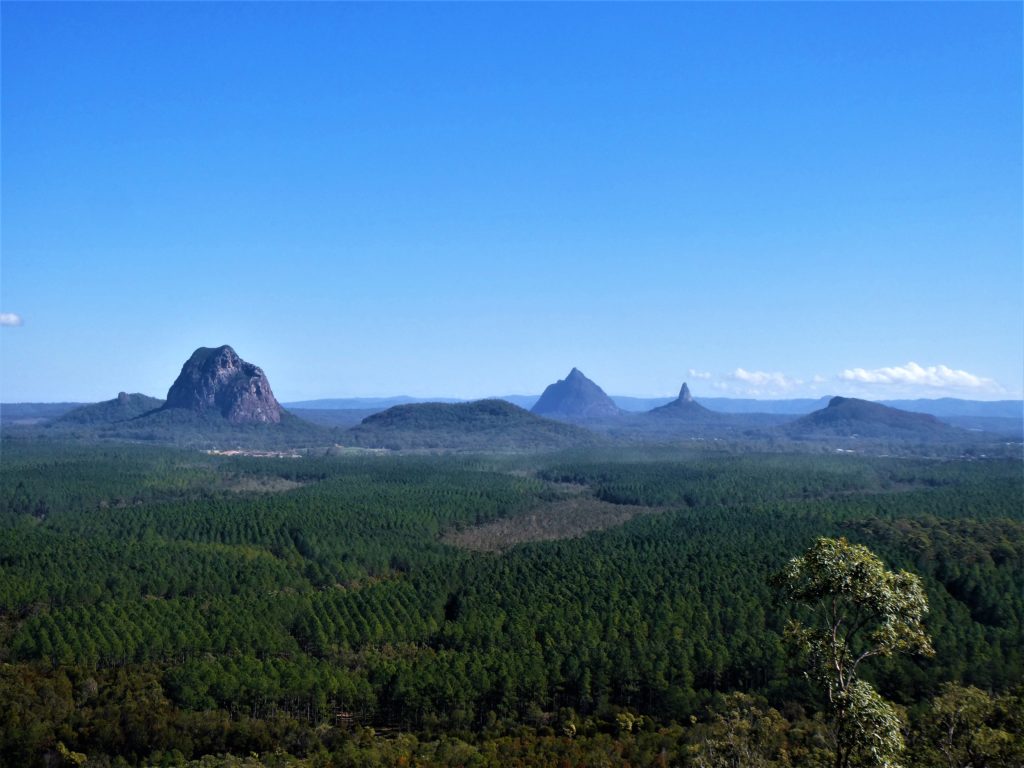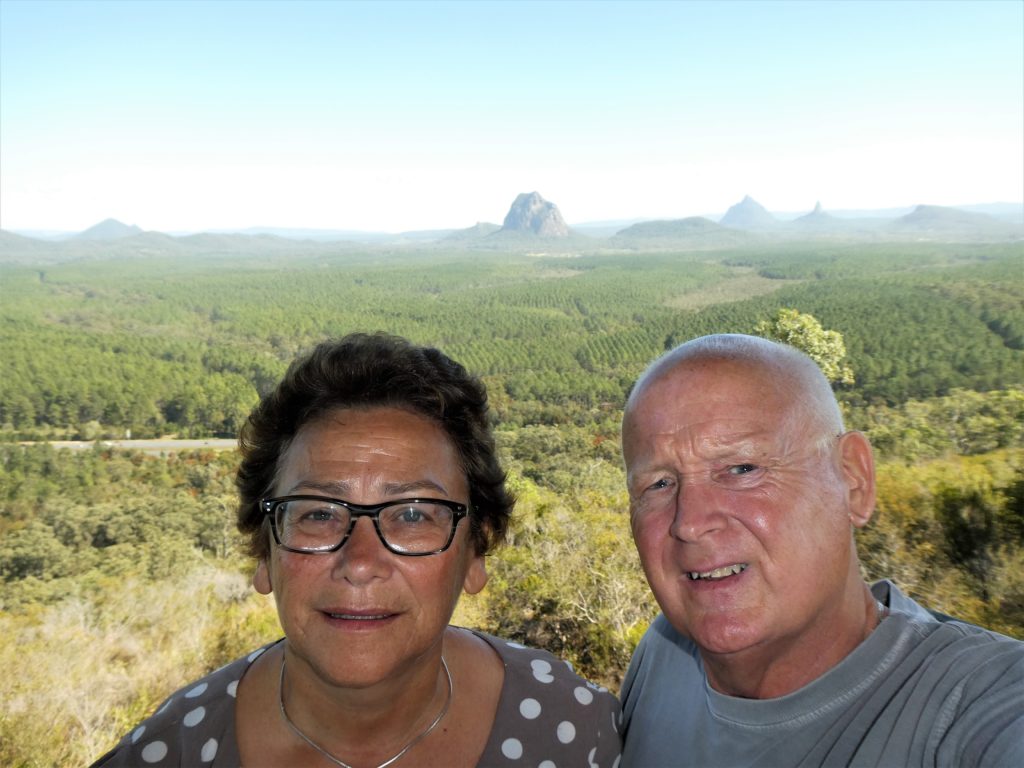 Moving on we drove through the plantations and ended up at the Glass House Mountains lookout cafe. We enjoyed a lovely coffee and cake here looking out at the scenery. Just plain wow!
Refreshed we then headed to the Maleny Botanical Gardens and Bird World. We parked up, hired a golf buggy, and drove around this huge estate. Spectacular grounds and beautiful flowers although, obviously, winter is probably not the best time to visit.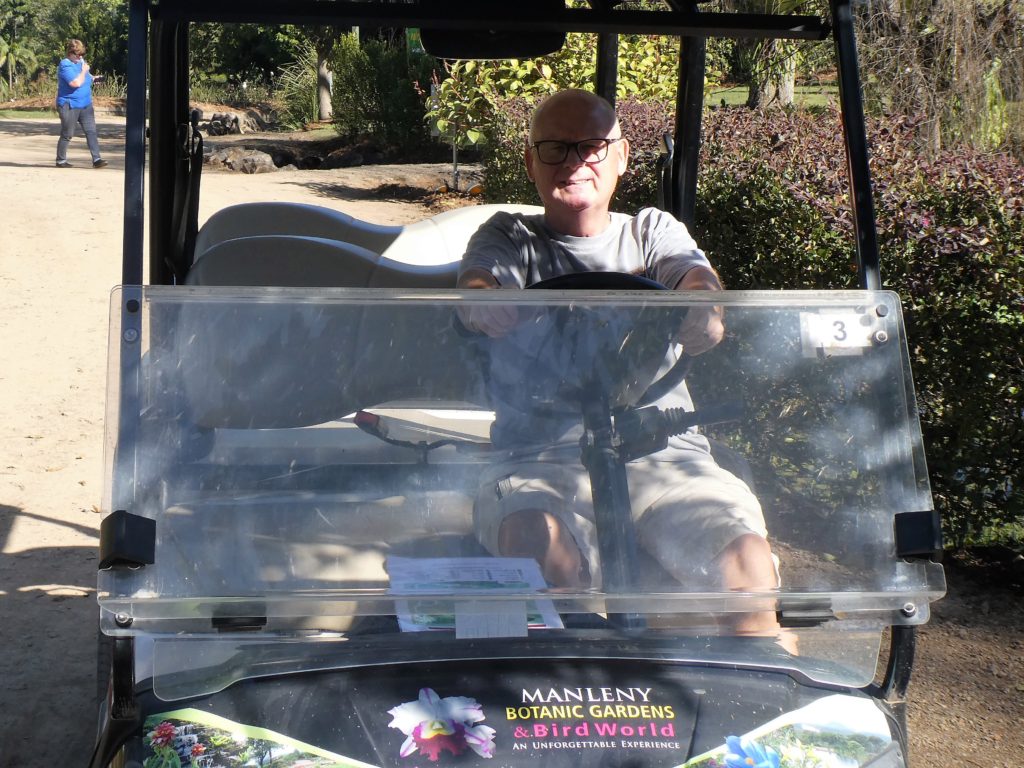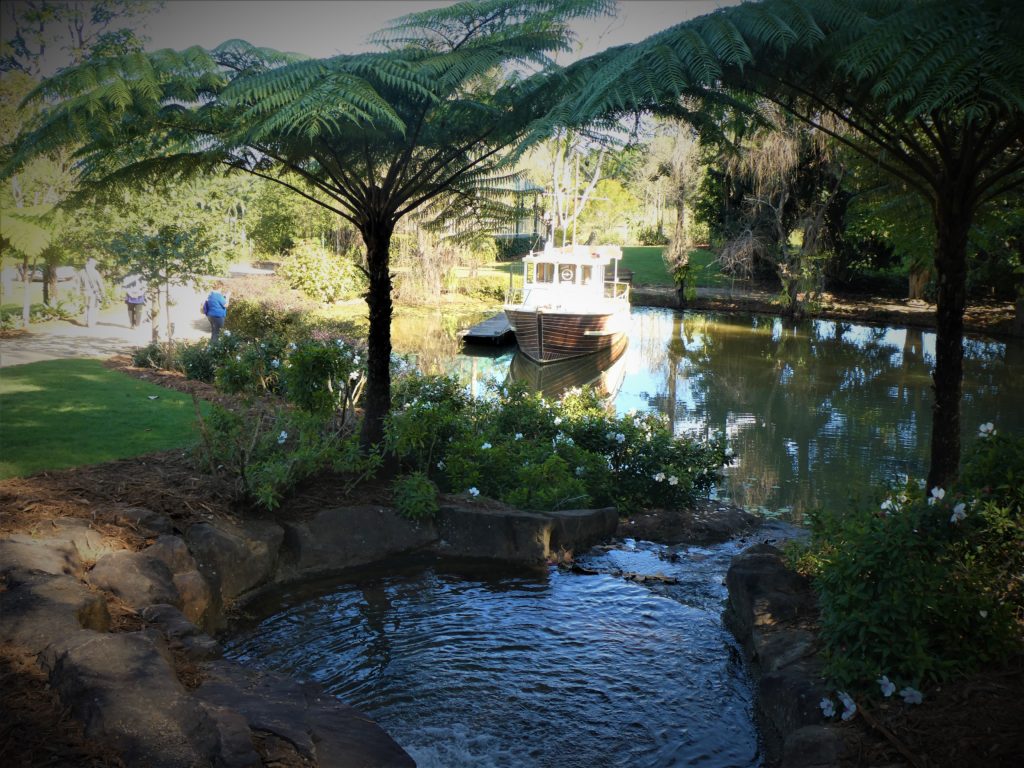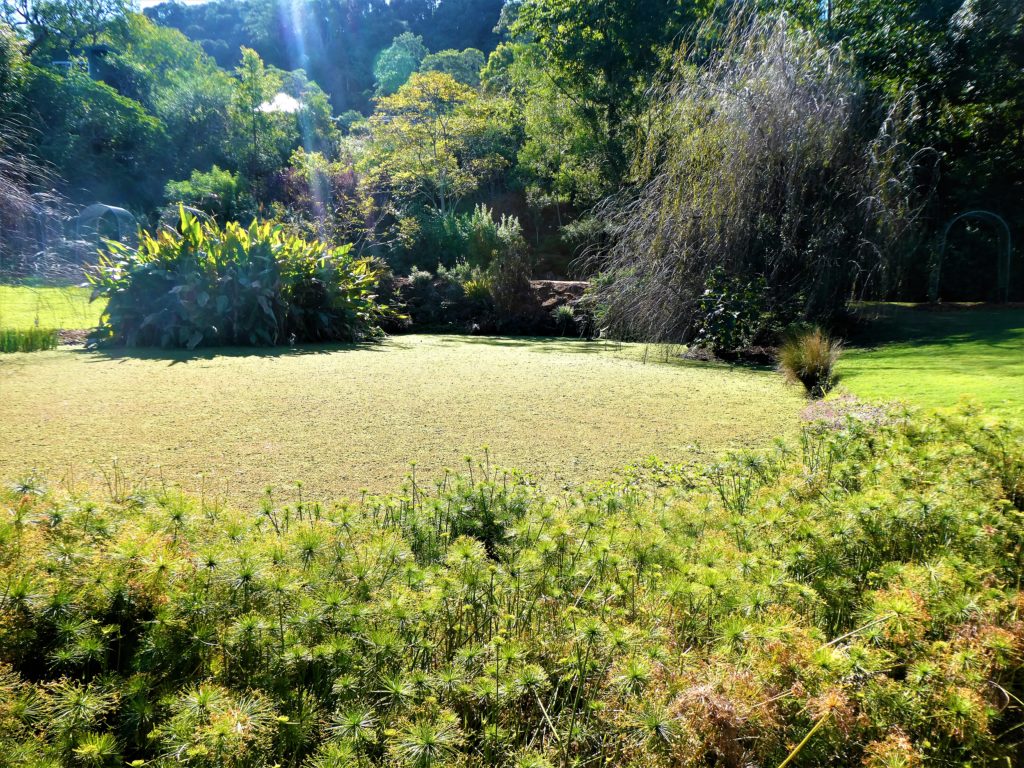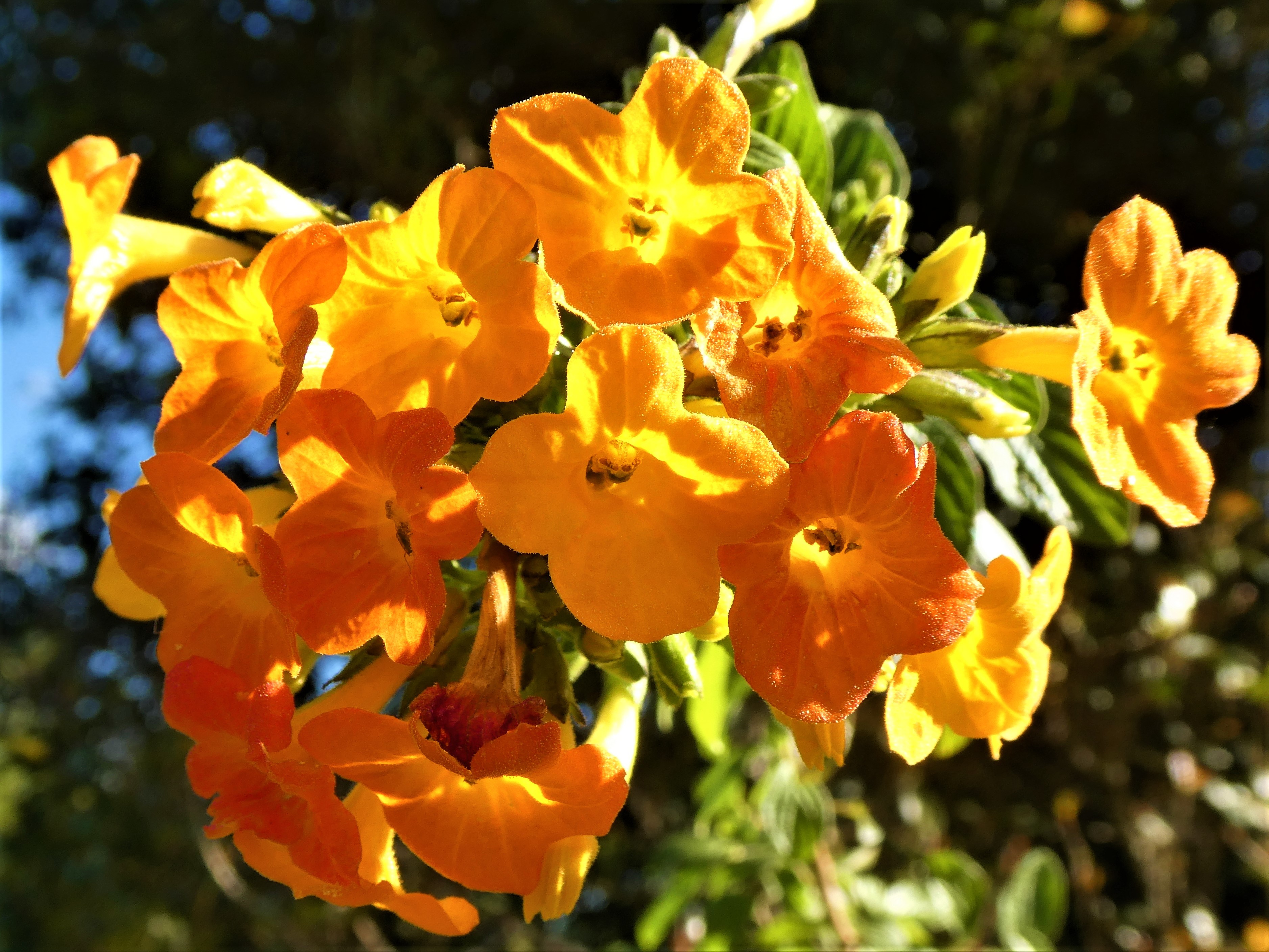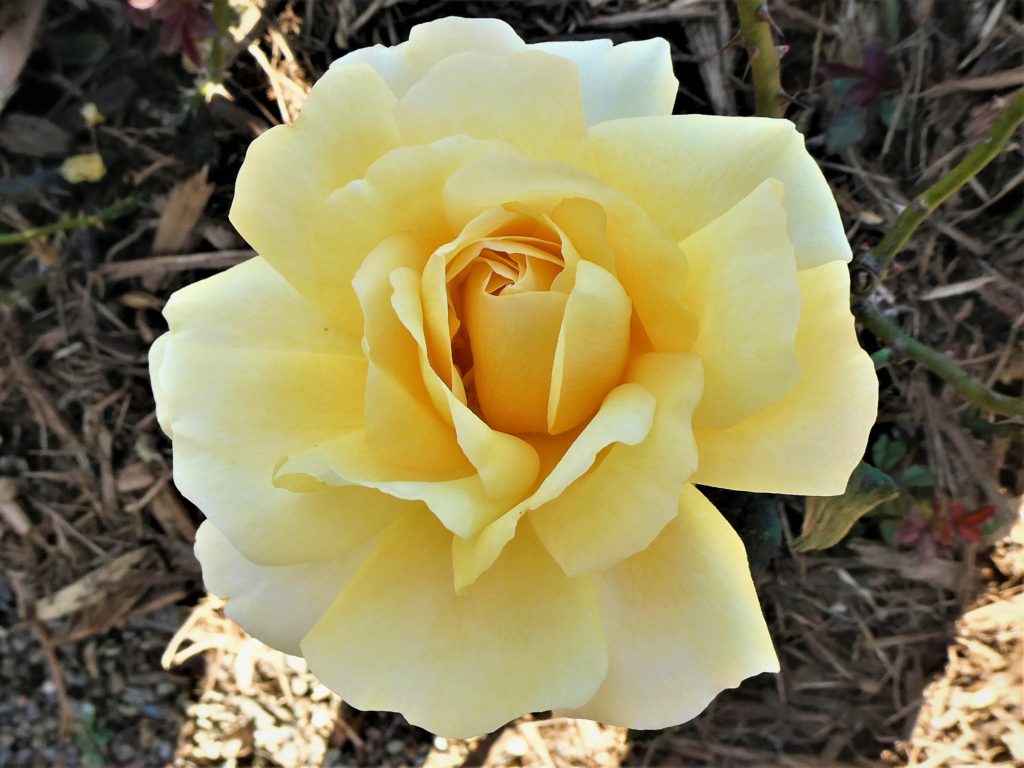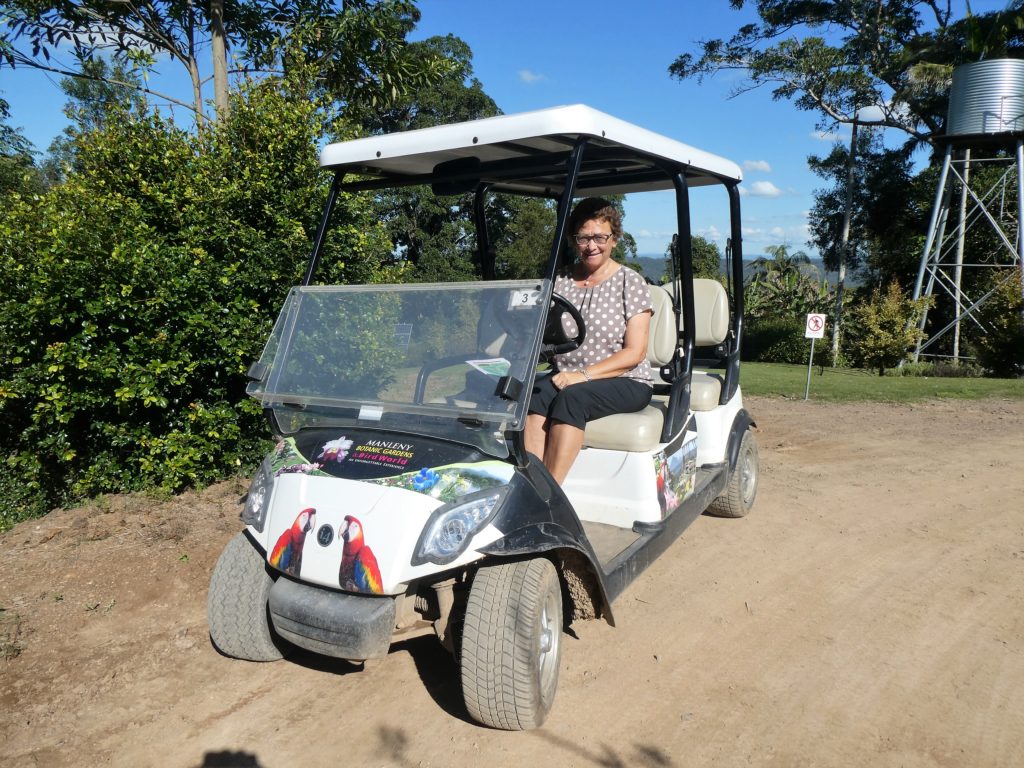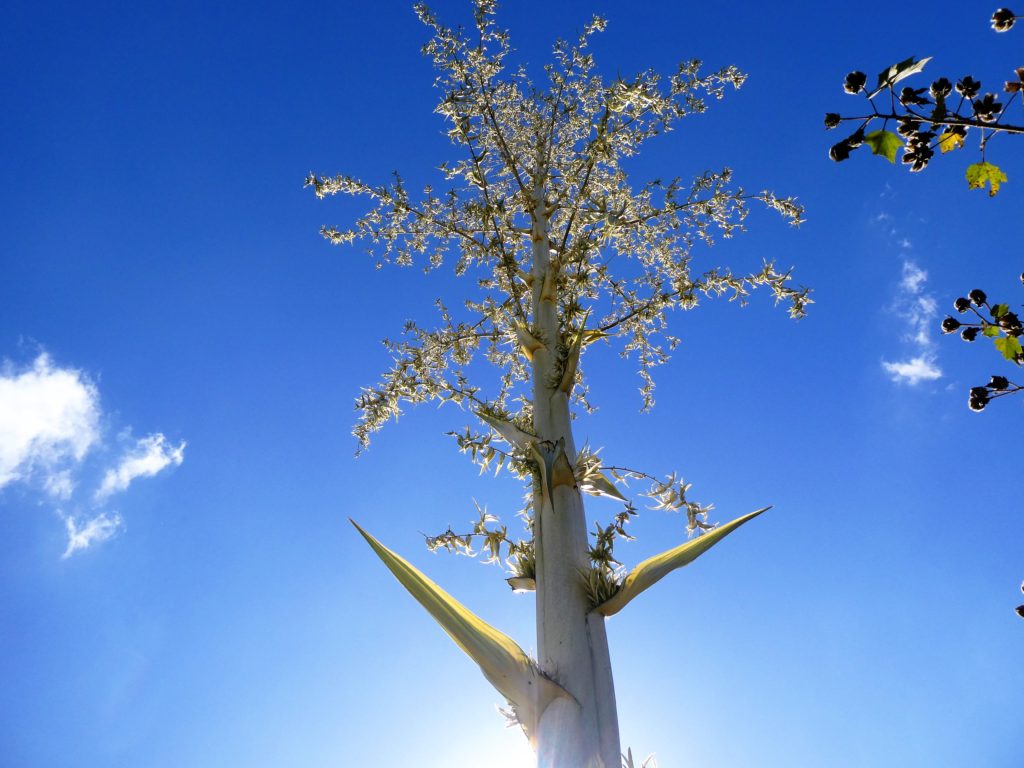 We then headed back to the huge aviary near the main entrance and waited for our tour to begin. We walked through and were immediately swooped upon by a variety of birds. They seemed to enjoy the company of the humans although some were a bit naughty and they certainly frightened a few of the kids when they landed on their heads. We had a great time and thoroughly enjoyed this up close and personal encounter with such a variety of birds. Was great fun although I wasn't so impressed when one pooped on me from a great height and one parrot showed Richard that he had a better head of hair LOL.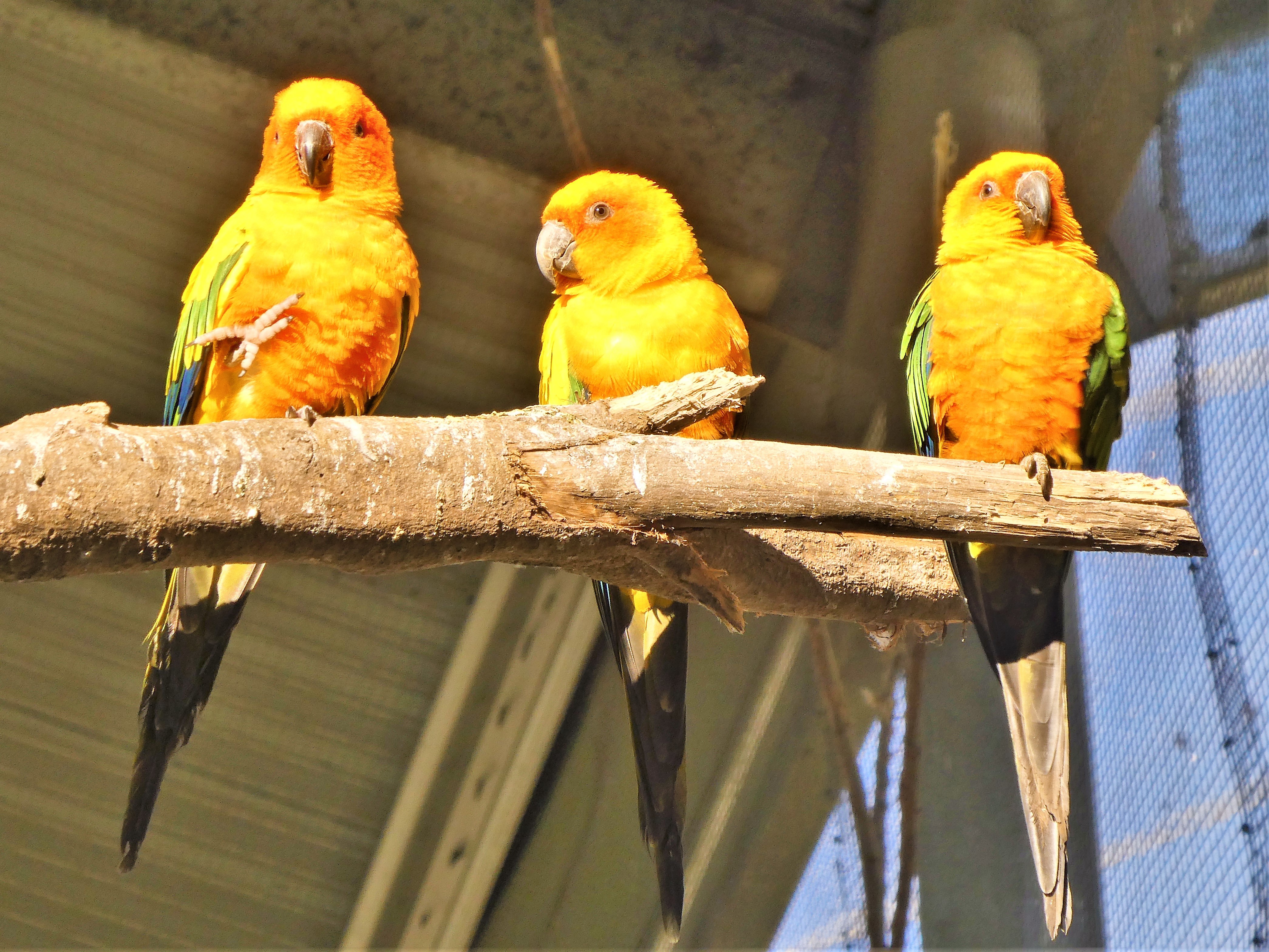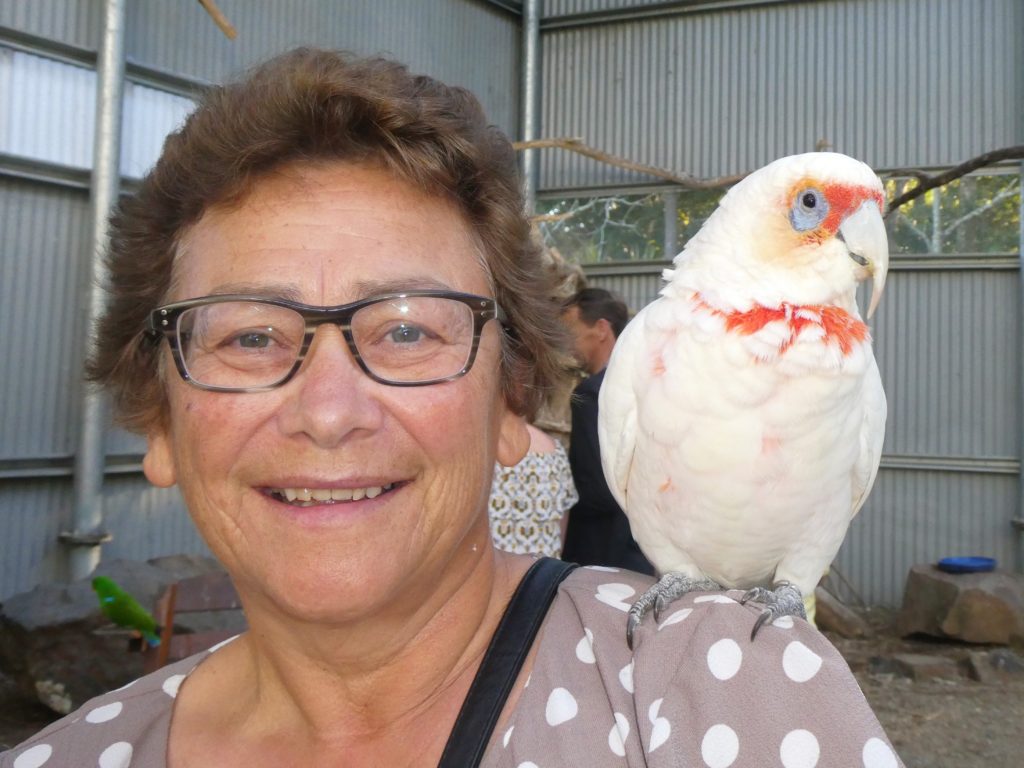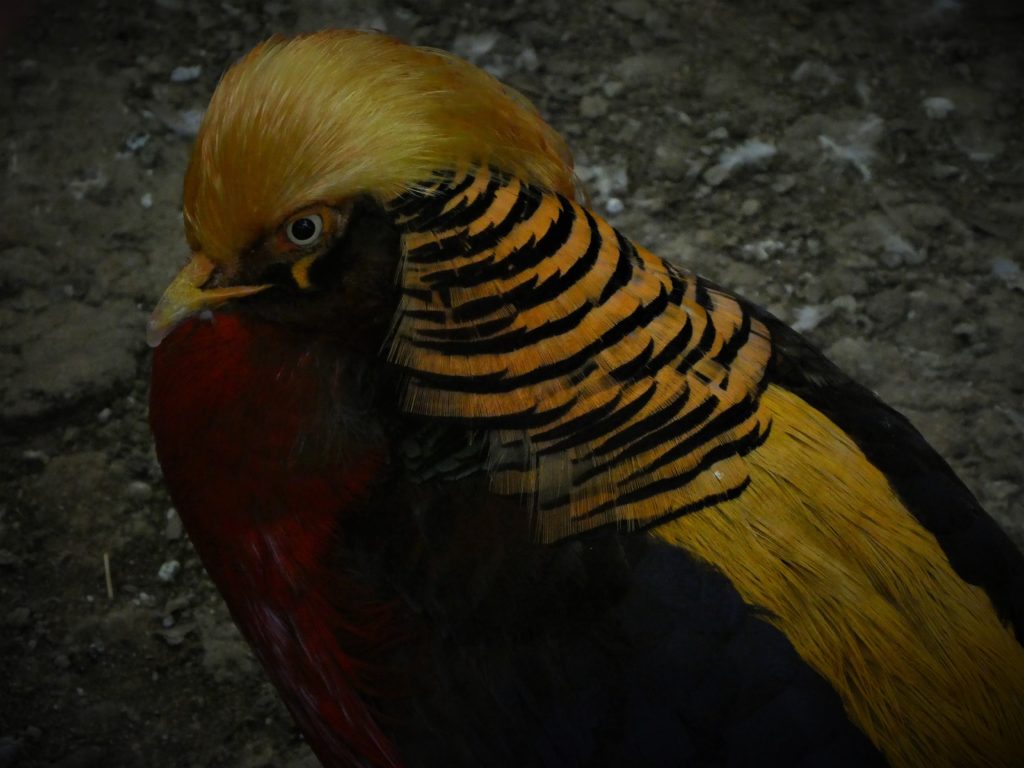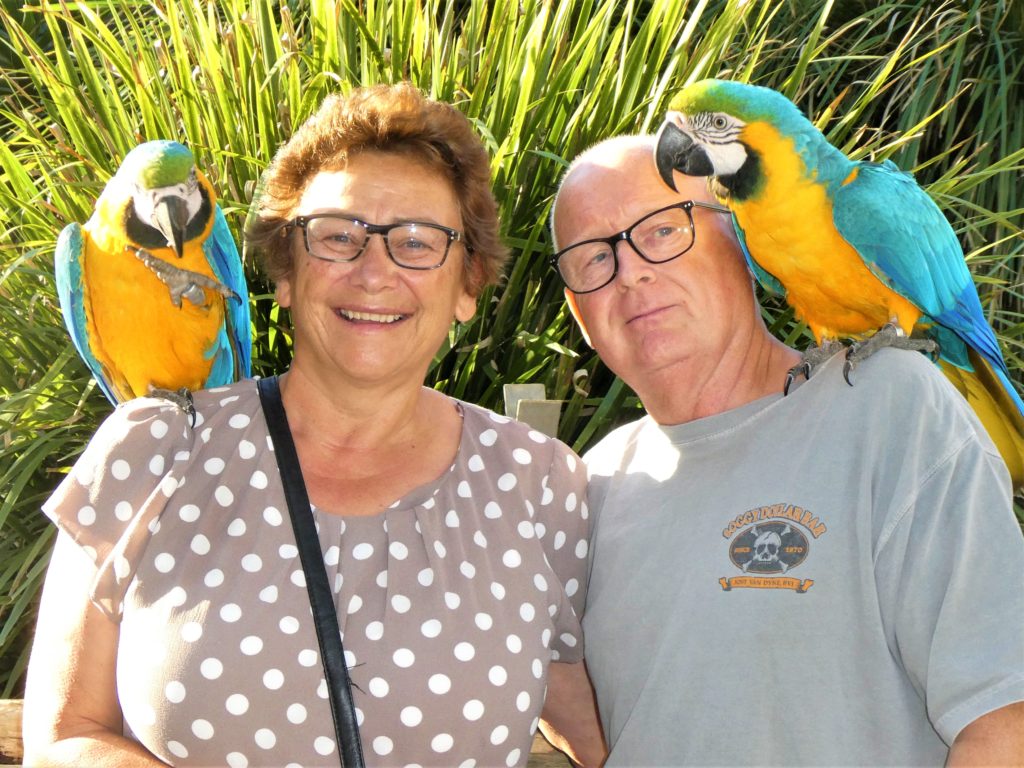 Back in the car we returned to base, parked the car in the garage and rested up for a little while. Then we got changed and headed along the spit to Pier 33 for dinner. This place was huge and had socially distanced all the chairs and tables but the noise echoing around the high ceilings from the group of (very) loud young women situated nearby was a bit off putting. So not great ambience for a romantic dinner for two but to make up for it the food was absolutely fantastic. So good, in fact, that we even had three courses….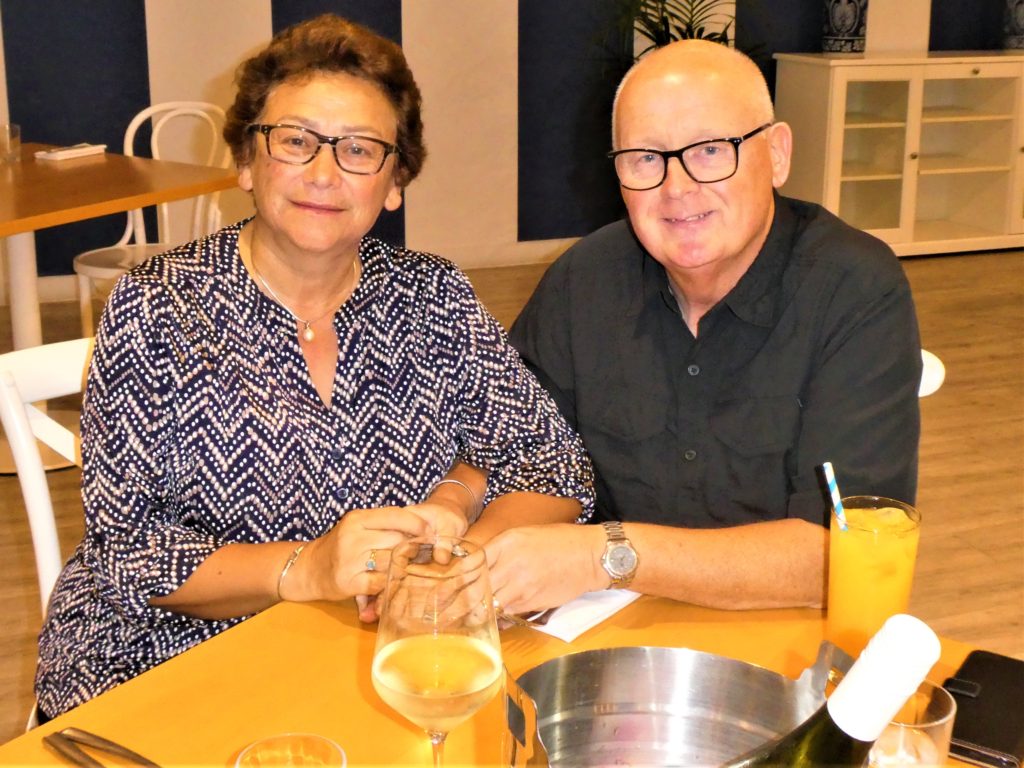 Sunday morning and we awoke to heavy rain. Hmmmm…..never mind. So we had a leisurely start to the morning and just chilled out in front of the TV. Late morning it started to ease a bit so we headed out again in the car and drove north to Noosa Heads. This place was rammed with holidaymakers (it is the start of the three week school holidays here) and people were queuing everywhere – so we didn't hang around. We did walk to the beach though just for a look…..
Driving back towards Mooloolaba we drove the coastal road and saw the huge rollers coming in along the coast. There were a few places where lifeguards were on duty (and surfers were in the water) but most of it was just absolutely wild. Great views despite the weather.
We then headed back to the apartment and had another quiet evening in.
Monday morning we were up early so had breakfast, packed up and cleaned the apartment before departing at 10. We then drove back down the motorway (using toll roads this time) towards Morpheus. She was waiting patiently for our return so we dropped our luggage off and then headed straight out again, this time to Southport for Richard's blood tests. Afterwards we did some food shopping on our way back and then collected some parcels from the Boatworks office that had been delivered in our absence. Was really nice to be back onboard.
Today, Tuesday (30 June) I'm blogging while Richard is swapping out all the old stainless steel cabin lights. These new LED lights are individually dimmable so will be much better, particularly for reading at night. So another present / upgrade for Morpheus this season.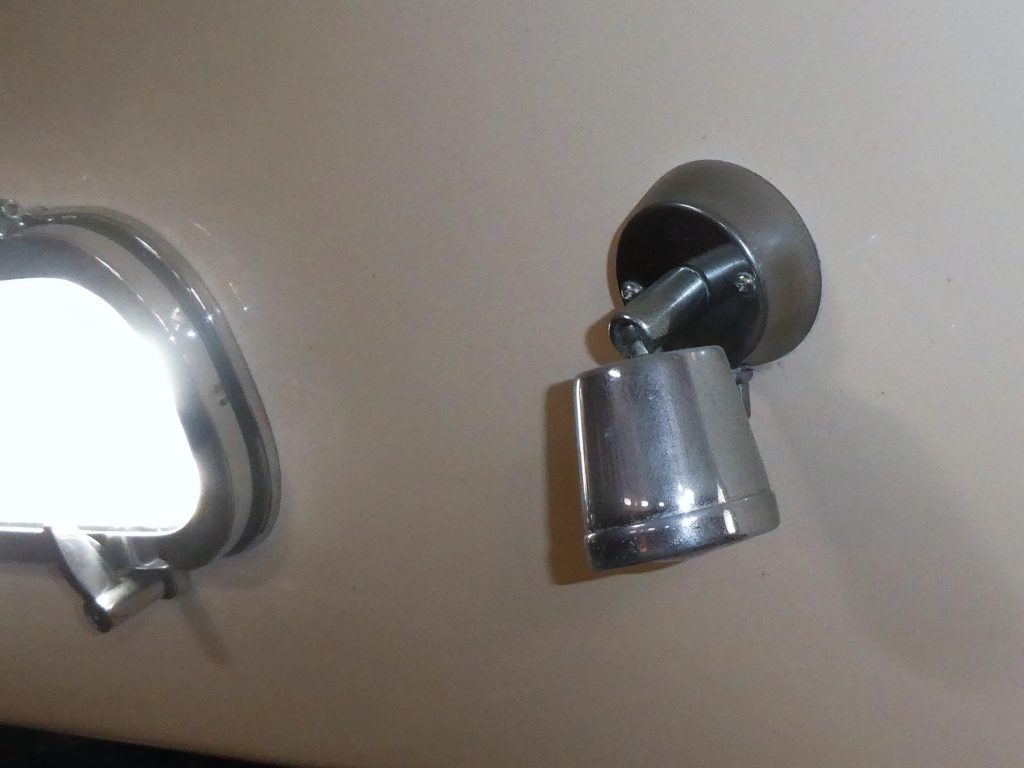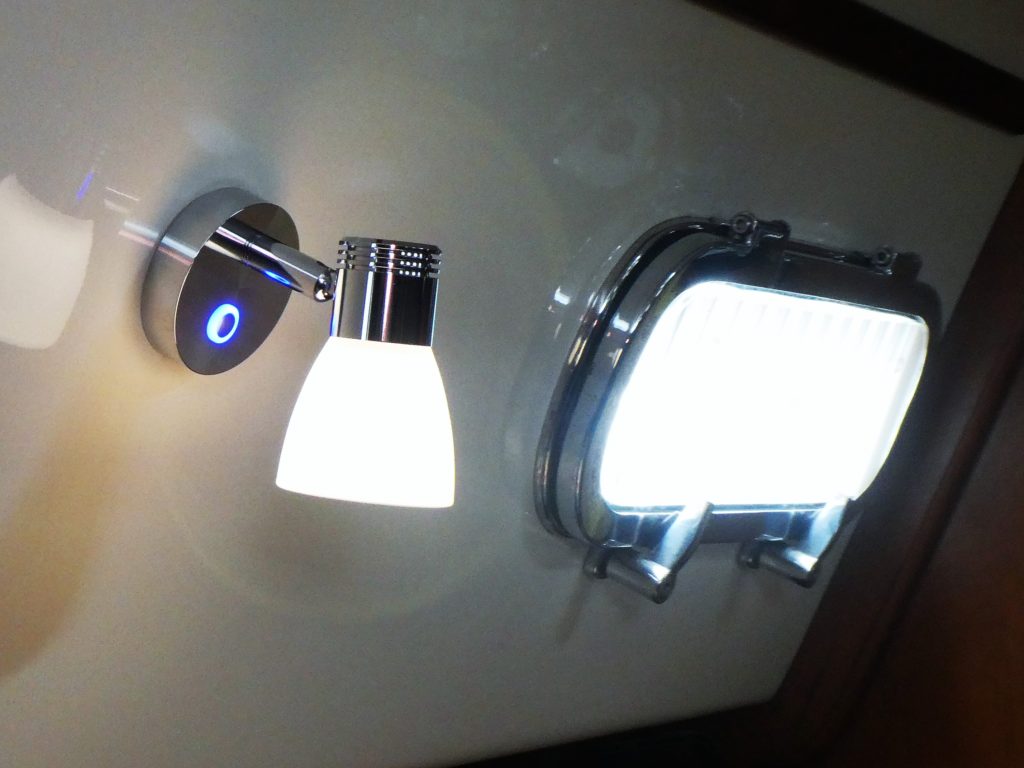 So that's it for now folks. Hope you are all safe and well and enjoying the relaxation of restrictions wherever you may be. Sending lots of love.
Jan