Tuesday (19 January) it was very hot and steamy but thankfully it was dry first thing. We had a car for the afternoon so popped out to our local Repco motor store (a bit like Halfords) and picked up some transmission oil and coolant. I then dropped Richard back at Morphie where he got busy changing out the main engine transmission oil whilst I headed back out to Westfield Coomera for more girlie pampering – this time, it was a manicure and a pedicure. Such a treat. Back to the Boatworks I returned the car to find a very happy Richard as the job had gone very well with no hiccups. By now it was raining so we just relaxed down below the rest of the day.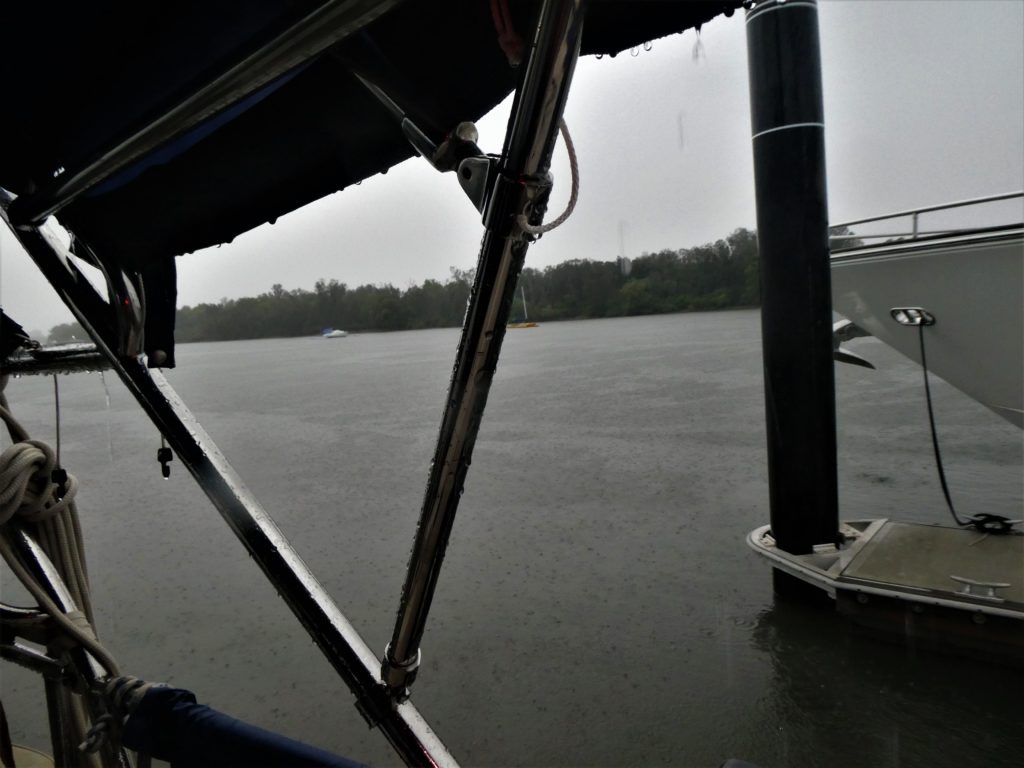 Wednesday it was hot and steamy again and a bit drizzly. Richard stayed on board to swap out the main engine coolant while I took myself off to the cruisers' lounge armed with a bag of laundry. Surprisingly all the machines were busy so I had to wait for a little while, but once the machine was loaded up and started, I set myself up with the computer and started to download more Netflix content for watching offline.
Back on board and Richard had finished his engine job with no problems. So I found him busily unwrapping some parcels that had just arrived for us – one was the spares from the US which was pretty speedy considering the significant reduction in flights into Australia at the moment. So we are now the proud owner of a retrofit fresh water conversion kit for our Raritan head. This job will be done when we are out of the water but nice to have it all ready for when that day comes. The other parcel was much more exciting – it was our new shade tent for the beach.
Thursday was another cloudy grey day. We had a lazy one and just popped out to the Galley for coffee and a cake. We unpacked the tent, checked the instructions, so that we wouldn't look complete numpties when we used it for the first time. And that was about it for the day. The weather cleared up a bit in the evening so we had sundowners in the cockpit.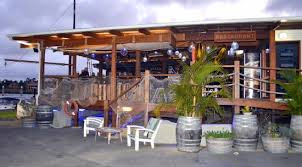 Friday morning and there was no rain forecast – woo hoo! So we gave Morphie a bit of loving – I spent the day cleaning all the stainless steel and Richard did a spring clean down below. By the time we had finished we were both pretty tired but felt satisfied having done a good day's work. We picked up the courtesy car we had booked for the weekend and headed out for some supper at the nearby Boathouse Tavern. We have driven past this place on numerous occasions but have never stopped in and were pleasantly surprised by the ambiance in the little cabanas in the Bistro area. Was basic fare but very tasty and we had a good time.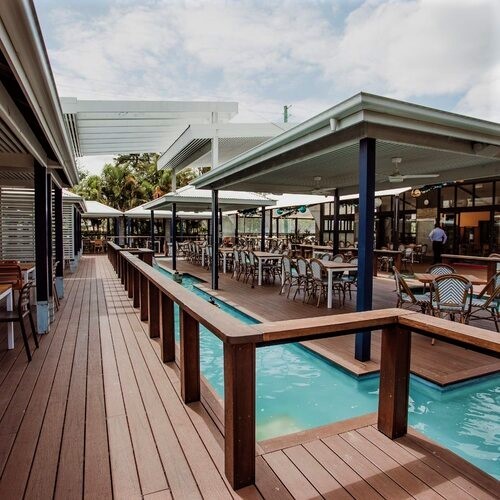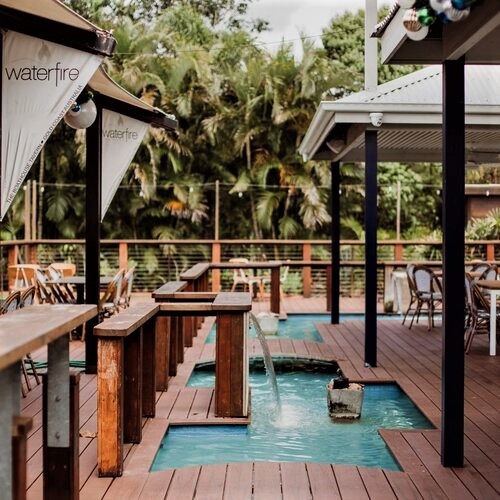 On the way back to Morphie we spotted some kangaroos having fun near the local sports fields. Not something you see everyday on the rugby pitch LOL.
Saturday we headed down the M1 to Surfers Paradise as we wanted to visit the Skypoint Observation Deck located atop the iconic Q1 building with panoramic views of the entire Gold Coast coastline, hinterland area and the central business district. This is the only beach-side observation deck in Australia. The traffic was heavy and it had taken us at least an hour to get there so we were delighted to find a free parking spot just outside the building, that was totally unexpected! We queued up to get in, whizzed up very fast in the lift to the 77th floor, and then wandered around and enjoyed the spectacular views. We also had some great coffee and cake from the on-site cafe. They were restricting numbers to the tower so there were lots of opportunities to check out the views whilst still managing social distancing. Was definitely worth the trip.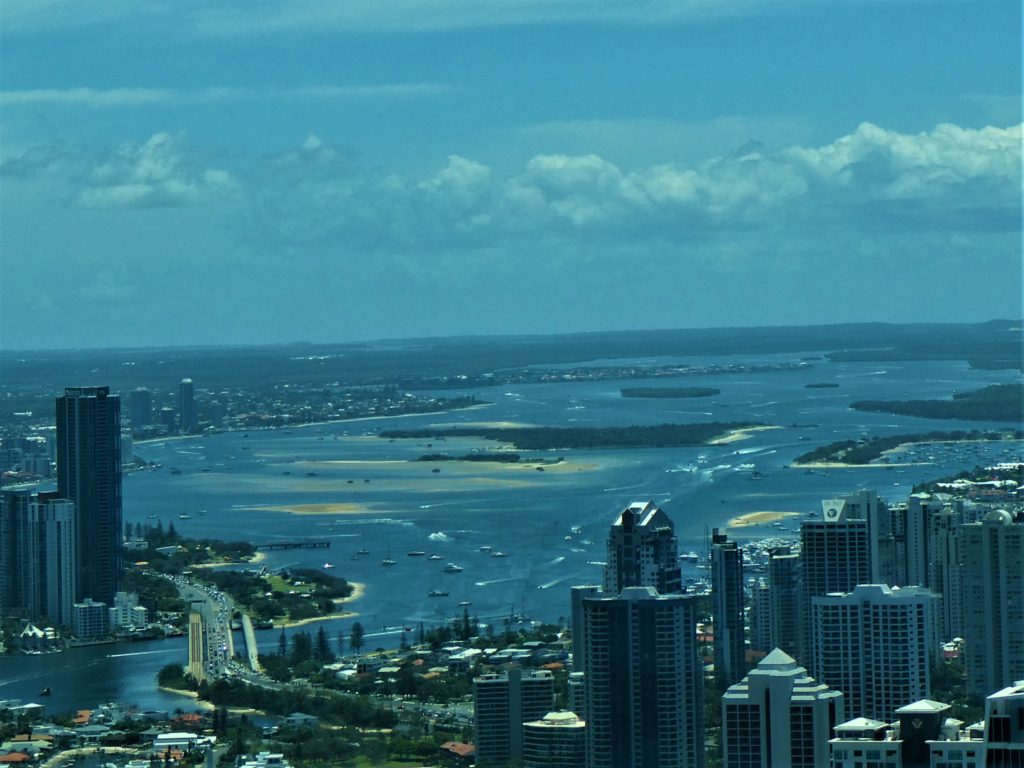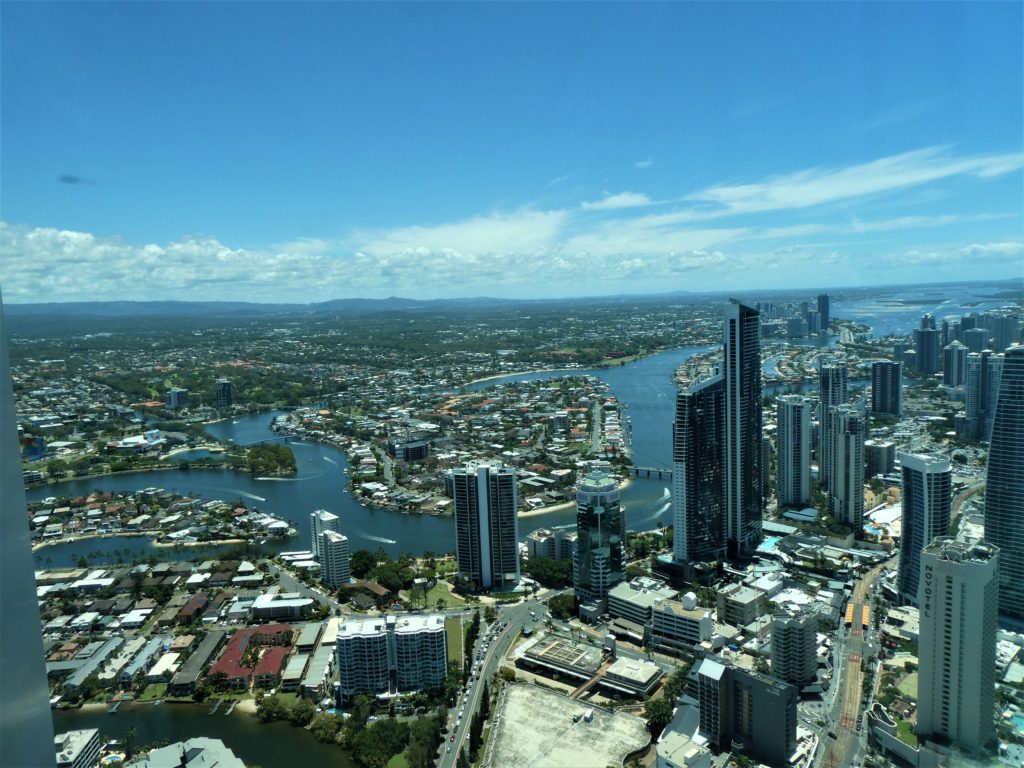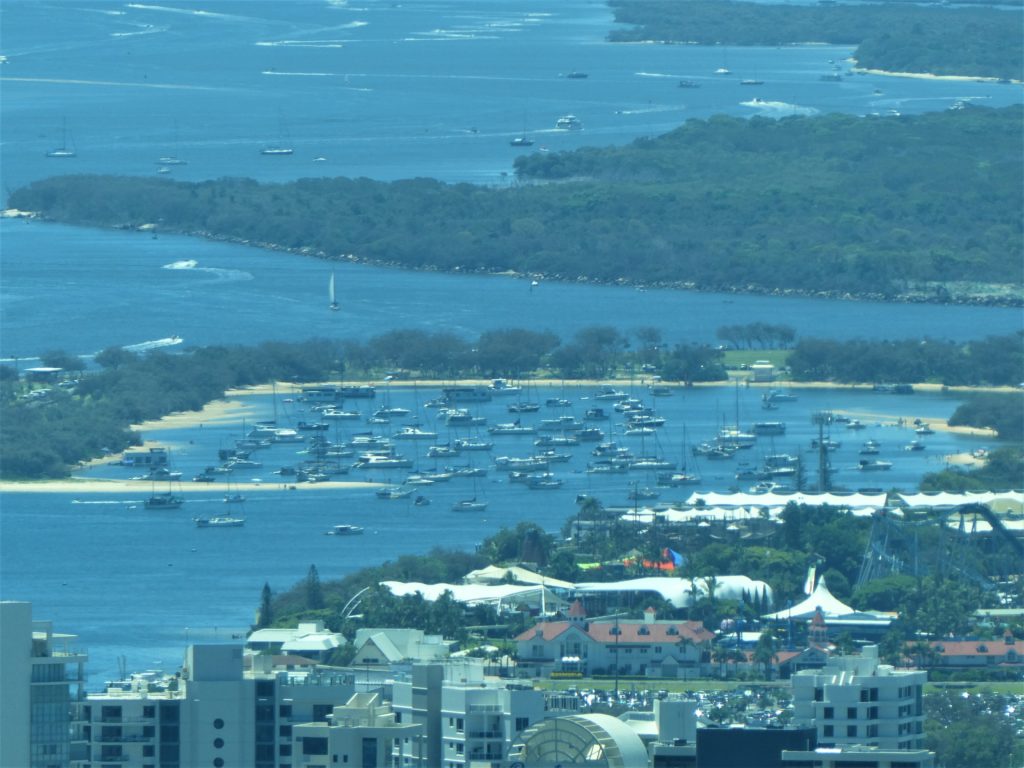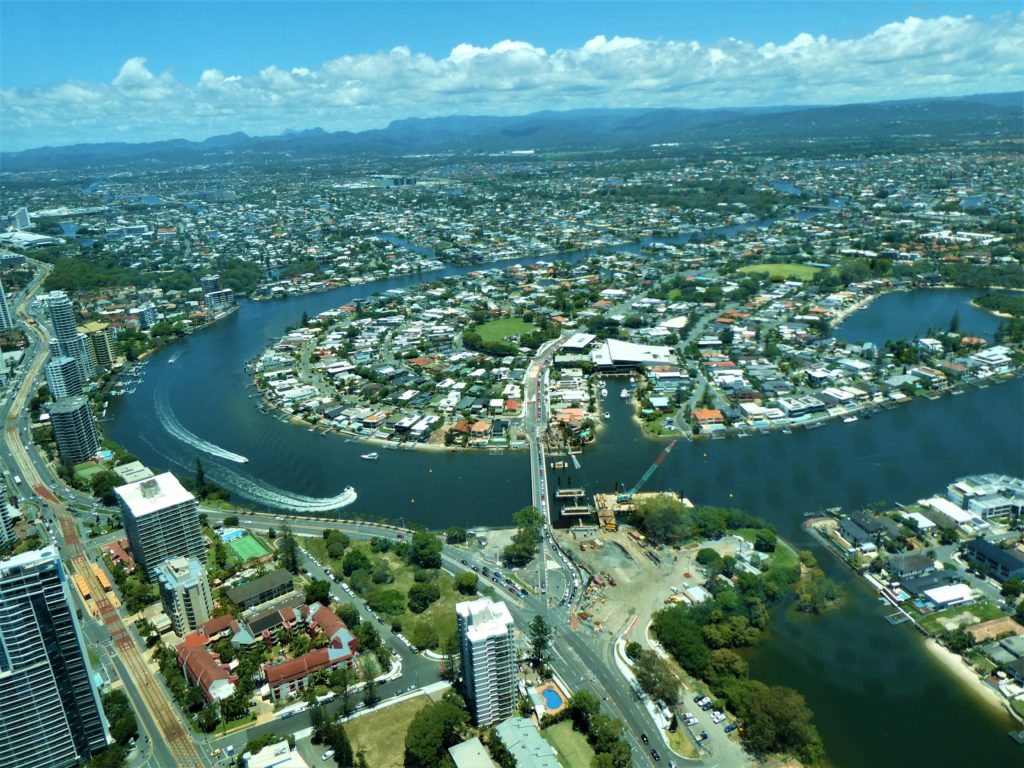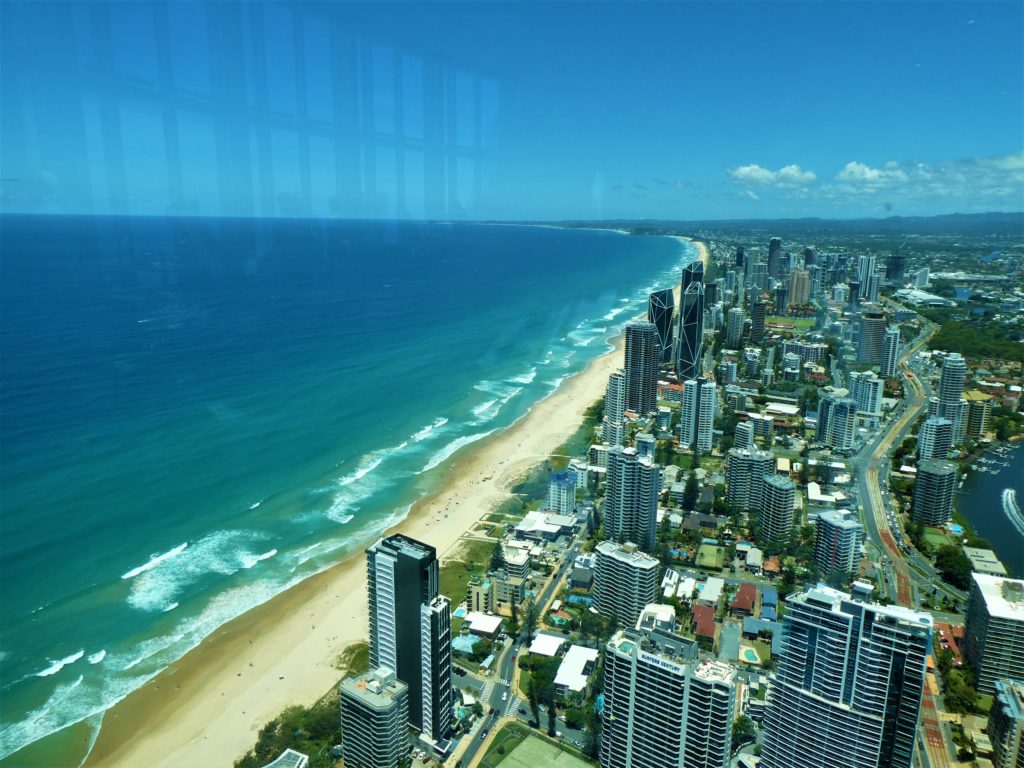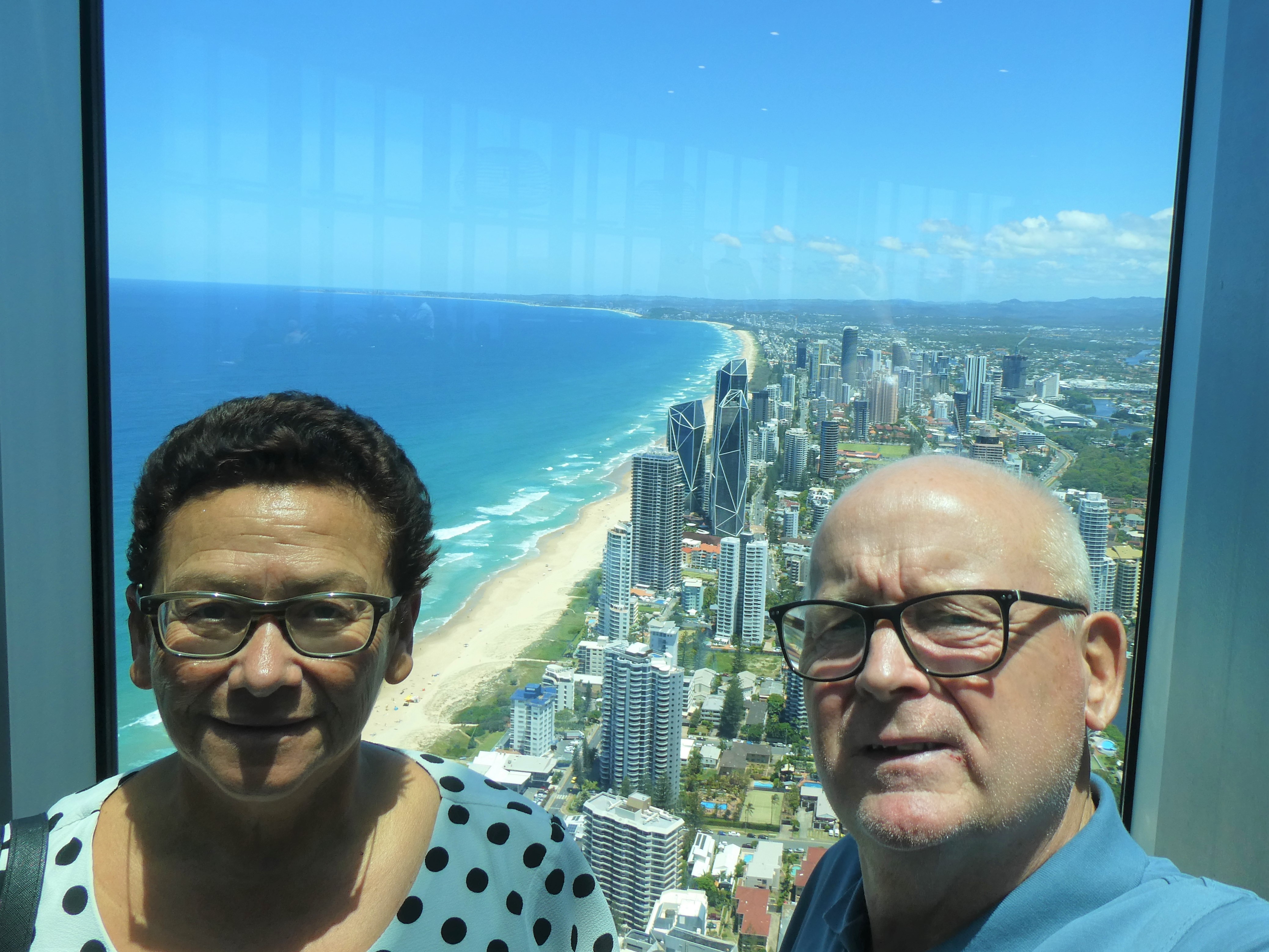 Afterwards we drove back to Coomera and stopped off in Westfield for some fresh fruit and salad and then back to Morphie for the evening.
Sunday morning, the sun was out and it was glorious! So we quickly packed up a salad picnic lunch and headed down the M1 to Southport as we wanted to go to the beach on the ocean-side near to the Gold Coast Seaway entrance. The traffic was crawling along most of the way and then we all had to get out of the way for an ambulance to get through – to find ourselves stuck in traffic alongside a prone teenager who was being tended to on the side of the road. Not sure what hit her but she was out for the count – just hope she was OK. We continued our journey (feeling a bit subdued after seeing that) and arrived at the car park and actually managed to find a parking space which is definitely a bonus anywhere near a Gold Coast beach at a weekend! We unloaded the car and headed to the beach which was a bit hard going for me walking on soft sand. But I made it and we got out the new tent shade and erected it – it was very simple and quick. We were both delighted by our new purchase and made ourselves comfortable.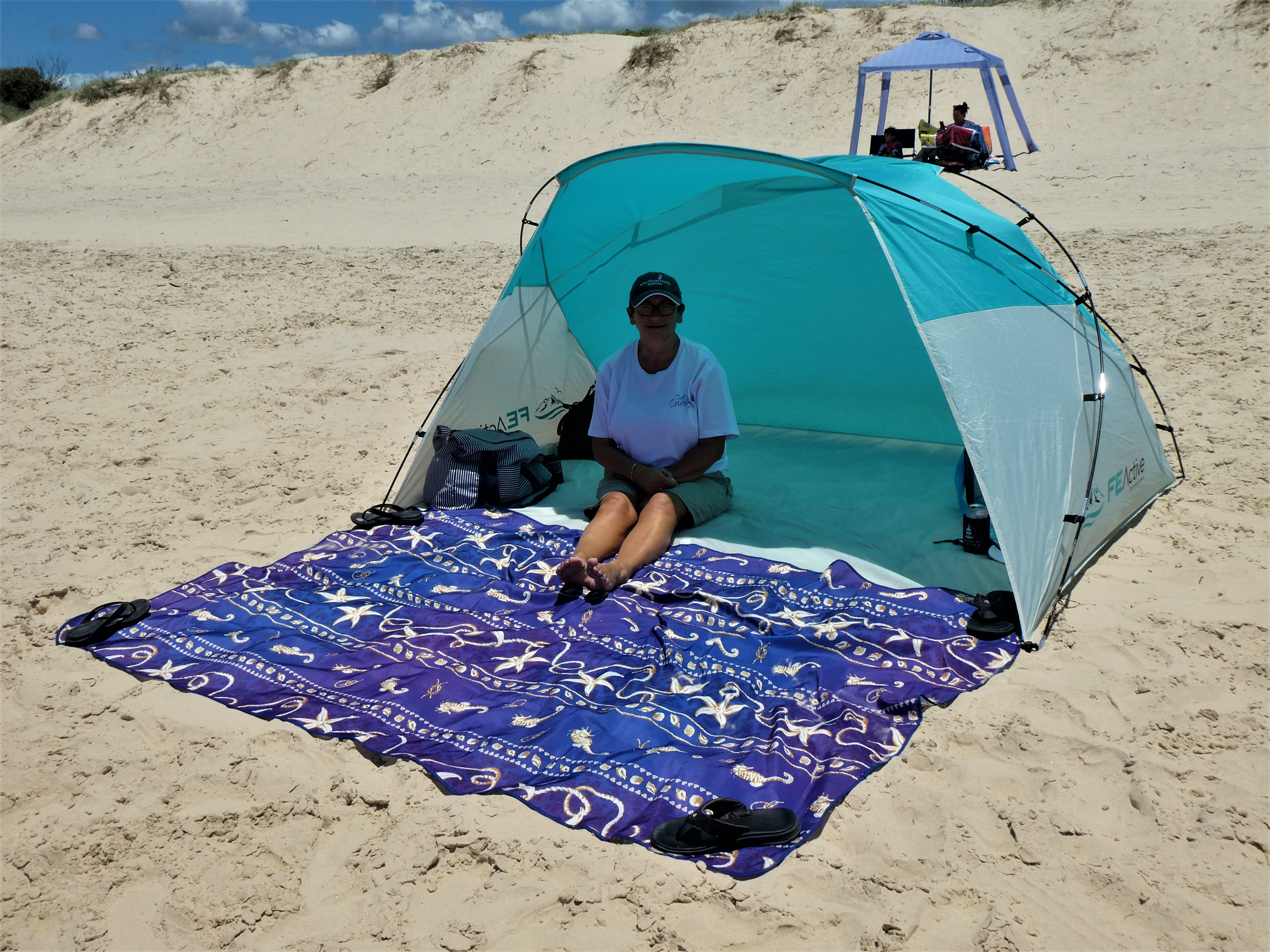 This beach is one of the few that allow dogs to play off their lead so we enjoyed watching them having as much fun in the surf as their human parents. Some of them were a bit naughty though and one little Rasta dog with dreadlocks (probably some sort of poodle cross-breed) definitely liked the look of our tent and came visiting for cuddles a few times and stole some rubber bands of all things. A bit concerned we told his mum but she said he just liked chewing them, he wouldn't swallow them so no worries. Phew that's a relief. Oh yes and if you are wondering about the pier structure it is a sand bypassing system which delivers all the sand that arrives at the Gold Coast Seaway across the entrance and moves it up the coast into the Moreton Bay Marine Park. Up to 500 cubic metres of sand can be moved per hour. Oh yes, and how could I forget watching the yacht race that was going on just off the coast. Was a fabulous day!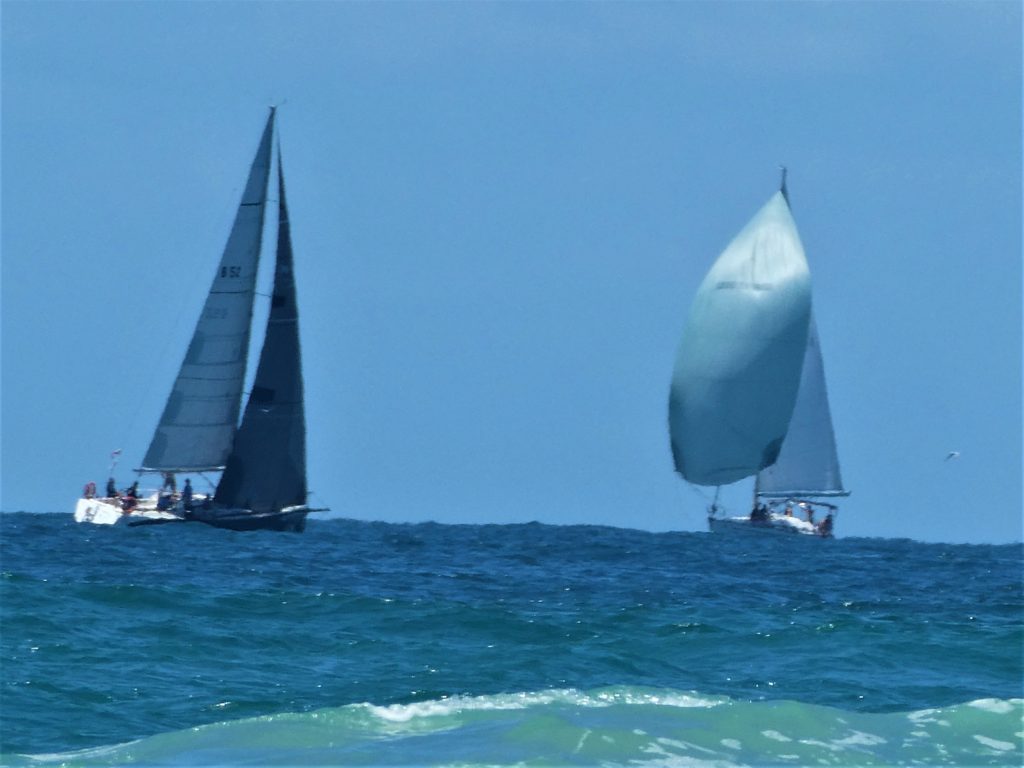 Coming back to the Boatworks and, again, another ambulance this time rushing to the children's waterpark on the Broadwater being directed by a lifeguard on the ground. Sends shivers down my spine when this happens just hope that incident turned out OK for everyone concerned also. Driving via the back roads to avoid the mayhem that is the M1 on a busy weekend we returned to Morphie and unpacked. We then headed over to the showers having checked up on the new marina duck family and, suitably cleaned up, we took up residence at the new pirate ship landscaped area for sundowners listening to some tunes. We had this space all to ourselves and very pleasant it was too! Lovely way to finish the day.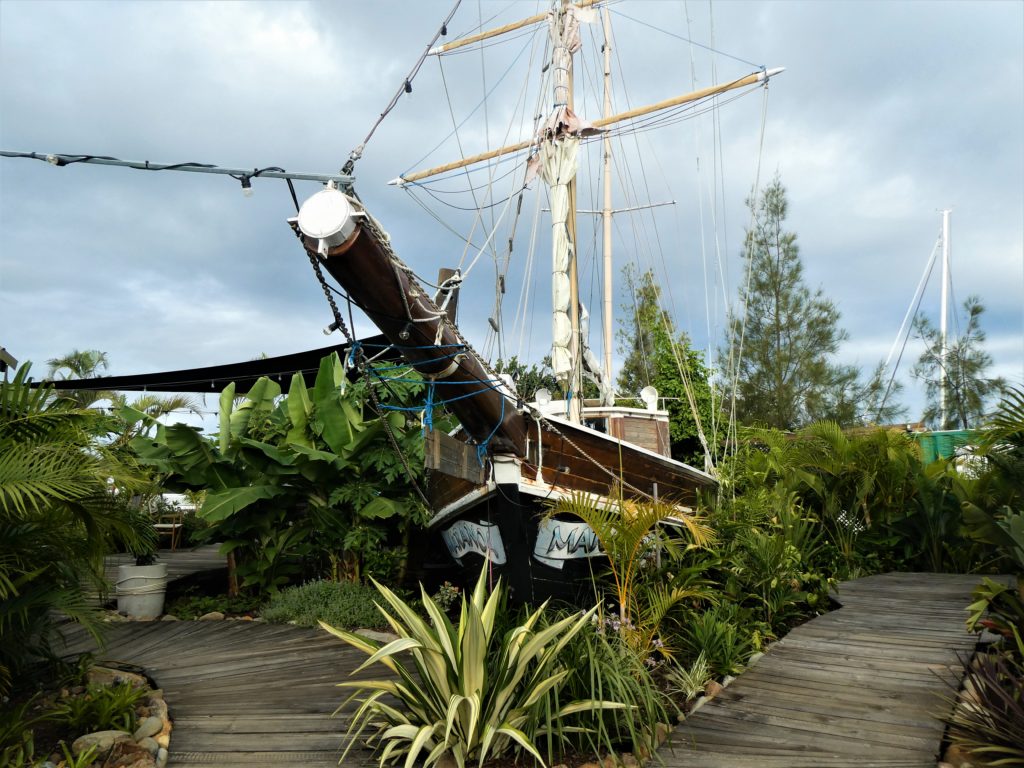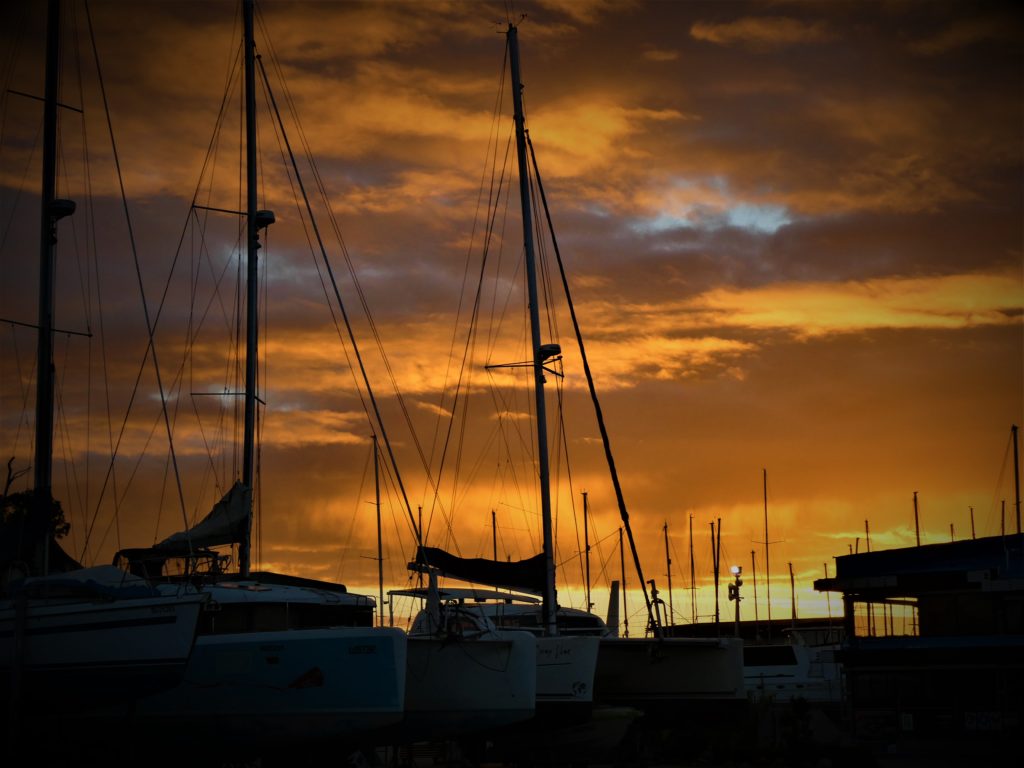 This morning, Monday, we have returned the car and Richard is doing the last bit of laundry while I'm blogging. Later on we will head out to pick up our hire car and get packing as we plan to leave early tomorrow morning heading north towards Bundaberg. So the next blog of our adventures will be published after we come back.
The grim news from home continues and now you have heavy snow just to cheer you all up! Please stay safe and well everybody. So just to make you smile here is an Australian quokka showing you his cheeky grin. Love from us both to you all.
Jan