Saturday afternoon (19 June) Chris and Sharon came onboard Morphie for sundowners. They supplied the food and drinks and we supplied the cockpit LOL. Was a lovely evening and I thoroughly enjoyed the bubbles! Thanks.
Sunday morning we headed ashore to Great Keppel Island after breakfast. We went exploring up the little creek at one end of the anchorage and spoke to the guy who lived on the trimaran that was happily sitting in the mud. We then headed to the other end of the beach and found quite a few sunbathers who had managed to find a warm sunny spot out of the cold wind. We wanted to go around to the resort and found a cliff path which, for the first part, had a rope hanging down to help people climb up. So we decided to go for it!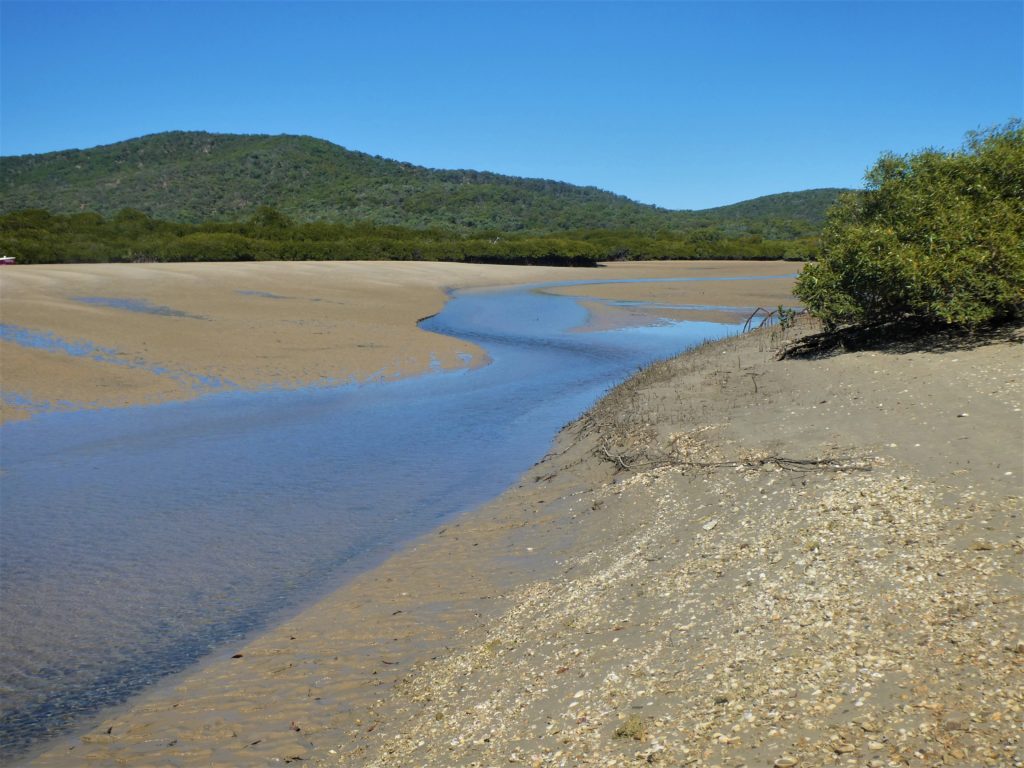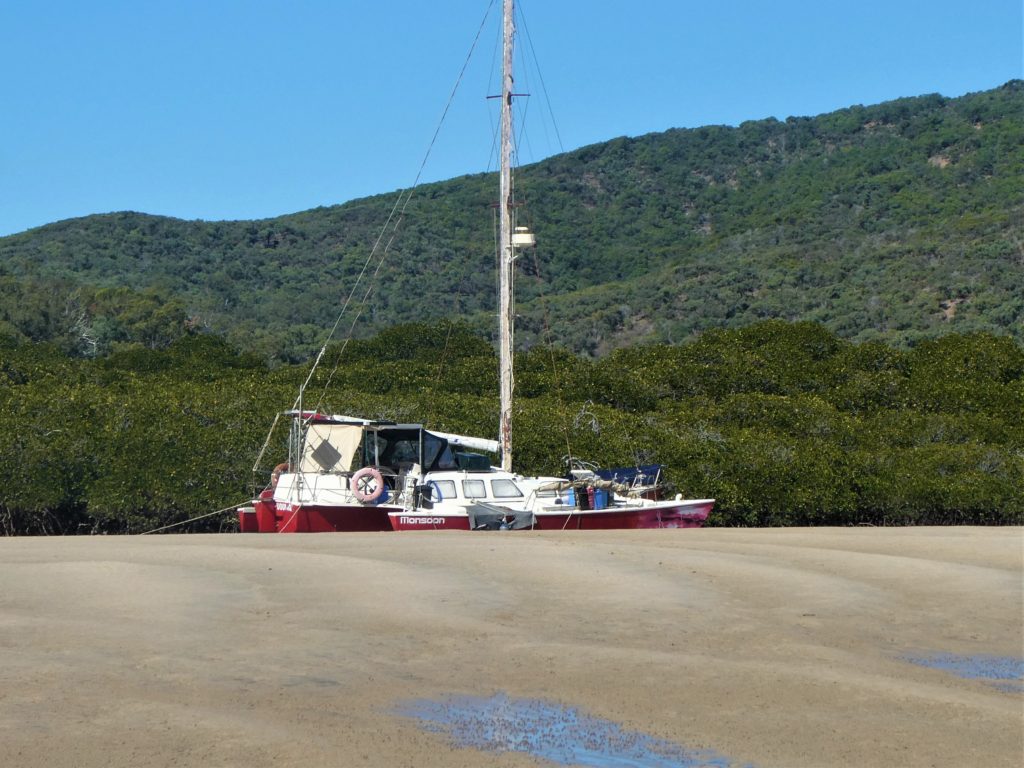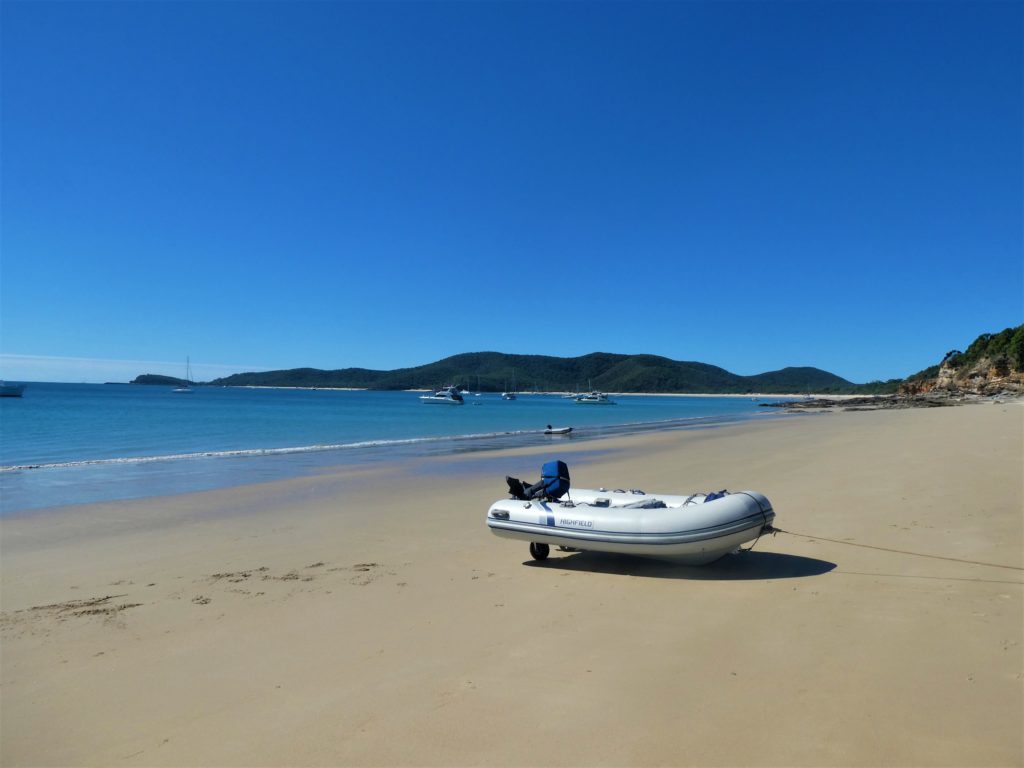 I managed to get to the top and then we walked through the bush, down to the beach, and finally to the resort where we enjoyed the sights from this vantage point.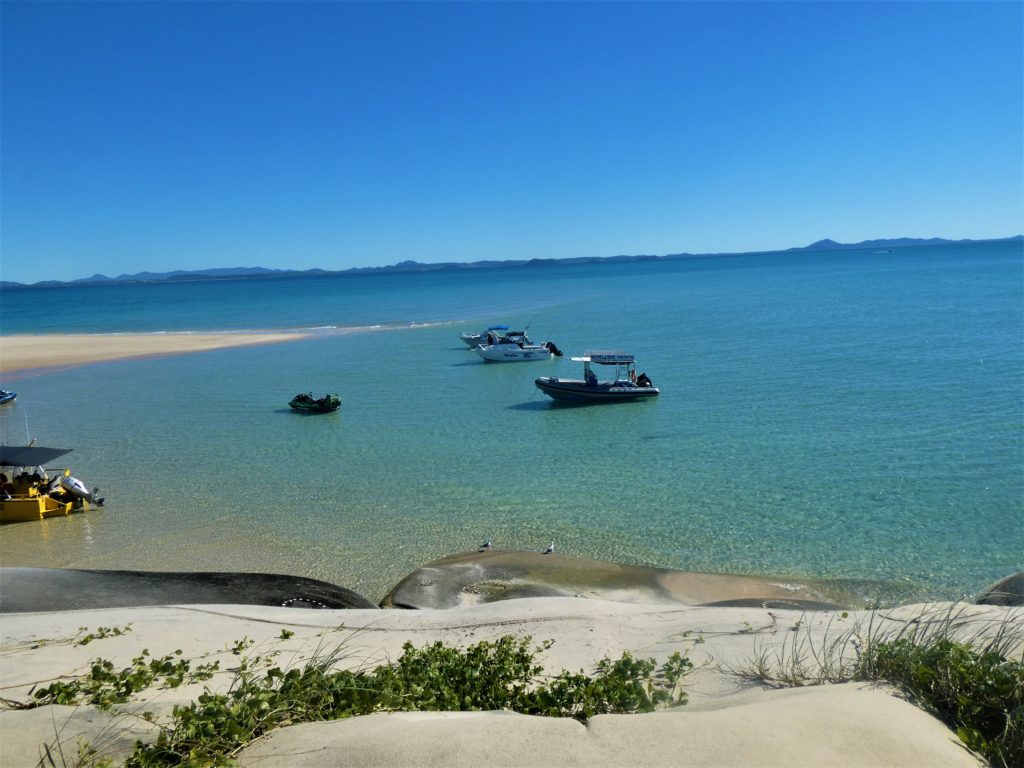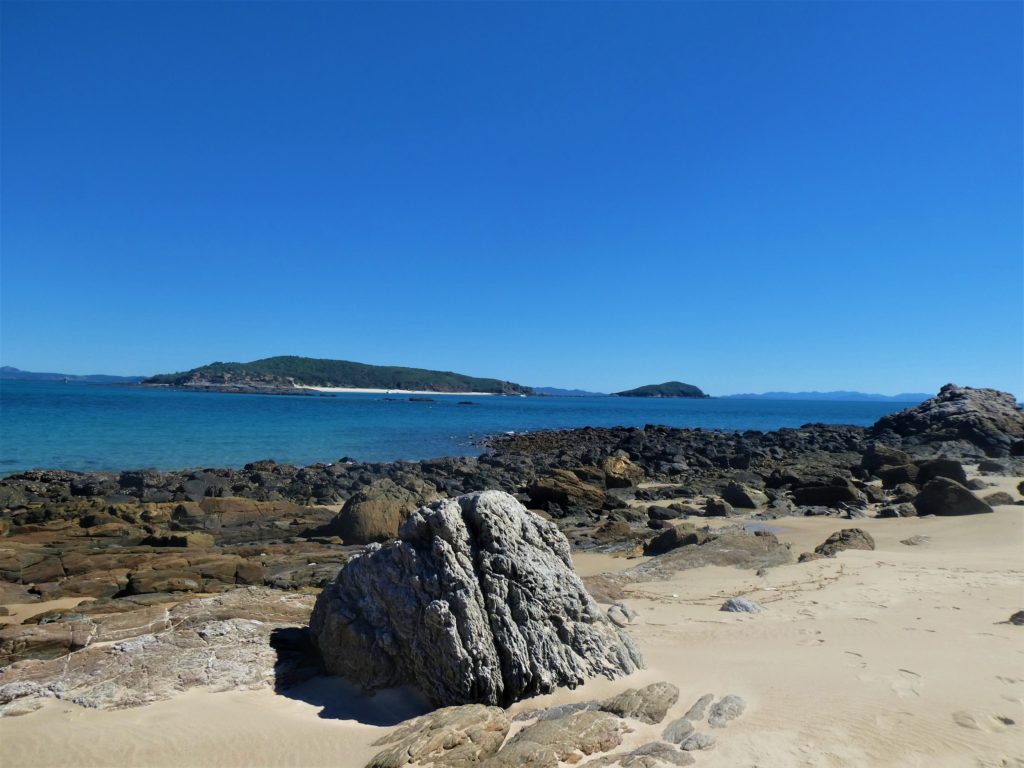 We came across Chris and Sharon so joined them for a coffee before we all made the trek back and said our sad farewells. Back on board we rested up and had a quiet evening aboard.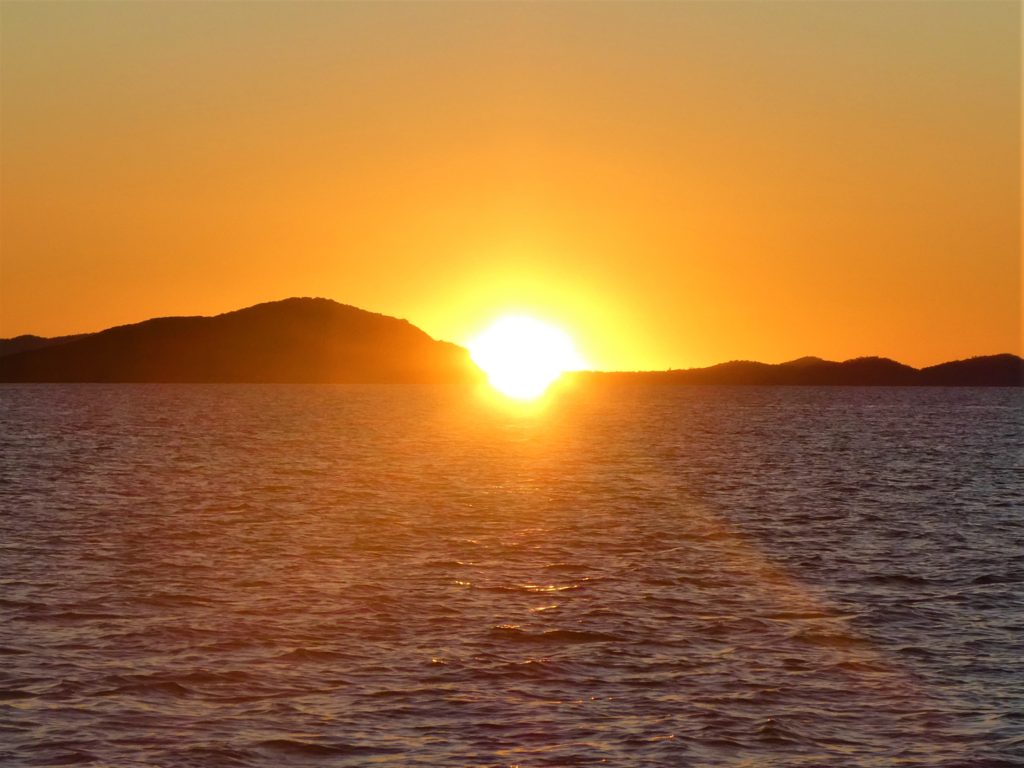 Monday the weather changed again with strong winds forecast for the next few days so we decided that this was as good a time as any to head into the Keppel Bay Marina over at Rosslyn Bay on the mainland. But first we headed to our neighbour in the anchorage as Greg (who we had met in the Boatworks) had helped the owners of this boat bring it up the coast. So was lovely to catch up over a cup of tea with him.
Back on board Morphie we picked up anchor and timed our arrival into the marina for a couple of hours after low tide so that we would have enough depth in the entrance channel. This worked out great and we were given assistance on the dock and got ourselves settled. We washed all the salt off Morphie, checked in, and then had a wander around the facilities. Whilst we were in the office we found out that there was no nearby car hire company so we would mainly have to rely on the local buses to get out and about. To celebrate our safe arrival here in Rosslyn Bay we headed over to the local yacht club for a couple of cold ones but we didn't stay long as it was pretty cold out on their deck!
Tuesday morning we got the bus into the local town of Yeppoon. We did a bit of shopping for the freezer (wanting to freeze stuff down whilst we were attached to shore power) and walked between two small shopping malls. We had some lunch out in the food court before heading back to Morphie on the bus. All very exciting!
Back at the marina we did some laundry and sat outside the on-site restaurant (which closes at 2pm on weekdays) so that we could use the wifi. We did some downloads but it was a really slow internet speed and we found it very cold in the strong and biting winds so we definitely didn't linger longer than necessary. Back on board I checked our general grocery supplies and then did some on-line shopping for a 'click and collect' service from the local supermarket in preparation for our run into town with the marina's courtesy car on Wednesday. We then started to plan our next anchoring stops on our run north. We also ran the weather models again and were seriously unimpressed by the forecast! There was the possibility of a reasonable Thursday and Friday (although a chance of showers), then a wet weekend (with a chance of thunderstorms), followed by really strong winds for at least the first three days of the following week. So we were contemplating sitting on the boat at anchor out in the cold and the wet for quite a while and looking for somewhere to hide if the wind changed direction. So we made the decision to extend our stay here in the marina. Oh well, never mind….
Wednesday morning we had a leisurely start and then went to the office and extended our stay. We then picked up our courtesy car and did a run to the bottle shop; the supermarket to collect the order; popped into the supermarket for fresh fruit and vegetables (preferring to select these ourselves); and then headed back via the scenic lookout over the islands. Back on board we stowed everything away and then had a quiet evening on board.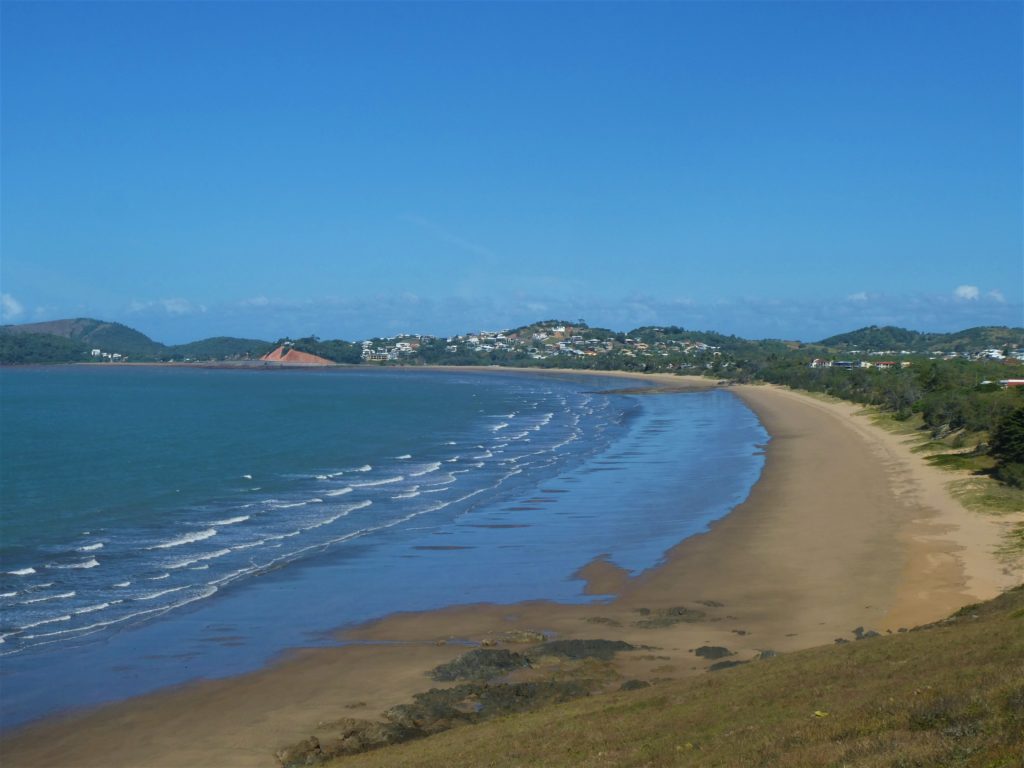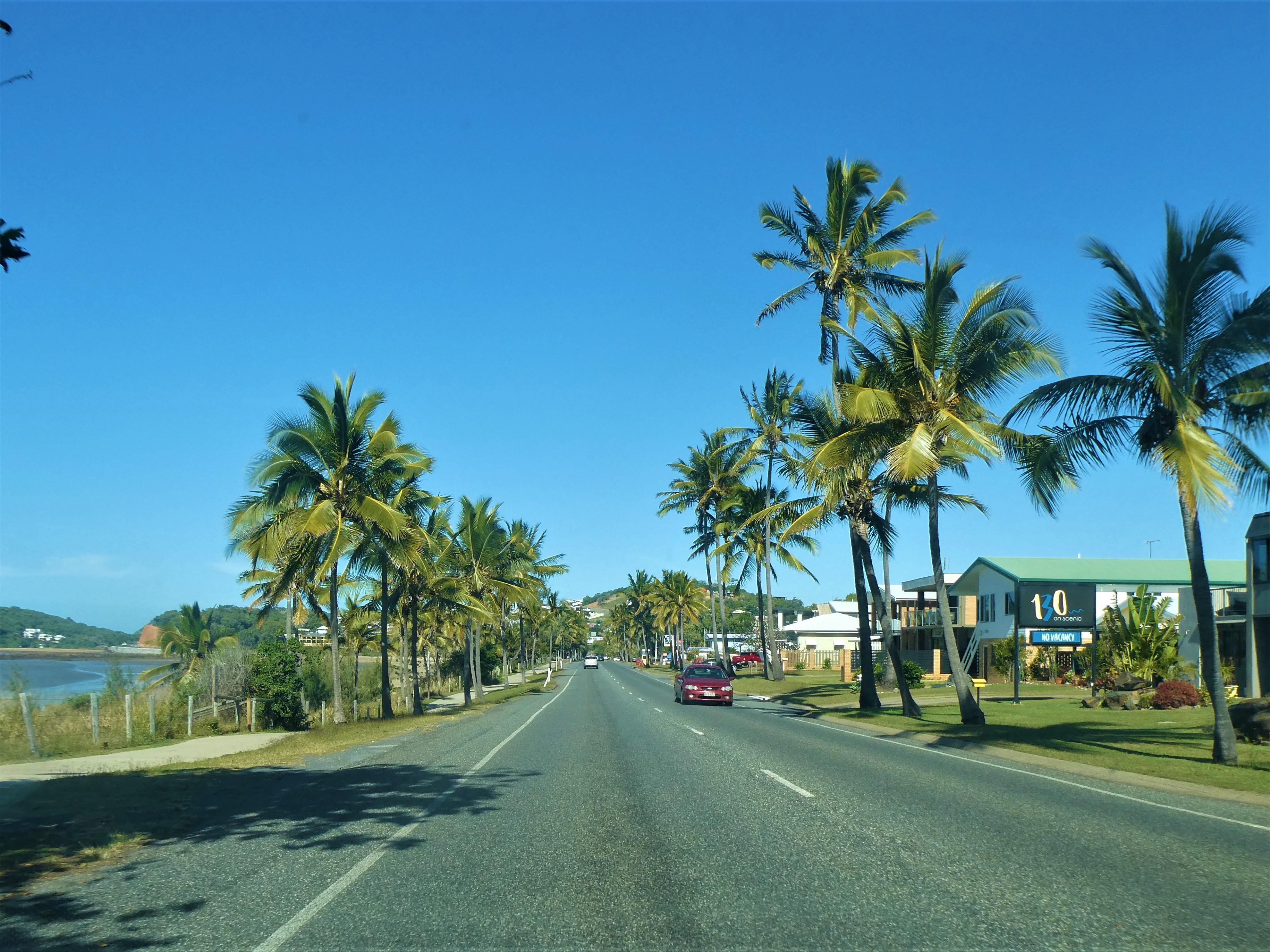 Thursday morning we decided to head back out to Yeppoon again on the bus. This time we explored the beach, the promenade and more of the town. Whilst wandering the beach we were keeping a careful eye out for saltwater crocodiles as there had been a large one spotted here only a couple of weeks ago surfing in the shallows – check out this photo taken by a local fisherman! Before we returned to the boat we had a coffee out and then caught the bus back. We then tried our luck at the internet downloads again before returning to Morphie for the night.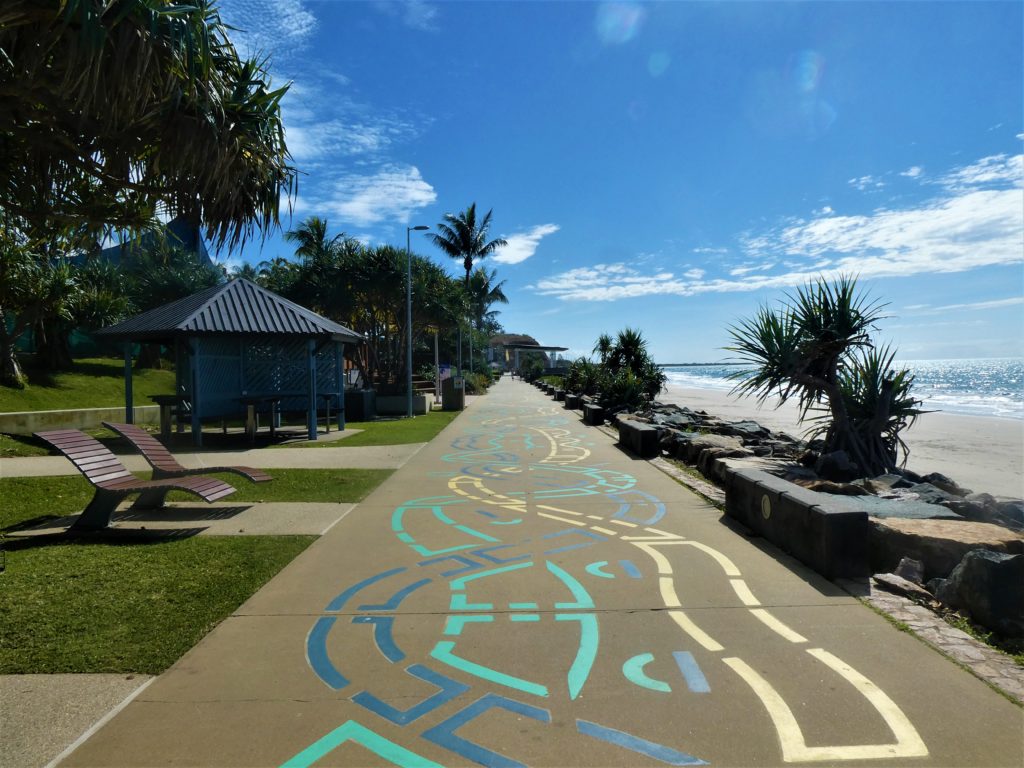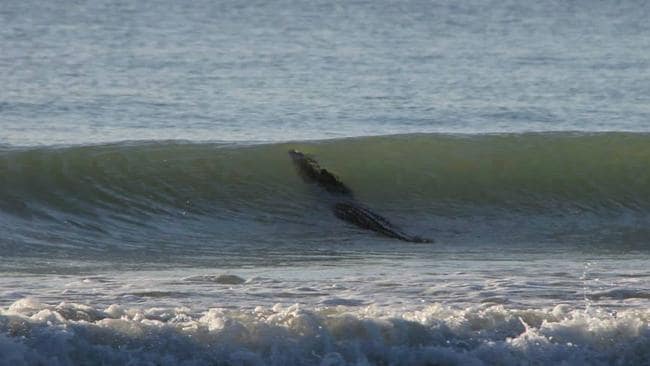 Friday morning were up and about early and got the bus to Rockhampton just over an hour away on the bus. This is the fourth largest city in Queensland and started life as a frontier town which then turned into a bustling river port before becoming a gold rush city. Currently it is now famous for its links to the beef industry. As a result, it has some interesting colonial architecture along the river waterfront. It was raining on our arrival so we took shelter for a while before heading to Quay Street and checked out the Fitzroy River and the historic district.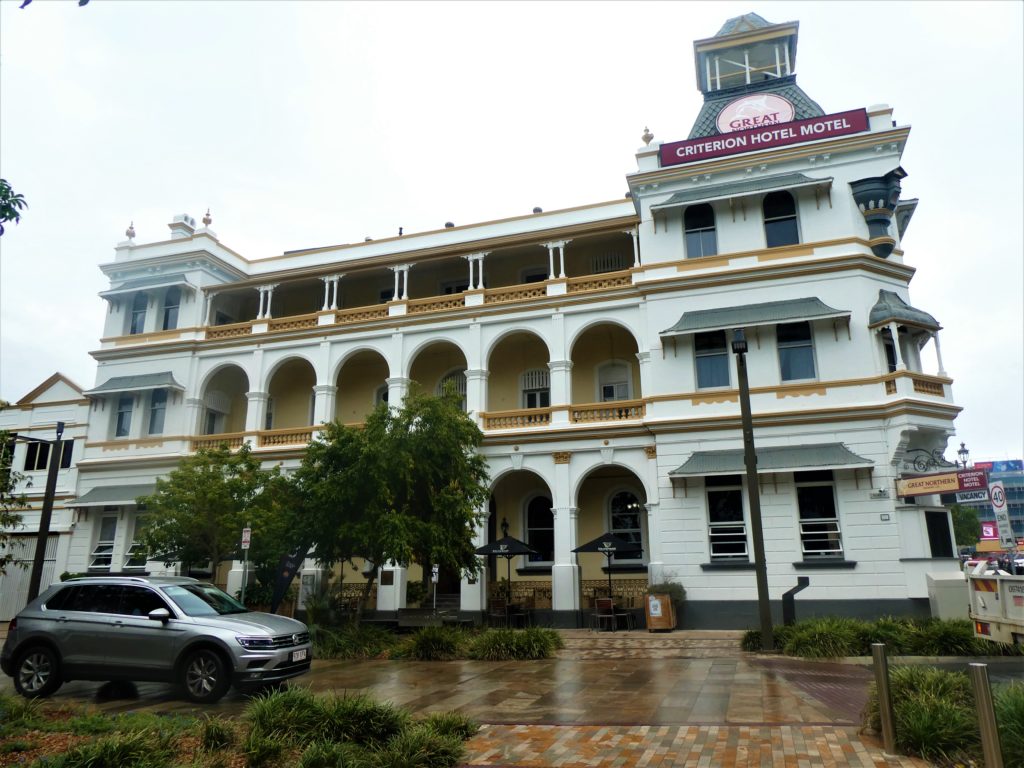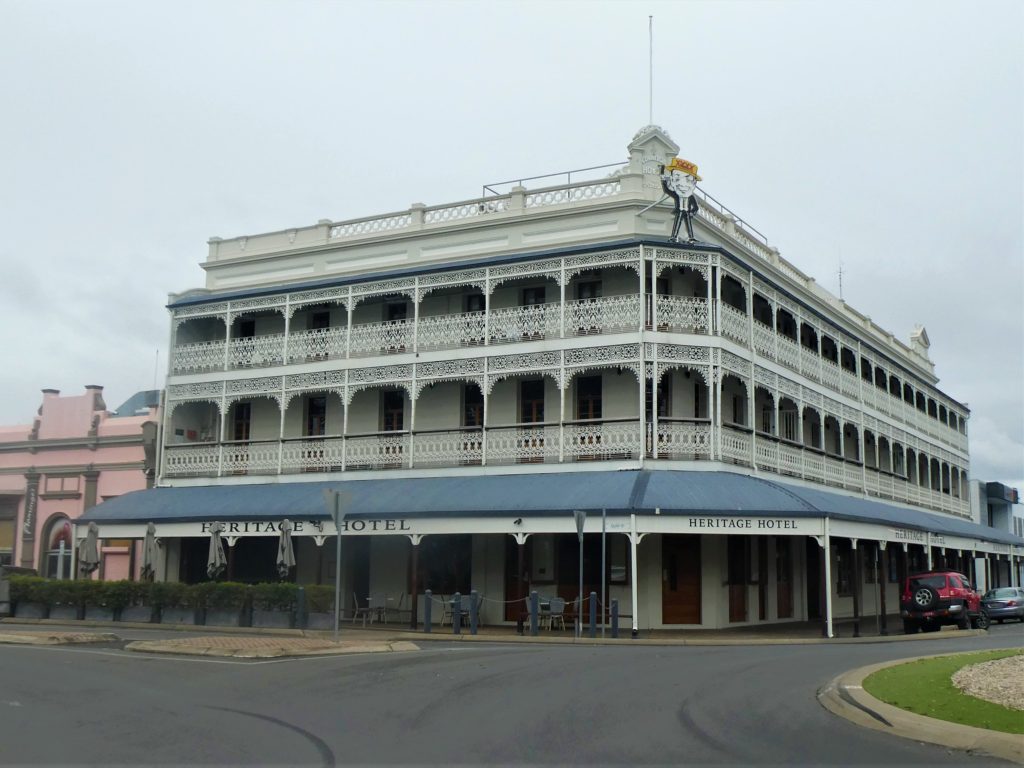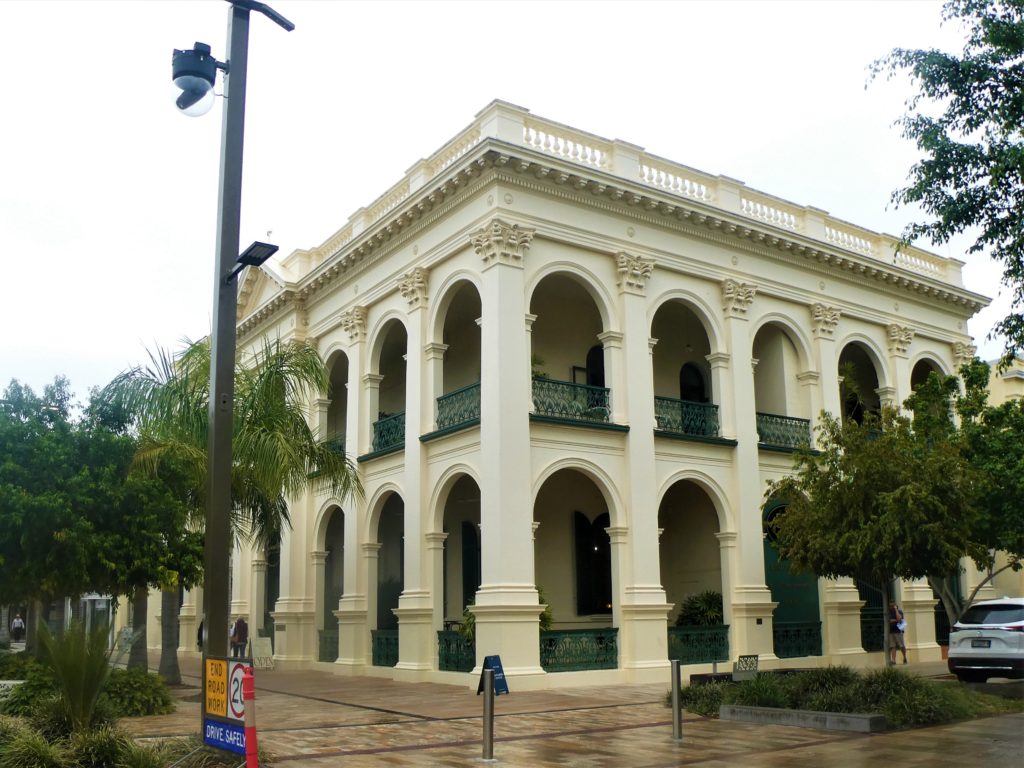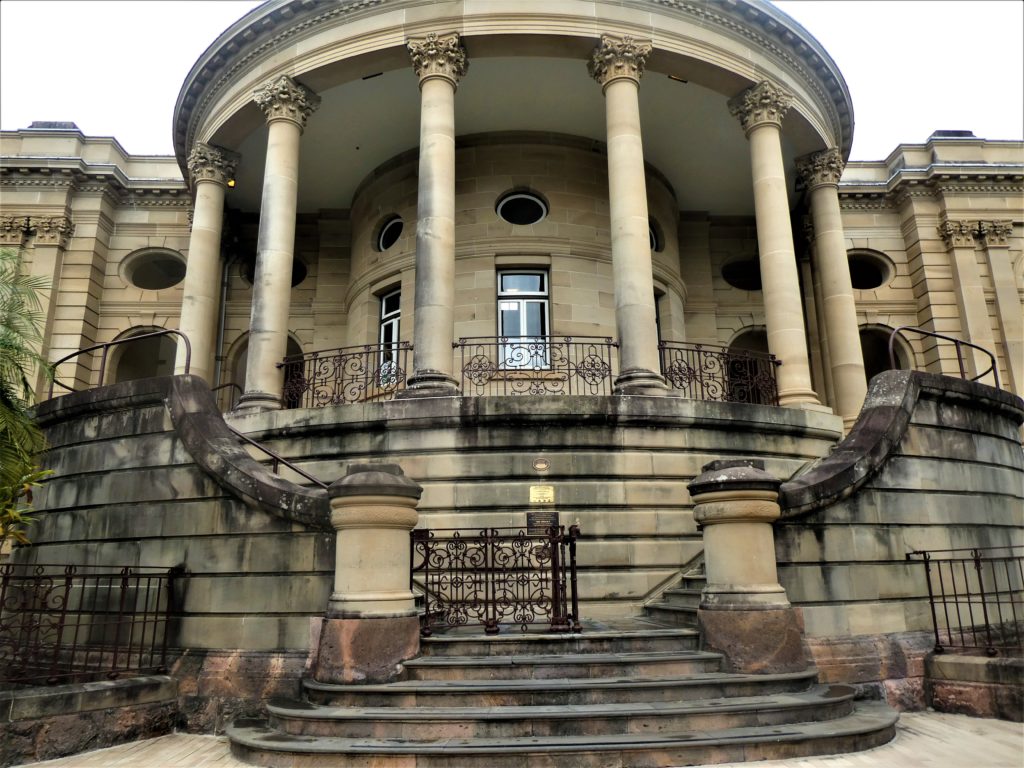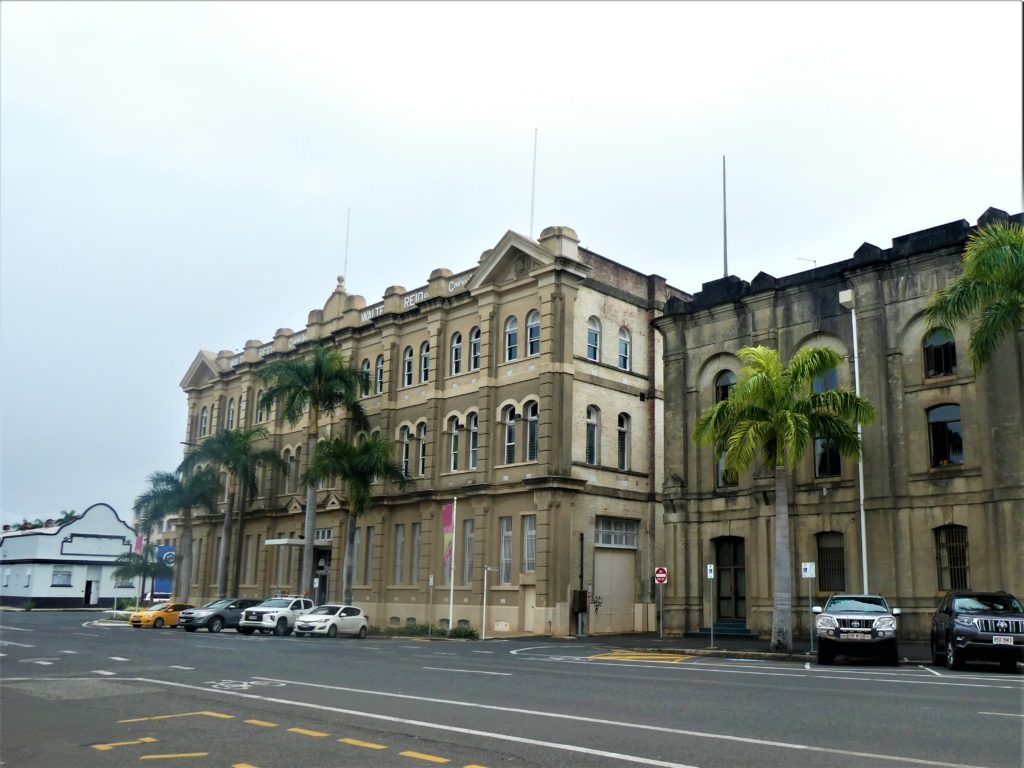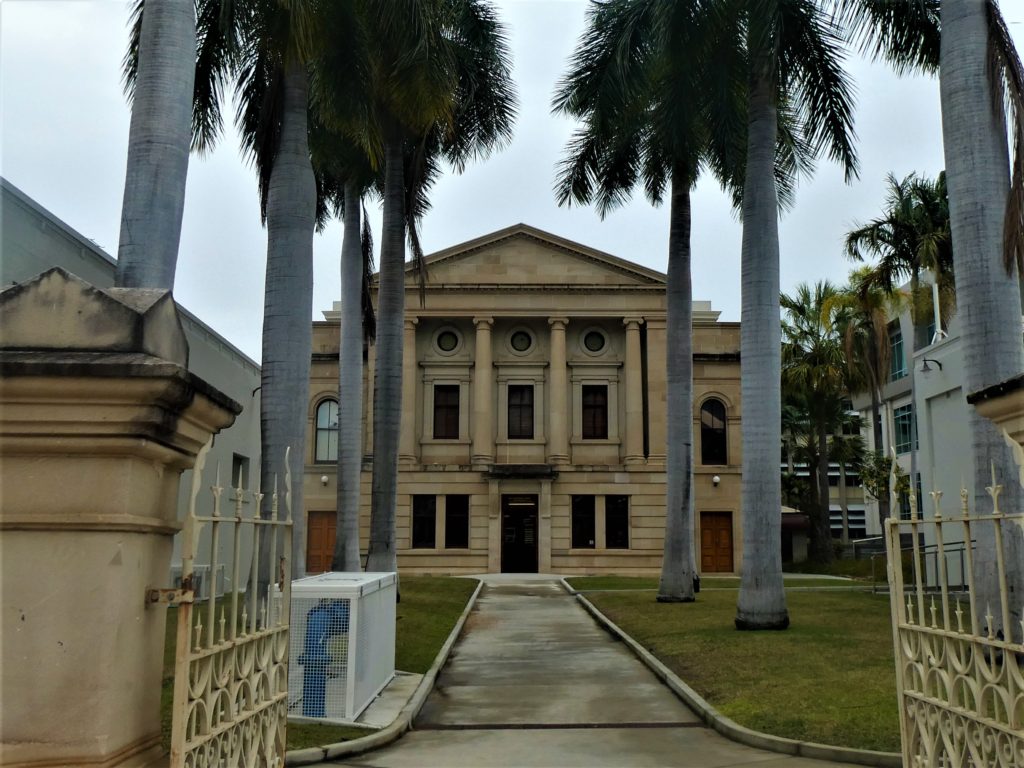 We then wandered the city streets for a while before heading back to the bus stop and our trip back to Rosslyn Bay. Was a good trip out. Back on Morphie we rested up before heading out to the local yacht club for their Friday night 'special' which was a fish and chip supper. We sat with some other cruisers so it was quite social and we had fun.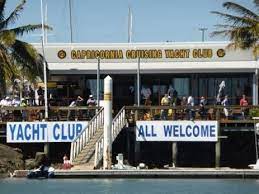 This morning, Saturday, we awoke to the sound of rain on the coachroof and it is definitely in for the day. So we are glad we are staying here safe, dry and warm!
So that's it for now. There has been another covid outbreak so the Queensland border with New South Wales has completely closed again. If these sporadic outbreaks continue we can't see there being any appetite for opening the international borders anytime soon, especially as most cases can be linked back to the restricted numbers of international arrivals (currently Australian citizens only) and their stay in quarantine hotels. Chatting to locals they strongly support this position too so politically there is some pressure to keep the borders closed until at least late 2022. So we are just 'parking' any difficult decisions (as none of the options currently available are particularly to our liking) and will continue to enjoy tropical Queensland whilst we can. So, on that note, it's time for another Australian cutie to make you smile.
Jan