After the excesses of Christmas, we motored around to Diamond Cay on Jost Van Dyke for a quiet Boxing Day at anchor.  Went ashore for lunch and snorkelled a bit.  Had a long overdue alcohol free day!   Didn't see much – no tarpon or turtles that frequent this area – but had a really nice chilled day and enjoyed the scenery.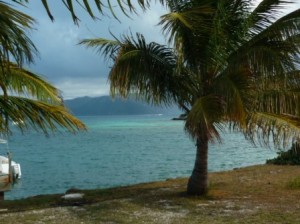 The following morning we decided to head up to Marina Cay and had a great sail….took us a long time head to wind but hey, in no hurry, and enjoyed 20+ knots of wind most of the way and anchored at the back of the mooring field when we arrived.  
We had a sandwich on board for lunch and Melody and Tony from Utopia arrived….so we went aboard their spacious catamaran and had cocktails and made reservations for dinner ashore.  Had a great time in their company and learnt load of useful stuff for our down-island adventure to come.   We were also gifted one of Tony's special fishing lures which we hope will be lucky for us going forward!  Thanks guys…
We were up early and headed out for a long sail to Anegada…the sunken island of the BVIs.  Sails up and heading into quite big seas with dink tied up tight on her davits …. Had a fantastic close-hauled sail with 23 knots and breaking seas….with a top speed of 7.6 knots this time and a great time was had by all….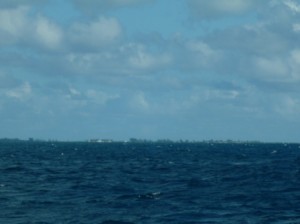 Into Anegada – tricky entrance as usual but we have the advantage of following our track on the handheld plotter from earlier years – and anchored in front of the mooring field.   Another $60 saved for two nights stay ….  Richard snorkelled the anchor to make sure it was set and I spotted two manta rays cruising past – a real treat and a bit unreal as there are few sightings of these guys in these waters, especially in the anchorages.   Not sure I would have let him had I known that another tiger shark had been caught in the anchorage two days previous!
After sorting out some boat jobs we went ashore and took a cab to Cow Wreck beach…..named because in the early 1900s a ship wrecked here carrying lifestock which all got swept ashore…..      Anyway…had a great afternoon and returned via Neptunes for happy hour where we met some fellow cruisers.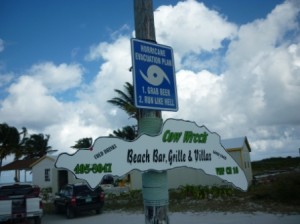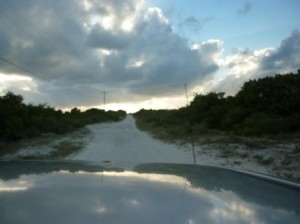 And so to bed – we crashed about 8.30 pm…..   Up early this morning (Saturday) and cleaned Morpheus top to bottom ater breakfast ashore at Neptunes Treasure….   and then ashore this afternoon to another chilled afternoon at Cow Wreck, happy hour at Neptunes and then sundowners aboard Sha Sha with our cruiser friends Sharon and Jim…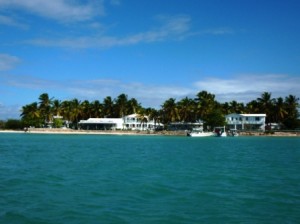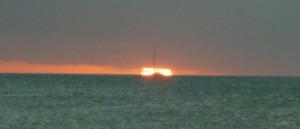 Back on board now…..and ready for an early night….back to Cane Garden Bay tomorrow for Sunday night with the Elmtones and to stay there for New Year's Eve – swells permitting……
Oh yes, and to Tommy our nephew, who was worried about us bumping into Captain Jack Sparrow…we did wonder whether this was the Black Pearl anchored around the corner from us….  But don't worry – we'll keep a good look out!
Bye for now
Jan