After a leisurely (grey and damp) start on Wednesday we motored the three miles along the coast and entered the channel into St George's. This channel is well buoyed but all ships use it – so did a quick check around to make sure no bigguns were out there waiting to follow us in!   As we entered the channel we radioed the marina to find out which dock they had allocated to us – on Channel 14 – and two guys start chatting over the VHF. Mmmmm…. Richard definitely not impressed and told them to switch as this was a marina working channel but they just carried on. Eventually – after venting his spleen with some working class language in the cockpit (not on the radio – that would contravene radio regs!) – we got the slip information and went on in. Unfortunately the marina could not offer us 110 volt on the dock so we are using our normal solar / wind and occasional engine / generator use to keep our batteries topped up.
Having been to the office and settled up for a four night stay – we had a wander around the marina, including a walk up to the top of a little tower to take some photos of Morphie nestling against the dock, and then had a really nice late lunch in the restaurant. We organised for our laundry to be done and for our propane gas bottle to be filled. Having achieved a few things – but recognising that we need to write lists to make sure we get everything done – we headed over to have some late sundowners with pad in hand. We were surprised to see Jim and Mandy from Sha Sha as we thought they were heading to the south coast of Granada – but some boat problems forced them in. We also went and said hi to Chris who is home alone on Troubadour whilst Linda is away visiting family.
Thursday we got up early and jumped in a cab to take us to the large IGA supermarket for the main provisioning trip for our friends' holiday. The taxi driver was a bit of a speed freak jumping on his brakes real hard every now and again – but he did wait for almost two hours for us whilst shopping. And yes, Grenada lived up to its oasis status for food shopping, although I did get a bit concerned about the chances of our eggs getting back on board in one piece!!!! The fun part starts then – where on earth do we put it all????? We are also keen to give Morphie a well-deserved spruce up above and below the water line, as we are growing our own dive site again. Literally bumped into some divers who had just finished someone else's boat and asked a price. Pleasantly surprised we engaged them to dive and clean Morphie's bottom. We also got a quote from another local guy for washing, cleaning, waxing the hull, the topsides and all the stainless….. Happy with that we set him to work too. Things are really starting to come together now.
Had a late lunch / early supper in the restaurant – and went to bed early aided by a couple of glasses of wine. Whilst we were in the bar a young lad called Nathan decided to adopt us – and spent about an hour with us, whilst his Dad(?) sat and drank at the bar. Nathan was starting to be a bit of a pest but we didn't want to tell him to go away – he is only 7 after all – and he started to complain he was really hot. I had a glass of ice which had melted away so we let him drink that. Within seconds his Dad was over – grabbed the glass away from him, and fixed me with a steely glare whilst saying – loudly – NO!  I explained it was only water but Nathan got dragged away and I was made to feel like some potential child molester. Fair enough – you can't be too careful – but he wasn't interested that Nathan had spent over an hour with us prior to this….. Finished up and went back on board for another early night – feeling a bit miffed by what had transpired…. Oh well….
Friday and we were up early again. We needed to get some more bath towels and a couple of pillowcases – and we'd also like to pick up a waterproof camera; a prescription mask for me; a new fin strap for Richard; a new canvas bag; maybe some clothes; and a few other odds and sods…. We had asked advice on where best to go – so headed off on the local bus to the Spiceland Mall with high expectations. Stopped first to get some drinking vouchers out of the ATM and we were accosted by our first beggar of the day. I think the bank should move these guys on – being hassled whilst waiting in the queue is no fun. We eventually got away from him – and others that pestered us as we walked along – and entered the Mall. Well – this is not oasis after all – we got absolutely nothing! So back on the local bus and into the capital city – first stop the Hubbard's department store. Hurrah – we got something!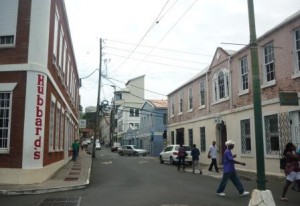 We then enjoyed wandering along the really pretty waterfront admiring the well-preserved old buildings of Carenage. Then walked through an ancient 7ft high tunnel built by the British back in the day when this was an amazing feat of engineering…. This very narrow tunnel links Carenage with the rest of the city and it is shared with one-way traffic and pedestrians. Felt a bit risky at times with cars coming too close….and stepping around locals who do like to stop and natter in the most inopportune places!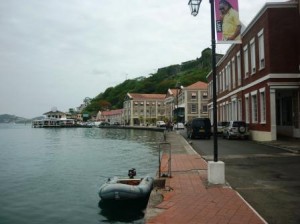 In the city it got much busier and we found another Mall – leading to the cruise ship dock. But nothing we wanted to buy. Oh dear… We wandered around – taking in the sights – and visited numerous local shops but we couldn't find anything we wanted. Deciding not to go back through the tunnel Richard dragged me up some really steep steps to the top of the hill where we saw the mammoth restoration programme that faces them to repair the dilapidated church. Over the hill – admired the views – and then went back down the other side. These steep steps were even worse as they were uneven slabs placed into mud with some awkward angles.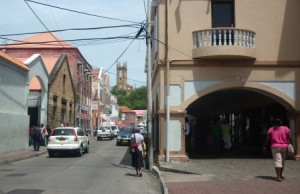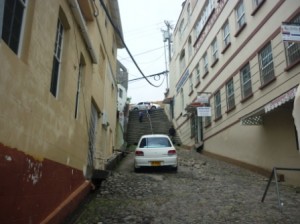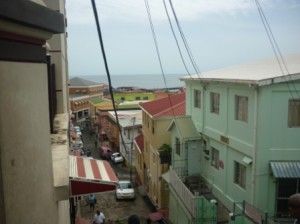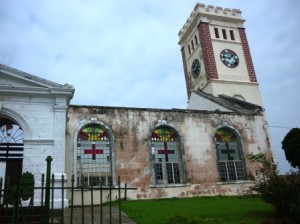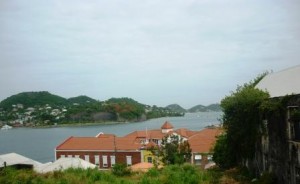 Got down safely – phew! – and back to the waterfront where we spent some time watching the local fisherman prepare their catch for sale to the public… although Richard wasn't so impressed by the football team that one of them supported! It was fun and slightly nostalgic to see old red telephone boxes on the town dock too. We then took off – by bus again – to the chandlery where we were surprised to run into BJ & Cathy (Evenstar) and John and Georgina (Shamal) – who we had last met at Union Island and Bequia respectively. They are both anchored down in the Prickly Bay area so we will probably catch up with them after our friends have departed. And – yes – we managed to buy some stuff!    Shame we couldn't get the underwater camera though….. definitely something for the future.   But a great sigh of relief that we managed most things on the list in the end.   Hurrah….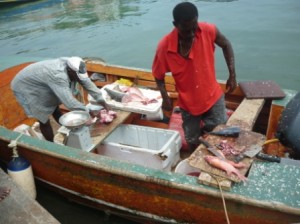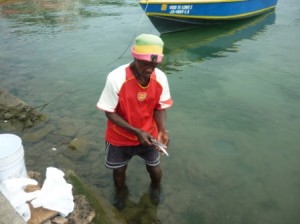 Coming back to the marina we stopped by the local store to pick up our beer / soda / water / coke delivery – and pushing the trolley along we recognise Mike and Rebecca from Zero to Cruising, a couple we follow via their blog and have an on-line relationship with, but have never actually met. Dirk – our dock neighbour on Evening Ebb – then came along and he knows them both too!  Small world – and slightly embarrassing to be caught with such large supplies of beer (luckily they didn't see the wine we got the day before!!!) – anyway we arranged to meet up for happy hour later and went back on board for a tough couple of hours trying to find more storage room. Had a really enjoyable happy hour – and wish Mike and Rebecca luck in their new venture – glad that we had the opportunity to meet them at last. We later had dinner with the Sha Sha gang… and were (very) late to bed!
This morning – Saturday – we have been out to get the fresh produce and bread as our friends fly in tomorrow…. Really excited to see them both and although today is a bit rainy the outlook is looking very favourable. Hurrah!!!!   We are back on board now and have plans to go bobbing in the marina pool later this afternoon. Richard has just been over to talk to Dirk's next door neighbours – the boat is called Imagine from Falmouth and he was convinced he knows the people on board. So he goes up to say hi and it turns out that they share mutual friends and he has met them before in the Solent when sailing……..  Really small world!
Out of here tomorrow, Sunday, to go south to True Blue bay to await Carolyn and Ron's arrival  – and we'll then be heading north up to the Tobago Cays where internet isn't so readily accessible, so will post again when I can.
Bye for now
Jan