After doing laundry and blogging on Sunday we had a lazy afternoon and evening on board… The weather is closing in and we keep having to run around shutting all the hatches when the squalls blow through….
Monday morning and it was a bit brighter – we carried on doing boat jobs in the morning – and then, in the afternoon, took ourselves off into Lower Woburn to have a wander. And of course we ended up visiting the local rum shop Nimrods. We ended up chatting to a gang of ex-pats who live here in Grenada and were obviously a bit worse for wear – a very funny few hours….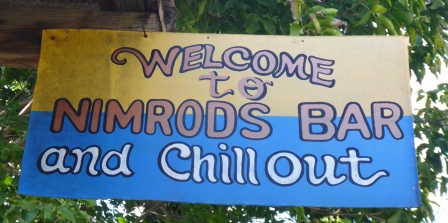 Back on board and we decide it is time to visit Clarkes Court Marina. Strange place – full of old boats that really do not look like they have moved for a fair while – and the bar wasn't particularly friendly. Everyone seemed to know each other but no-one spoke to us… and we got bitten up by bugs. Not sure we'll hurry back to this place. On the way back to dink we noticed a guy going out sailing in his little dinghy… We had seen this boat the day before in the anchorage and thought it was drifting around with its sails up until we realised that it wasn't a ghost ship, but rather that the guy lays down in the bottom of it when underway!
To round off the day we had a pretty nice sunset.
Tuesday morning and it's Christmas Eve!  Hurrah…. So we had mimosas while taking our Christmas crew photo!
Lazy day on board watching the stormy weather coming in….
In the evening we dinked over to Whisper Cove in a dry period for their Italian night.  Shared a table with Jim and Sharon from ShaSha and another cruising couple and we had a really nice time – also enjoyed bumping into other friendly faces like Eric and Pat from Cutter Loose. The Italian buffet was not particularly authentic – baklava for desert!!! – but was very plentiful and tasty. The Italian singer was pretty good too, particularly enjoyed his Nessun Dorma at the end of the show. During the course of the evening the rain had been coming down really hard and we waited it out to get a dry 10 minutes to grab dink and head off out. When we climbed into dink we were amazed to find ourselves ankle deep in rain water!
Back on board on our own we sat in the dark listening to thunder rumbling and watching the occasional lightning flash around us…. and we toasted in Christmas together. Wasn't so emotional this year because I am less stressed I guess – but still missed you all!   During the night this storm intensified – sheet lightning like we have never ever seen it lighting up the whole of the interior of the boat every few seconds – and certainly didn't make for a particularly restful night… particularly with the rain sounding like hail hitting the hull.
In the morning – Happy Christmas folks – and it was still raining – hard! The view wasn't so great this morning!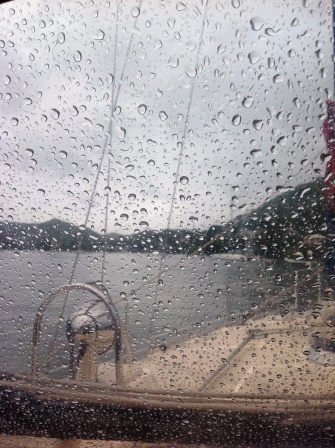 We opened our Christmas cards and put them up – in lieu of presents – and then had a quiet time on board with the thunder and lightning still rolling around us. Thankfully early afternoon – time to leave for our Christmas lunch at Taffys – and the weather brightened slightly with a very flat sea from the rain but little sign of sun!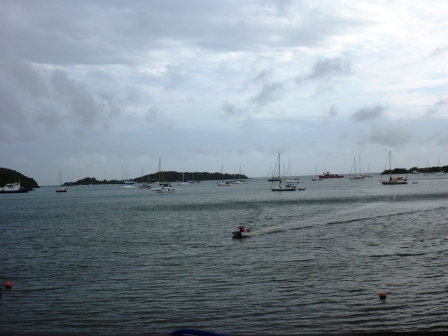 Enjoyed our Christmas lunch with a fair bit of wine and had a good time with ShaSha as always. Was amazed that they had never seen nor heard of Christmas crackers before!   We were back on board relatively early – all of us were pretty wiped out by the late night Christmas Eve and the lack of sleep because of the storm, so when we got back on board Morphie we just sat in the cockpit and talked, listening to the wind, the rain and the lapping of the water against the hull.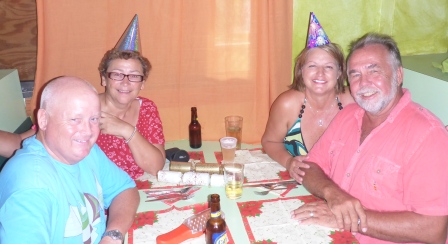 Boxing Day and the weather is still inclement – so we are doing absolutely nothing today!   Just like Christmas at home without the cooking LOL…. and NO chocolate or  sweets, can you believe it???  We were quite shocked to find out this morning that this horrendous storm had affected most of the island chain and a number of people had been killed.  Sobering thought….
Tomorrow we are going to move on – round to St Georges.  Probably into Port Louis Marina too as we want to completely provision the boat heavily prior to moving north.   Oh yes, and I think another incentive is the beautiful beach at Grande Anse and the New Year's Eve party which is happening in the marina!
Bye for now
Jan