Thursday night we enjoyed our final Portsmouth sunset before retiring early.
Friday morning we bid Portsmouth goodbye as we headed out into relatively calm seas. The winds running along the coastline of Dominica are pretty fluky as it comes over the mountains so we decided to make water and keep the engine ticking over throughout the 20 mile trip. But even though the engine was on, it was in neutral, as we were determined to sail as much as we could so hoisted reefed sails and enjoyed a brisk 20 knots for a while in almost perfect conditions. Then some squalls came through and we tried to avoid getting wet – although sailing pretty fast – then we got a wind shift, then no wind so sails came down, then another wind shift, more wind, sails up and that was how we spent an enjoyable four hours. Sadly no sightings of whales or dolphins.
As we arrived into Roseau we spotted two cruise ships – one was a large sailing-type vessel and the other the traditional huge beast. And it was raining… The shelf here in Roseau is very narrow from the water's edge and then drops dramatically into hundreds of feet in depth. So the sensible thing is to pick up a mooring ball – we were assisted by Desmond again who was pretty pleased that we remembered him from last year!
While we were getting settled we were hailed on the VHF by Brian and Lorna on Peace and Plenty – and invited over for sundowners. Yes please…. that would be lovely! Had a really nice evening with them and enjoyed watching the sailing cruise ship depart into the sunset.
Saturday morning and we were up early doing boat jobs…. And we decided to book onto a tourist trip to go whale watching from the Anchorage Hotel. The conditions were perfect – beautiful blue skies, the sun was out and the wind had moderated so the sea state was dead flat. Feeling optimistic that this might work out…. but I was also trying not to get too excited as I was soooo disappointed last year! Anyway kept busy doing laundry and whilst pegging it up on the rail we spotted that we had a small reef just below our keel – the water is so crystal clear here. So we went snorkelling and enjoyed having some fun in the water with the camera.
Back on board, got ourselves cleaned up, and headed off to the Anchorage Hotel. We listened to the skipper's briefing, and admired the skeleton of the sperm whale that is displayed here. We managed to get squeezed onto the top deck of the boat on the front row – so had an amazing view. Please…. just one whale…. or even a dolphin will do. Really excited now…. so we took a selfie to celebrate!
Heading out into the flat sea and we travelled north about half way up the island…. Seemed a bit strange to be paying to be on a boat to do the trip we did ourselves yesterday. Oh well… fingers crossed. The captain turned off the engine and used his hydrophone to listen for clicks – the noise that sperm whales make. And there were some clicks due north….so engine on and we all start looking. Then we spotted the first blows ahead. OMG I am almost in tears realising that finally I'm going to see whales! And we watched this whale swim around until she dived. Then another one was spotted….and another….and a mother and her calf…..and a juvenile male who came right up to the boat being really inquisitive…. This was amazing. We continued to follow whales around all afternoon – taking time out to name some of them from the shape of their tail fins. We definitely identified Atwood, Tooth and Daisy…. and met about eight in total. Heading back – after a three hour excursion – and we were served rum punch to celebrate the day's success. Wow!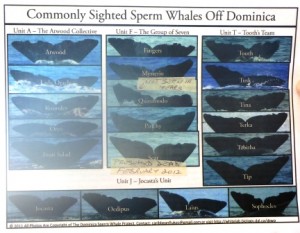 Back to the dock and we decided to go visit the Drop Anchor for sundowners and Richard was going to treat me to dinner ashore. Unfortunately the bar was closed so we just ended up back on Morphie having a glass of wine and I cooked – so another early night – and another spectacular sunset.

Sunday was a lazy day on board doing a few jobs. Very very hot and still here… so ran the little Honda generator for a while to top up the batteries as the wind generator is doing nothing right now!  In the evening I cooked a meal for Lorna and Brian on board Morphie and we had a nice evening…. Enjoyed spending time with them and hope to catch up with them again along the way.
This morning, Monday, we were up early and headed into Roseau. There was a huge cruise ship in town so we took dink to the nearest dock we could get to and walked the rest of the way. We enjoyed wandering the streets and spotting differences from last year and enjoying the mountains that peek over the rooftops. The main thing we noticed was that the new Government building was finished and so was (we assume) the huge residence to go alongside it…. a horrendous amount of money that the very poor people of Dominica could have done without spending I would have thought!   We also noticed a spectacular new – or renovated, not sure – emancipation statue that stood proudly on one of the roundabouts.
Today's cruise ship towered over everything and we were pretty amused by the noddy train that takes the passengers out around the city.
Having had lunch out at the Calabash and finished our provisioning, we came back on board via a slow dinghy ride along the foreshore looking at the variety of houses and shacks that line the shore. Everyone waves as you go by – this is definitely one of the friendliest islands.
Back on board and we are getting ourselves and Morphie ready to go to sea as we are heading off to Martinique in the morning, probably an eight hour sail…..  Will be sad to say goodbye to the Nature Isle, Dominica.  We have had a fantastic three week stay here….  Although we didn't explore the interior this trip – having hired a car and did every trip last year we didn't feel the need to revisit the waterfalls, the volcano, or the rainforest – we had a fantastic time and are happy to announce that this is one of our favourite islands.
Bye for now
Jan