Saturday we were up early again and hit the shops…. We managed to get pretty much everything apart from the beer!  And we also managed to get some drinks vouchers from the ATM in preparation too…. Oh dear…. The local beer here is Piton and comes in tiny cans with the other readily-available brew being tiny Heinekens!  Really wanted full-sized cans of Carib but to no avail – nobody has them available. Really don't want to carry too many bottles either. So we compromise and buy just a smallish supply of bottled beer until we run south where we know we can get beer in a reasonable sized can. At noon we said a fond farewell to our little hire car.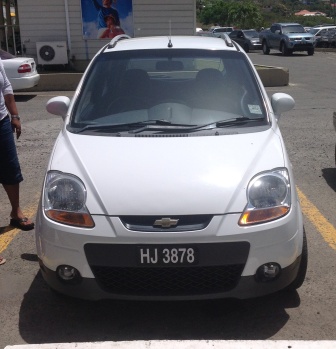 Back on board with our huge haul and we struggle to get everything put away – the freezer is now rammed and the fridge is getting there….. Do some sorting out of clothes and moving things around to free up the aft cabin for Richard and Fiona and then head in to the boardwalk for sundowners with Glen and Pam from Blue Pearl. We both have the night free so the first chance we've had to properly catch up this season. We had a really nice happy hour followed by a good Thai dinner at Bosuns. Lovely evening and really enjoyed finally catching up.
Sunday morning and we are up early, have some proper coffee in Cafe Ole and then head out with Tracker, our taxi driver, at 9 am towards Castries to meet Carolyn and Ron – who are coming in to St Lucia on P&O Azura today. Really looking forward to seeing them again….   As we neared Castries we realised that we were wise to get a taxi organised – in a hire car we would never have been able to get through the checkpoints and get anywhere near the ship. We wander through the cruiseship terminal – admiring the huge duty-free shops that we didn't have a clue existed here! – quickly spotting Carolyn and Ron walking around. We sneak up behind them and they are being pestered by taxi drivers wanting to take them on tours. They say they are looking for some people – and we tapped them on the shoulder at that point. The look on their faces was an absolute picture…. we couldn't have planned that better if we had tried!!!    Huge hugs all round and we head back to the taxi rank to find Tracker. On the way I got them to pose on a nice bench…. Settled into the large 10-seater minibus taxi we head off towards Soufriere…. and get to see how huge their ship is!   Wow…. 
Carolyn and Ron are stunned by the beauty of St Lucia and we cannot believe we are all together again, albeit only for a single day. Shortly after leaving Castries we stopped to meet one of the local inhabitants – a boa constrictor called Patrick. Richard took control and Ron visited…. but Carolyn wasn't up for touching him for sure!!!
Driving towards Soufriere and we get our first glimpse of the pitons. Amazing sight, and although we have seen them before, you cannot really describe just how special they are….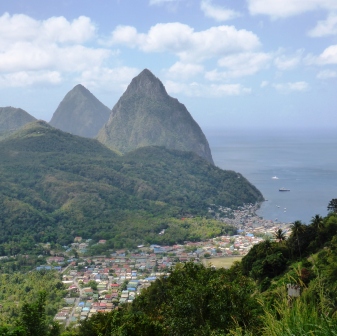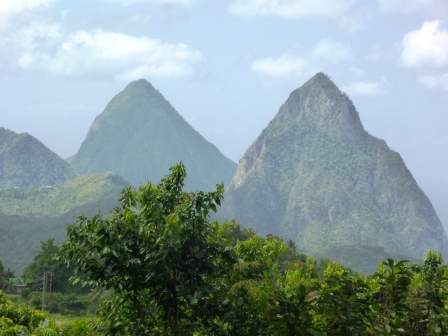 Having purchased some local tanzanite jewellery – one piece each – we moved on and arrived at the Botanical Gardens. We wandered along the meandering paths admiring the flora and fauna and eventually ended up at the little waterfall at the end of the path…. which delivers hot spring water. We chose not to indulge in the bathing pools and while wandering back we were absolutely amazed to spot a hummingbird just sitting there on a twig. Really unusual to see them static and wow – we got a photo!   We were very very happy. Almost at the exit we spot all the crowds coming in – Tracker had timed this perfectly as we had had the place to ourselves. Carolyn and Ron were completely blown away by this place and we were very happy to have shared it with them.
Moving on and we arrived at the drive-in volcano…. Was pretty smelly – think rotten eggs – and pretty busy too….. We didn't do the tour bit as you have to wait around for 20+ people to get up and down the stairs – so we amused ourselves wandering around and were surprised by how active it was. The mud was bubbling up and the pools were clearly boiling….with lots of steam rising. This is a pretty amazing place.
Back in the taxi and we drive towards the pitons…. going past the Hotel Chocolat plantation…. and ended up, as planned, at Ladera.  Ladera is a very up-market resort that has a spectacular restaurant Dasheene and lounge right in between the pitons with views down to the anchorage and fancy plantation resort below. They have a buffet on a Sunday and we indulged in our first Piton of the day followed by some pretty good wine and lots to eat. This is an all-you-can eat buffet and you can make as many returns as you like. Needless to say my favourite was the dessert table….. the passion fruit mousse was amazing!
Carolyn and Ron are overwhelmed by the views and this place – and we had a very leisurely lunch catching up, posing for photographs, and listening to a little bit of 'Plantation music' being played in the bar. We all decided we'd like to stay here in one of the individual rooms overlooking the pitons which come with their own infinity pool. But I'm afraid that a lottery win is the only way that would be possible for us! Absolutely stunning time…. Words really cannot describe it and photos certainly do not do it justice.
Back in the taxi and we head back towards Castries and the ship. But we have time so decide to stop at a local rum shop and enjoy a couple of cold Pitons admiring the fantastic view of this lush and green island.
Sadly we have to return to the cruise ship terminal and we have about 30 minutes to spare, so we sit down near the security gate and have our last drink of the day, before finally bidding Carolyn and Ron farewell through to the ship. We were pretty emotional and choked to say goodbye. We had had the most wonderful day together. Back to the marina and we say goodbye to Tracker and head back to Morphie for a quiet night on board.
Monday morning and up with the lark – time to clean the boat thoroughly inside and out for Richard and Fiona who arrive Tuesday night. Late Monday night, having worked our fingers to the bone, we went into the marina for a cold beer and a calzone each. Yum…. We were tucked up in bed, exhausted, before 9 pm.
Tuesday and we are up early again…. and into the shops for our fresh produce. Back on board and we have just taken the engine off of dink, dink has been lifted onto the davits, and beds are made, laundry is done, and we are finally ready. Morphie is sparkling!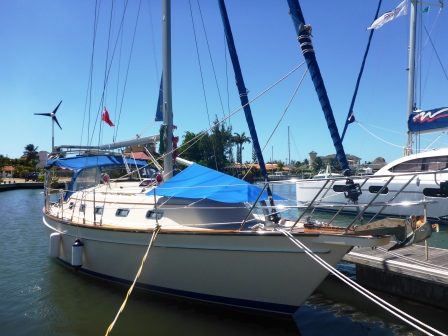 We have more or less decided upon our routing with Richard and Fiona on board to various islands in St Vincent and the Grenadines – with much of it being an internet-free zone. So I thought I'd better warn you now that I'll not be updating the blog during their visit and will cover it all at the end.
So bye for now for a couple of weeks!
Jan