Thursday morning and we are up bright and early – and realise that many of the boats have left the anchorage at first light. So we picked up the anchor – again – to move further in towards the beach into shallower water. Also gets us out of the way if loads of boats turn up later in the day….
After a hearty breakfast we head into the dock to meet our fellow cruisers and Joe, our tour guide. Joe is very friendly and wants to tell us his story…..and, unlike other guides on the island, he has a wealth of materials to show us on his iPad to make the whole thing come alive.
Driving away from Little Bay – on relatively new hairpin roads – we enjoy views of the bay and Morphie. On the way we wondered why the traffic had stopped – and it was to let a huge iguana cross the road. Very funny!
The first stop is the new Cultural Centre which opened in 2007. This was thanks to the efforts of Sir George Martin (former EMI record producer). Sir George Martin owns the prestigious AIR Studios on Montserrat (which were wrecked by Hurricane Hugo and never reopened and are now within the volcano exclusion zone) and produced many hits here with stars such as Dire Straights, Paul McCartney, Stevie Wonder, The Police, Elton John, The Rolling Stones, Sting, Eric Clapton, Phil Collins to name but a few. He still owns property here and visits the island annually.
After initial volcanic activity in 1995 and the tragedy in June 1997 when the pyroclastic flows killed 29 people, Sir George decided to give something back to Montserrat. So he organised a major fund raising event Music for Montserrat in September 1997 at the Royal Albert Hall featuring many of the AIR Studios stars performing free of charge. The funds raised built this new Cultural Centre which has a 'helping hands' wall…. featuring handprints of some of the stars, along with a few golden discs from local heroes such as Arrow – of Feeling Hot Hot Hot fame…..
Moving on we realised that most of the new buildings we had seen were Government related – new jail, new police station, fire station etc – to replace the loss of these facilities in Plymouth, which is buried in a vast field of gray volcanic debris. Almost half of the island is now uninhabitable with up to two thirds behind gates and an exclusion zone. As part of the tour we were going to go into the exclusion zone so we stopped at the police station to get permission and to give over our personal details – just in case?!?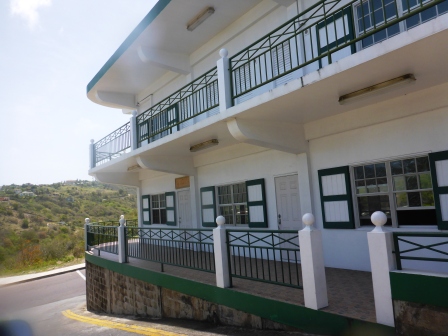 On the way to the exclusion zone we stopped at the Runaway Ghaut where natural spring water flows constantly – so we both tried it before moving on.  Apparently Montserrat has more spring water than it needs and that the annual small fee to each householder for their water – around US$10 – is purely to pay for the pumping facilities to move it around…..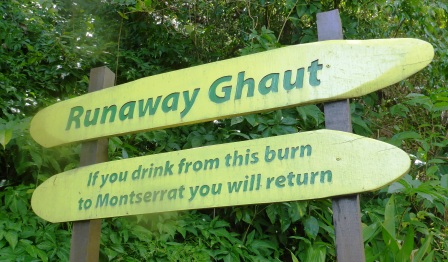 Driving through the gates into the exclusion zone we enter an eerie place…. The ash has built up over time and is very fertile – so the houses are being reclaimed by the jungle. Particularly in Joe's home village of Cork Hill…. where roads no longer exist and you can spot remains of houses hidden in the undergrowth. There are signs that this was a thriving community once – with street lamps appearing in the middle of nowhere and some remnants of electricity and telephone poles… But you have to look hard to see the houses and work out where the roads might have been.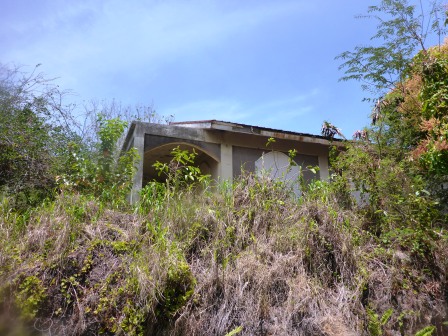 Joe's family were given notice to pack a bag for the weekend as the mountain was showing further signs of activity and they were at risk. So they all evacuated to schools and other government buildings into what was considered safe areas. That weekend in 1997 lasted for two and a half years when they lived in a school classroom – before Joe was able to rebuild a new home for his family, in another part of the island. He was allowed back to collect more belongings with a police escort but that was it. No insurance payment – Act of God – and their homes and land are uninhabitable and worthless at this moment of time. So very sad to realise that whole communities were broken up – many of them relocating to the UK and never to return. Some people did not even go back to their damaged homes to salvage anything – we saw signs of clothes and other belongings strewn around within the broken buildings. Joe is an amazingly upbeat character considering what his family have gone through, and are still living through.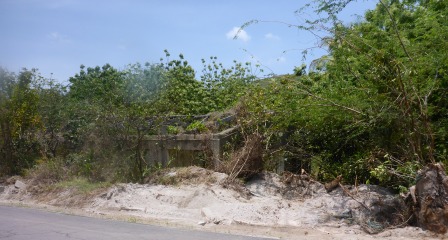 The Soufriere Hills volcano remains active – with its last major event in February 2010 when ash was reported at up to 50,000 feet with the pyroclastic flow extending the coastline at the old Bramble Airport by several hundred metres. But the upside to that is there is now a new major export activity in gravel and sand…. and they are trying to harness the geo-thermal properties to produce electricity. There are also hot thermal spring waters too. And all this activity happens within the exclusion zone so they have installed a state-of-the-art siren system which is solar powered. However, having seen some of the video footage when one flow made it from the top of one of the domes to the sea in less than 30 seconds….not sure this actually would be of much use!
Moving on we parked in what looked like an old quarry…. with rocks and ash strewn everywhere. Then Joe brings out his photos – look at this he said. This was a hill, with a tall bridge and a river running under. See that house there – that was on top of the hill…. And with the excavations going on in this area we could see just how many layers of ash that have built up over the years. Without those photos this would just be another flat rubble-strewn area – but this made it very real. Apparently there is a golf course and the 19th hole under here too….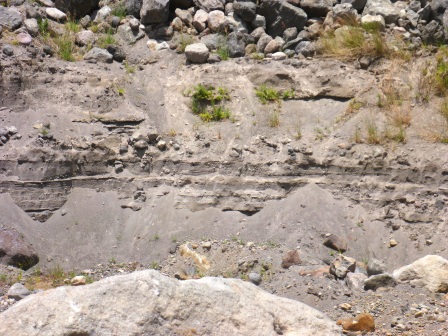 Moving on and we go to a luxury hotel which had a prime spot overlooking the old capital Plymouth. Going inside the structure there is ash everywhere and the place is deserted and sad. And I'm standing in the swimming pool at the deep end which was 8 ½ feet deep!!!! Joe was slightly melancholy at this point when faced with the mountain which had changed his life…..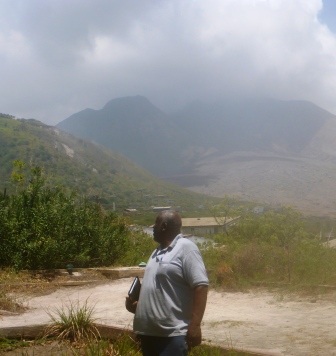 Looking across to Plymouth and the scale of the devastation becomes clear…. just wrecks left. The first photo shows a snapshot of Plymouth and the volcano behind it before any activity. The second and third shows Plymouth as it stands today, taken from the hotel.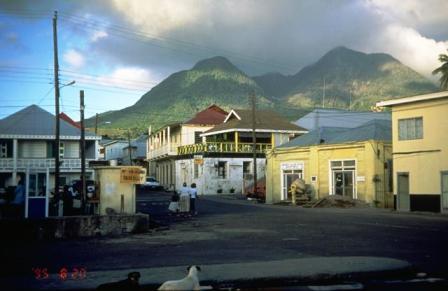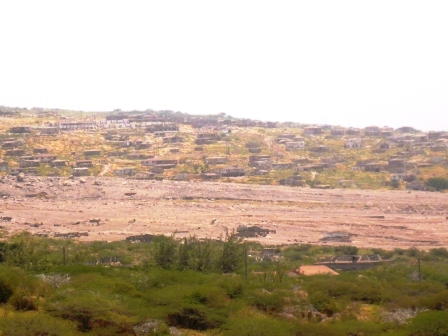 Then here is Plymouth after the first eruptions……
And the same place after subsequent eruptions…. huge difference in the levels.
Here are a few more shots…and each time there is any activity or even rain bringing down more ash from the volcano, the area just gets covered again. This area is unlikely to be habitable ever again…..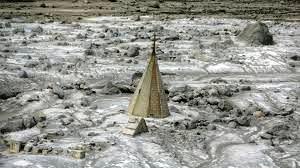 Tour almost over and we drive through the countryside looking at some of the newer villages that have been created out of what was jungle. This beautiful green island has a lot going for it and I hope that the result of their spending on new infrastructure projects brings in more tourist dollars for them. They deserve it!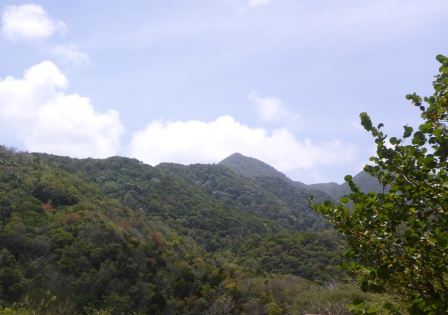 Back to Little Bay we go to the local bar for a couple of beers.   On the way back to Morphie we have a little chat with the pelican dinghy captain and both the stork and the egret waiting for the fishermen, who still use traditional hand-crafted wooden boats.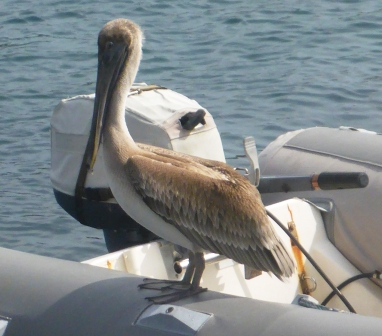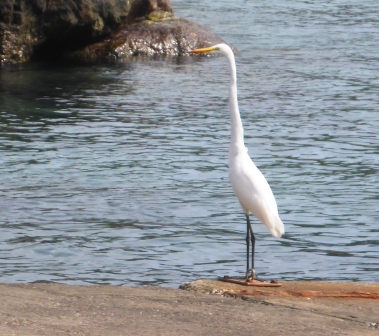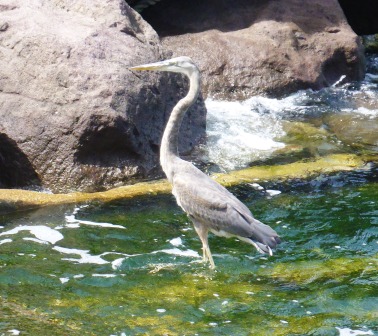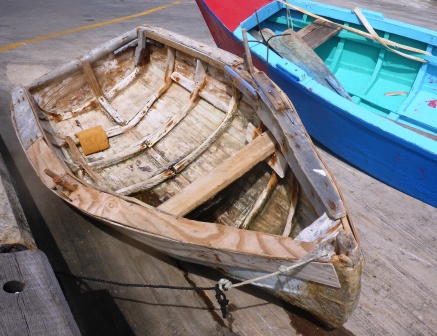 Then head back on board for a quiet night and to reflect on today. I'm glad we came – we have been both educated and humbled by these people. Feel very fortunate right now.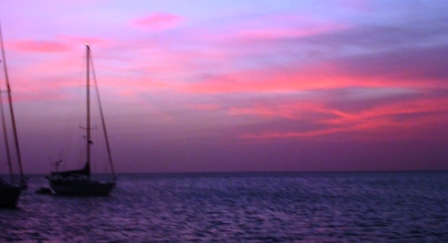 Another blog to bring us up to date will follow soon… Bye for now
Jan