Sunday we had a busy morning cleaning all the salt off Morphie – she was absolutely caked in it…. Happy that she was sparkling again we headed ashore in the afternoon to explore the town of Kralendijk. We wanted to work out where a few things were eg a dive centre; a laundry; a supermarket; an ATM; a car-hire place etc etc…. All very sleepy with a mix and match of architecture – some looking very Dutch – but none of it looking very old!  As expected, the town was closed but we managed to find most things that we were looking for, and filed away their locations for another day. Some strange decorations outside one house too – would be good to go for Guy Fawkes night?!?!?!
On the way back to dink we went into Karel's beach bar for a couple of beers – and ended up watching a bit of the latest World Cup football. Some Dutch cruisers came in – and were pointed in our direction by the bar staff as we had been asking a few questions – and they gave us the low down over a beer or two. The most useful information we found was that we had to go into the marina for pay for the mooring balls – not what customs had told us at all! They said that someone would come round to collect the fees. Hmmm….. Also we found out that the marina has a fuel dock – so useful for petrol and diesel – and, if the wind backs and the mooring balls become untenable, they move everyone in there instead. We were very grateful to them both for spending some time with us. We were feeling tired again pretty soon so headed back out to Morphie for a quiet evening on board and a lovely sunset.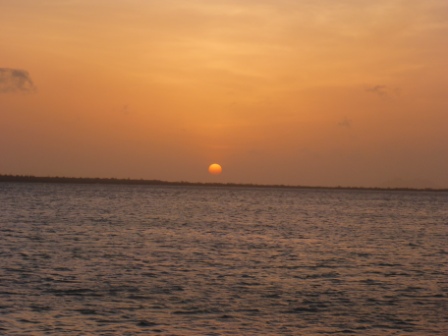 Monday morning and we got up early as we needed to go in and clear immigration. All done quickly and no dramas….. and no money exchanged hands either! Nice…. We headed back into town to the supermarket for some soft drinks and fresh bread and then wandered to the dive shop to get our marine park 'tokens'. These are compulsory if you want to snorkel or dive in Bonaire. They only cost US $25 each and give us free access to the Washington Slagbaai National Park as well as all dive sites – which we thought was pretty reasonable. What we hadn't anticipated was that – before we are allowed to go diving – we have to do a buoyancy check with the dive school. OK – fine – we'll sort that out later in the week, but at least we are good to go snorkelling. The mooring balls sit on top of the most gorgeous blue water – and right behind us we have navy blue as the depth drops away – so quite excited by the prospect! The water clarity here is amazing – you can see huge parrot fish just sitting at the dock and even coral under the surface at the water's edge…..
We then headed along the coast to the marina office to pay for our mooring ball – but it was closed – oh yes, forgot, there might be an important football match on today. We had already noticed that all the locals were dressed in orange!!!!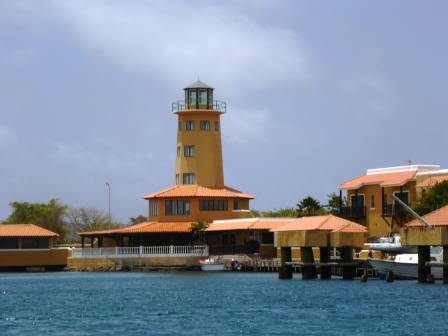 So we thought – why not, when in Rome and all that…. So we headed into the bar to watch the match – Holland –v- Chile – and the place was rammed. Was a fantastic atmosphere – the Dutch are really passionate about their football – and we even got complimentary orange shots every time they scored!
The next match was Brazil –v- Cameroon and the supporters started to come in for that…. the bar staff changed their shirts and the orange world turned yellow and green. So we ended up staying for that match too – and again the atmosphere was great with banter between supporters and the cacophony of sounds from the trumpet things they all like to blow at every opportunity! Was a real family affair….
When it was all over we headed back for a quiet night on board but had to listen to the multitude of fans who had taken to their cars driving along the waterfront with flags and trumpets and drums and just plain old celebratory noises! When we got back on board we had a 'welcome to Bonaire' letter from the marina office giving us their opening hours and saying it was mandatory to check in with them on the day you arrive after you have cleared customs and immigration…… Errrr…you were closed from 2pm Saturday until 9 am Monday – and we came by today at noon but you were closed. And, of course, now you have closed for the evening….. The letter threatened us with a fine so we guess we'd better make that a priority for the morning! Oh dear…. Never mind, nothing we can do, so we just turned in for an early night.
Tuesday morning and we are up early….. had a cup of tea and then headed around to the marina. The guy was busy when we got there so we waited a while until he turned his attention to us. Was going to grovel a bit – but he was lovely and took our money happily, along with some great tips about free shopping buses etc etc….. So looks like the 'welcome letter' is just a bit of a frightener to make sure you come and pre-pay! When we got back, after some breakfast, I started on the stainless steel cleaning – and Richard was doing some maintenance jobs, like freeing up a Y valve that had jammed; he fixed both furling drums / lines that had played up on the passage down; and also cleaned down below. We stopped for the occasional cold drink and finally gave up working at 4pm. By now we were pretty hot and tired – so decided not to go ashore – and just sat in the cockpit quietly.
Well……..it was quiet……..until the Colombia fans decided to make their presence felt after they had qualified for the quarter finals! A real mix of people here – and of course we are only 50 miles off the coast of Venezuela – so shouldn't be surprised that most South American countries have a representative sample!
Eventually after about an hour of madness and mayhem they quietened down and the only sounds were the gentle lapping of the water against the hull….. Pure bliss – and wonderful sunset……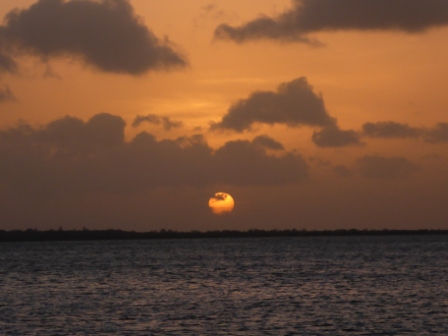 Wednesday morning and we are off to sort out our diving. We arranged for an afternoon buoyancy check and decided to go for a 'tank tracker' card – which means that we can take tanks away with us, get them swapped out for full ones, and pay at the end. All very civilised! All sorted – and we headed back to Morphie via a local cafe for something to eat. Was horrified to see that they were avidly watching Geordie Shore – with Spanish subtitles – and hope to god they don't think that all English people behave like that!!!!! I'd actually never seen it before – but a simple example of how bad this programme is – one girl asked her friends what happened on dates because she was good at sex but hadn't actually ever had a date before!!!!! OMG – this cannot be for real…..
Back on board and we went snorkelling for about an hour. There are some very big fish living just under Morphie – including some French Angelfish who appear pretty territorial and get quite close to let you know that this is their territory.  Very funny….
After lunch we kitted up and headed off to the pier at the dive shop. The pier is really high and it was a bit of a feat to get out of dink….. We made it but wasn't easy for sure! Was glad I was wearing my wetsuit so protected my knees from the clambering up….. In the dive shop we sorted out tanks / weights and kitted up. We walked across the road and into the sea. We thought a buoyancy check would be a 'test' dive to ensure we were capable – but no, all the girl did was sit on the pier, check we could go down and up, and then left us to it. So we headed out onto the house reef – dropping down to 20 metres on the way out and came back at around 12 metres. This was our first completely unguided dive – and we were very happy with how it all went. The topography is a lovely mix of soft and hard corals on a gentle sliding slope down to about 30 metres and then it drops sharply off into the blue – as we came through the channel between Klein Bonaire and Bonaire it was 200 feet and further out it goes down to 5,000 feet – and is so deep they train submariners here apparently!!!!! The usual suspects were in attendance….but much larger specimens than we had seen elsewhere in the Caribbean. The visibility is about 100 feet / 30 metres. And no lion fish!!!! Hurrah….. Think we are going to enjoy it here.
Back on board – along with four filled tanks for another day – and we chilled out for a couple of hours while we were drying our gear before stowing it all and then headed back into town. It takes about 2 minutes in the dinghy! Richard took me out to dinner at The Mona Lisa – which had pretty standard Dutch fare but was executed really well and was very tasty. Decided to start with a draft beer – and didn't realise that they would be quite so big at 0.5L!!! We had one each and enjoyed a really nice dinner before heading back to the dock for a glass of wine before heading back on board. Was a late night for us – we didn't get to bed until 10pm!!!!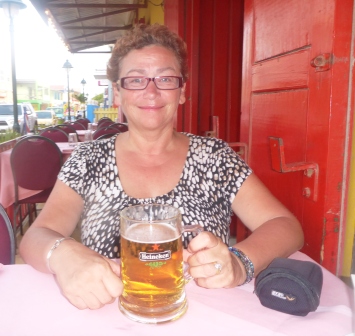 This morning – Thursday – we got up and had a cup of tea before kitting up to go diving directly off the back of Morphie.  Yay!!!!  We planned our dive and were in the water about 9.45 am. Headed off down the reef to 20 metres and turned left into a slight current. Great fish around – especially the large tarpon and the huge wrasse – and some pretty impressive shoals of decent sized fish. The coral is pretty and very healthy albeit not particularly colourful although lots of Christmas tree worms that pop back into the hole when you come by….. But when swimming in an aquarium where the fish come up close to have a look at you it really doesn't matter… Back on board after a 46 minute dive – and we had some breakfast during our surface interval.
Back in the water again and this time we turned right….. so had a little drift dive in the current…. and then worked our way back. We saw two goldentail moray eels – one of them swimming freely – and loads of cowfish. a very large puffer fish and a little porcupinefish… This time we were in the water for 55 minutes. Check out some of our favourites from the diving……
Back on board and we are chilling and relaxing now – and have decided not to go ashore tonight. Planning loads more overland and underwater explorations over the next couple of weeks….. We are enjoying being somewhere completely new – although miss our cruising buddies!
Bye for now
Jan