Tuesday morning we picked up our anchor to sail from Great Guana Cay to Treasure Cay Harbour which is on Great Abaco Island.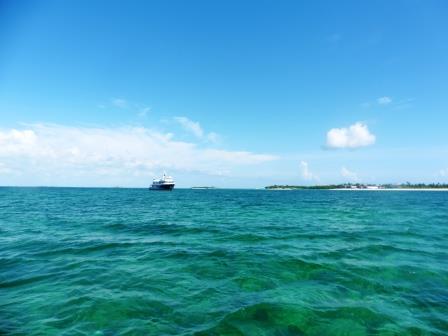 This is only a 9 mile run over the shallow waters of the Sea of Abaco and – hurrah – we have wind!!!   Actually we have quite strong wind….   Fantastic we are sailing again…….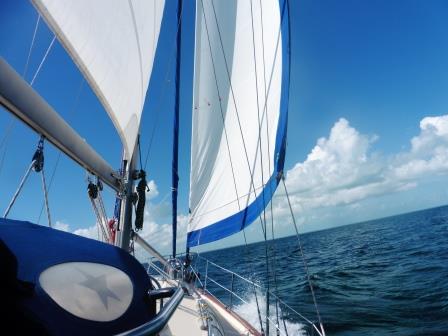 Changing direction towards our destination we are now running downwind so furled away the main and continued under genoa alone.
As we were nearing Treasure Cay we listened to a securité message on the VHF – a tanker was going in to the fuel dock – so we were warned to stay away from the channel.   No worries….. not going to mess with him.   We slowed down until we heard that he was secure and made our way through the narrow channel into the anchorage.
We picked up the mooring ball closest to the marina – no point anchoring here as you have to pay anyway – and enjoyed the views.   The buildings with their own docks remind us a bit of Jolly Harbour in Antigua.   We went ashore to check in and went off exploring to find the bank and the grocery store.   Found both – although the bank was closed – and got a few bits and bobs in the supermarket.  Walking around the complex we were surprised to see that, close up, the hotel buildings were actually in need of some tender loving care……
The main reason we had come ashore was to get wifi so that we can skype and finalise the Florida marina. The wifi signal was rubbish – we wondered if they were streaming the music – and the phone calls had to be aborted as they kept breaking up.   Disappointed…..but tomorrow is another day.   We went back to Morphie for our swimsuits and returned to the Tipsy Seagull where we had a bobbing afternoon in the pool – used their showers so lots of hot water – and returned to Morphie later with a chicken takeaway (think greasy KFC bucket) and enjoyed the sunset.
Wednesday morning – up early – and went to the bank to top up on drinking vouchers. Returned to the bar for wifi – and as it hadn't opened yet there was no music – and the signal was strong enough to make the calls.   Finally I got through to the marina – they checked out our email – and replied almost immediately. Not sure why they had ignored our previous emails but, hey who cares, at last we have a confirmed reservation and we can go forward.   Feel quite relieved…..
I then contacted the company who makes the cradle connectors and he was going to liaise with the marina to work out our order.   Then I shot an email to our insurance company to confirm our layout arrangements and that we are going to be 'Named Storm' compliant with our connector system.   Whisker pole / boom vang emails flying from Richard too – got a quote for the components which is fine – just want to get a quote and details of where we can get it all fitted as this will decide our entry point to the US. We think it will be Riviera Beach just north of West Palm – and when they can fit us in will give us a schedule to get moving.
Wednesday afternoon – having had a successful morning – we went bobbing in the pool again, in between rain showers. But this time we took our own beer as we had noticed others doing that – it saves queuing at the bar in wet swimmers and it also means we don't spend all those new drinking vouchers straight away LOL.
Thursday morning we were up early and headed out of the narrow channel – today we are going 18 miles to Green Turtle Cay.   There wasn't any wind – again – so we decided to make water while we motored along.   Then we did get some wind so we increased our speed by getting the sails out……. and then we dropped the sails and motored again as the wind died.
We crossed the banks into Whale Cay Passage – which is out into the Atlantic – and Richard tried his hand at fishing. Sadly nothing was biting today, not even barracudas.   We came back inside the Sea of Abaco through the Whale Cay Channel and started motoring towards Green Turtle Cay.   There was a storm brewing behind us – and was giving us some serious wind although no rain – and the skies were ominously grey.   We thought we were going to get slammed at any minute, especially when the thunder and lightning started, so we pulled into No Name Cay and got anchored quickly with lots of chain out…..
We had some lunch and sat out the rain as the storm passed through.   Then the sun came out and we went ashore – No Name Cay is actually known as Piggyville. More swimming pigs…..   But these ones stayed firmly on the beach and in the scrub land when we approached. They are not as friendly as those we had met previously and the large one was a nasty piece of work – so we were a bit cautious about approaching them, and threw the food down for them to fight over rather than feeding them.
We enjoyed the beach and cooled off in the sea for a while before returning to Morphie.
At around 2pm we had our anchor up for the final couple of miles to Green Turtle Cay. We dropped our anchor in Settlement Harbour and enjoyed the view of New Plymouth ashore.
We got ourselves cleaned up and wandered around this charming settlement enjoying the old houses, the Anglican Church, the old jail and we found Miss Emily's which is where the Goombay Smash – the Bahamian Rum Punch – originated from.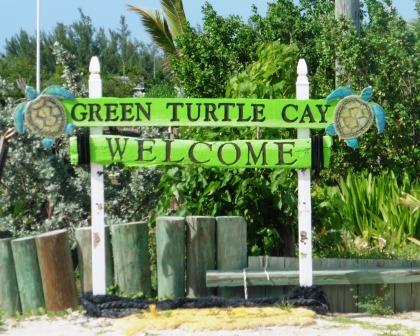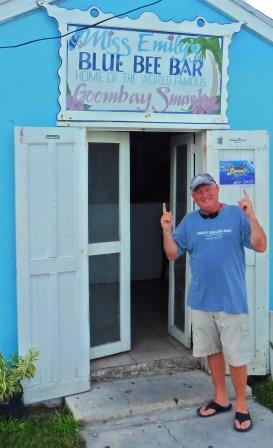 Wandering around we found the Memorial Sculpture Garden which is quite spectacular.   It commemorates the difficult times those loyal to the British crown had after the American civil war – which eventually forced them to flee and settle in the Bahamas.   At the time they were being persecuted for their difference of opinion and, the slaves that had escaped and were living free under the British, were also in fear of being reclaimed by their original owners.   So they moved and settled here too.   The bronze sculptures are quite something to see and the surnames of the original settlers still exist in many other Bahamian settlements that we have visited.
Not sure that its history was appreciated by everybody though as I heard one mother – who was walking by – tell her children that this was a memorial to those people who didn't want to be American so wasn't worth visiting.   The kids couldn't imagine anyone not wanting to be American. Sad or what?!?   I'll quickly mention, at this point, that we have met many educated and well-informed Americans on our travels and know that they would appreciate the significance of this place just as much as we did.
We eventually followed the signs to Sundowners which is a bar on the water overlooking the anchorage – and had a few beers.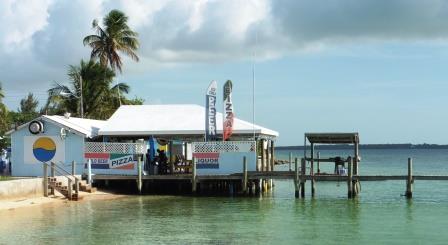 We met Chris and Amanda who have sailed over here on a small trailer sailor which they towed from their home in Missouri and launched in Florida. One of the reasons why they are on this extended trip is to renew their wedding vows in Hope Town for their 10th wedding anniversary – nice!  We had a great time with them before returning to Morphie just before dark.
Friday morning we went to explore the anchorage in White Sound – which is where two resorts are located. We had a few sodas in the Bluff House and managed to pick up a good wifi signal – and I had received a quote for the connector system, so I rang them up and placed the order. They should arrive at the boatyard in about a week so will be waiting for us when we get there.   Job done!
Richard, however, was disappointed that he hadn't received another email about the whisker pole so skyped them…. Apparently they can supply the 140 component parts immediately but can't fix a date for us to have it fitted as they are three months behind schedule. Plus the cost is $95 an hour and it could take up to 40 hours to do the work. What?!? That's ridiculous…..the pole doesn't cost as much as that…..and we thought it would be a (long) day's work tops. Richard asked the guy to put it all to us in an email including schedules / costings etc – and we'll take it from there…..     Not sure we fancy drilling into our mast to fit the track ourselves especially with all those wires in there.   We might be able to find an alternative supplier in the US – and maybe we can schedule it for after our return in November???   Very disappointed.    The upside to this, though, is that we no longer have to enter the US at West Palm and can go straight to Fort Pierce instead – which leaves us with a better passage across the Gulf Stream when allowing for the push north of the current…..
Whilst we were in Bluff House a large thunderstorm went through – and we were concerned about Morphie – but the wind didn't really pick up much. Bluff House is a nice resort which has modern rooms overlooking their own private beach on the other side of the island – with a beach bar – but today wasn't that sort of day!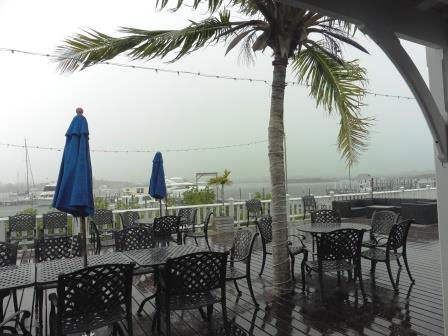 We sat out the rain and, when it had cleared, we made our way across the sound to check out the Green Turtle Club, another resort.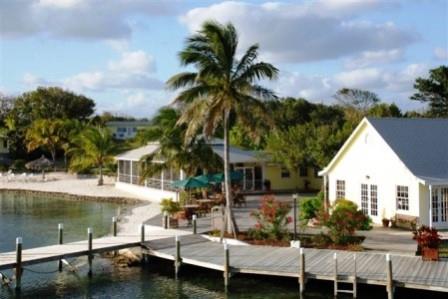 This place had more of a rustic feel to it – and Richard preferred the bar and there was a nice dining room – but wasn't impressed by the service particularly. Oh well…who cares?     The rain eased again so we headed back for the long dinghy ride to Morphie – and the heavens opened again and we got soaked!   The new propeller is amazing – we go much faster than we used to LOL.
We relaxed on board for a few hours while the weather moved through and, about 4pm, we headed out to explore again.   We went off in dink to have a look at Black Sound – another protected anchorage and one we will move into if the weather deteriorates – and enjoyed the sights.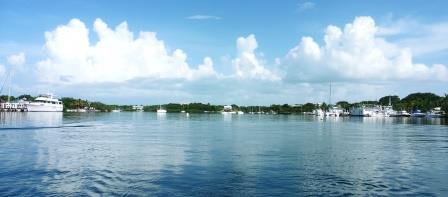 Then we went ashore to Pineapples where we admired the views out to the anchorage, the pool was quite inviting, and had a few beers and an appetizer.
Moving across to New Plymouth we headed back to Sundowners and bumped into Chris and Amanda again – had another nice time and got back to Morphie just before it got dark.
This morning – Saturday – and it is raining again.   Hoping that the rain will help the humidity too – as it is still incredibly hot and sticky. So I'm blogging while Richard is having a lie in – and this afternoon we are heading over to New Plymouth as there is a Beer Festival on, allegedly, although no sign of activity yet. Should be fun!
Bye for now
Jan