Christmas Eve we went to the bar around four as they were closing early.  Had a lovely time and were back on board by around 8.30 so had a few pontoonies in the cockpit before heading to bed.   It was quite magical to see all the birds roosting in the bushes for the night and the lights twinkling in the rigging.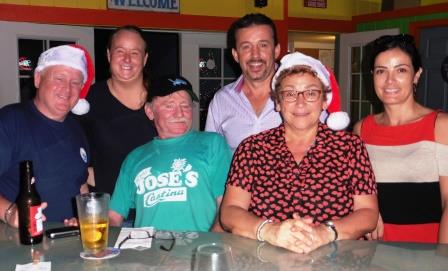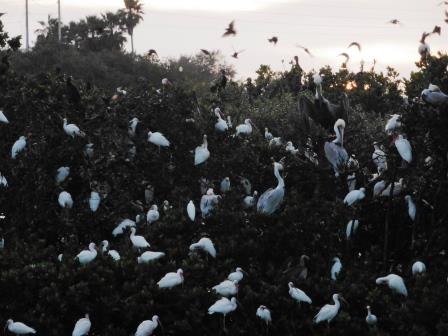 Christmas morning we opened our cards and then got down to our sausage roll and cheese puff production line.
Then at 11 we took our goodies to the pot luck or rather two large bowls of sausage rolls – the cheese puffs were too good to give away and we'd eaten them all LOL. There were quite a few people there and we drank our champagne and orange juice, ate nibbles, and chatted.   The sausage rolls were a success – people didn't know what they were – so a bit of a novelty factor thrown in.   About 1pm we headed back to Morphie – had a nap – then sat in the cockpit for a quiet evening enjoying the full moon.
Boxing Day – Saturday – and the marina started to get busy as people returned to their boats from the holidays. We went early to the lounge as we wanted to check the latest weather…. Well – our planned Saturday or even a Sunday departure didn't look fun.   The wind is currently coming from the south east so it's going to be a beat into wind and waves and the gusts were stronger than we fancied for our first overnighter…. So we decided to put our departure back to Monday – we are paid up in the marina until then anyway – when the wind looks a lot kinder…
Decision made we phoned Fort Lauderdale to make reservations – there are a couple of anchorages but quite a long way from the boardwalk and the beach – so it looks like we'll need to go into another Marina to explore properly.   Well our first choice was full – oops – and the city mooring field (with only 10 balls) is on a first come first served basis with no reservations allowed which is taking a bit of a risk so we started to ring around.   Well it goes from the cheapest – $55 a night in the heart of downtown to $160+ a night near the beach / shops etc.   Did some research on the downtown ones up the New River and came across a cruiser review who said "they were a little put off by the number of homeless people that sleep nearby".   Hmmm – don't fancy that then. So we ended up booking the Hall of Fame Marina which is close to all the amenities and should be a good place to celebrate New Year from.
Not moving on now so we carried on doing jobs – we did the laundry; cleaned and protected all the upholstery; ran the engine and did all pre-passage checks; and still confused by the freezer's intermittent issues did more research.   We also looked at charts and pilot books to see where we will stay after Fort Lauderdale.     We have never been so prepared to go to sea.   In the evening we headed to the bar and had a nice evening with Tim and Jack….
Sunday morning and Richard was looking at our hatches – a couple of the locks had broken.   He utilised the locking pieces from inside the anchor locker – we don't need to be able to lock that from the inside LOL – and managed to find a way to fix them and actually made a spare too. Genius!  I carried on spring cleaning – today it was the heads (ie bathroom)…. Everything got scrubbed and polished.   Then I tackled the cooker, the galley and paid special attention to the taps.   Morphie is sparkling!
Richard carried on trying to troubleshoot the freezer and use his new gauges, but nothing changed – all food still frozen though – so starting to suspect the thermometer is giving false readings. We then went to the lounge to double check weather and download the appropriate NOAA charts.   Still looking good for a Monday departure so we returned to Morphie and put in our waypoints and set up our route, checked bridge opening times, tides etc.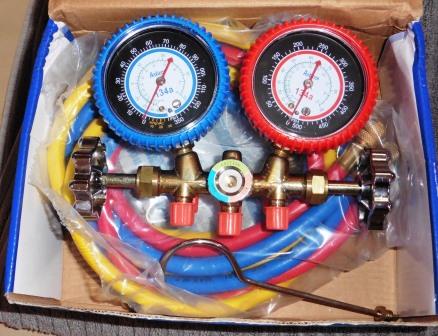 After dinner on board we were just heading to the bar when Chad came by…. followed shortly afterwards by Tim… so we had an impromptu cockpit gathering over a few beers and dark and stormys.   Then we legged it to the bar for closing time as we wanted to say our goodbyes.   Had a lovely send off by everyone – they have looked after us very well during our stay here.
Monday morning and grrrr the freezer is playing up again and has got very iced up overnight – so I quickly defrosted it while Richard played with the gas levels again. The compressors started first time and the temperatures dropped appropriately – so hopefully, fingers crossed, we have fixed it this time.   We then filled up the water tanks, did our final weather download, and got ready to leave the slip.   Tim came to see us off with a gift of a bottle of bubbly for New Year's Eve – thanks!   And so we slipped out with Tim and Jack both waving us off. We'll miss these guys – we've had a laugh with them.
We headed out in the channel – disturbing a pelican sleeping on top of the piling – and into the ICW.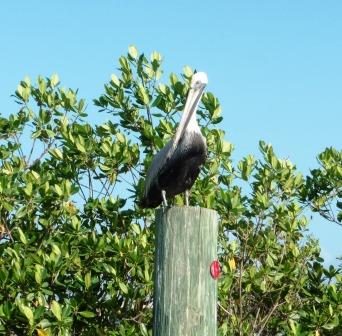 We dropped our hook and got a good set and then settled down for a restful afternoon – departure time set for 4pm.  We were very happy to have finally escaped LOL.
The wind was howling and much stronger than forecast….and we listened to the radio to get more information….but the forecast we had downloaded was still the one being announced.   We decided to continue as planned and, after a snooze and a quick cook up, we headed off out the inlet into the Atlantic.   The waves were raging and it wasn't pleasant but it wasn't too bad either so we decided to carry on.  We then turned on the autopilot – and, oh no, it wasn't working.   We have checked, double and triple checked everything on Morphie and, guess what, we forgot this.   Dingbats!!!   Well…that means we are hand steering….great.   So we decided not to follow our normal three hour shift pattern and do an hour about instead – it was only for 18 hours after all.
The wind was 25 knots on the nose – what happened to the forecast easterly direction? – so motored into it.   The waves were coming at us at double the forecast height….and it was damned uncomfortable.   But, hey, these things happen. So we carried on switching shifts and hand steering.   The sun went down and, for a minute, the seas smoothed and things were looking more comfortable.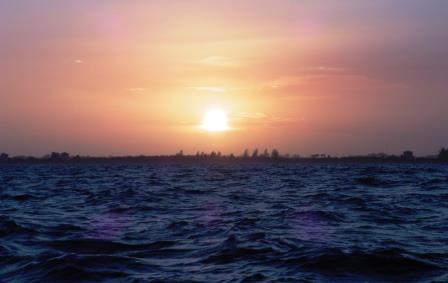 Ha ha….what a joke! The sea was battering us from all directions – we had green water over both sides and over the bow – and we couldn't sleep on the cushions in the cockpit as it was too dangerous so we put a seat cushion on the cockpit floor and hunkered down there to get some rest between shifts.   It worked really well and was much safer although Richard did take a tumble and punctured his leg on a shackle so we had to do some emergency first aid too…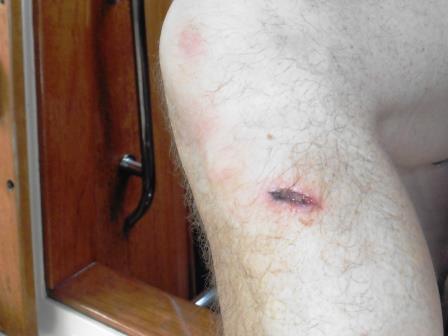 Oh what fun. Finally the light started to come through, the sun came up, and I went flying this time but only got grazed. Of course we are wearing lifejackets and are harnessed up so no harm done other than some bruises and to our pride LOL.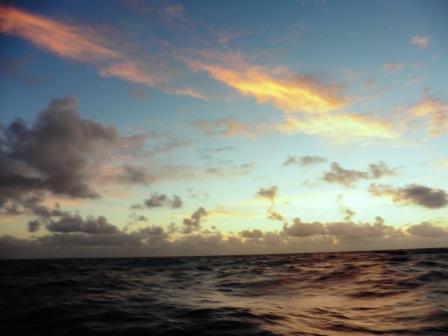 Later in the morning – about an hour out of Fort Lauderdale – the sky is blue, the seas are flattening and the wind switched around to an angle we could actually sail. But we were tired and fed up so carried on motoring just to get there…… The huge buildings are quite a sight to see from the Atlantic.
We approached the wide open inlet and turned the corner – and the timing was perfect – as the 17th Street bridge had just opened.
We radioed and the bridge operator agreed to keep it open for us to pass through and, yay, we are now in a serene waterway surrounded by luxury homes and loads of superyachts. It is very pretty and an enjoyable first view of Fort Lauderdale.
We found our slip at the marina and managed to get in without any difficulties despite the wind blowing us onto the dock.   Tied up safely I went to the office to sort out the documents and Richard cleaned the salt off Morphie.   He carried on tidying while I rang customs to let them know we had moved on – as a foreign flagged vessel with 'aliens' on board we have to ring every time we move down the Florida coast. All done and legal – we cleaned ourselves up and went to bed for a while – both pretty tired.
Around 6pm we got ready – enjoying seeing Morphie looking safe, clean and snug – and went for a walk.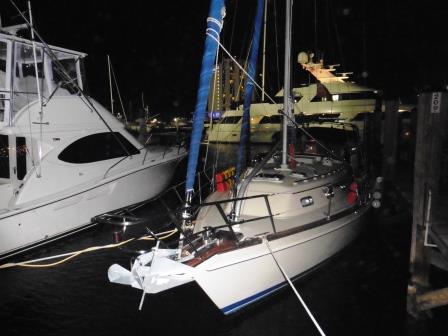 First stop was Coconuts which is a pretty cool place although was very busy and, would you believe it, we got talking to some tourists from the UK.   Moving on we wandered to the beach boardwalk and found a place to sit down, enjoy a beer, and had something to eat. We returned to Morphie via another bar – but tiredness got us – and we were tucked up back on board pretty early.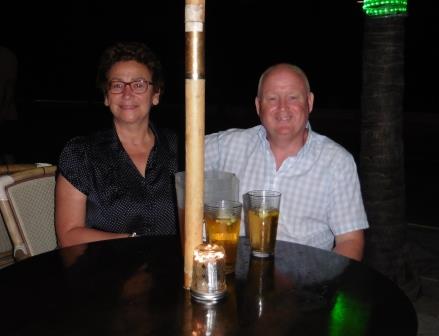 This morning – Wednesday – and I'm blogging in the cockpit while Richard has been trouble shooting the auto pilot in quite an awkward space – but it was only a fuse.   Yay!
We also noticed during our passage that the bilge pump came on more often than it should, even though the bilge was dry, so he checked that out too.   Identified as a dirty sensor he cleaned it up and fixed that as well.   Oh yes, fingers crossed, the freezer is now working well too.    Richard's getting pretty good at this maintenance / fixing lark!
When I've got this published we are heading out to explore and to find a place to go for New Year's Eve.   So I'll leave you with this image and wish all our family and friends a happy, healthy and prosperous 2016. Bye for now.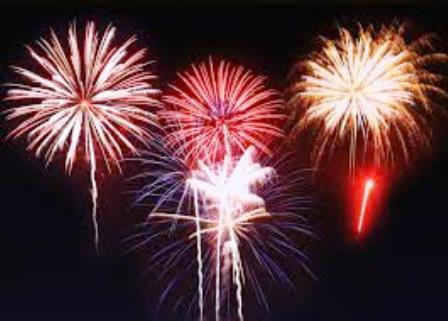 Jan