Saturday morning we were in bed when Richard spotted a little hand come through the open hatch…and then Cheeky peered in.   Richard shouted at him and quickly shut the hatch – and we went on deck to find both Cheeky and Lucy sitting on the solar panels.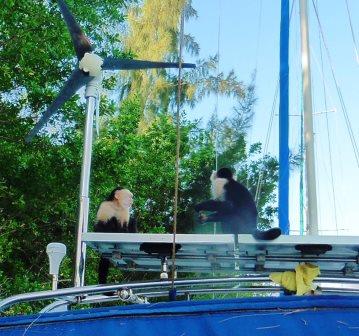 Cheeky decided to steal our citronella candle, tasted it, didn't like it and threw it back onto the coach roof.   We needed to try and get them off the boat as I had loads of washing hanging up and I had visions of underwear and pegs getting scattered down the dock.  But by now Cheeky had spotted me and came in for a cuddle….and Lucy jumped off the rigging into the trees alongside us.    Finally…after bribery of some cereal bars…they left us to create havoc on the other boats.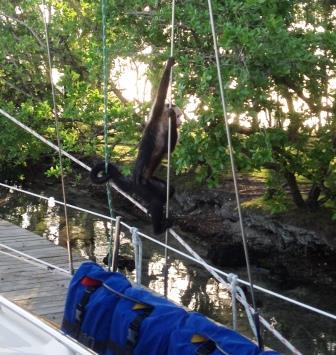 By the time I had got dressed most of the dock were up and Cheeky had stolen three cans of soda from Island Sol;  had managed to open the stern shower tap on Evenglow to drain their fresh water tank;  had stolen a water bottle from another boat;  and had played on the canvas under the solar panels on another.   He is such a naughty boy LOL.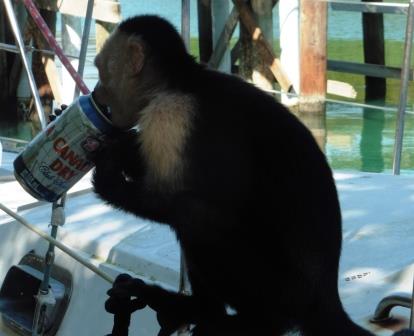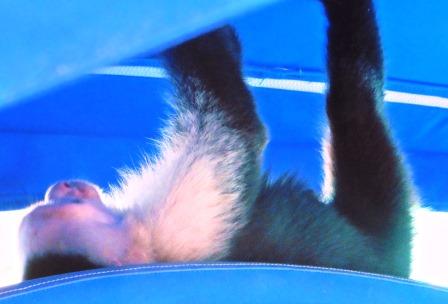 Saturday afternoon we were finally ready to go to sea – Richard having installed the new halyard – so we took ourselves off to the beach for a final bobbing session before heading to the cruisers tiki hut to say goodbye and kept the bar open late again with John and Deb (Orion 1) and Paul and Mary (Genesis) ie the British and Canadian contingent plus Debbie, Steve and boat dog Libby of course.   We had a great last night.
Sunday morning by 8.40am we had said our goodbyes and slipped away from Fantasy Island, Roatan.   We motored in light airs towards Guanaja and the seas were totally flat….so made very good time.   Richard decided to try fishing and did hook one but he got off – never mind.  By 2pm we running alongside the island and by 3.30 pm we were on the hook having completed a short passage of only 36 miles.   
Guanaja is the third of the Bay Islands of Honduras so our Zarpe (exit clearance) from Roatan covers us to be here – no need for more officialdom at this stage.  Guanaja looks really pretty from the anchorage and it is a shame that we didn't get a chance to explore this island.   I'm totally fascinated by the Villa on Dunbar Rock behind us!
Later on Island Sol pulled in behind us and we collected Saundra and Charlie and took them over to Manatis for dinner.   At the last minute John, their guest, decided to remain on board alone.   We also met up with Simon and Samantha from Signora (Jersey, UK) who were going to be travelling with us.   Both Island Sol and Signora are bigger boats than us so we are the slowest of the group and have based all our calculations on five knots SOG (speed over the ground) which, of course, may vary as we go along according to conditions and currents against us.   The key thing to note in a convoy is that it travels at the speed of the smallest boat which all crews accepted.    
The pilot book for this area gives two routes – one recommended and another for emergencies only (the one that runs along the coast)  – but by the time we had arrived in Guanaja another pirate attack had been reported. 
The level of theft and violence had escalated and these attacks were much further out than before – 20 miles away from the Gorda Cay.   The pirates are actually the local fishermen who fish and live on their boats in these shallow waters.  There are no coastguard patrols in this area so the chances of them being caught are very slim…and travelling yachts are easy pickings.   So we revisited our route and decided to go the very long way round, which added another day to our passage, but meant we only had 50 miles crossing the shallow banks towards Providencia and it took us, at the closest point, 40 miles away from the known hot spots.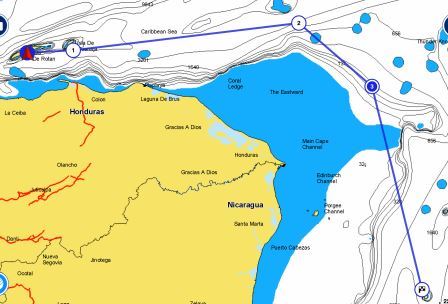 All happy with the plan we returned to our respective boats for an early night and a beautiful Guanaja sunset.
Monday morning we got up early and started secreting our valuables around the boat – if we do get boarded we are not going to make it easy for them to find everything!    The wind is howling at this point and it looks like we could have a feisty sail but at least it is coming from the right direction. As agreed at 9.15am we all picked up anchor and headed out.  Once we were clear of the shallow water we pulled out the sails deciding on a double reefed main and genoa in the 27 knot breeze.    We moved into deep water and the seas were pretty big – 8-10 feet – and we recorded gusts above 30 knots.   So we were moving pretty swiftly along at 7 knots with 10 knots recorded when we surfed down waves.  The waves were coming behind us onto our port quarter (back left-hand side) and were breaking….they crashed over us a few times.    All very exhilarating and, although it kept us on our toes, we were enjoying ourselves.   The group managed to keep together and all boats were within one mile of each other – which we were pretty pleased with.  
By 5pm we had dinner and watched our first sunset at sea.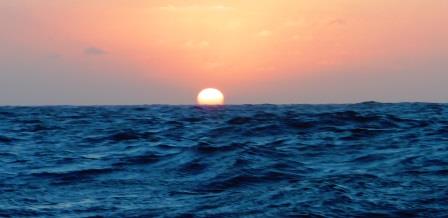 As the conditions continued to be brisk we decided to reef down further for the night – putting away the genoa and pulled out the staysail instead.    Island Sol did the same.    We put the engine on to charge the batteries and Island Sol were clearly doing the same as they are pulling away from us rapidly.   I radioed them to ask them to slow down and was told, by John, to put my engine revs up higher.   Well…not an option…I'm not planning to motor sail the whole damn night and what about conserving fuel for the low wind days we are expecting?!?    Pretty fed up I had to call Richard back up into the cockpit to help me put the staysail away and pull out the genoa again so that I could keep up.   I managed, eventually, to catch up – with Signora matching me bringing up the group from the rear.  I felt slightly nervous with the genoa out on my own, despite it being heavily reefed, as gusts were still coming at us in the 30s.   Richard took over later and by 11.00 pm we were leading the pack….so he slowed down to keep the group together.  
By 1am on Tuesday morning the seas were easing and the winds had dropped to 15-20 knots but there were still big gusts.  Again we had fallen behind so we shook out a reef in the genoa and increased our boat speed.   By 3am we were in the lead again!     Quite a dark night and the moon didn't rise until 3.20 am.    But by 8am we had fallen behind again and, as the latest weather download said the wind was dropping, we pulled out full sails in a reducing wind. 
By now it was 12-15 knots and we were chasing down Island Sol half a mile ahead of us.   At 10am we had a wind shift in our favour and by 11 am we had caught Island Sol again.  The wind was now steady at 12 knots and we were not getting any gusts either.   The seas continued to flatten and by 2pm we were all parallel with half a mile separating all three boats with Morphie in the centre. 
At 4pm we started our engine again to charge batteries and started to run back towards the rhumb line.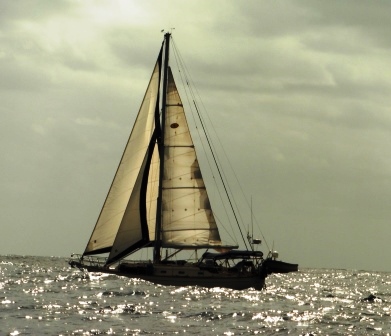 As we were motoring towards Signora we had a wonderful visit from about 50 dolphins which played on our bow for about half an hour.   Magical, just plain magical.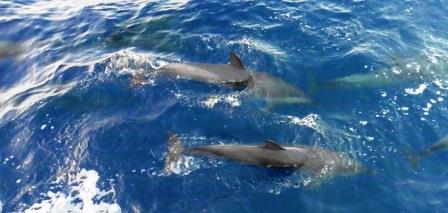 By 5pm the winds had swung to the north east and it was difficult to hold our course so we increased our revs to 1800rpm and were motor sailing away from the rhumb line again.  Island Sol pulled away strongly and we couldn't catch them – again I asked him to slow down and again John refused.    Grr……   So we continued motor sailing hard…to keep above the rhumb line and eventually, at 11pm we caught up with Island Sol.   Definitely a shift change issue here…Charlie and Saundra maintain contact with us…John clearly couldn't give a damn.  What he doesn't appear to realise is that if a suspicious vessel approaches him for every mile he is away from us it is going to take us 12-15 minutes to get to him to offer assistance. 
By 1am on Wednesday morning we were all together again and were sailing close to the rhumb line.   At 3am there were lights to the starboard ahead of Island Sol and alongside them.   So we all decided to run dark and moved to our own working channel for radio communications, although we kept on our AIS so that big ships could see us and we could keep tabs on each other's position.  
At 4am the lights had gone away – they were big shrimp boats – and the wind shifted to the east.  This was earlier than forecast and was now right on the nose.  We dropped all our sails and motored straight into the waves, wind and current at 2000rpm to maintain our agreed five knots SOG.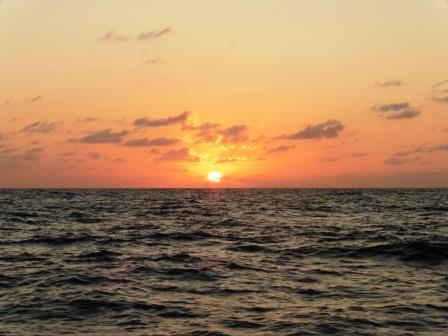 By 9am the wind had switched again and so we had all three sails up fully in 10 knots of breeze.   At 10am Island Sol were coming up fast from behind us…and we watched as they got closer…and we had to drop 15 degrees off the wind to let him pass. John was sitting on the rail taking a video of us.  Nice thought but, for god's sake, what about the rule of the road that says the overtaking vessel should keep clear!!!!   That man's a menace.    
By 11am we were constantly playing wind angles to keep moving in the light airs and, by now, we had moved back in front of the pack.    We came off the wind slightly and picked up speed to find, at 12 noon, we had a huge shrimp boat moving around ahead of us with his nets deployed.  We furled our genoa and sat and waited for his position to become clearer.  By 1pm we were all back sailing with full main and genoa and Island Sol are coming up very fast again from behind…this time they overtook us very closely to starboard and then turned straight across our bow.   We were so surprised we didn't even say anything on the radio – and, anyway, the rules prohibit the use of profanity over the airwaves LOL.
Island Sol continued to pull ahead almost two miles ahead of us and we couldn't catch them – Signora continued to maintain contact with us.  Charlie came on the radio at 3pm and said that they wanted to go faster across the banks and were going to maintain 6+ knots SOG.   So I asked if that meant they were leaving us behind and abandoning us.    Yes was the answer.  I just said 'Thanks for that Charlie' and returned to Ch.16.  Both of us were stunned, used some working-class language, and I was very upset – we had worked hard to maintain contact with them – and now, at the most critical part of the passage getting close to the danger zone, they were going to leave us to it because they could run faster.   Signora, in the meantime, confirmed that they would remain with us so that made me feel a bit better as we weren't going to be going it totally alone and I knew that our calculations were going to work with getting onto the banks at dark and leaving before sunrise.
Then, a little while later, Charlie came back on the radio and said that they were going to stick to our agreement and wait for us after all.   Fine, thank you.  That told us everything we needed to know – John was influencing their better judgment.  No words to describe my feelings towards this obnoxious man.     Although we had now agreed to stay together Island Sol remained two miles ahead of us – and then they reported a surveying vessel towing a long line of floats to port.  So we got on with avoiding that…   Then Island Sol reported a fishing boat to starboard and they decided to slow down so that Signora and we could catch up with them.    How kind.
We moved into a close formation with us in the lead and started motor sailing to maintain our agreed 5 knots SOG – keeping a constant RPM and taking any lift from the wind we could get to speed up.  Moving along and, at the critical waypoint which is the closest to the danger zone, Island Sol reported a transmission problem.  So Signora and ourselves reduced speed dramatically and just hung around waiting for them to resolve their problem.  They had propped their propeller and were dragging a line.    They did what they could and, after 45 minutes of sitting around like nervous ducks awaiting the hunters, we all took off again in formation.    
At 2am on Thursday morning we all made a 20 degree change to port to return to the rhumb line and to avoid a shrimp boat to starboard.   By 3am we were back on the line and were experiencing some currents against us.   Come 4am (shift change I wonder?!?) Island Sol had gone walkabout again…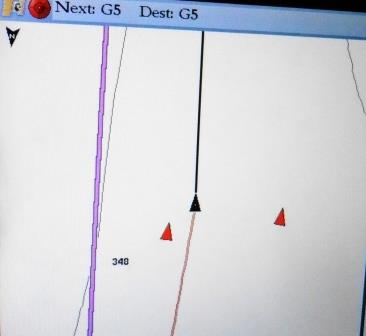 Before a lovely sunrise at 6am we were off the banks as planned despite the delay and we were motoring along with a main and staysail with only six knots of breeze.   It was flat calm out there and the wind had shifted towards its normal easterly trades so we were looking forward to a great day of sailing ahead without having to keep the formation now we had passed through the danger zone.  
By 9 am we were still chasing the wind around to try and keep our sails full.   Signora headed above the rhumb line as they were considering continuing directly to Panama rather than coming with us to Providencia.   Island Sol remained below us.   Suddenly, at 10am the winds filled in and we had 11 knots of breeze from the right direction and relatively flat seas.  Woo hoo!!!  Then, of course, the winds shifted to the SE but we could still sail.  We were going along nicely so Richard decided to fish again…    Within an hour he had caught his first mahi of the season….and within another hour the fish was filleted and we had lots of fresh fish in the freezer.     Richard was very happy indeed (and yes, he does sail in his underpants!).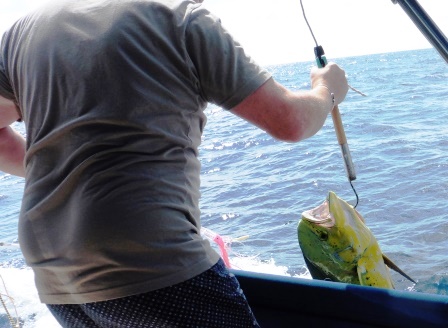 And to cap off the day another sunset.
Come 7pm the winds had dropped but we continued to sail along nicely although our speed had dropped to 4kts SOG we were unconcerned as we wanted to enter Providencia in daylight.   By 9pm we were catching Island Sol again and we switched on the engine to give our batteries an initial burst before running the generator on the rail – which is what we will do in the Pacific later in the year.    While I was having a snooze down below Richard surprised me by installing my new helm seat – so I got comfy straight away!   Fantastic, it made such a difference, and my back will be eternally grateful LOL.  Here's a picture of me enjoying it the following morning.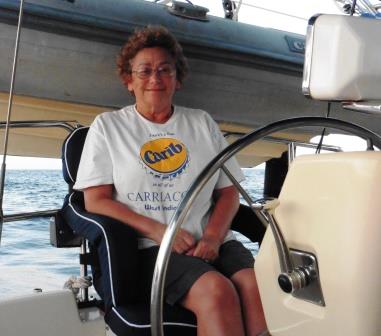 In the meantime we are creaming Island Sol and they are dropping further and further behind us.    Signora are off to our port side by almost six miles and are debating their next move – so we downloaded the weather for them and gave them an update over the radio.  Apart from 3m swells forecast the weather was favourable so we said goodbye as they changed course directly to Panama.   At 11pm Island Sol woke up and started to pull back very quickly for the wind conditions – we think they must have been motor sailing again.  
At 1am on Friday morning the seas had picked up and we had slowed down again.  It was quite rolly so we continued to sail the best course for comfort rather than for speed.   At 5am we had Land Ho! and by 6am we were approaching Providencia which looked quite foreboding in the rainy squalls. 
Earlier in the morning I had radioed Signora to give them an updated weather report but they were, by now, out of range.  And I got told off on the radio by John for waking up his crew!!!  Well, turn the bloody thing down or off then.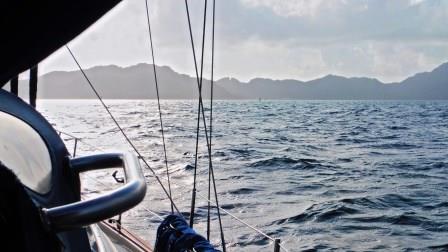 By 8.30 am we were on the hook at anchor having completed our passage of 444 miles in an average speed of 4.72 knots SOG – so despite wind shifts and low wind days; adverse currents; technical delays etc our detailed navigation planning had been pretty damn good.   We were very pleased with our performance on this passage and both felt we could have continued on.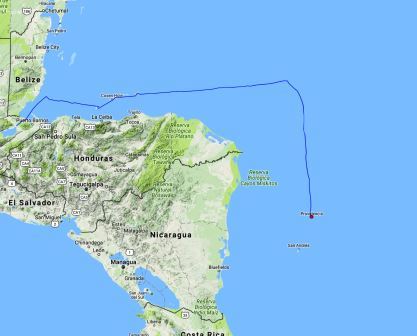 Oh yes…and Richard renamed the boats during one of his watches…as at times it felt like we were flying in formation.  So in honour of that terrible movie Top Gun we became Top Mum to reflect our head of the formation position as we crossed the banks.   Signora became Ice Man for his cool and calm approach to everything during the passage.   And, for obvious reasons, Island Sol became Maverick!
The anchorage here in Providencia is absolutely lovely and we are looking forward to staying here for a short while to explore.   We contacted Mr Bush – the required ship's agent – who arranged to meet us and Island Sol at his office for clearance procedures.   We recovered all our belongings from their hidey holes and got ourselves cleaned up and sorted out before running ashore.  
We went to Mr Bush's agency and did the paperwork with the customs and immigration officials that were there waiting for us.   We have since realised that there is an actual one hour time difference and that we were late!   Oops…note to self…next time ask the local time on arrival.
We had to hand over our passports and return later so we decided to go in search of a cold beer and a restaurant having now got some drinking vouchers from the ATM.  We wandered for a while but didn't find anything much so returned to a local place that was rammed.  We had an OK lunch and some cold beers but John couldn't keep his big mouth shut and decided to berate me again for using the radio in the early hours and for refusing to increase my engine speed to catch up.   Well…I flipped…and said what about him wanting to leave us on the banks?   He told me to eat s**t!!!   This from an educated man who was a management consultant in his previous life….   I didn't respond to the insult as Saundra had left the table and restaurant in tears and I went to find her.  Richard was furious with me for rising to the bait.   I caught up with Saundra and we had a long chat and hugged.  This ignorant man is not going to ruin our friendship.   So we returned to the restaurant and, despite my real desire to punch the guy, I made my peace with him and we shook on it.      
After lunch we went off to the little island linked to the mainland by a footbridge and had a few cold ones looking over the water.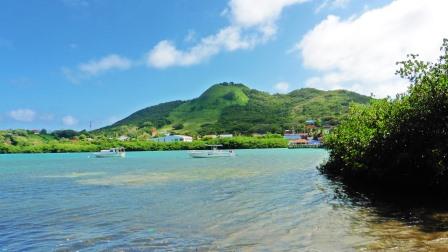 John behaved like nothing had happened so I tried to do the same even engaging him in conversation.  But, really, I can't wait to see the back of him!!!!   I really hope that he does not continue with his poor behaviour as it will ruin Charlie and Saundra's trip to the San Blas islands.
At just before 3pm Richard returned to Mr Bush's agency to collect our passports and pay our clearance bill of US $180 – which Richard questioned.  This seemed a lot for only a few days but what can you do?!?    Feeling pretty jaded by now our next stop was the store to buy a SIM card for internet access as we had been offline for a long time.  Really appreciated the Iridium Go unit on this passage for downloading weather information and letting people know we were safe…  Mission accomplished we headed back to Morphie.   Back on board we had a few more cold beers before having an early night.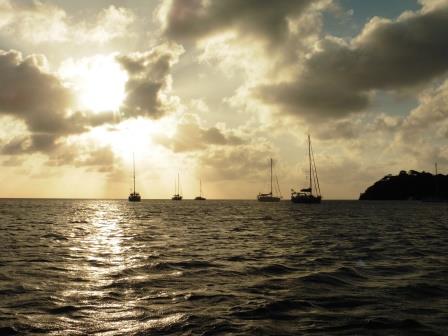 This morning, Saturday, and I'm blogging while Richard continues sleeping.  Not sure what we have planned today other that some boat and domestic duties.  The wind is howling and it's raining but we're happy to be here.
Bye for now
Jan