Saturday afternoon we went shopping and got some drinking vouchers from the ATM.  We planned to buy some beer from the supermarket but no alcohol was being sold because of local elections….funny how these events always coincide with us getting low on supplies LOL.   We chased up our agent in relation to the delivery of our windlass.   It had been delivered physically to Tahiti last Wednesday but was still awaiting customs clearance.   Very frustrating that it can fly here from New Zealand quicker than it can get through customs!  
Saturday night we went to Bill's boat Magic (a 40 foot Island Packet) for dinner.  He very generously fed us three courses including ribeye steak.  We had a very nice evening and drank a lot of wine while we chatted.   Luckily he had purchased his supplies before the election alcohol ban.
Sunday morning I was up early and headed to the laundry.  There was a long queue but the owner told me to leave it with him and return at 10.  So I went back to Morphie and we had breakfast before I returned.  When I got back I found that he had done a service wash and dry for me – which was a real surprise – as that is not something he offers.   He said that he wanted to thank me for last week as I'd helped him deal with some rude English-speaking clients.  What a nice man!  
Later on Richard went off to help Bill get his dinghy up onto the davits and the outboard onto the rail – he is waiting on crew to arrive at the minute so we are helping him out where we can.   We also flaked his genoa for him as he had swapped it out for a larger sail – amazingly he had never seen this done before!   Later in the afternoon it poured with rain so we stayed on board.
Monday morning and it was still raining.   The waves were crashing over the reef in front of the marina and it was pretty blustery.  We watched a couple of superyachts depart – including our large neighbour with his helicopter – which was quickly replaced by another superyacht coming in.   The weather turned into a full-blown event with winds of 40 knots whistling through the anchorage – so we were glad to be tucked into the marina.   Apparently a few boats dragged their anchors and one ended up on the reef but was able to be manoeuvred off without too much damage.   Scary stuff.     
We headed off to see our agent to keep the pressure on DHL and were delighted to find out that the parcel was going to be delivered to us later that morning.   We got online for a short time and found out that our steering parts had also been despatched from Auckland.   So everything we need, fingers crossed, is now on its way and we can track the progress of the remaining parcels.  Our mood was certainly lightened at this news. 
We headed off out for breakfast and returned when the DHL man arrived.   We took delivery and managed to find an abandoned shopping trolley which we gratefully commandeered to take the strain as the box was really heavy.   Richard got it on board and unpacked it with glee.   We let Guy (our friendly French engineer) know that it had arrived and he came by later in the afternoon to have a look.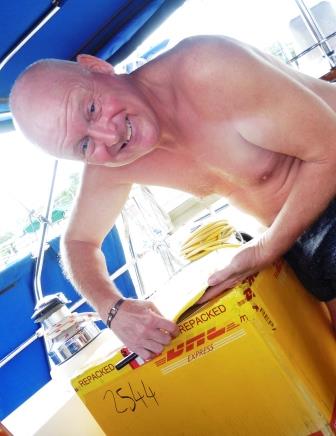 Later on we headed to the bar for Happy Hour and spent a few hours chatting with fellow cruisers.  A new crowd had arrived in the last few days – so we are starting to feel like old hands giving out information about supermarkets, internet and ATMs!     They were also pretty jealous that we are on the dock as they have all been turned away as both the marina and the mooring field is completely full.   I guess we were lucky we arrived when we did!
Tuesday morning we were up bright and early and I popped out to buy breakfast pastries while Richard waited for Guy.   He turned up – they emptied the anchor locker onto the deck – and removed all the protective covers we had put over the holes in the bow sprit whilst at sea.     
Guy was immediately concerned over the teak inside the anchor locker.   It appears that, when the windlass was originally fitted, they just screwed it straight through the wood and fibreglass sandwich without any protective measures other than a very thin – in our view – totally inadequate backing plate so the teak had got really wet and needed to be dried out. Richard and Guy went off on the bus to Mr Bricolage to get wood and other supplies.  They found some strong ply that they planned to epoxy and fit below deck to make a strengthened base for the windlass to be fitted to.      
When they came back they proceeded to make the templates….cut them out…epoxied them….and hang them up to dry.   They also cleaned up the original holes and filled them so that the screw holes will be drilled from scratch as another strengthening measure.    And here's Guy cutting it down to size…….
After a frustrating day of moving things around and passing tools up and down – plus cleaning up after Guy who is a bit of a messy worker – we had the boat back to ourselves.     After cleaning ourselves up we headed to the Dinghy Dock restaurant for happy hour and watched a very moody sunset before returning to Morphie for dinner.   We were pretty cold by the time we got back as the wind was still howling through from the south.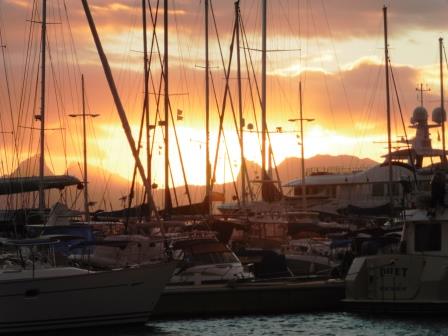 Tuesday I chased the agent again about DHL – this time for the steering parts – as they arrived last night into Tahiti.   Fingers crossed we might get them by Friday.   Guy came on board and fitted the two backing plates together…..they then offered up the new windlass and drilled the holes….and the windlass was almost ready to be installed.  
Guy then went off to do another job elsewhere while things 'cured' and planned to return later.  While all this was going on I'd been to Carrefour and found some new goodies on the deli counter – salt beef and Canadian bacon – so that's our lunch today and breakfast tomorrow sorted.    I even managed to cart back a couple of six packs of beer.  
Guy returned and they worked together to fit and seal the new windlass into the hole – it just needed to be connected up.  But it was getting late so they called it a day.  Both Richard and I felt a bit tired so we just sat in the cockpit, had a couple of cold ones, and had an early night.
Wednesday morning and Guy was back.    He finished the windlass and then we reinstalled the anchor and tested it out.     Yay!!!    Huge smiles on faces.
Then it was time for Guy's lunch…so Richard and I cleaned up after him again.   I headed off back to the mall to get some more money out of the ATM but the cards got refused again.  This is a real pain in the proverbial literally…..the lengthy walk there and back each day sometimes more than once.….combined with the awkward stretch to get on and off the stern of the boat to the dock is taking its toll on my dodgy legs…   Never mind.   But at least Richard had good news for me when I got back – the steering parts had arrived – woo hoo!
Wednesday afternoon Guy had another job so he didn't return until much later – he checked out the steering parts and had another look inside the binnacle just to make sure.   Amazing how many tools and how much mess he and Richard can make in such a short time….so we cleaned up and put everything away again before having another early night on board.    The heat is zapping our energy and the lack of internet continues to frustrate!
Thursday morning and Guy had to take his wife to the doctors so we had a day to ourselves.    We had a lazy start and then went to the Dinghy Dock Bar – which doesn't open until lunchtime – to try and get back online as we had some urgent things to attend to.   But, of course, it didn't work.   So we decided to walk to the municipal building – about a mile up the road – as we had been told there was fast speed wifi there.   We managed to get across the busy dual carriageway and arrived at the building to find that there are no seats – just shallow steps and rocks to sit on.  We perched, got online, and managed to catch up with essential stuff again.   Wasn't the most comfortable position but there really was very little choice.  
Feeling happier that we had completed a few items on the list – which, finally, appears to be diminishing – we crossed back across the road and checked out the pass through the reef….well, with the surf running, it looked very tricky, narrow, and quite intimidating.  Glad we came into the lagoon from the other direction.     Later on we went out for happy hour and enjoyed people watching for a little while. 
Friday morning and Guy was back.    He took the binnacle apart and struggled to get the old pinion out but, thankfully, after some swearing and brute strength Richard and he managed it between then.   Voila – steering fixed.   Yay!!!!!    They also took the hoses off the toilet as we had some flushing issues so a rather smelly day on Morphie – it appears we have a dodgy joker valve and other broken parts that we need to replace / fix.
By the time Guy had left us for the day we were shattered but determined to head off to the Australia Day party on the superyacht dock.   Richard had managed to charm and persuade our agent that we were worthy guests so, as we were on the list, we got wristbands from the security on the dock and proceeded to eat and drink for free!!    Our agent was there having a good time and it was lovely to see her wearing her traditional Polynesian flowered headgear.  
We chatted with a number of superyacht crews – who were largely dressed up for the occasion in fancy dress – and enjoyed watching them do their Masterchef cooking competition.   There was some pretty innovative stuff going on with the Australian steak and vegemite from their surprise shopping bag.   I have to say I thought that TimTams wrapped in Marshmallow and grilled over the BBQ were my personal favourite LOL.  
Later on there was traditional Polynesian dancing which everyone really enjoyed – and many people joined in too.    Definitely a good time was had by all.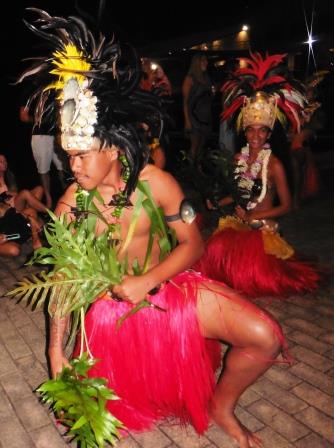 This morning, Saturday, and Guy is back.   This is the final push and then we will be free to have fun!  Sadly we are missing out on the Puddle Jump cruisers' rendezvous party over in Moorea this weekend but Guy has a big job on next week and we wanted to get everything finished while he was available.   He and Richard are working on other miscellaneous preventative maintenance jobs as well as the toilet – like swapping out the gas solenoid for example.    We still have one more parcel coming from the USA – which we should get early next week – but it is spares rather than essential parts that need fixing so we are less concerned over its arrival.  
We are really looking forward to getting Morphie clean and straight again and then finally we can explore Tahiti.    Right now the saloon looks like a bomb has hit it with all the lockers open while they attempt to use every tool known to man LOL.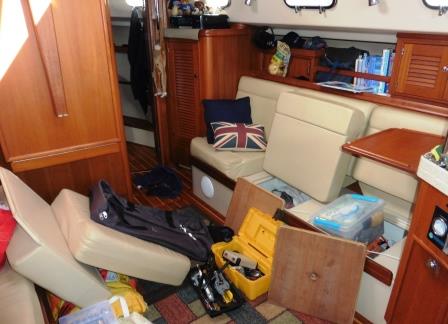 Bye for now
Jan