Friday we were in town to get better internet so that I could blog – the local Digicel sim card works well enough for picking up e-mails on board – but the slow speed stopped me working on WordPress. So we headed into town to the Cafe Tropicana, picked up our laundry, and finally returned to Morphie for a few hours before heading back out to the Aquarium Cafe for sundowners. We were pleased to bump into Chris from Sea Bear who we hadn't seen since Bora Bora, so we had a few cold ones with him and returned back with a take-out pizza as it was a bit late to cook. Was a lovely evening.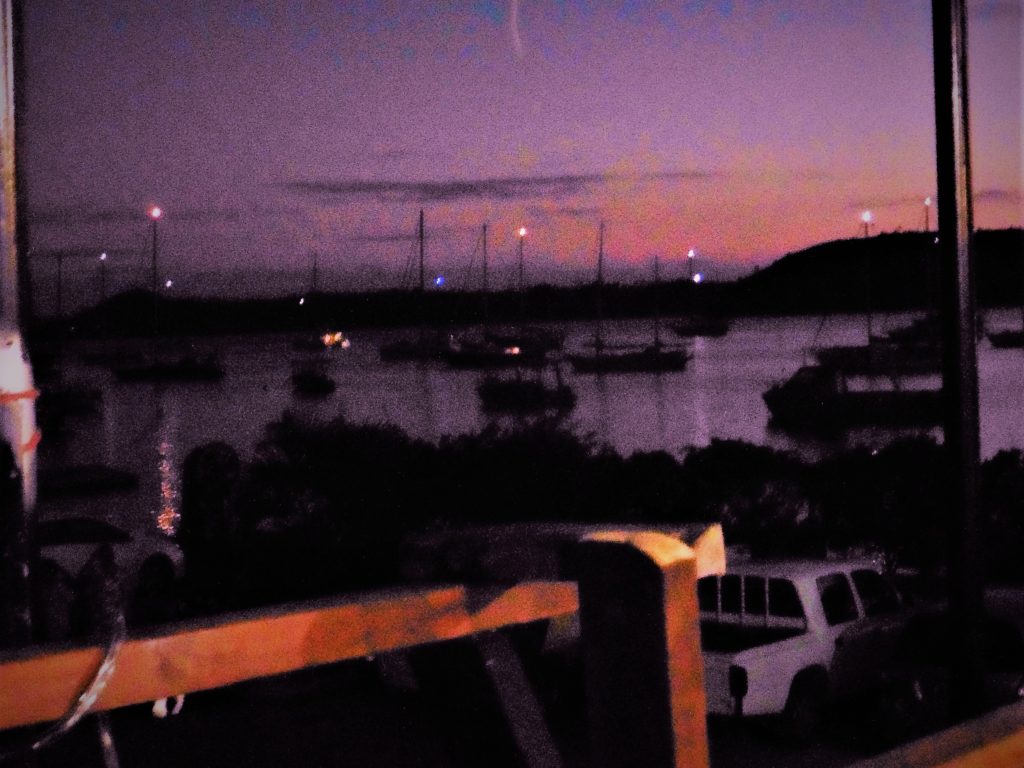 Saturday morning we were up really early as we were going whale watching for the day. At 7.30 we left the dock and were heading out. The boat was called Spy Hop, which is actually named after whale behaviour where they sit in the water vertically taking a look around. On board there was a Chinese couple from China TV and a professional marine biologist Fabian who was filming footage for them for an upcoming programme amongst others. He'd worked on the BBC's Blue Planet Series and was a whale specialist – although his favourite is Orcas rather than humpbacks – and was an interesting guy who gave us lots of information about whale behaviour and what we should expect to see, including what not to do when in the water with them.
We drove around and around and spotted a group of whales, three of them together. A mother, a calf and an escort – an unattached male who fancies his chances for the next round of mating. We were spit into two groups and took turns quietly slipping into the water and snorkelling hard towards them. They were pretty skittish and didn't hang around although we both did get a good look at them in the water. The females are absolutely huge!!!!  Huge grins on our faces…..and this was just the first encounter. We continued to get in and out of the water for hours after numerous whale spottings and encounters and although we saw them each time they just didn't want to pose for underwater photographs but we did get some shots as they played around on the surface.
About 2pm the guys said we had to call it a day and were upset that we hadn't had closer more intense encounters. So, as a sort of consolation prize, they took us snorkelling in Swallows Cave. This was on our list of things to do anyway so we were pretty happy – nice place and great visibility watching the shoals of fish inside. Shame about the graffiti scratched on the walls though, not sure why people feel the need to do this! Thoroughly enjoyed our time here….
Back to the dock – had been a long day – we returned to Morphie, got tidied up, ate the left-over pizza before heading back out to meet Chris again for sundowners. We enjoyed listening to the local Tongan Band and Richard tried the kava which is a root the Tongans grind up and mix with water and is supposed to have a mellowing effect. Didn't notice any different in his behaviour though as he only had one bowl LOL. We didn't hang around too late as we were pretty tired after all the day's exertions so we just said 'hi' to the local youngster dressed up for the party and left.
Sunday morning and we had a lie in…..and a lazy day……and really didn't do much at all apart from eat and relax and stayed on board all day and evening.
Monday morning and we were up really early again being on the dock with all our dive gear ready for a 7.30 am departure. Only problem was the boat had broken down. Deja vu or what?!? We sat around chatting for a few hours and eventually we were relocated to Tin Can….which actually belongs to a competitor dive operation…but was a good result for us.
We headed out to a place called Coral Garden and enjoyed the exceptional visibility. The coral was pretty healthy with lots and lots of different varieties including vast arrays of Christmas trees. Was a pretty good dive despite the lack of large critters down there although Richard did briefly spot a reef shark in the distance. We surfaced, had an interval, before we kitted up for the next dive – and this time we were the other side of this small island so we explored the gulleys and caves. This dive was much more about the topography and the small critters, including Nemo's family which was lovely. We thoroughly enjoyed the diving here and may go again as it is much more reasonably priced than other destinations so far this season.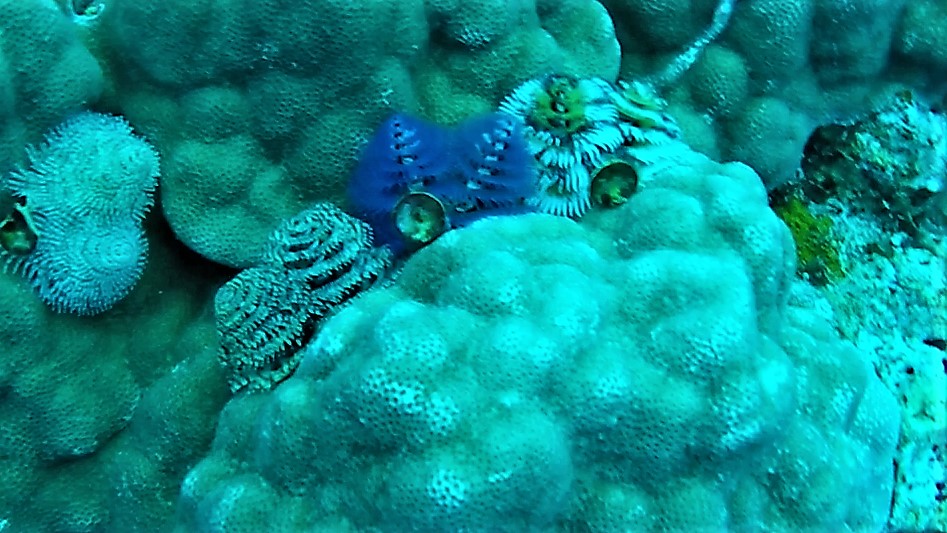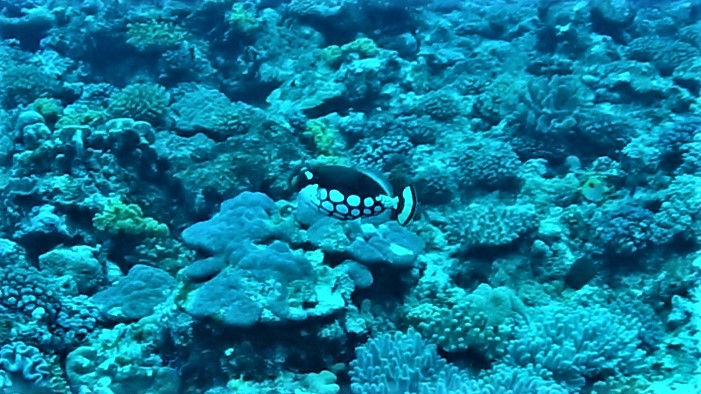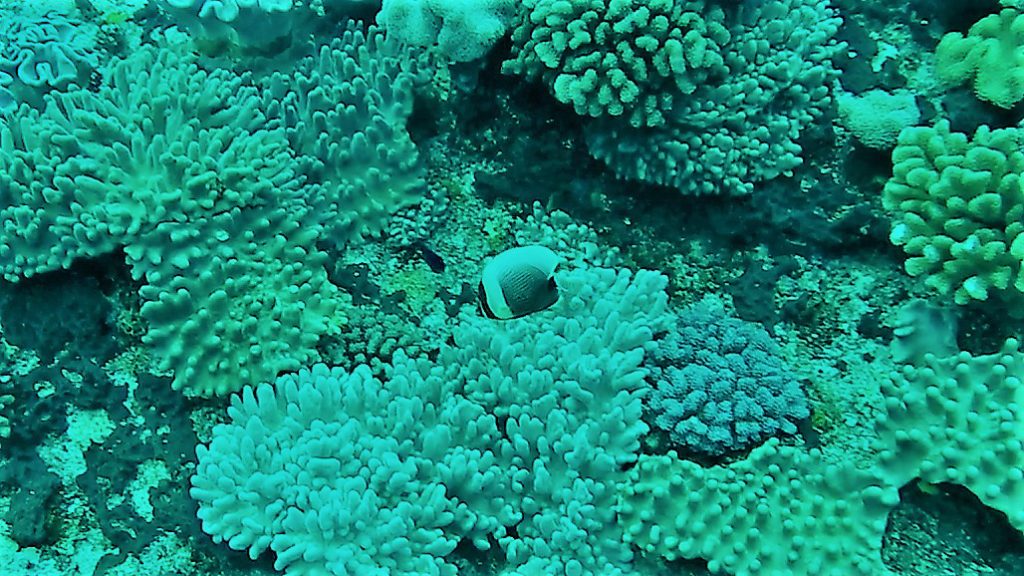 Monday afternoon we spent cleaning our gear and returning to Morphie to hang it all up to dry. I had a snooze while Richard identified another hole in dink – he is constantly deflating these days and clearly is coming to the end of his life. In the evening we went out to dinner at the Mango Lounge and had another nice evening with Chris and were joined by Dan who comes from Seattle and is on his boat My Dream. We are all heading to New Zealand this season and the talk is increasingly now about timings…..
Tuesday morning and Richard fixed dink – again – as well doing an oil change while I've been blogging.   Beyond going ashore to try and find petrol and some fresh bread we don't have any other plans for the day although will probably do sundowners. We are still thinking of exploring other islands in the Vava'u Group but, right now, the forecast is 100% cloud cover with rain as another trough of weather comes through. So we might sit that out here. But, if we do, the Blue Water Rally starts here on Friday so we could just stay for those festivities. Decisions… decisions….. decisions.
Bye for now
Jan