Tuesday afternoon we headed into the Paradise Resort for the final time and had lunch accompanied by a few cold ones enjoying the peace of the gardens. We also tried to pay our bill which bore no resemblance to what we had signed for during our stay. So we asked the manager to go away and try again which she did, and again, it was incorrect. I was relieved that I had actually kept a note of our daily expenditure otherwise it would have been very difficult to get this sorted. Finally we got to a mutually acceptable figure and I paid it – but this was very hard work! We said our farewells and headed back to the boat before dark and had an early night.
Wednesday morning we slipped away from our mooring ball as the sun came up just after 6am and passed a tug and a huge barge going in the opposite direction. We experienced much stronger winds than forecast (surprise, surprise) but the seas weren't too lumpy and at least we were heading downwind. We had a great sail and thoroughly enjoyed it making very good time. Was grateful to have engine support as we approached the reef marker at Passage Point this time!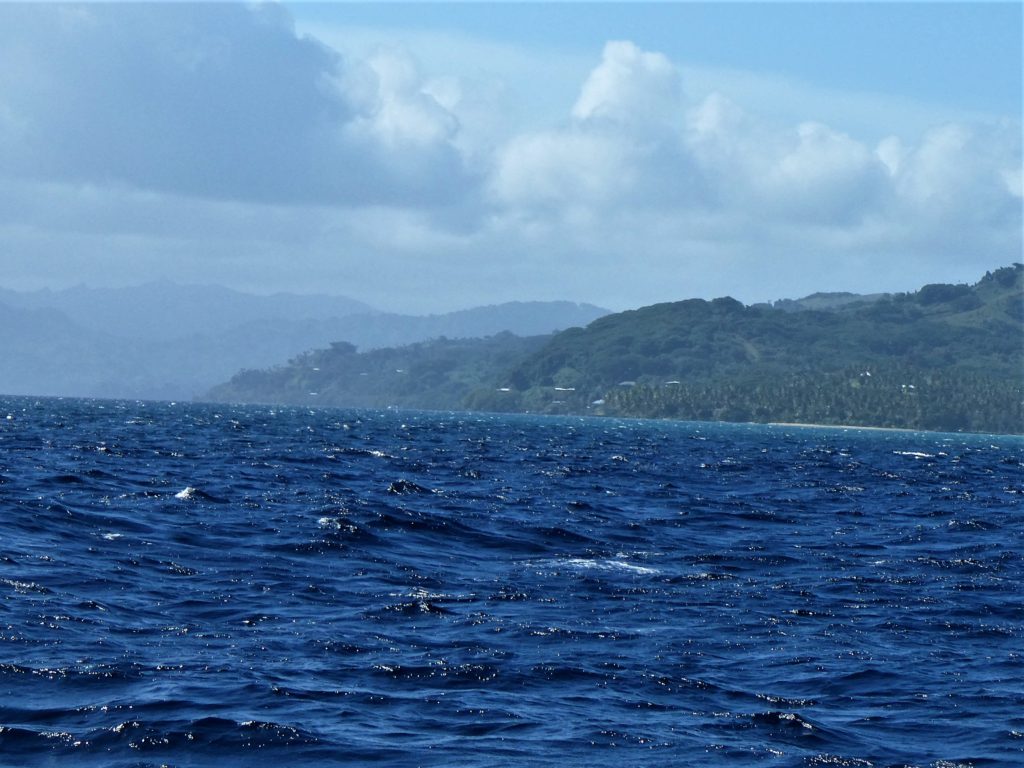 At 2pm we pulled into Copra Shed Marina and were very lucky to get the last available berth. Although we had made an advance booking people often don't leave when they originally plan so "reservations" are really just "expressions of interest" rather than confirmed places. Was lovely to be back, knowing that we were safe from the forthcoming blow.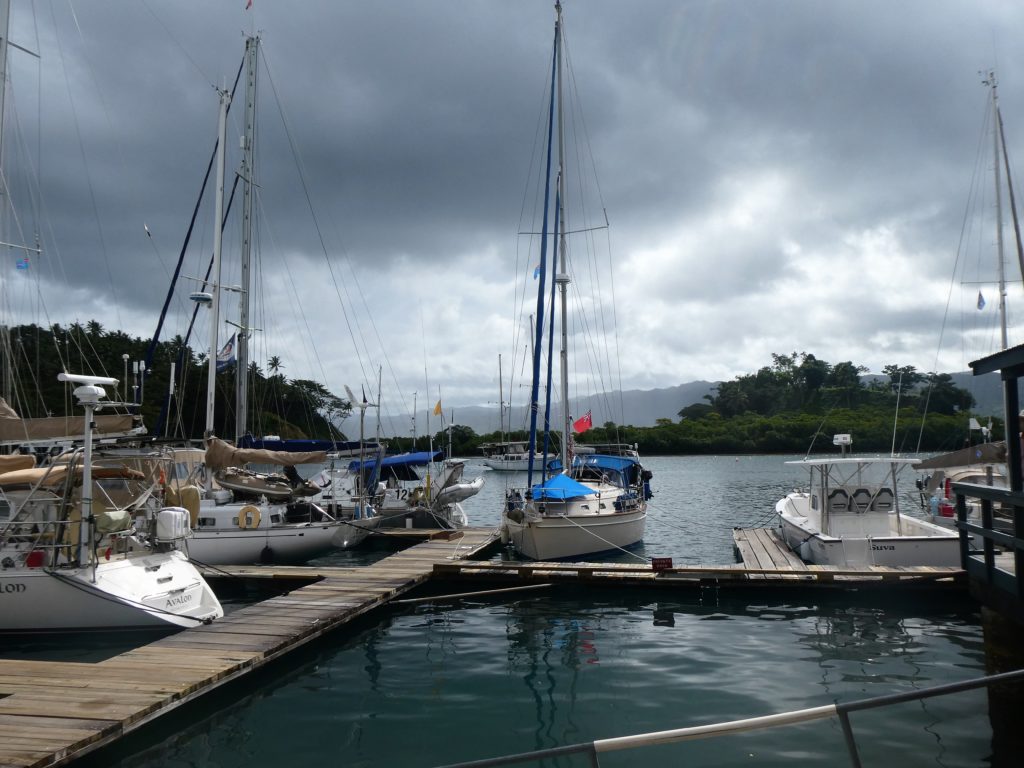 We cleaned all the salt off of Morphie, got ourselves linked up to the electricity supply and then went for sundowners and met up with some fellow cruisers before having a reasonably early night. Was great to see JP and Julie (SV Eleuthera) and Paul and Karen (SV Gigi) again.
Thursday morning we headed into town as we needed fresh produce and some more drinking vouchers from the ATM. We also met a few of the World ARC participants as the anchorage was filling up fast. There were a few mooring balls left way up the creek but that was it.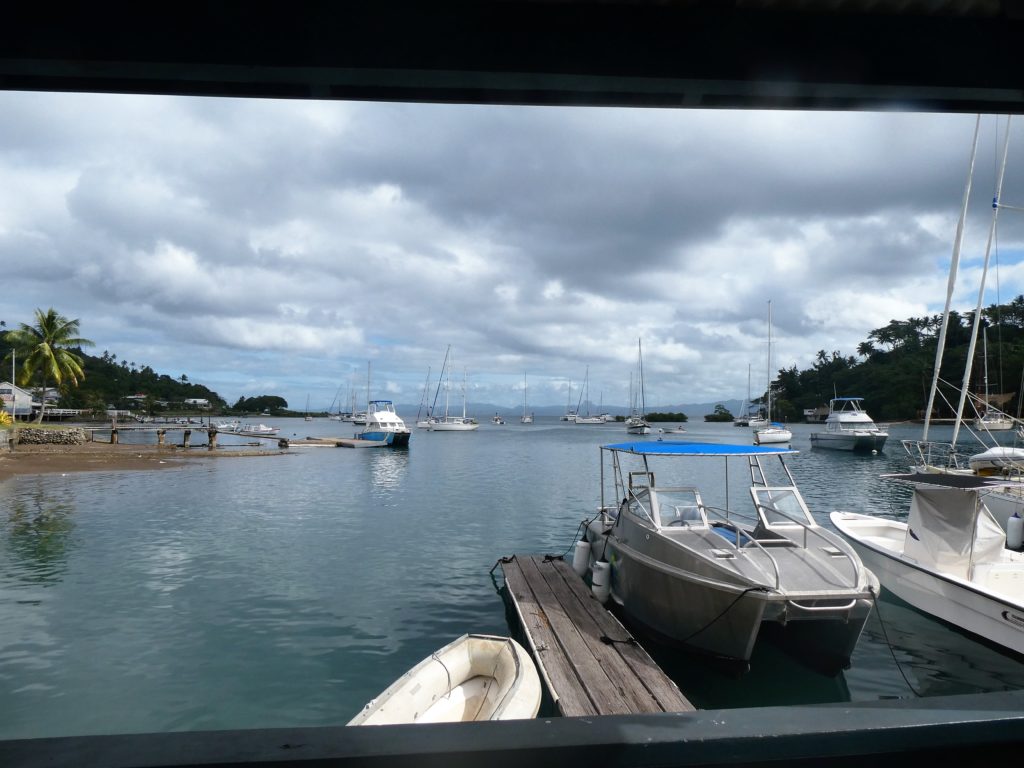 There was also some bother on the dock here when one of the WARC boats insisted that they had booked a berth and didn't like the space they were offered so they kicked up a stink and, eventually, one of the others moved but it surely must have created some ill-feeling amongst the fleet. Certainly there were lots of derogatory comments being made near to us on the dock about the situation!
During the day we also met Lars from SV Sweet Dream (another fellow Island Packeteer) who are participants on the WARC. So that made three of us here in Savusavu so we quickly made arrangements for a mini Island Packet get together in the evening over a few beers. It was a lot of fun and we were joined by a number of other cruisers and WARC participants in the Copra Shed Marina bar. Here are the Island Packeteers altogether….from left to right Karen and Paul (SV Gigi), us in the middle, then Laura and Lars (SV Sweet Dream).
Later on people drifted away in various groupings and we headed out for dinner with Paul and Karen to the Grace Road Kitchen (the fantastic Korean restaurant) for another meal which definitely didn't disappoint.
Friday morning and we were on board looking at possible routings for when we leave Savusavu again. We also popped into town again for some more bits. On our return we saw that a number of the mooring balls had been vacated as a tug was pushing a huge barge into the anchorage – and Sweet Dream was one of them. Later on the boats moved back into the anchorage ready to reclaim their mooring balls and it became clear that the ball Sweet Dream had been on was no longer a viable option. The wind was whistling around and the tide was ripping and they were not having a fun time……and of course by this time all the mooring balls had been taken by some last-minute WARC arrivals and Sweet Dream had been permanently displaced. They were clearly stressed and upset and had to anchor out amongst the reefs. So sadly we didn't see them again. Was a very bad experience for them and I think they may even have touched bottom a few times whilst circling…. Felt very sorry for them.
In the afternoon we spent some time onboard Gigi (who have spent many seasons here in Fiji) looking at their waypoints and routes through the coral reefs which gave us a lot more confidence going forward (especially as there are many coral bombies and rocks that are uncharted).
In the evening we went ashore and met JP, Julie, Karen and Paul again and listened to the live music. During the evening an English tourist, Nicky, came over to chat. It was clear she was trying to avoid the attentions of a few drunken Fijian men so we welcomed her into our 'gang' LOL. Was amazed that she was travelling alone here in Fiji as you couldn't say that the area was particularly disability friendly (she is in a wheelchair). The pavements are cracked and broken with lots of potholes and the Police had already told her she was not to push herself along the roads even though the pavements are not suitable and the kerbs are too high for her to manage. Anyway, at the end of the evening, Paul escorted her back to her accommodation to ensure she got there safely before we all called it a night.
Whilst out and about the day before I had found a beauty salon / hairdressers tucked away up an alley so had booked an appointment for Saturday morning and the girls had decided that they would join me for a girlie morning out. So at 9.30 am on Saturday morning we all met up and headed to the salon. It was an experience especially the unexpected cold water wash on the lay down chair tucked behind the counter. Also the hair dye (which was labelled mid-brown and I'd purchased it myself) turned out to be Fiji Brown (which is actually almost black). Never mind, everyone in the salon said I now had Fiji hair and were fascinated by how similar my curls were to them…..quite funny. Whilst I was there I also had my eyebrows threaded and the whole experience cost me around £15 – bargain or what?!?
Moving on we headed to the Sugarlicious cafe and had tea and cake. Huge portions but absolutely delicious! Was a fun time.
We returned to the marina (but not before the Police had warned Nicky about being in the road again sigh) and we parted company. I rushed back to Morphie as the heavens had now opened. It poured down and continued for the whole day. We sat in the cockpit inputting waypoints for a few hours and deciding on our route. So the plan is now to head out to Makogai Island and then to cross the remainder of the channel to travel inside the reef along the north coast of Viti Levu. So was useful time spent on a rainy afternoon.
In the evening, even though it continued to pour down, we headed to the bar for a couple of cold ones and ended up with a takeaway pizza back on board.
This morning, Sunday, and a few WARC boats have moved on. Which is, in my opinion, a bit premature as the sea state will be rough / very rough for a couple of days yet. And a P&O cruise ship has turned up.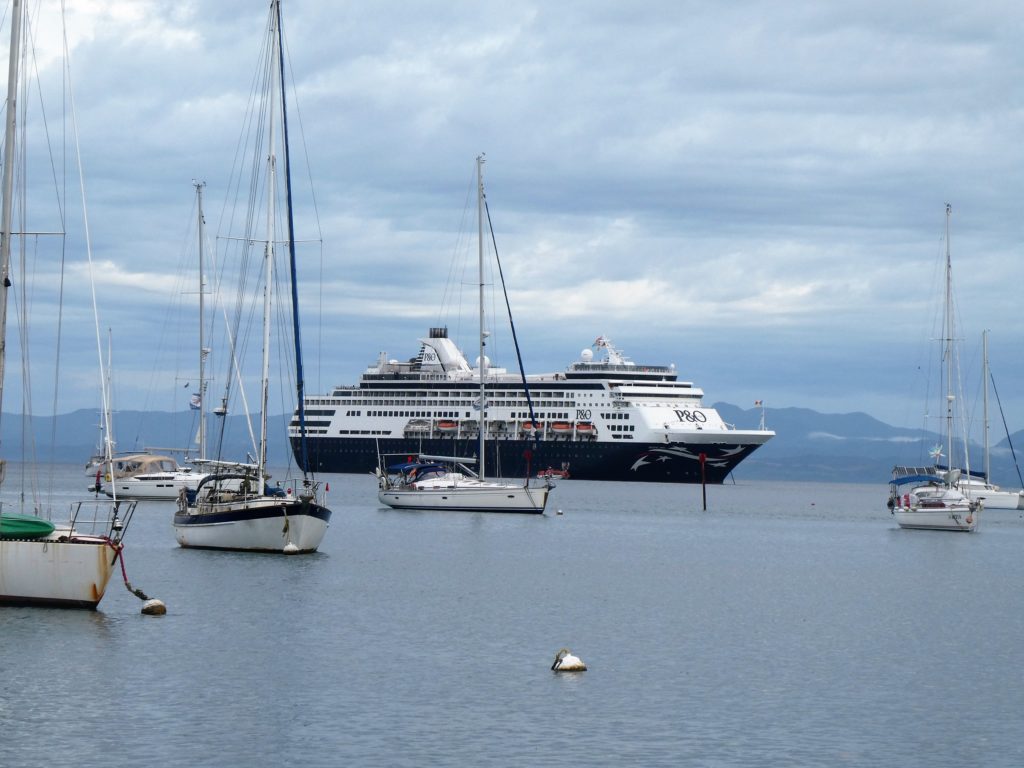 The tenders are coming to the docks near us (having evicted some of the yachts) and it was fun watching them setting everything up for the masses to arrive later – they had even decorated the dock and there were a band of local musicians waiting to greet people. All very jolly!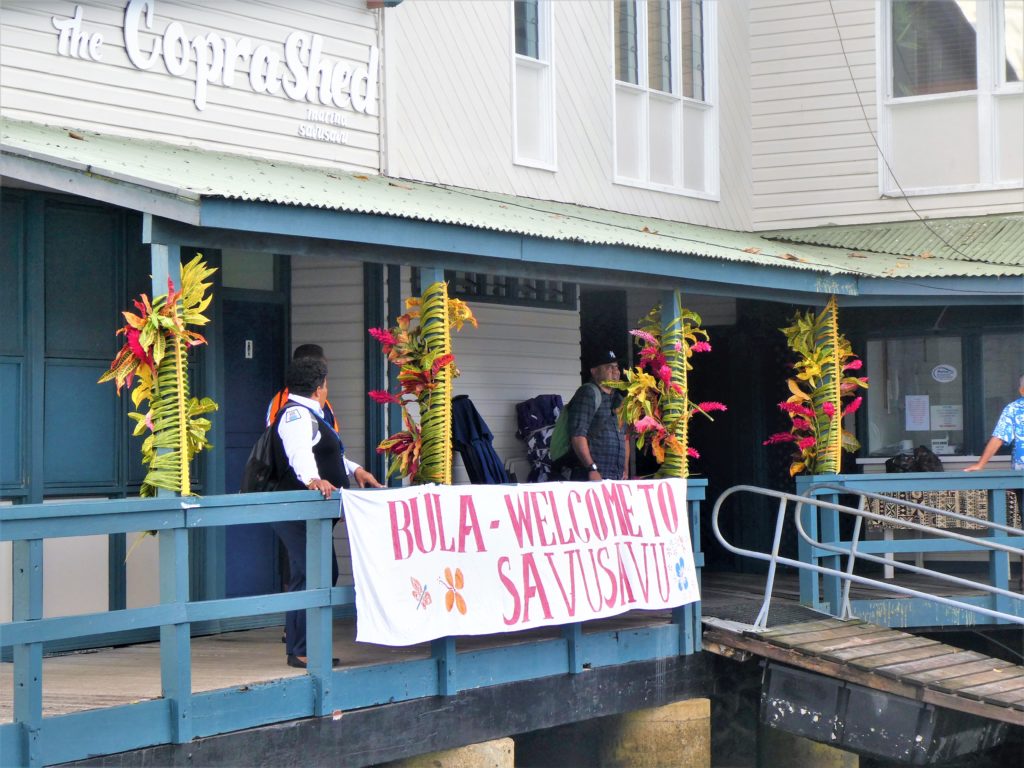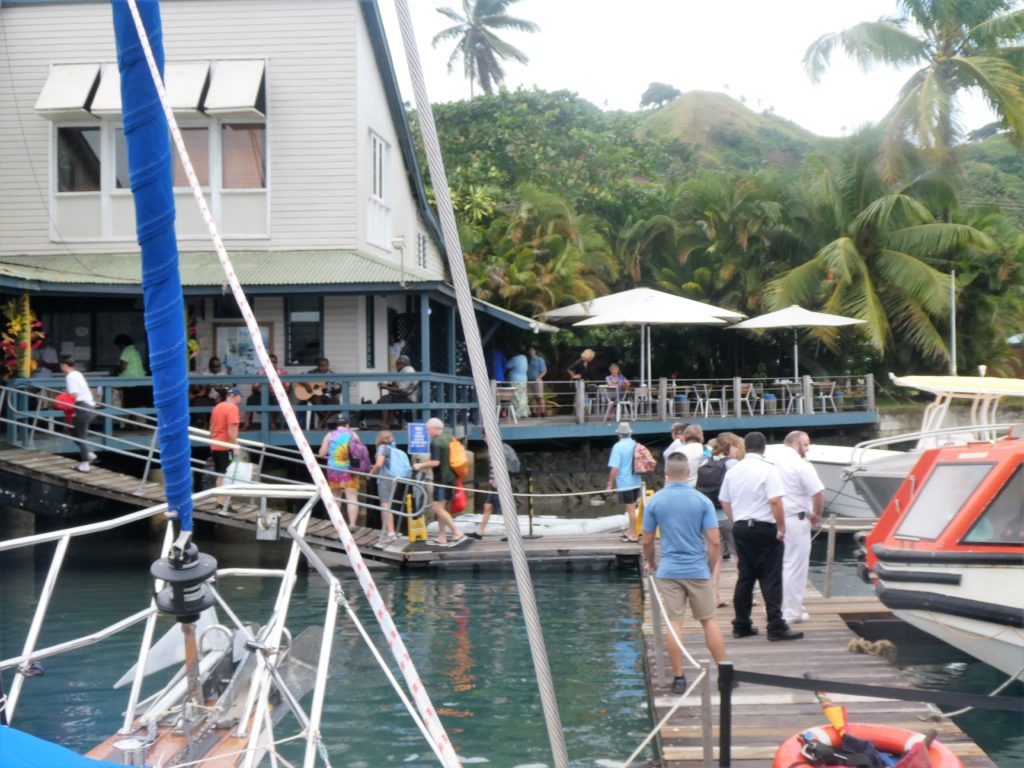 We then headed out to the main road and enjoyed wandering around amongst all the new tourists and I even bought a small bracelet for myself from one of the local stalls which are only there on cruise ship days.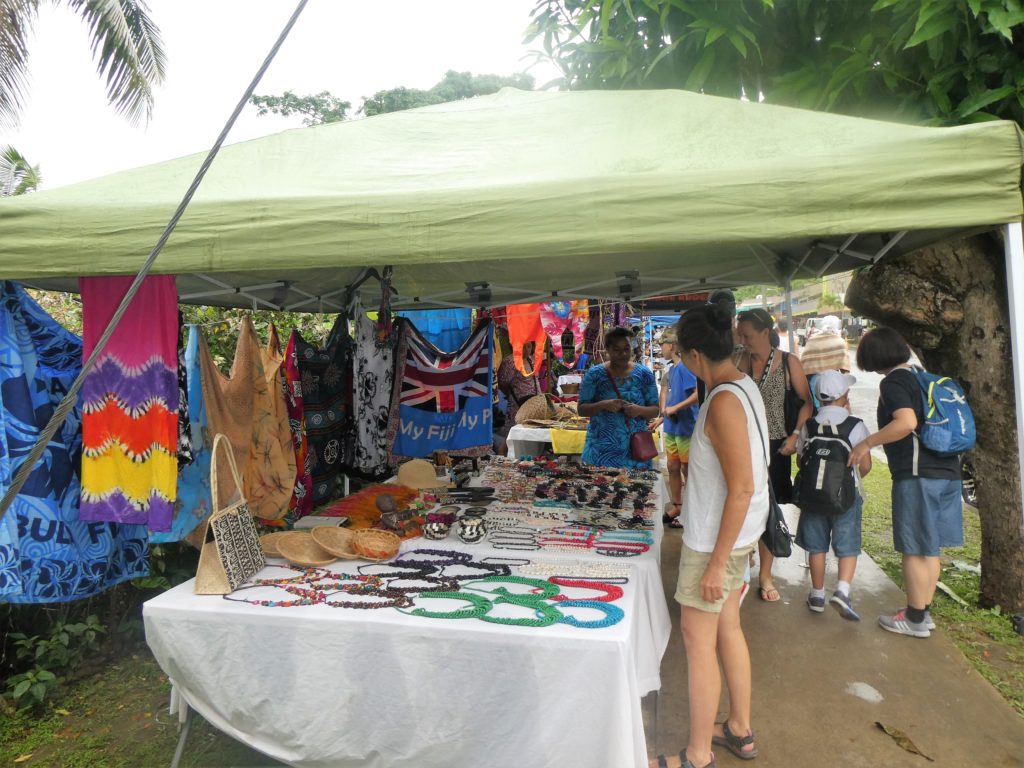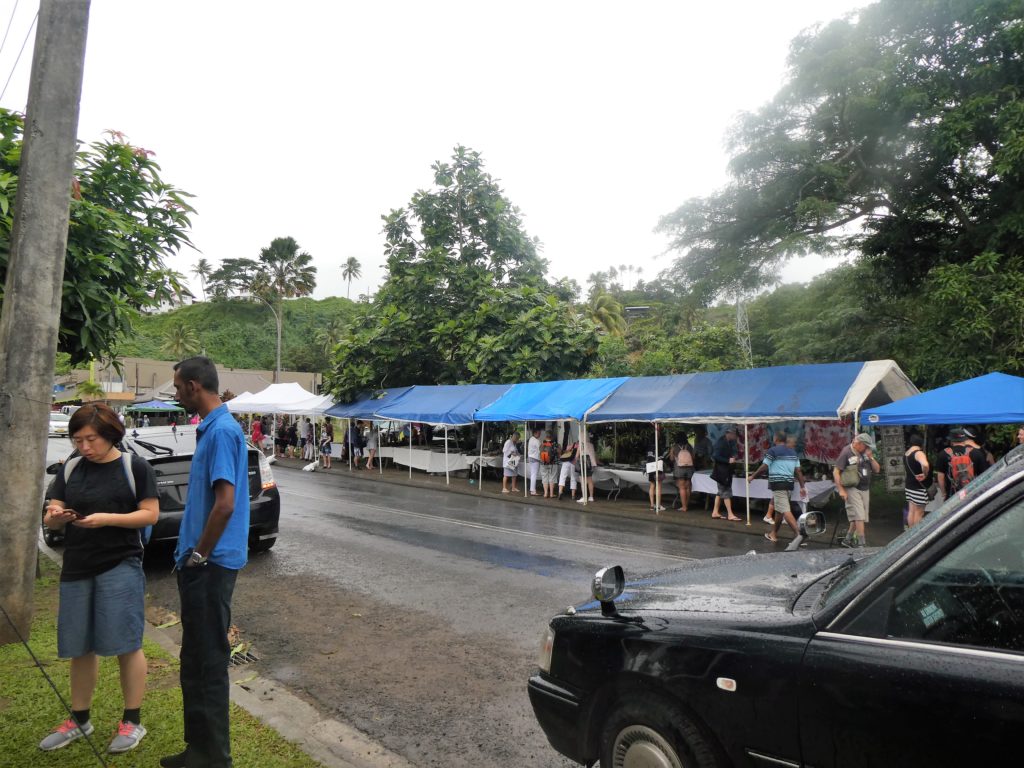 It remains rainy and cloudy but it is lovely to be sitting here down below listening to the local band playing – the last tender is at 3pm so I guess the peace will be restored by then. In the meantime there are lots of people everywhere and, when I tried to get back to Morphie, I was told not to jump the queue for the tender as they are using the same ramp. Their face was a picture when I said I was returning to my yacht! The cruise ship is registered in London so the tender captains are curious about us as they can see our red ensign and we have already had a few conversations with them today too. Oh yes and the marina security guard says he loves my Fiji hair LOL.
Tonight we are intending to go ashore to listen to the live music (if the rain stops for long enough for them to play). Going forward we think we may be able to depart on Tuesday but we will just keep watching the weather to make sure it is a good time to go, so not written in stone but looking good at this stage. So here is my final photo of the day…..spot the Japanese pirate!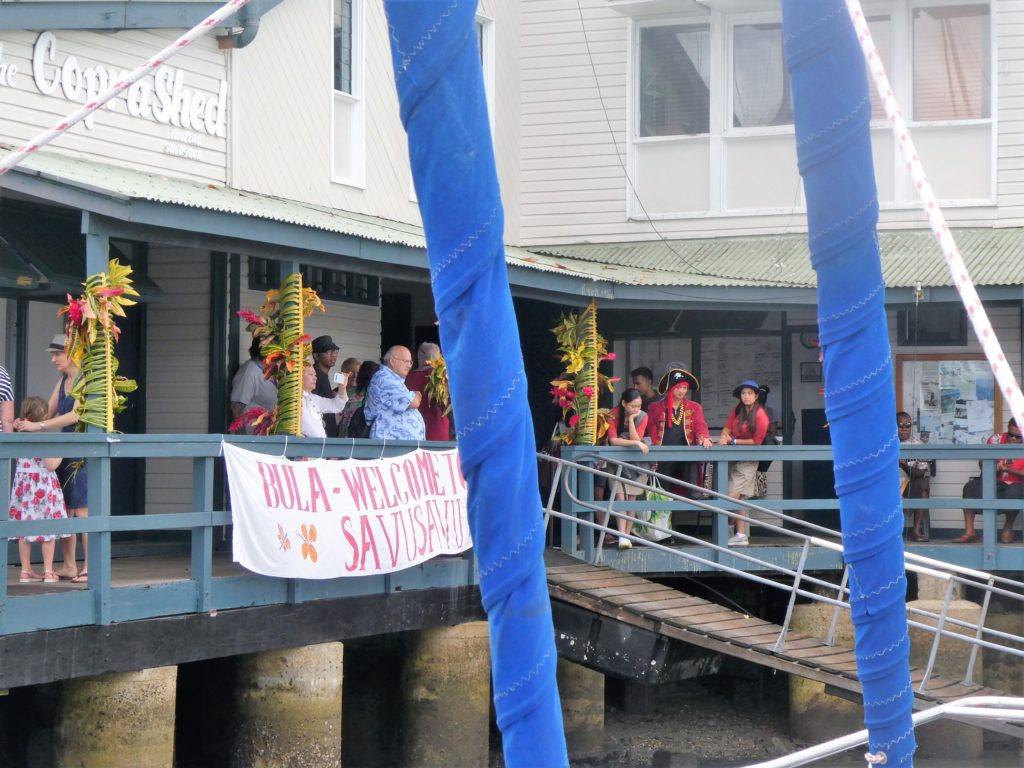 Bye for now
Jan