Tuesday (22 September) Richard finished the anchor locker project – so we now have a lovely clean anchor locker plus a new waterproof panel to protect the teak access panel. I spent most of the day on the computer putting together our travel insurance claim for out-of-pocket expenses relating to Richard's heart attack in April as he had now been signed off to resume sailing. So I was making the most of having shore power and there was lots of printing, scanning and collating going on. And that was about it for the day.
Wednesday morning Richard stayed on board and did a spring clean while I took myself off to the laundry and the cruisers' lounge. This time to make the most of the Boatworks internet so I could download some replacement apps for those that we had been informed were being discontinued (particularly Navionics). So downloaded the new app, logged into our Navionics account, and double-checked all our charts were up-to-date and downloaded for off-line use. I also updated all the apps on the phones, the iPad and the computer as we don't tend to do this via our mobile hotspot as it is so data intensive. I returned with everything up-to-date laden down with clean laundry and of course admired Richard's handiwork….Morphie was sparkling!
Thursday morning, Richard managed to get a UTE (Australian word for pick-up truck) so left me still working on the computer and headed out to his favourite hardware store Bunnings. He came back with some fridge seal material and a new toilet seat. He then installed the toilet seat in the heads and let some gas out of the freezer as it was working too hard to get down to temperature (as the unit was full) and frosting up the lines inside the fridge. This took a couple of attempts but, finally, the freezer was working again as it should. He then removed the old seals around the fridge and freezer lids and replaced them.
Later on we headed out to the Westfield Mall in Coomera for my physio appointment – wasn't keen on the guy – but he did give me some useful exercises to do to keep my hip moving and to help my thigh (where I have torn a muscle). After that we had a doctor's appointment so that the GP could complete the medical section of the insurance claim form as we had failed to get hold of our UK doctor – thankfully the claims team were happy to deal with the Australian GP instead who had treated Richard for the last five months. Oh yes and the surgery confirmed the dietician telephone appointment for 9.45 am now on Friday morning. The physio doesn't want to see me again until 8 October so we can head out of the marina again for another couple of weeks – yay!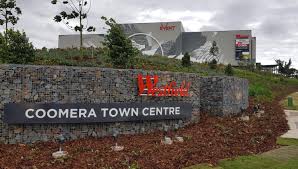 Job done it was getting late so we headed into the fantastic Nahm Thai Restaurant for an early dinner. Suitably full we then went to Coles supermarket for a fresh fruit and vegetable run and a quick trip to the bottle shop for me to get some wine supplies (Richard remains teetotal). Back on board we stowed our goodies and had a movie night.
Friday morning early Richard cleaned the cockpit while I continued with the insurance claim paperwork. Finally everything is ready to go except we are just waiting on one document from the Heart Clinic signing him off. There are so many receipts and evidence of expenditure I've had to do two spreadsheets to bring the whole story together. Phew – had been a long time since I sat in front of a computer for days on end LOL. Richard returned the car to the office and confirmed that, because of bad weather forecast for Friday night (strong winds and threat of thunderstorms) we would not now be leaving the marina until Saturday.
At 9.50 I realised that the dietician hadn't called. So I called the surgery and they said that as I hadn't responded positively to a text message the appointment had been cancelled. What a stupid system – they arranged it, I confirmed it, and yet because I missed a text she didn't call. The practice manager was sympathetic to my position and said she would get her to call later in the day. So I kept the phone glued to my side but, of course, she didn't phone…..so frustrating…..
Later on Richard and I headed to the Galley for coffee and a naughty cake and started checking out anchorages for our departure on Saturday. And, for once, the weather forecast was accurate and we experienced strong winds and saw lightning in the sky south of us. So was happy to have a movie night tucked up securely in the marina especially as I was now feeling the results of the physio session the day before and the subsequent exercises I had done that morning.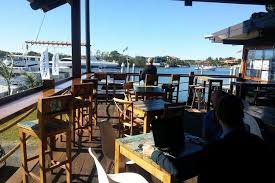 Saturday morning and I was struggling badly with my back. So I stayed in bed and Richard took himself off to find the caretaker (the marina office is closed on a weekend) to let him know we were staying an extra day to give me time to recover. Then he took himself off to Garage 25 to see the cars and bikes while I rested up. He returned with some blog photos for me and then went off and did some final bits of laundry making the most of the access to the machines.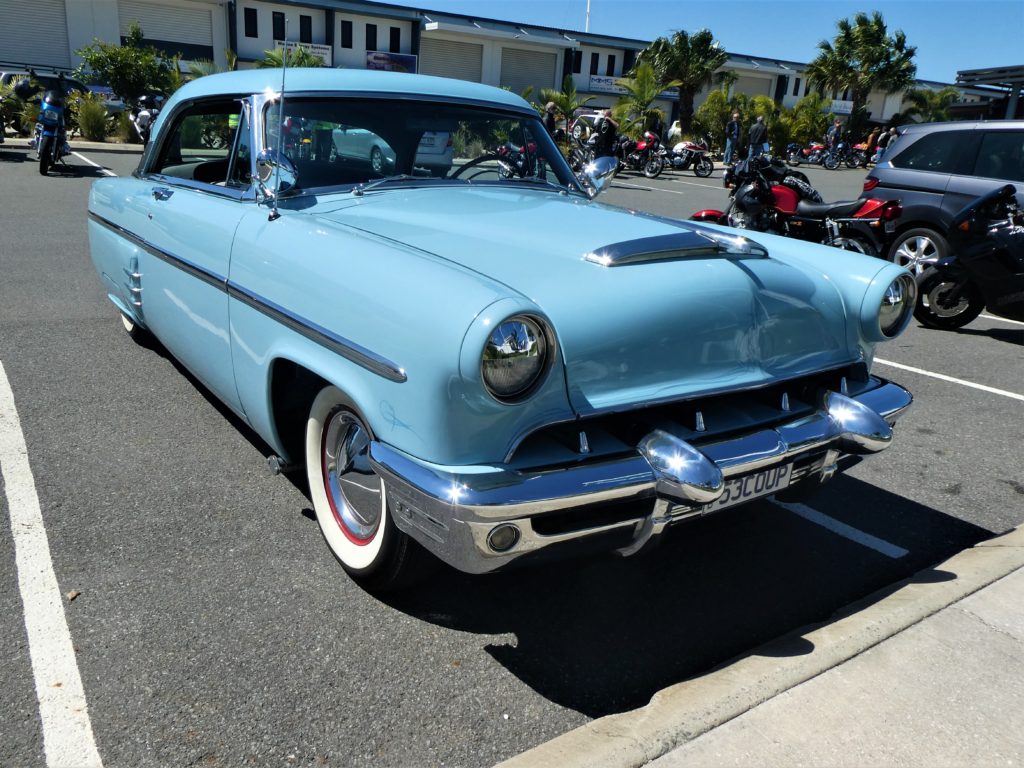 Finally late afternoon, after a lazy day just relaxing and using ice / heat and my Tens machine the pain started to ease….so we were definitely going to leave in the morning.
Sunday morning we stowed everything away and left the dock heading towards the top of South Stradbroke Island going with the tide as it went out. Oh yes and going down the river we found what we think is the biggest ugliest house ever!
Crazy busy out with tinnies, jet skis, motorboats you name it….the Broadwater was foaming at times from all the fast traffic. Boats in this area have a 40 knot speed limit and it seems like most of them go as fast as possible!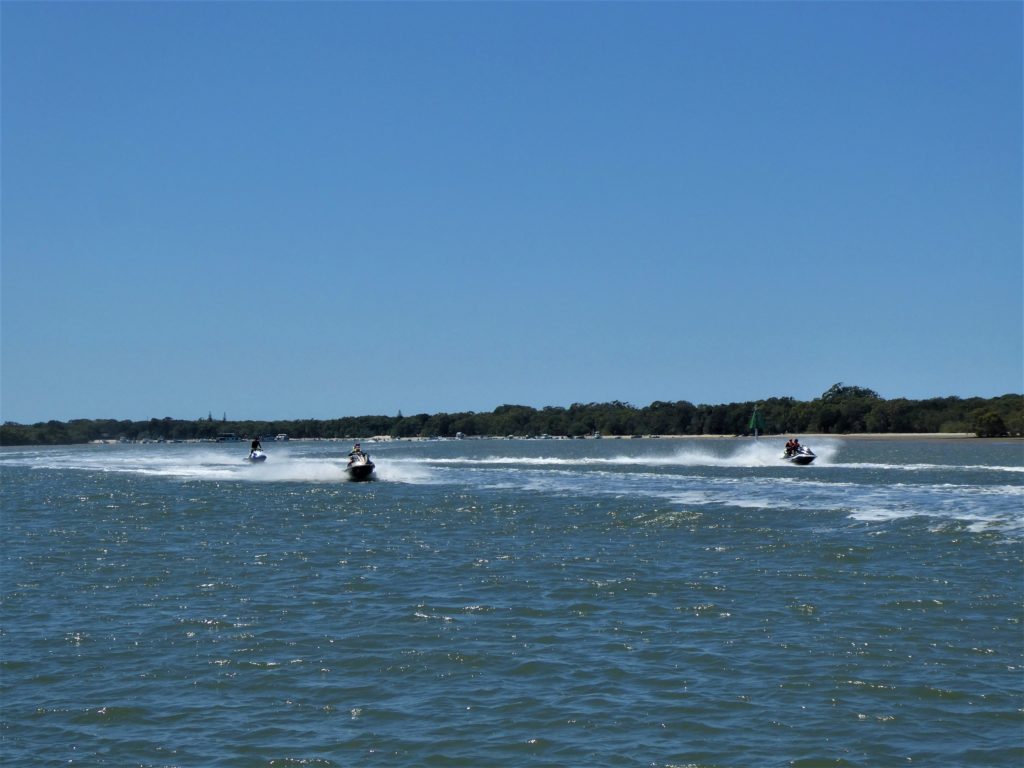 We saw one jetski rescuing a motor boat and one guy in the water cleaning his hull as he had run the boat aground on the mud flats. We had also heard of one old chap being rescued from his sunken houseboat so wondered if this was it…. Always enjoy seeing the birdlife preening itself on the shallow sand banks as we sail through too. Plenty to keep us on our toes that's for sure!
Although it was bright and sunny with beautiful blue skies we were actually wind chilled by the time we arrived at Millionaire's anchorage which is near the top of South Stradbroke Island. Beautiful place and we were looking forward to spending a day exploring there on Monday. So we enjoyed the peace and quiet, had a nice day onboard, and loved seeing another sunset at anchor.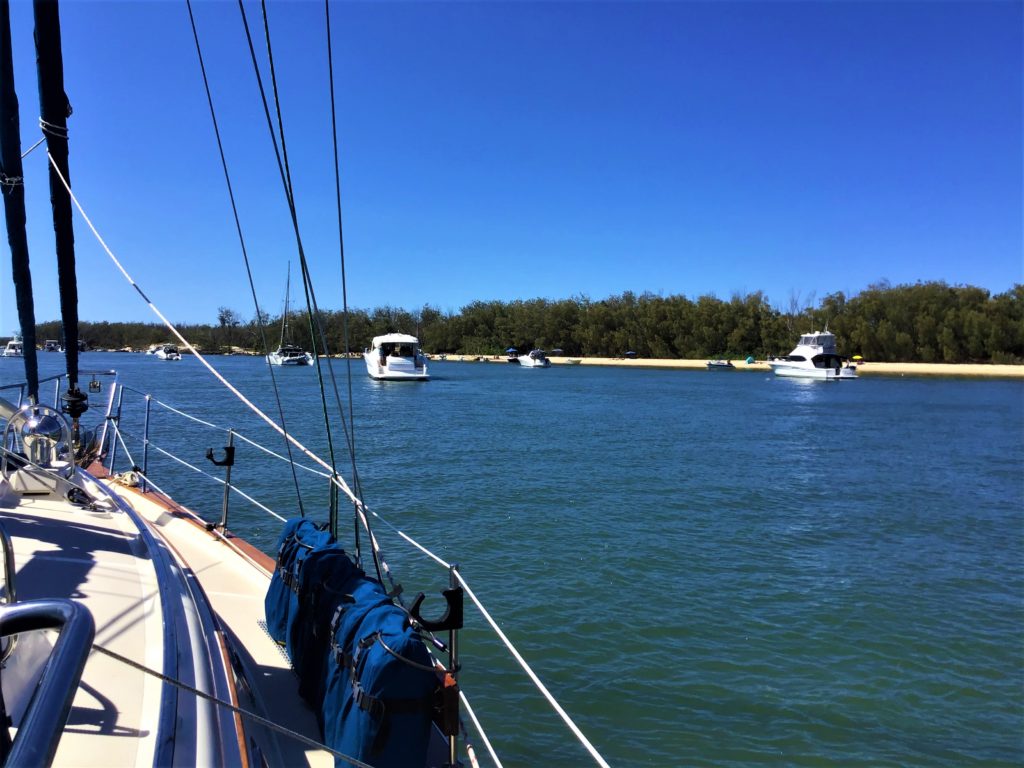 Overnight the wind picked up and we were constantly woken by the noise of the anchor chain as it strained against the hull and we were experiencing wind over tide conditions so lots of slapping and nodding going on. Overall definitely not a relaxing or refreshing night's sleep…..
At 6am this morning (Monday) we decided to make a quick exit as the forecast had deteriorated and there was not going to be any respite for a few days to come. So we headed back on ourselves and up another river towards the small community of Jacobs Well which would give us more shelter. The route into this anchorage has some shallow spots so we left straight away as it was virtually high tide. We moved through these areas very slowly and cautiously but managed with no problems and anchored out of the channel on the housing side of the public boat ramp (also avoiding the public mooring area behind us). This is a very busy ramp so lots of boat traffic but at least we have some respite from the wind which continues to blow pretty hard.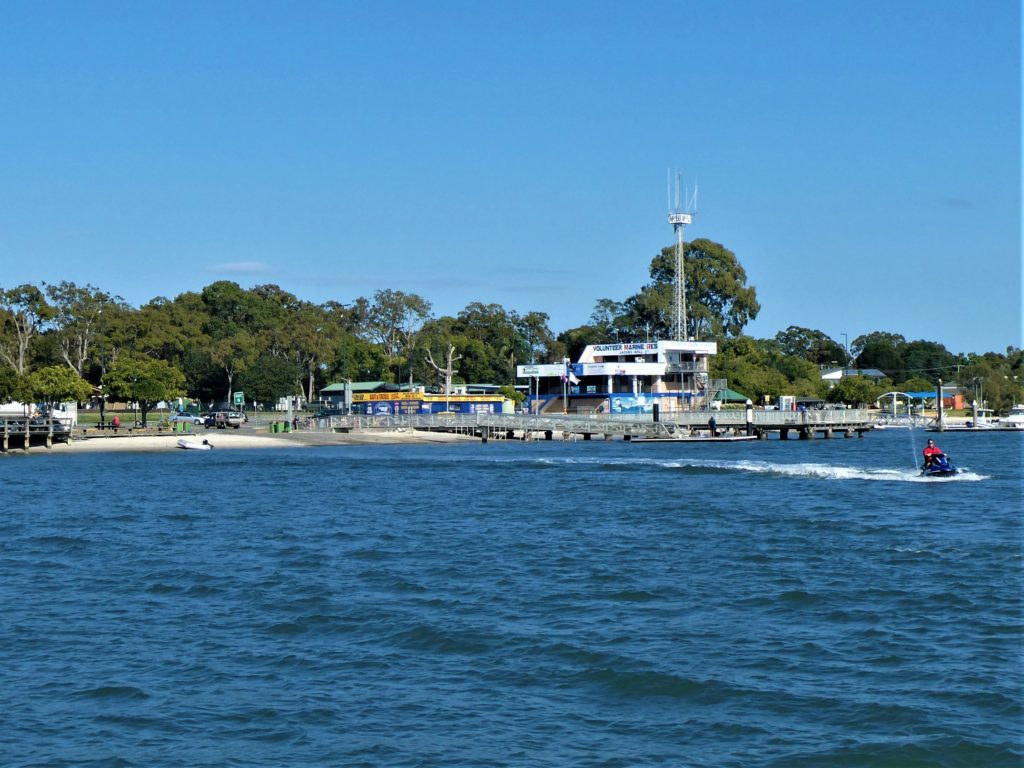 We'll stay on board today and catch up on some sleep….and, hopefully, we'll get better conditions tomorrow so we can go ashore and check this sleepy little place out a bit more. And it's still pretty chilly….are you sure we're in Australia LOL?!?
Take care everybody and stay safe. Bye for now.
Jan