Sunday (21st March) we awoke to a hot and steamy day, more rain was expected, and the chance of severe thunderstorms too. Well it wasn't long before the heavens opened yet again and it absolutely chucked it down all day, although thankfully the storms didn't materialise.
The news from the east coast of Australia was awful with south Queensland and New South Wales absolutely deluged with record amounts of rain – this had not happened for at least 60 years so a pretty noteworthy weather event. The rivers around us burst their banks but, thankfully, we were tied to a dock with has large pilings so no concerns for us. The local flooding (which sadly cost some lives) was absolutely awful so here are a few local shots to give you an idea of the scale of this persistent rainy spell.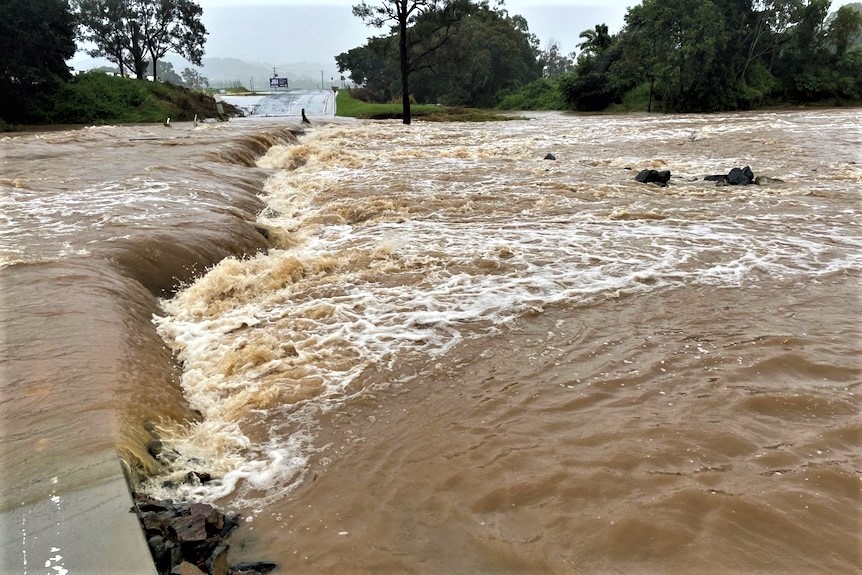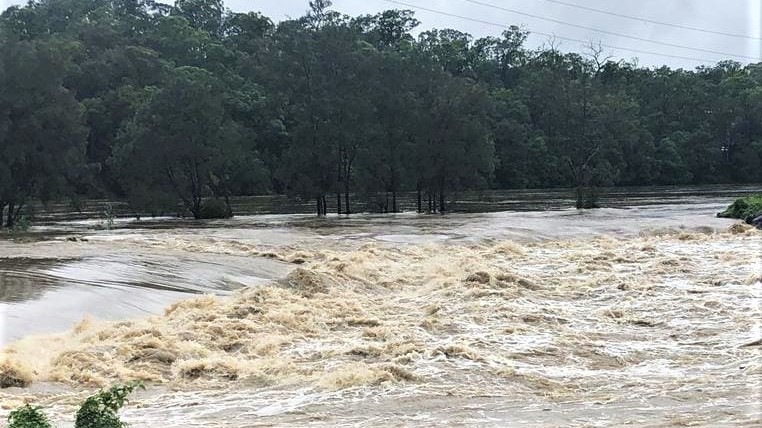 Again we just hunkered down below for the day. Although we did keep ourselves busy for a little while pulling an additional wire through from the bilge pump light to the cockpit. This was a job on our list for a while after losing all our fresh water in Fiji when we were navigating through the reefs and didn't hear the main bilge pump start or notice the red warning light go on. So we are installing a red warning light in the engine panel so that it is easily visible in future. This job was largely done but the final bit would have to wait for when it had stopped raining as we had to take the cover off the engine panel.
Monday morning we headed into Southport in the car with Steve who was having an epidural to hopefully ease his back pain and we were going to drive him back. On the way we headed to the Boatworks to pick up some mail (Richard's replacement credit card had arrived) and were quite surprised by the width of the Coomera river and the height of the water relative to the road bridges.
We dropped Steve off but, because of Covid restrictions, we were not allowed to wait in the clinic for him so went for a wander down the road in the pouring rain to find a coffee. We ended up in KFC which was the nearest place open we could find and, by the time we headed back up the hill to the clinic, Steve was waiting for us. So worked out really well….
We arrived back in Sanctuary cove and had another wet day down below on Morphie. Later on we braved the elements to pop next door to see Steve and Jo as they were packing up for a small road trip and we were going to be keeping an eye on Tamanu for them in their absence. So instructions received, a couple of cold ones later, and we were back on board for a quiet night.
Tuesday morning it was still raining hard! So we were hermits down below again. Steve and Jo had left as planned and we were relieved to hear from them later that day that they had arrived at their destination safely. Couldn't have been a fun five hour drive in those conditions….
Wednesday morning it had finally stopped raining after over a week of bad weather. Woo hoo!!
So we finished the installation of the auto bilge light in the cockpit and then washed the boat down of all the dirt from the rain. The water in the marina was a horrible deep brown colour from run off further up the river. Luckily we are not directly in the main channel of the river so we didn't have to worry about floating debris either.
Thursday morning and it was sunny and hot. So we quickly got ourselves ready to go to the pool for the day. So excited LOL. We managed to get our favourite bed (with shade) in the adults section of the pool and it was really quiet – so we had ample access to the pool floaties to just bob around in the sun. Was a lovely day.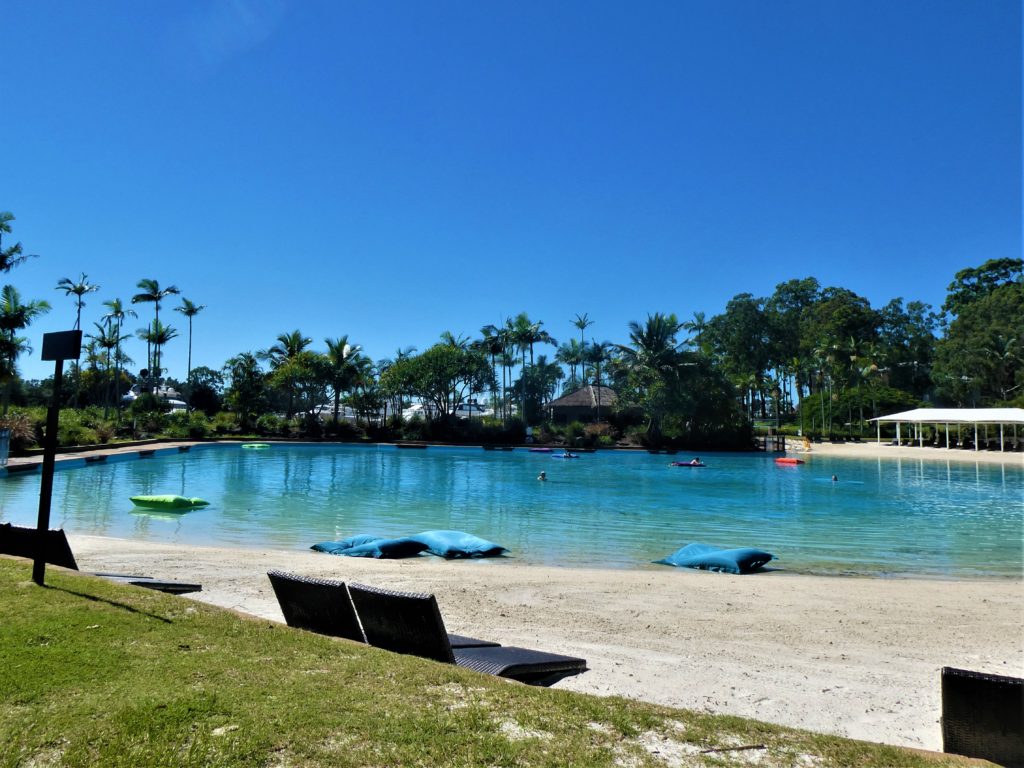 Friday we had breakfast out at Pier B (and caught up with David again) before heading to the pool for another day. We really enjoyed it and can't quite believe how quickly the days pass when we are doing nothing but reading, relaxing and bobbing. By the afternoon the pool was getting a bit busier so we thought the weekend guests had probably arrived. Before we headed back to Morphie for the night we had a couple of Happy Hour drinks in the hotel's pool bar. Had been a great day.
Saturday morning and, again, it was a lovely day although there were a few clouds around. We spent the day by the pool admiring the cheek of the ibis birds who are called "bin chickens" here in Australia because of their tendency to eat anything that is left lying around – they certainly enjoyed demolishing the bowl of chips left by some hotel guests.
We watched a helicopter come in to land and we think this was the start of a wedding as the party was seen going through the back of the hotel to their reception later in the day. Oh yes and we also spotted some strange seagulls who looked like they had stuck their beaks and legs into a tin of red paint.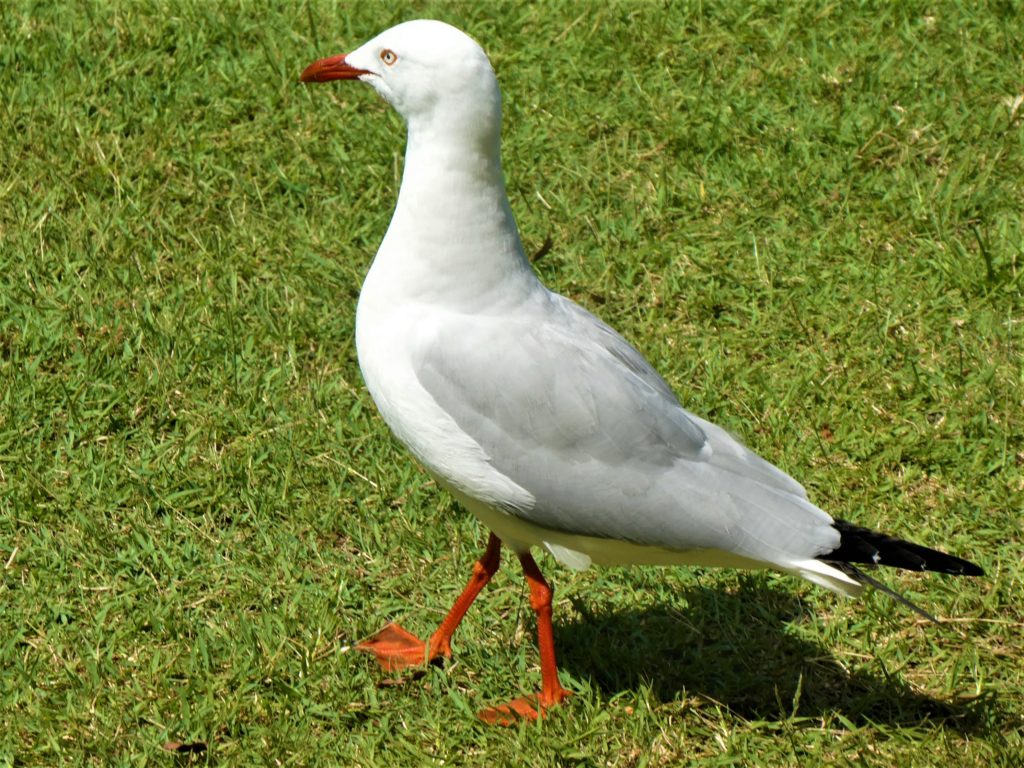 On the way to the pool bar for Happy Hour we had a quick visit with some of the hotel's kangaroos who were pretty chilled out keeping the grass trimmed. After sundowners we headed back to Morphie for another quiet night in.
This morning (Sunday) and we are having a quiet time on board before heading to the village pizzeria to meet Nigel and Sandra for the afternoon, so looking forward to catching up with them again. The weather forecast has changed a bit for the forthcoming week but here's hoping for a nice Easter weekend so we can make the most of the activities going on within the marina village – there is even live music on the village green scheduled so that should be fun. Happy Easter to all.
So take care everyone and enjoy the further lifting of restrictions at home. Must be quite exciting to be able to see more people again after such a long year of lockdowns and support bubbles (not to mention haircuts and pub gardens). Please be careful and we send love and hugs whilst hoping that the immunisation programme continues to be rolled out so that life can get back to normal quickly. But you still might need a smile to cheer you up so here is an another Australian cutie – this time a baby Quoll.
Jan