Tuesday afternoon (24 August) Steve and Jo (SV Tamanu) having recovered from their overnight passage to Cape Gloucester, came over for sundowners on Morphie. It was lovely to see them again, I think it was about four months ago since we met up with them.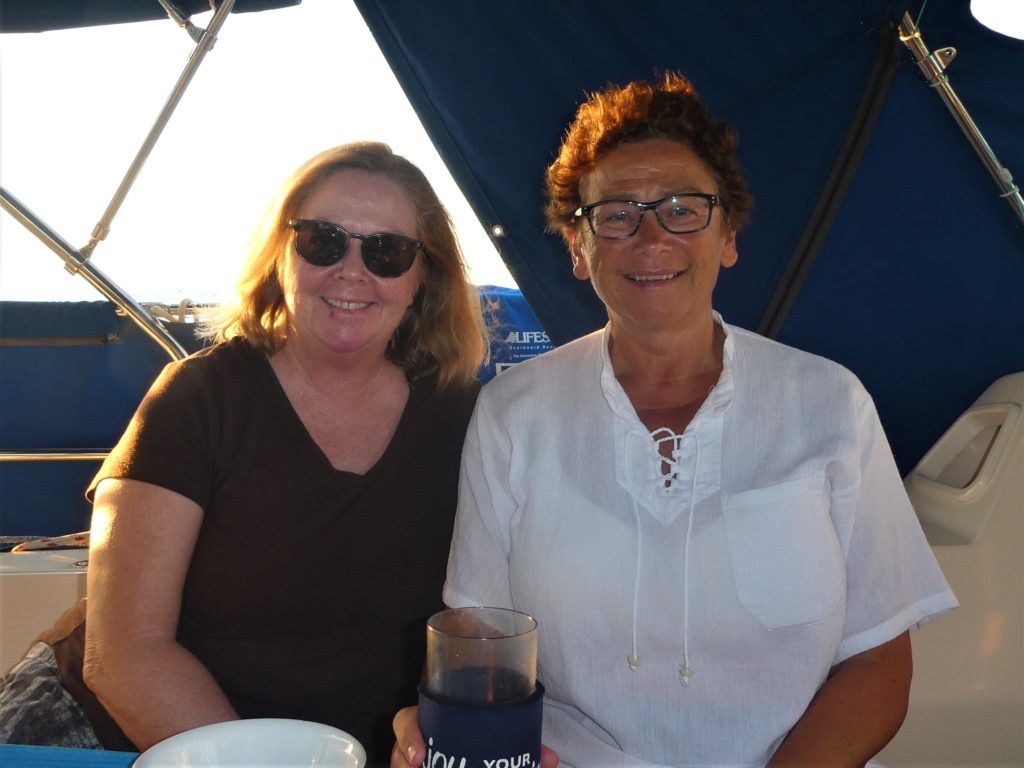 Wednesday morning we had a lazy start. The anchorage at Cape Gloucester was starting to fill up and we wanted to get a bit more space away from the large trawler nearby, so we picked up and found a bit of extra swinging room, which we knew was going to be at a premium during the Shaggers Rendezvous weekend. Around lunchtime we headed ashore to the resort and bumped into Steve and Jo. We hadn't arranged this but we ended up having an impromptu afternoon ashore which was fun. When we got back we enjoyed the sunset before having an early night.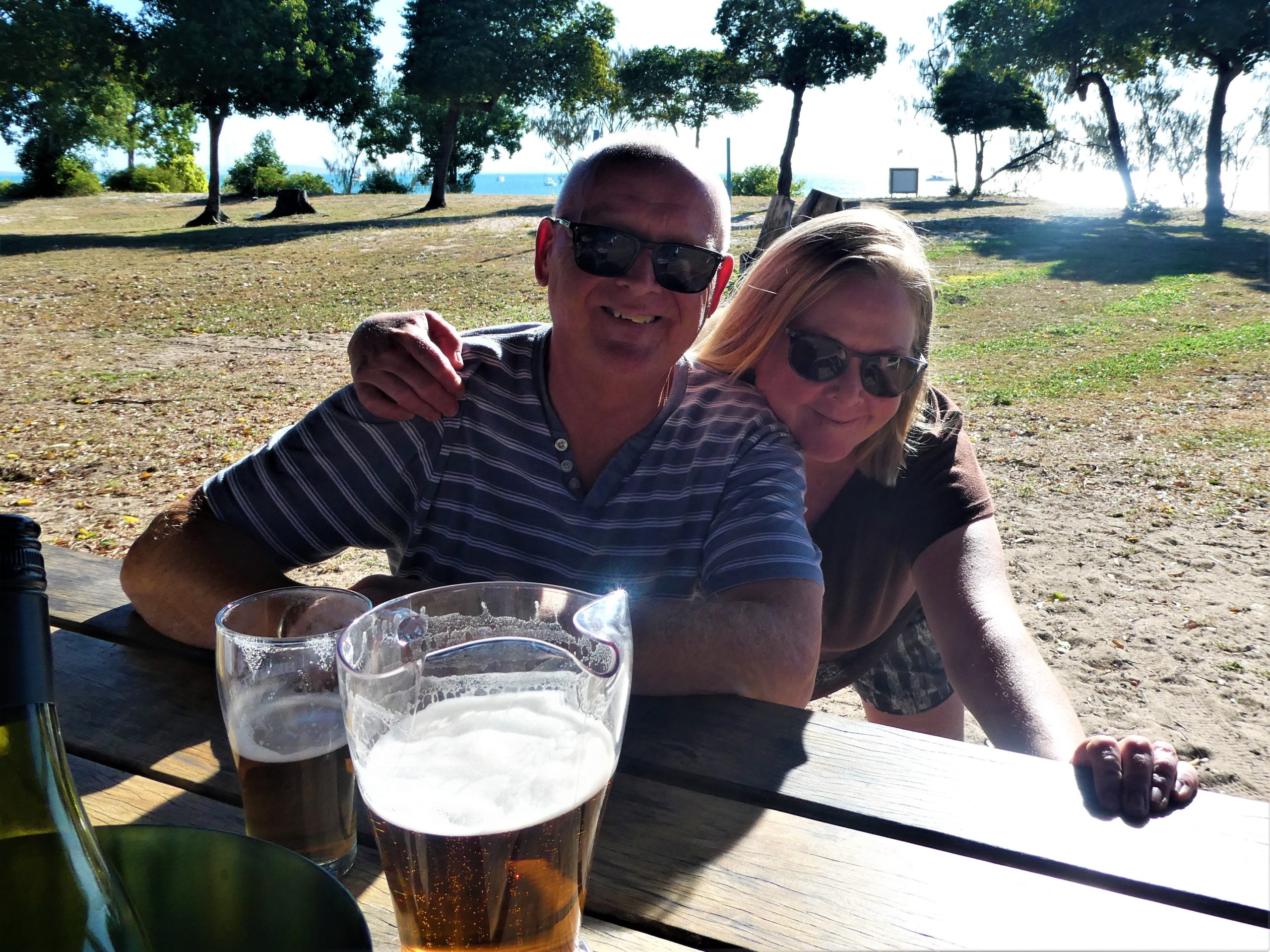 Thursday morning was the SICYC (Shaggers) registration day for the weekend. So we went ashore around 10am for the 'group meet and greet' so had coffee ashore. Was a bit crowded on the beach with dinghy parking….
In the afternoon we headed over to have a cup of tea with Yvonne and Ed on SV SteeLee. Ed built this huge steel yacht himself from scratch. OMG what an amazing achievement – absolutely beautiful – and whereas I was loving the carpentry and wood finishes Richard loved the engine / tool / work room. Wow, has to be the party boat, the huge stern deck is definitely built for it!
Later on we headed over to Tamanu for Steve's curry night – another recipe to try! We were joined by Mark and Marion on SV Zena who are friends with Steve and Jo, but we hadn't met before. I made poppadums, raita and mixed coriander salad to take with me for the starters. Thankfully I didn't need to break into my naan bread supply as they had loads LOL. Another social evening with great food.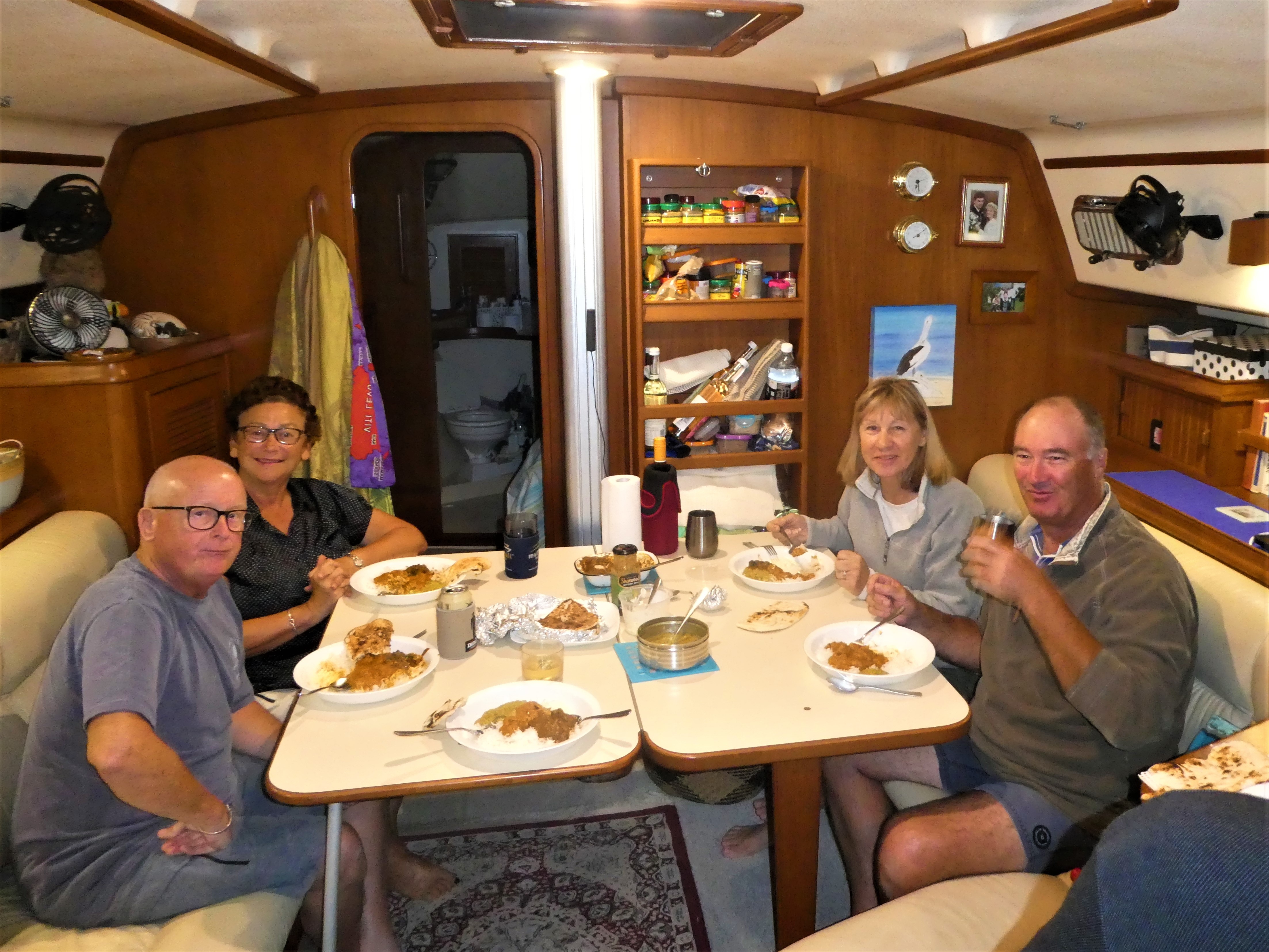 Friday morning it was the official day for the Shag Islet prawn and champagne party between 10am-2pm. Everyone turned up in their dinghies to this little rocky islet and we set up camp on this glorious day and chatted to lots of new people. We enjoyed prawns and the champagne (donated by sponsors) and some other nibbles as we just sat around chatting and watching the kites being flown. My favourite was the pirate ship….. There was even a DJ, some dancing, some singing and a musical jam session to keep us entertained.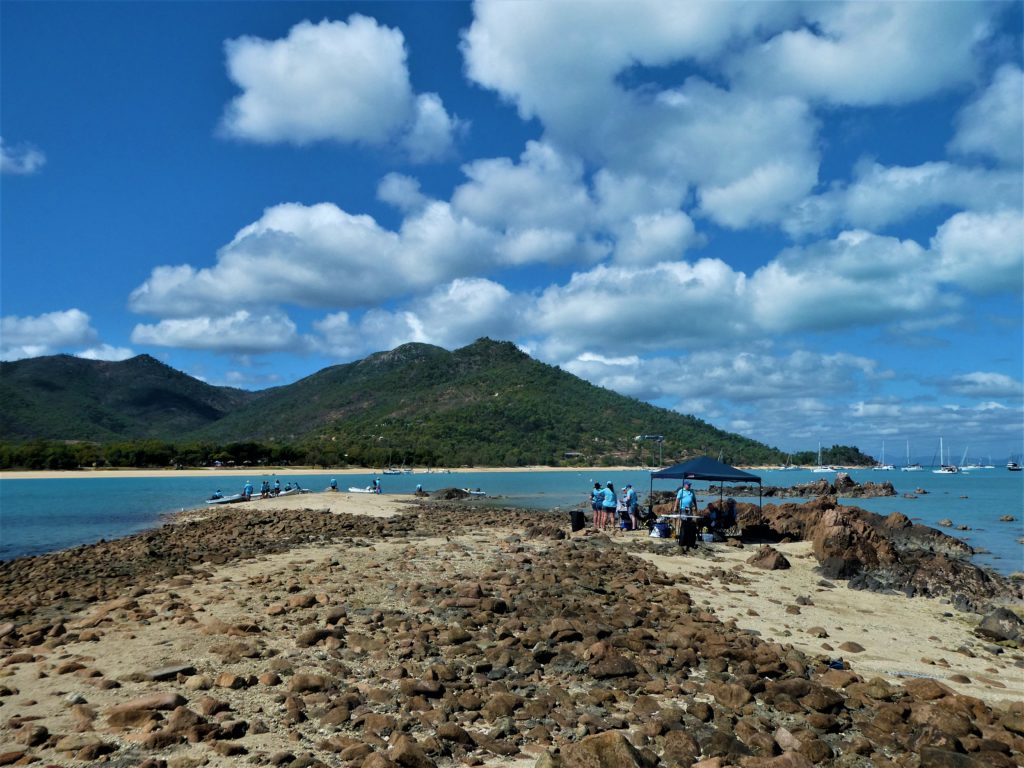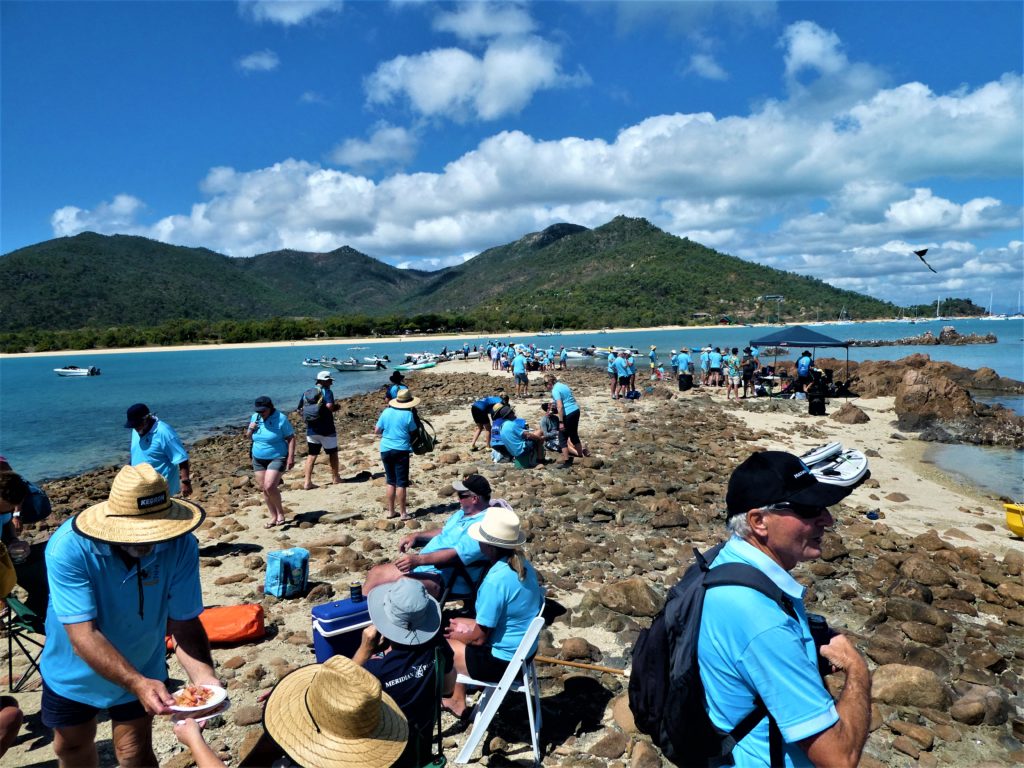 Sadly Jo was unable to join us as she had a job interview during the afternoon so we kept Steve out with us until she was clear of this commitment. Was a lot of fun and the weather couldn't have been more perfect for this outside event. We met lots of people and caught up with (another) Steve and Jo from SV Lightspeed who we had previously met at the Hog's Breath cafe in Airlie at our first Shaggers get together. We then returned to Morphie for a clean up and a bit of a rest, before heading back to the resort for dinner with Yvonne, Ed, Steve, Jo, Mark and Marion. Sadly the food wasn't really up to scratch but we had a nice evening anyway although a bit awkward at the end sitting around the fire pit when a rather inebriated woman refused to return to her boat and wanted to sleep on the beach. We offered her a lift but she wandered off and was found drinking with the staff so we walked away and left her to it…. Oh well…. Lovely moon to finish the night with too.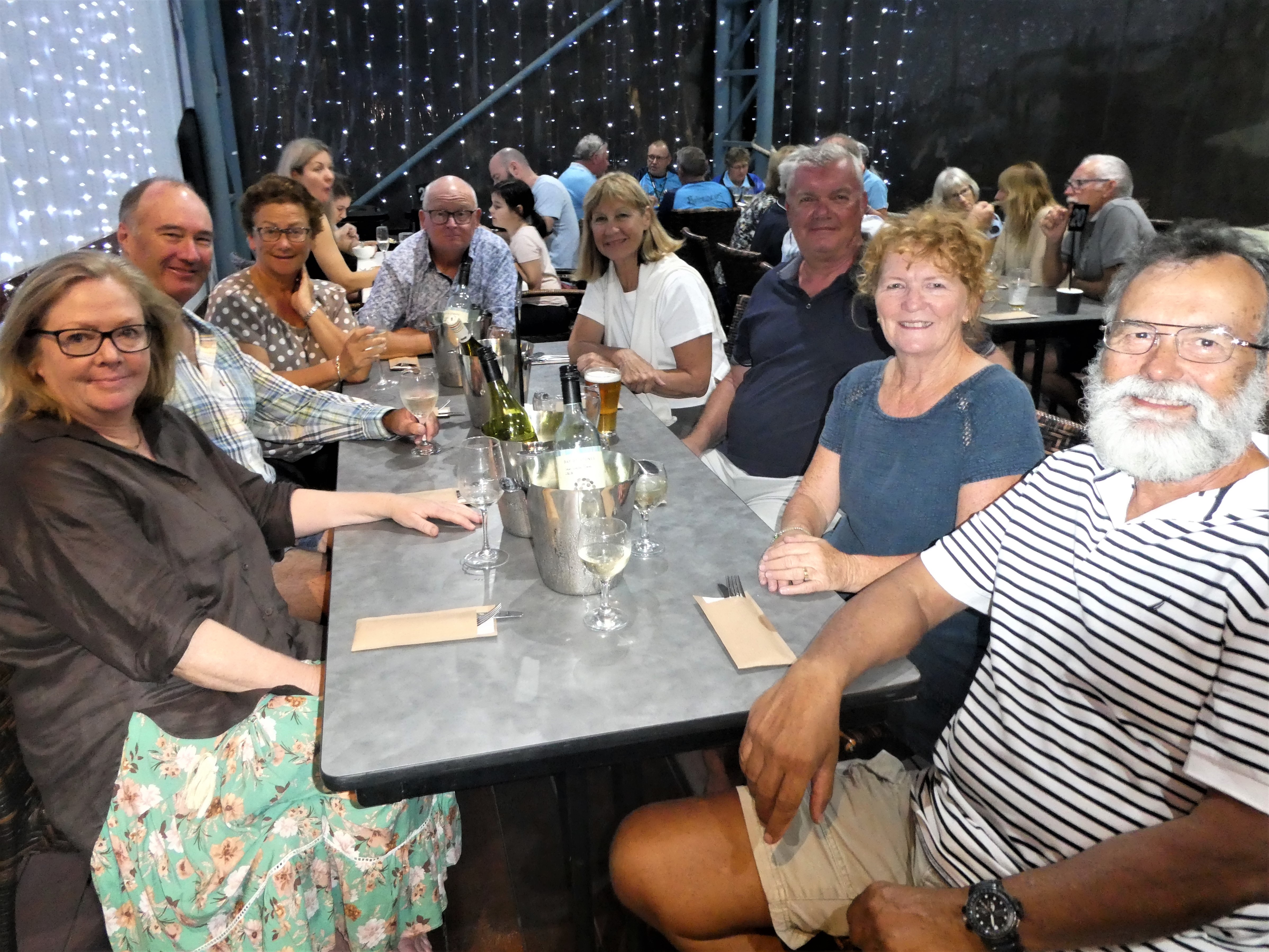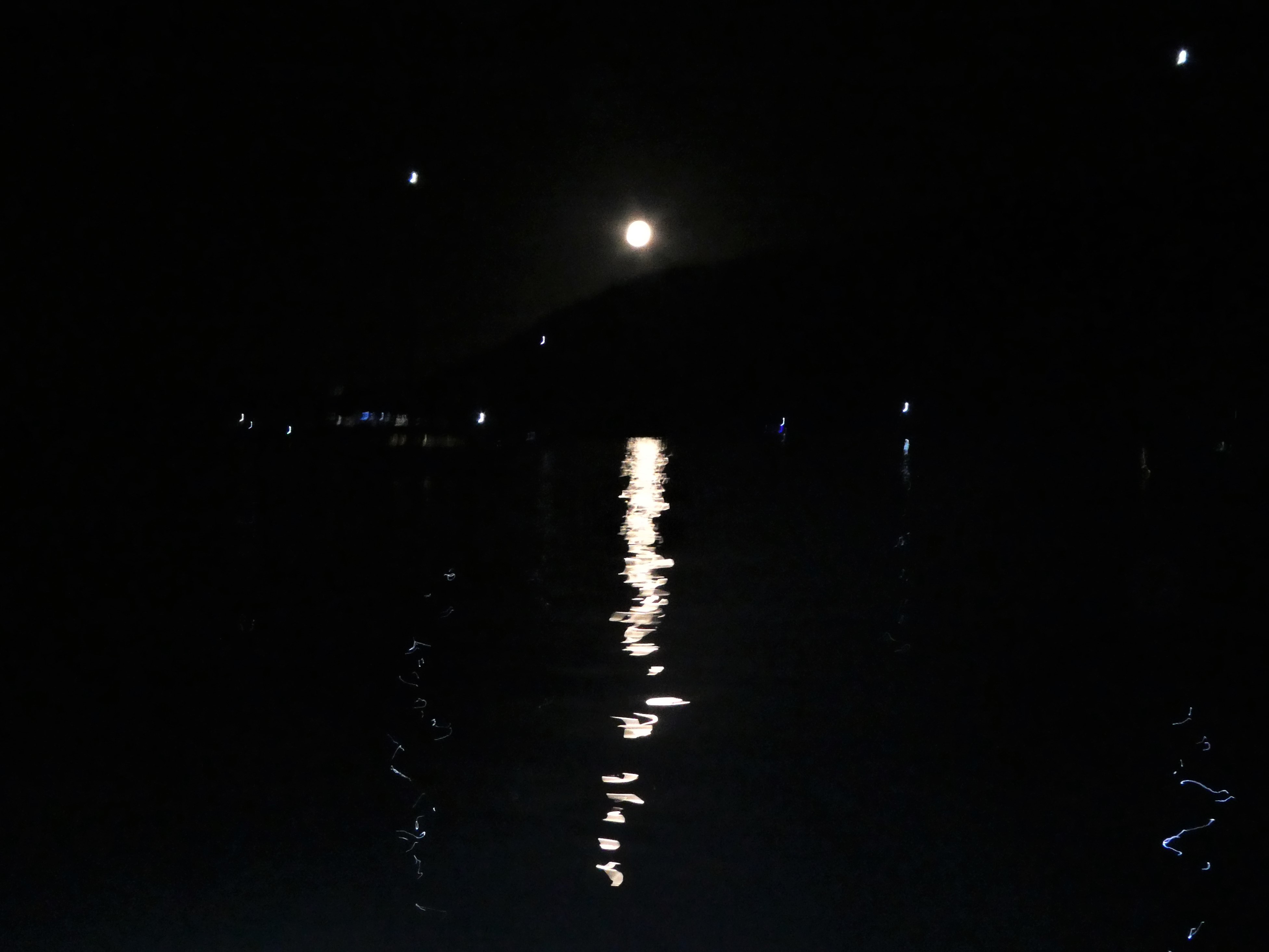 Saturday was a 'free' day in the calendar of events so we had a lazy day on board and did some boat jobs like making water before heading to the beach for sundowners with other Shaggers and returning to Morphie for dinner. There were lots of impromptu beach events going on around us, including an engagement party.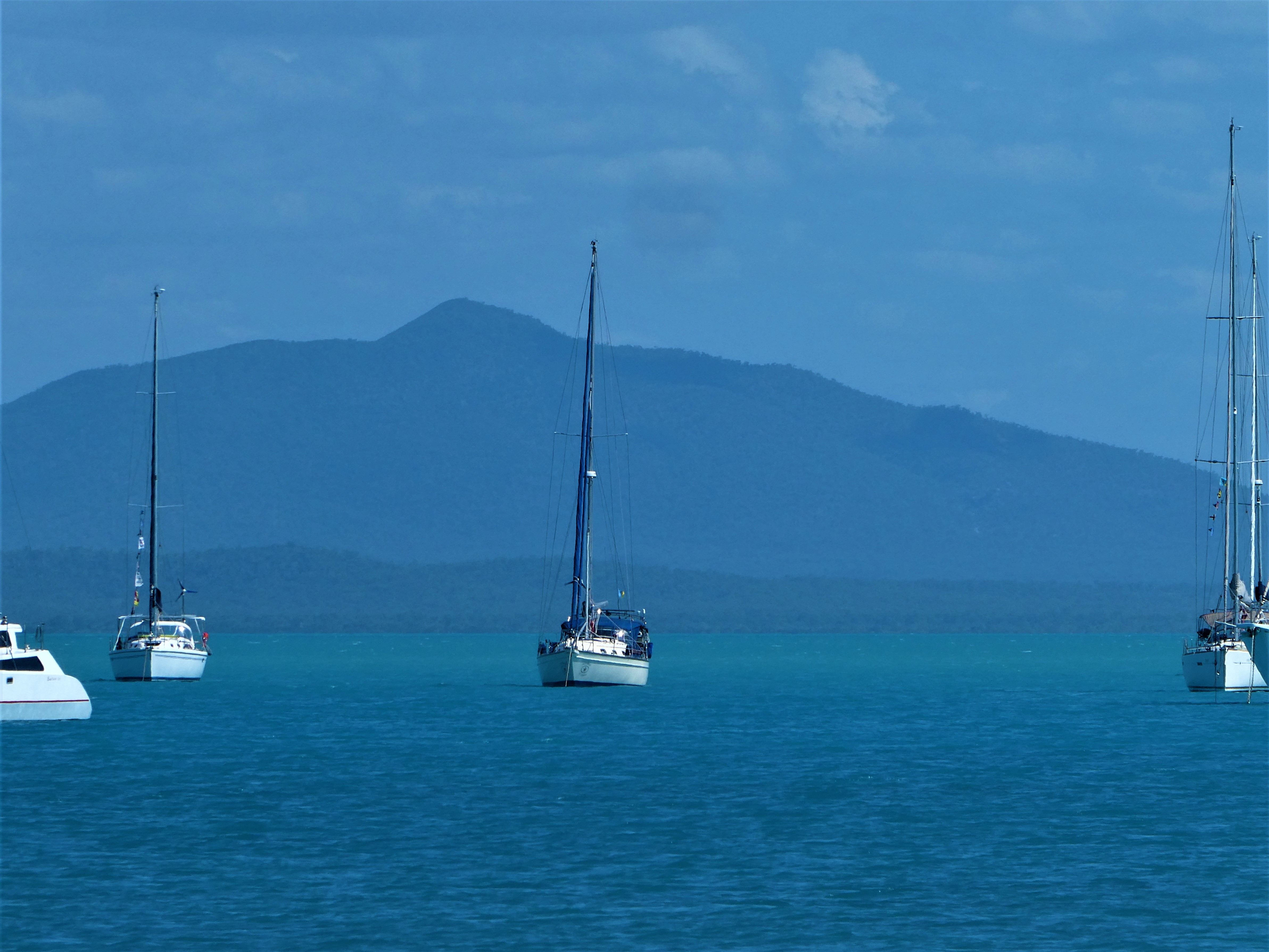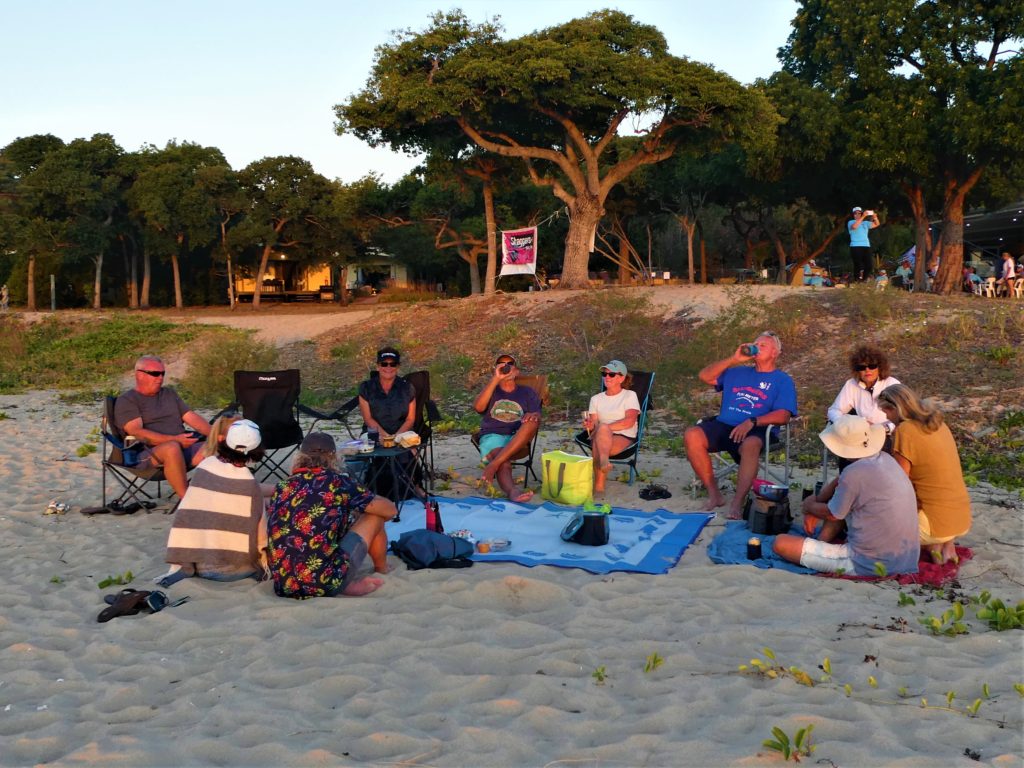 Sunday and this was the final event of the rendezvous weekend – a pirate party at the resort. Well, we didn't make an effort and just wore our Shaggers shirts, but OMG the way people had prepared for this. Must be their annual event of the year to attend LOL. There were raffles, auctions, competitions and even a minute's silence for those who were no longer with us.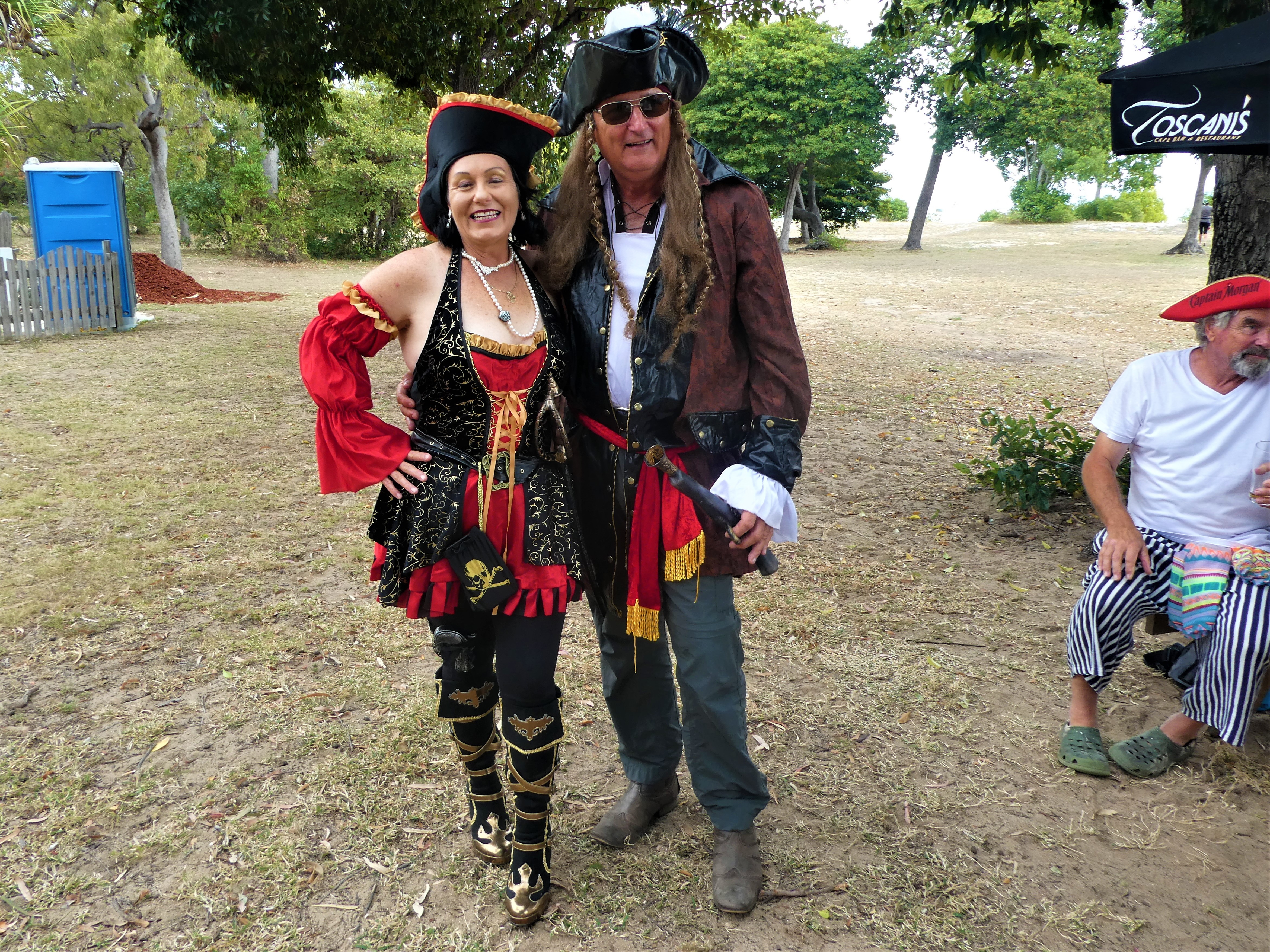 During the afternoon Steve and Mark headed over to the prawn trawler (who anchors in the bay every day) who was selling direct to everyone that wanted to buy some. So we all got our orders in and they went to collect them in readiness for the following day. The whole Shaggers event donates money to prostrate cancer here in Australia so pretty impressive all round, especially with uncertainties over Covid restrictions / lockdowns etc. We had had a great time and were glad to have been part of it.
Monday morning and, as most of the Shaggers had left the anchorage, we moved to the other end of the bay and tucked in behind a hill as we were expecting rain and strong winds over the next few days. Around lunchtime Steve and Jo came by to deliver our prawns that they had kept overnight for us. Beautiful, just beautiful. So I made some sauce for everyone to share / buttered some bread / and cleaned and peeled them in readiness for the afternoon. We also put out another 10m of chain in preparation for the strong winds that are forecast….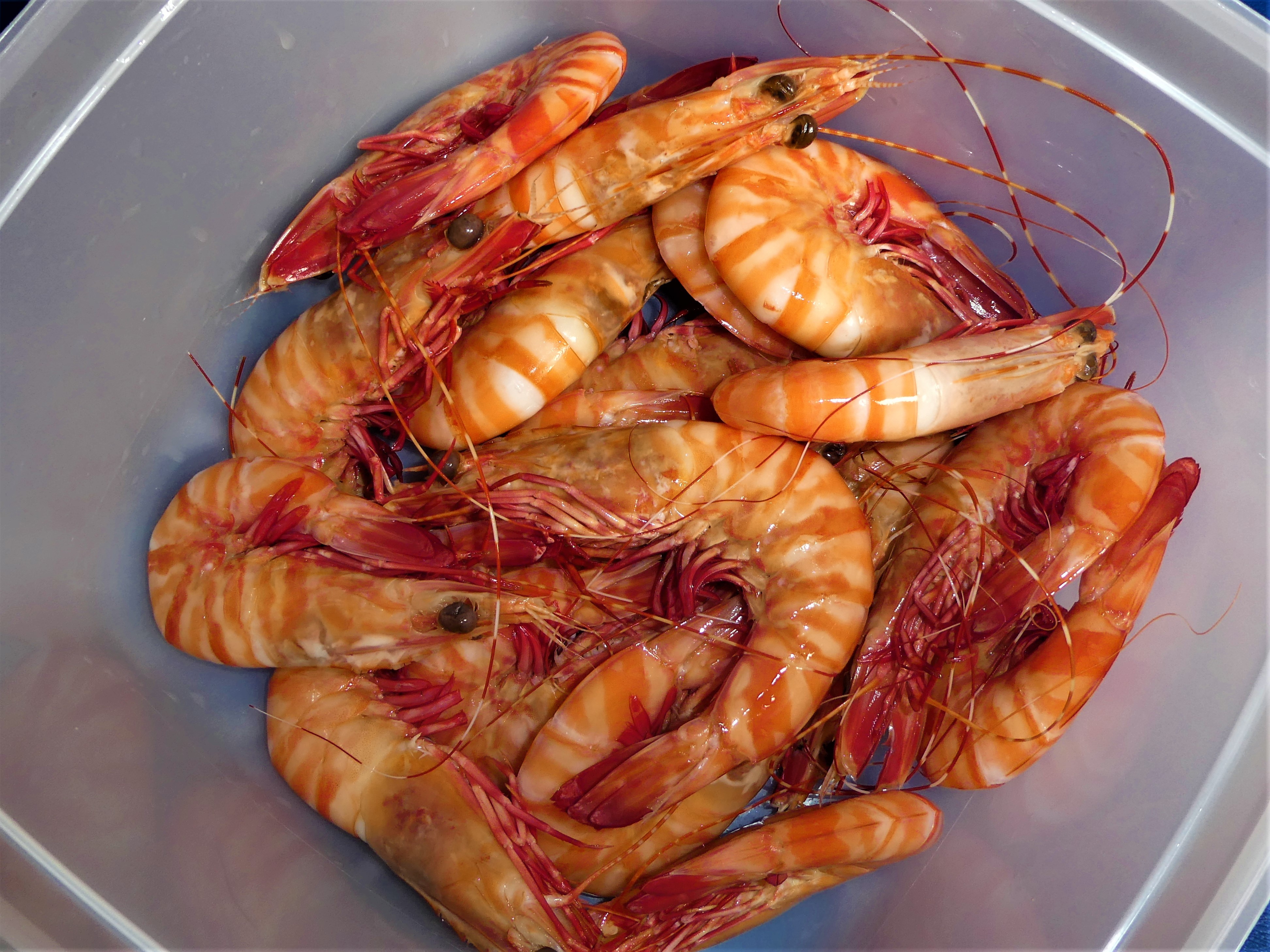 At 2pm we headed over to SV SteeLee and we had a prawn afternoon on their stern deck with Yvonne, Ed, Steve, Jo, Mark, Marion, and another Steve and Jo. We had decided that we were going to abstain from alcohol because we really have got quite pickled over the last few days and I even turned down a glass of champagne whilst there! The wind, by this time, had started to pick up and the clouds were building into some interesting formations – Morphie was straining on her anchor and it was starting to get dark. We decided to leave before the weather deteriorated any more so headed back and, thankfully, we made it back on board just before the heavens opened.
Here's SV SteeLee in the rain behind us….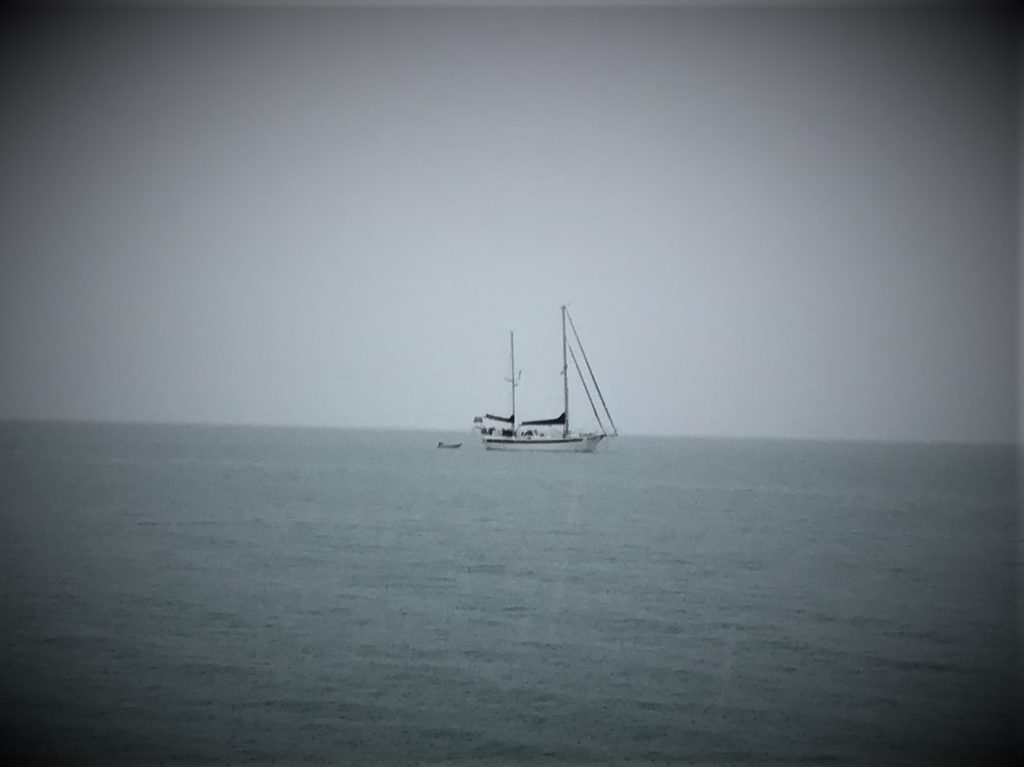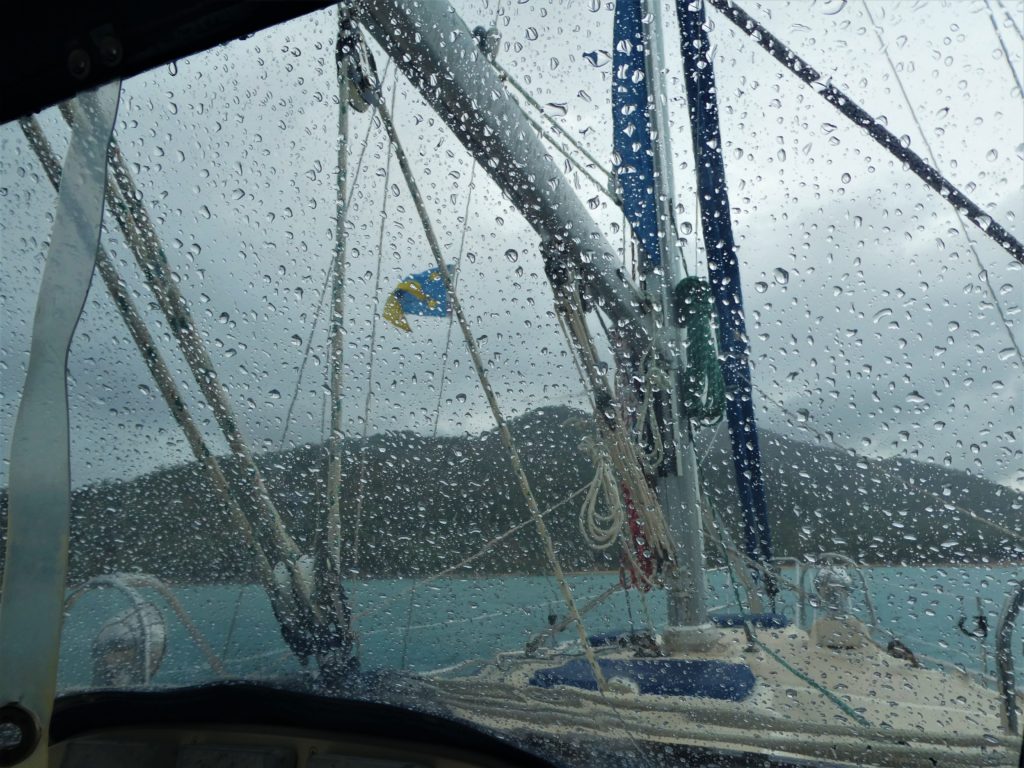 During the afternoon and evening the wind was blowing with 30 knot gusts and it rained heavily. This continued throughout the night and, this morning, Tuesday we are running our engine right now to get hot water for showers later and are sitting out a gusty squall coming through. We are nodding a bit too but at least it is not rolling too badly. Think we'll be staying on board all day today.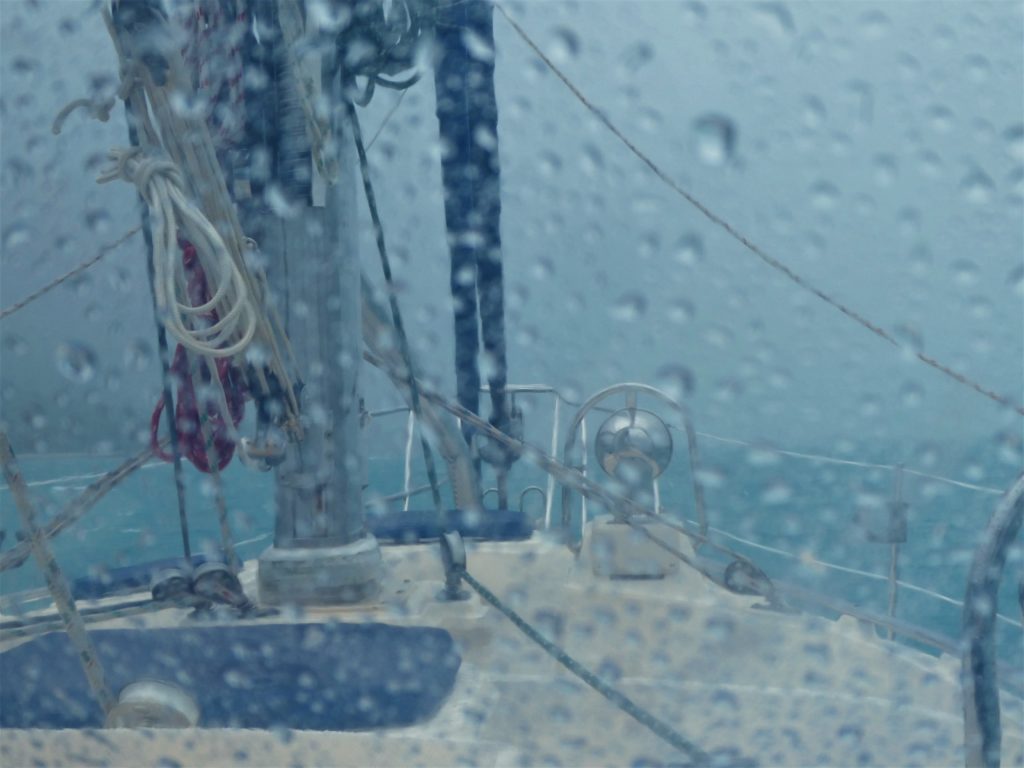 So we'll sit out the bad weather here before continuing our trip north once it has passed. From this point people are heading off in different directions but we do hope to catch up with them along the way either on our trip north or on our return south when the season comes to a close. Covid news from Australia isn't getting any better and a Pfizer-vaccine related death in New Zealand isn't going to help the vaccination programme either with a Federal Government target of 80% needed to avoid future lockdowns – that could be a way into the future! We will just have to see what happens…..
Anyway, that's it for now folks. And, to make you all smile, here are some Australian cuties, this time it's dingo puppies. Sending lots of love and hugs to you all. Please stay safe and well.
Jan