Monday morning (14 March) we headed over to A pier to meet Ernest on SV Crossbones where he made us tea and force fed us TimTams LOL. I returned to Morphie while Richard and Ernest headed out to the Gold Coast City Marina on a mission to buy some good quality varnishing brushes.
While Richard was away I removed the three dorades and started rubbing down the red paint which had started to peel and flake.
When Richard came back he did some varnish keepers on the rail. We then relaxed while waiting for them to dry before I removed the tape and reinstated the dorades back onto the coach roof. Jobs finished for the day we then had a quiet night on board.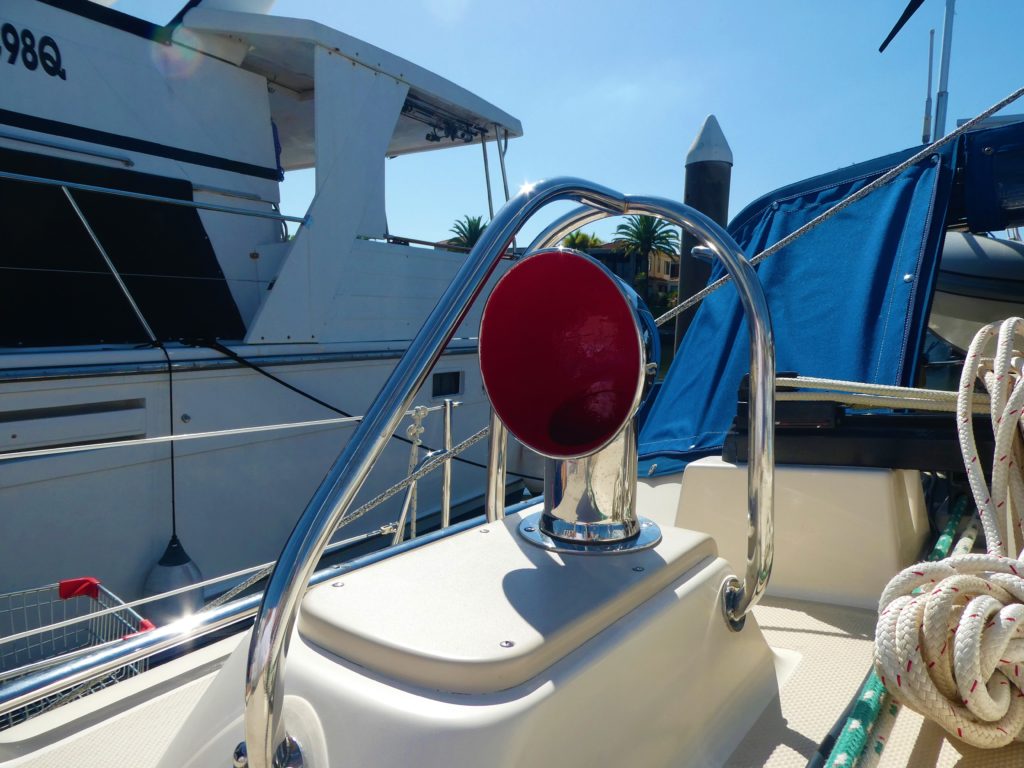 Tuesday morning Richard undertook some sewing repairs whilst I cleaned the saloon fans. Then I cleaned the stainless dorades before removing the tape off the varnish keepers. Boat jobs done yay! In the afternoon we took ourselves off to the tiny Hope Island shopping mall and used the free wifi to do some Netflix downloads. And that was it for the day.
Wednesday I went shopping whilst Richard tidied up – then we chilled out and relaxed – before welcoming Ernest on board for a Mrs Mac's curry night. It was a fun evening and, of course, I forgot to take photos….sigh…..
Thursday we didn't do much either, just relaxing after all those weeks of hard physical graft. I did a bit of shopping and then in the evening we welcomed Barb and Russell (SV Happy Hour) on board for sundowners. Was lovely to catch up with them again although didn't realise Russell was quite so evil until he beat us all playing Uno Flip LOL. Was a lot of fun.
Friday was a laundry and cleaning day. In the evening we met Maryanne and Kyle (SV Begonia) and had a Thai dinner sitting on the rail overlooking the marina. Was great to finally catch up with them properly.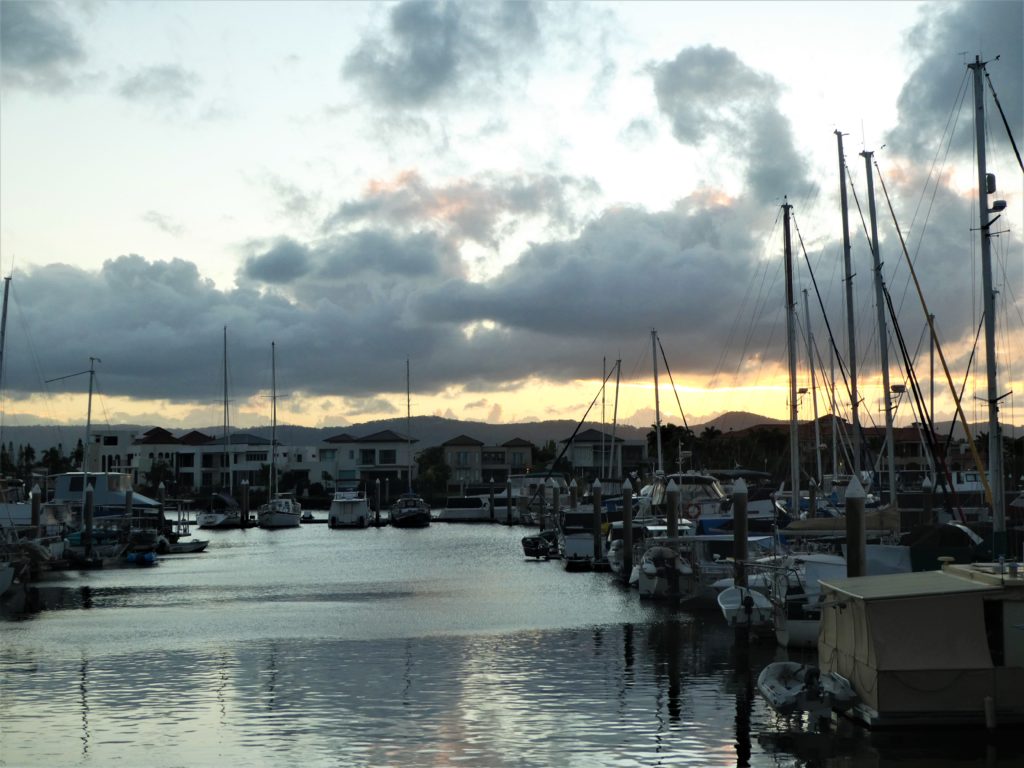 Saturday we had a lazy start and then we were picked up by Maryanne and Kyle and driven out to the Mount Nathan Winery – which is family owned and run. We had a lot of fun with the tastings and to my real surprise I really enjoyed their blueberry honey wine. It is really a liquor so we didn't buy any of that, just a nice bottle of Sauvignon Blanc plus a bottle of bubbles to come away with.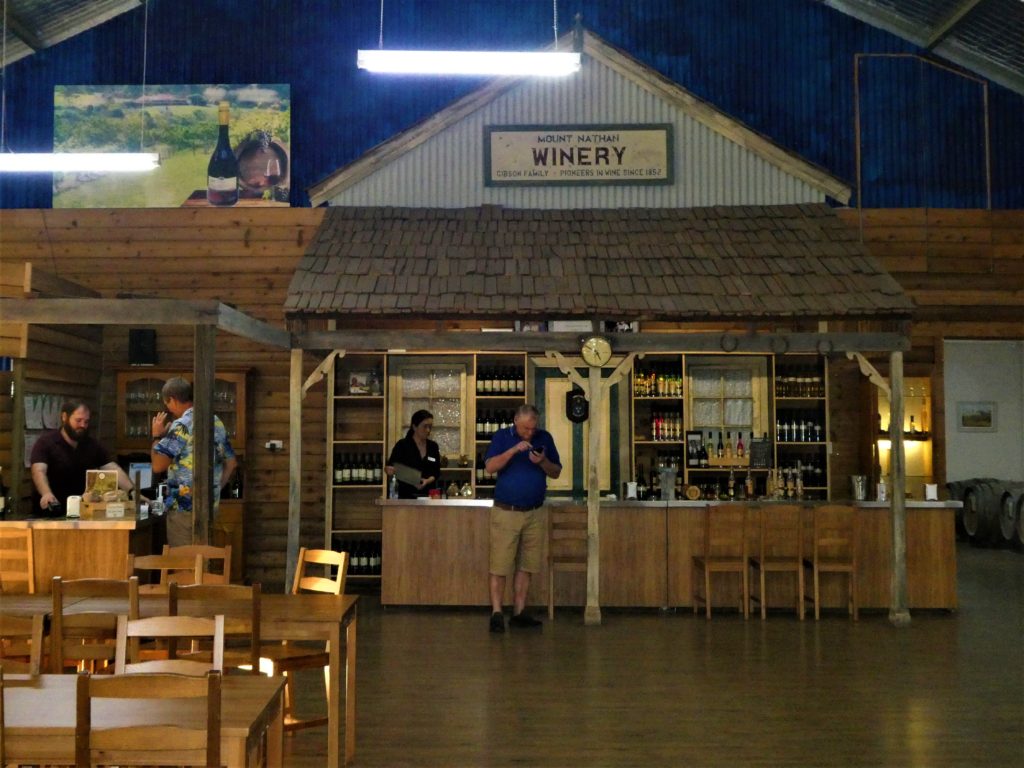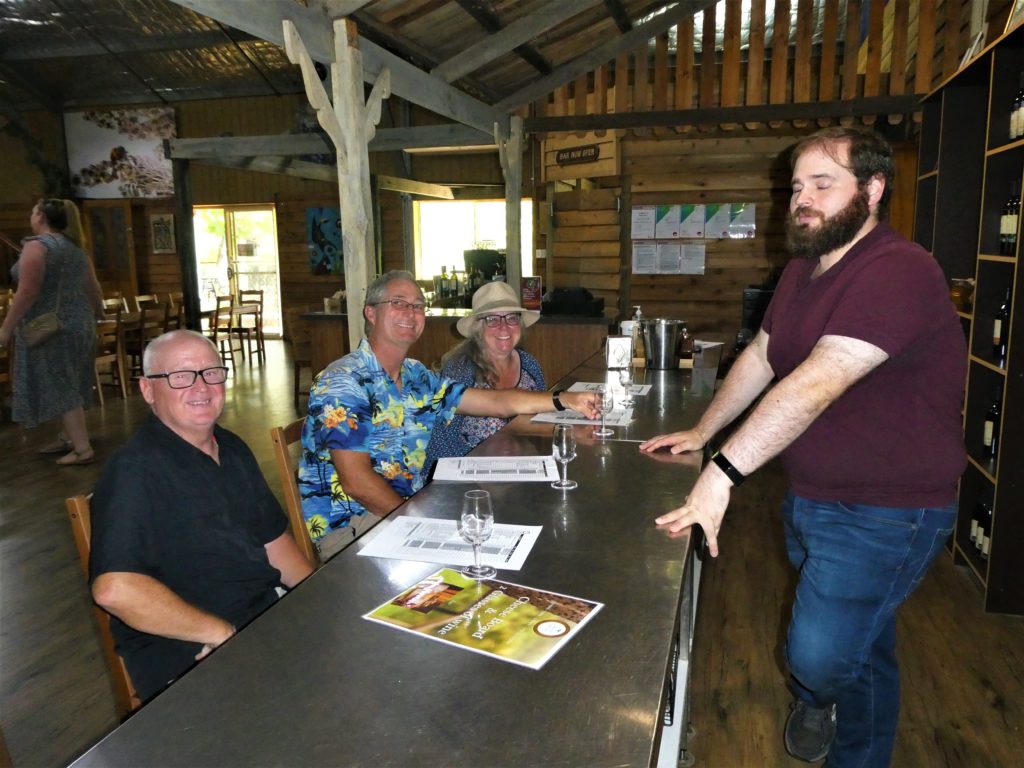 After the tasting session, which was very entertaining, we headed out to sit on the outside deck quaffing wine and eating cheese whilst admiring the gorgeous views into the valley. We chatted, watched the birds, and just thoroughly chilled. It was a really really nice way to spend the afternoon and it was lovely of Maryanne and Kyle to ask us to join then – particularly as they were driving LOL.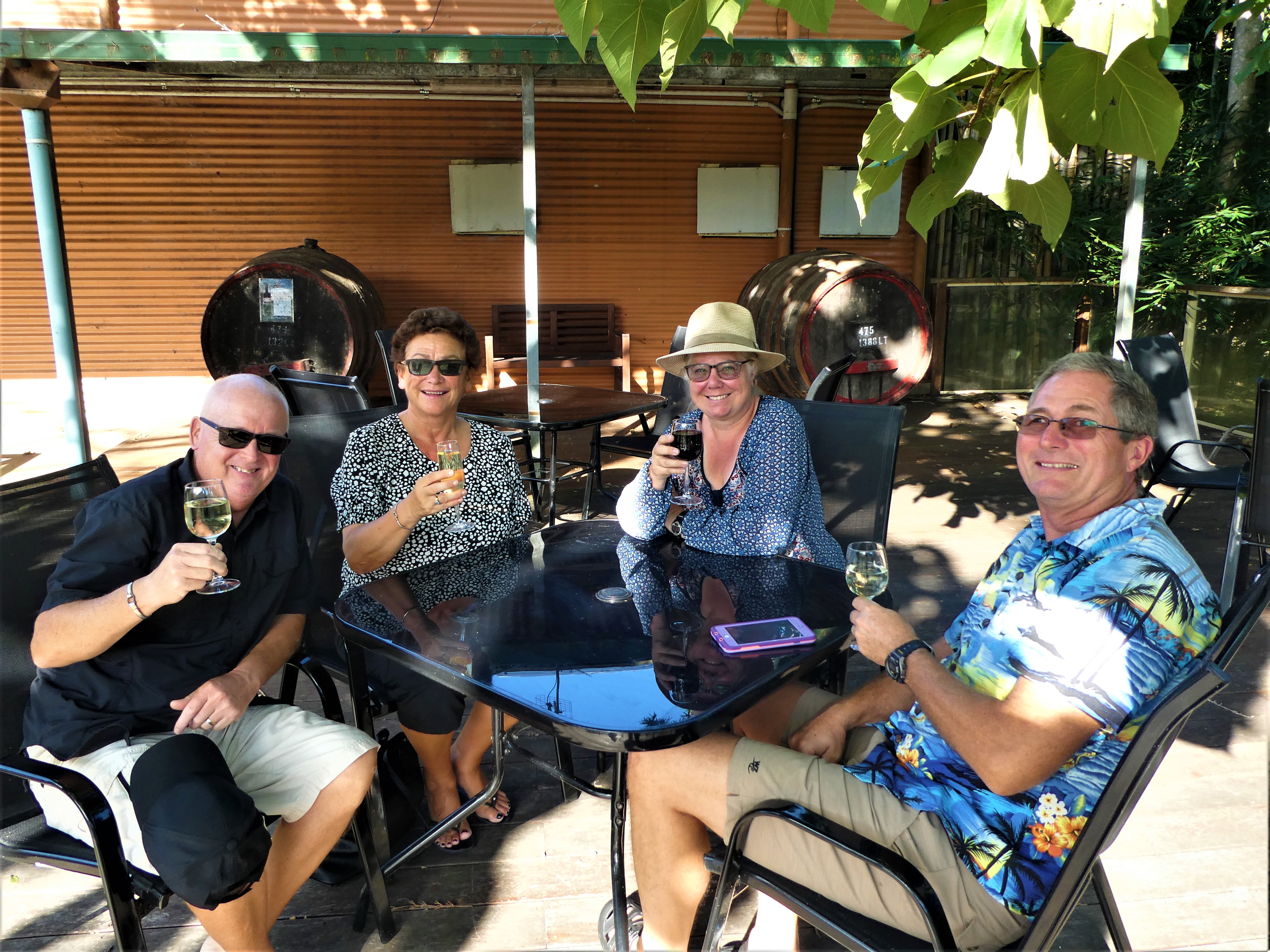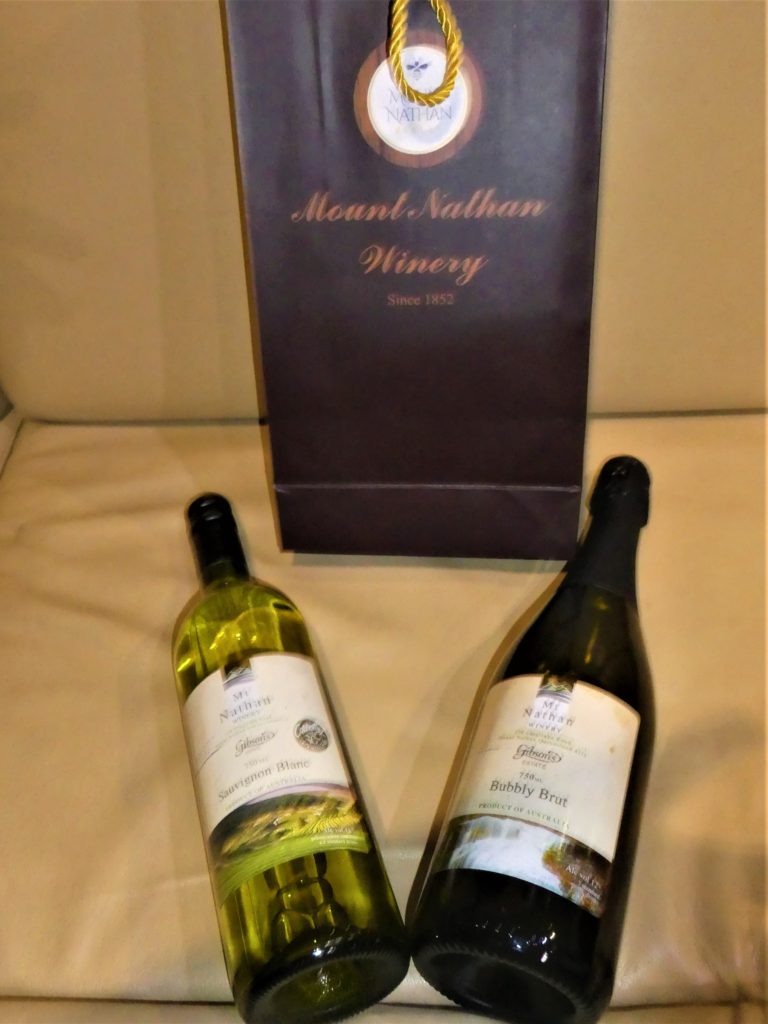 After a late start on Sunday we met Sandra and Nigel at the Blue Water restaurant and enjoyed a really good meal – I had the amazing ribs, just can't get enough of those! There was live music and the young woman had a good voice which was enthusiastically clapped and cheered on by supporters so was a bit loud at times but certainly plenty of good people watching opportunities and a great atmosphere. After a leisurely lunch we headed back to Morphie and enjoyed the rest of the evening together.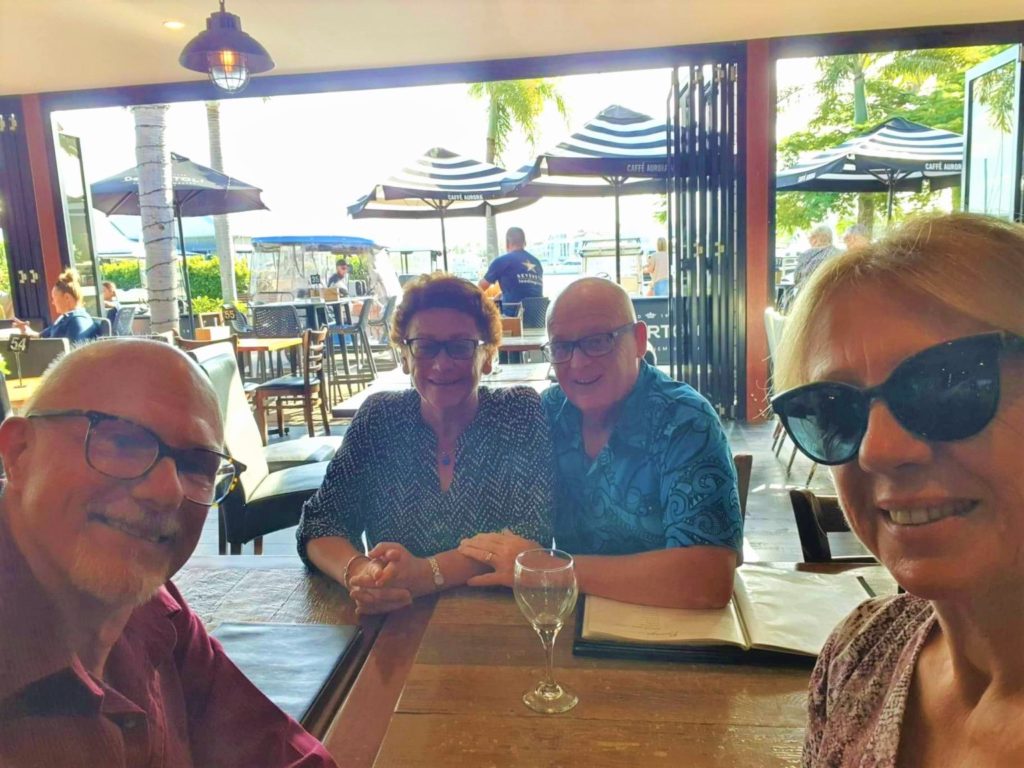 Monday was spent relaxing until we headed up the dock to have sundowners with Clive and Ann on SV Ishara. Ishara is a Little Harbour 50 – another American-built boat – which is absolutely beautiful. If we were in the market we would definitely be interested in her as she is up for sale. Have never seen one of these before and OMG just simply amazing! We enjoyed sitting in their cockpit as the sun went down before returning to Morphie for a quiet night in.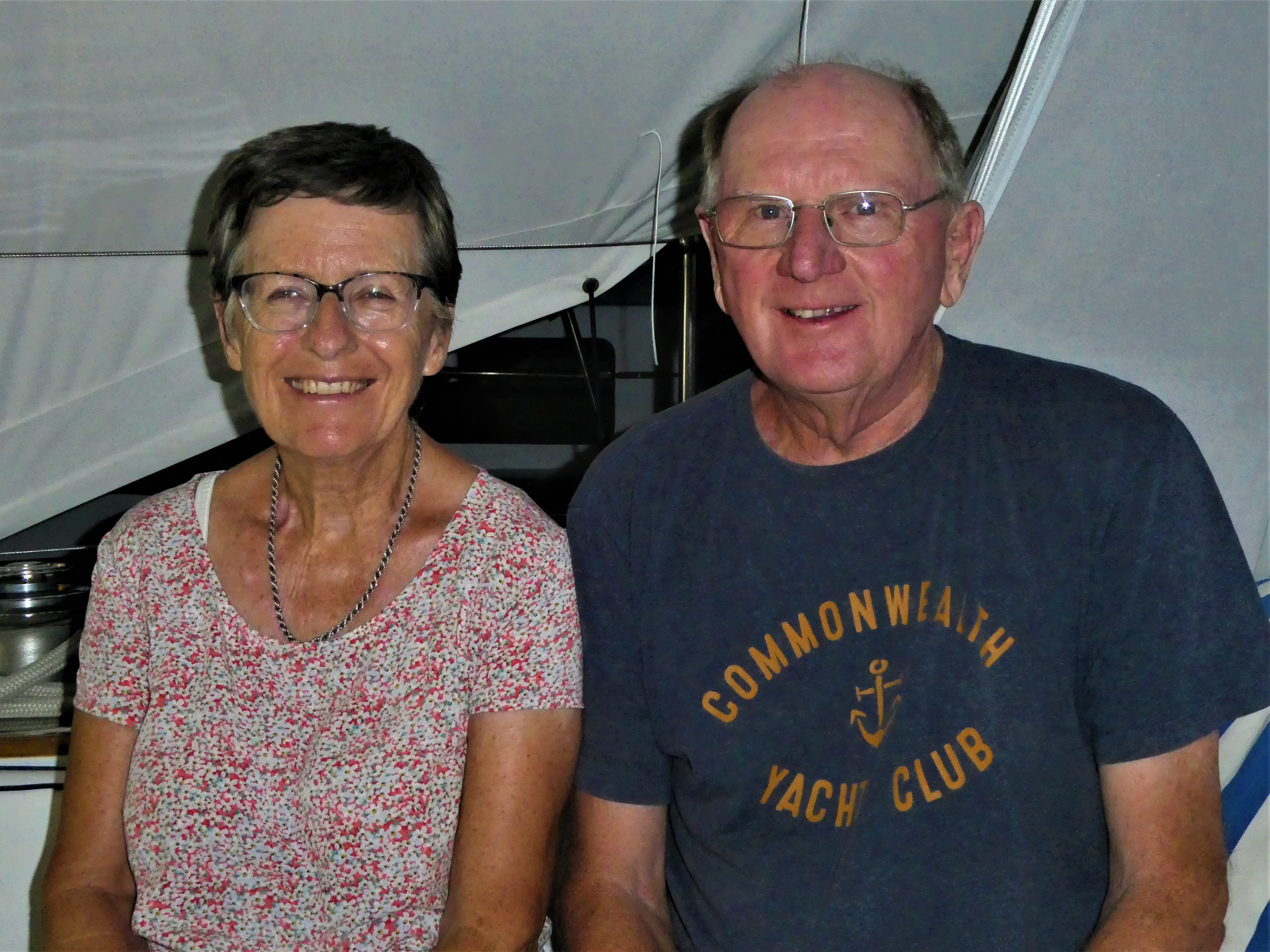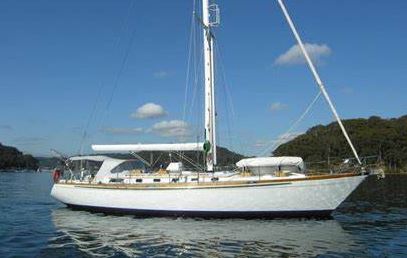 Tuesday we did some errands and some paperwork that needed looking at and, again, Ernest very kindly drove us around. On return we just chilled for the rest of the day before heading back to the Blue Water bar and grill for our dinner. The sunset was absolutely spectacular with really calm flat water in the marina. We didn't realise it was "two for one night" on both food and drink so that was even better. As we finished our dinner a guy turns up and starts to introduce a musical bingo evening. Free to enter and fun to play – a bit like "name that tune" but having to mark them off on printed bingo cards. Luckily the music was based in the 60s, 70s, 80s and 90s so we had a chance to recognise most of them LOL. And, of course, we didn't win anything….
Today, Wednesday, not much going on although we are meeting Ernest for dinner tonight so looking forward to that. Tomorrow the excitement is building as we plan to return to the Boatworks (by dinghy up the river) to pick up some pieces at the chandlery so will take the opportunity to see some friends and just generally swan around LOL.
Oh yes and because we have had some settled weather of late, today, we find that the damn Australian weather is about to bite us again. The East Coast has been warned of another extended rain bomb coming our way – just what people need after the devastation caused from the last floods! Fingers crossed that it isn't as bad as predicted….

So that wraps up this blog. At the minute, at home, some friends are dealing with the most shocking and devastating situation, so please just look after yourselves and each other. We love you all and send lots of hugs. So on that somber note, it is time for your Australian cutie to make you smile – this one is a pufferfish and one of my favourites to see when diving. How can you not love this really cute little face?!?
Bye for now, Jan