Friday and Saturday were pretty lazy days with a bit of cleaning and laundry thrown in followed by quiet nights on board catching up on some Netflix content. We did, however, have dinner out one night and enjoyed a fabulous sunset along the way too.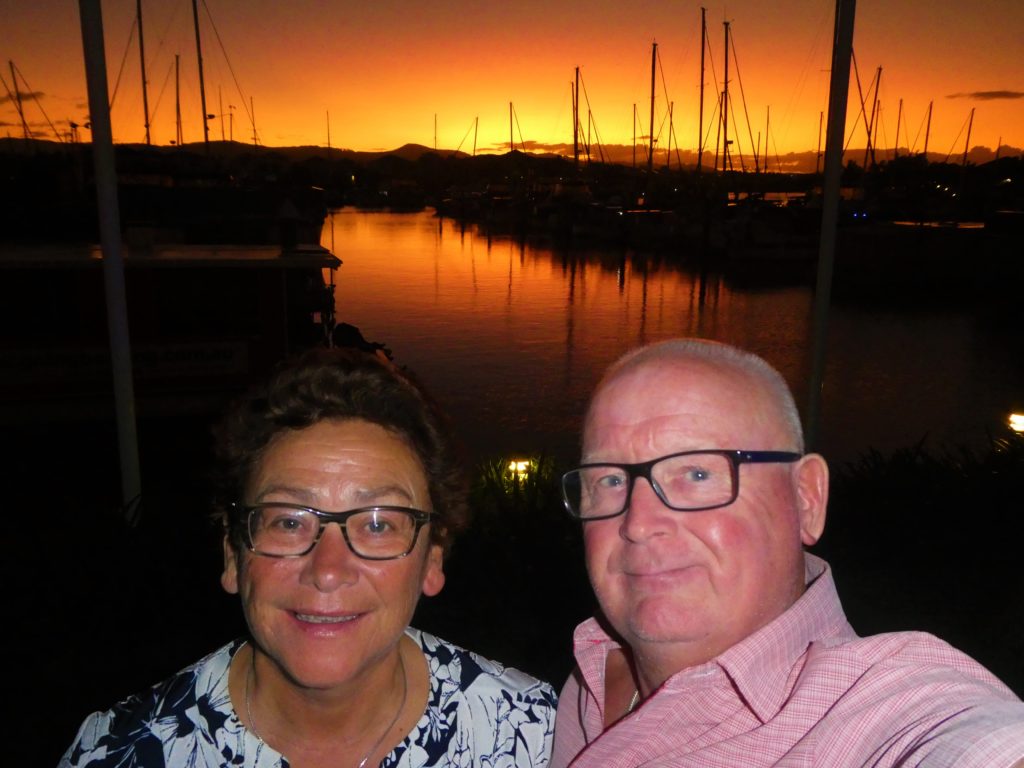 Sunday we had a leisurely start before heading over late afternoon to Sandra and Nigel's for a typical English roast dinner. Great food, fab company and even a lovely little parakeet on the tree watching us chatting on the balcony. Was absolutely lovely.
Monday morning we packed a bag and headed north to Hemmant to visit with Ed and Yvonne (SV Steelee). Wow, what an amazing home – so close to Brisbane but in the middle of the country. Huge outside deck overlooking beautiful countryside and paddocks. Yvonne put on a great grazing spread lunch for us and we just chatted and caught up. Was so lovely to see them again.
Later on we rested up before enjoying the most amazing BBQ dinner on the deck under a full moon. We even got presents….completely unexpected….to remind us of Australia when we got home. Such amazing generosity.
Tuesday morning we had a great breakfast – OMG not going to eat again for at least a week LOL – before saying our sad farewells. It had been such an amazing visit. We drove back to Morphie and just rested up the rest of the day.
Wednesday we had another leisurely day before meeting up with Ernest and Eddie in the evening and had a farewell dinner at the local Thai. Lovely food and great fun!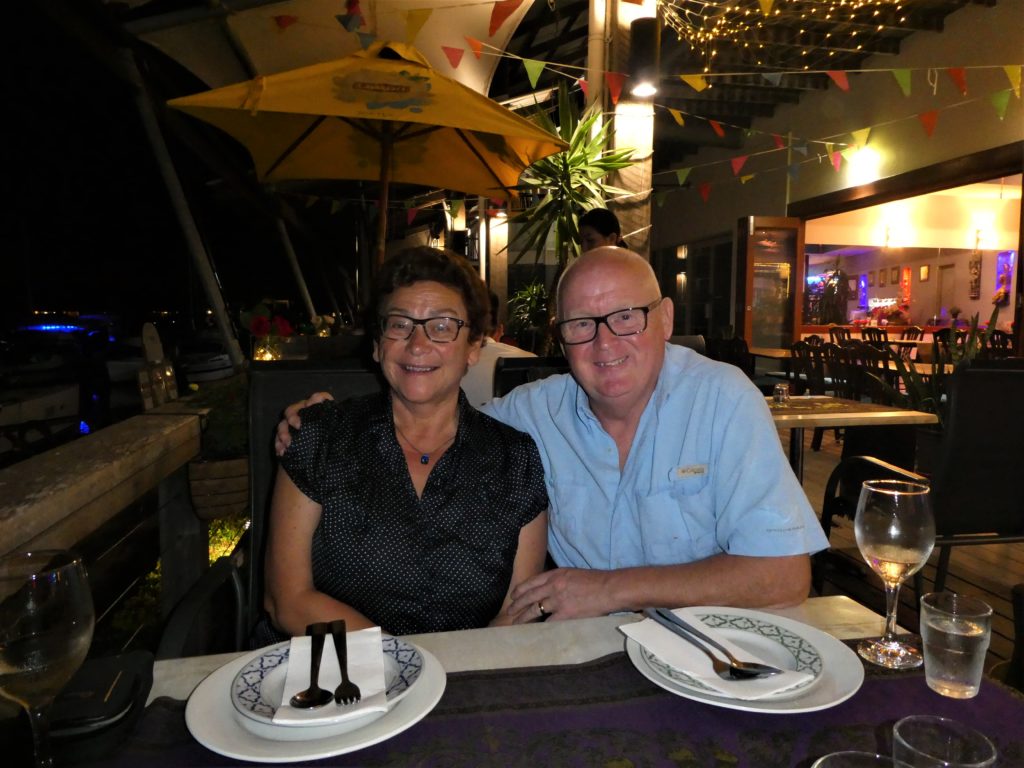 Thursday morning and we headed to the Boatworks to sign some documents in front of a Justice of the Peace. What?!? Why?!? OK so it is now time for the big reveal. You might have noticed from recent blogs, as well as lots and lots of socialising, we have spent quite a lot of time just relaxing. Well, actually, in reality we have been mega busy because we had – after many months of soul searching – put Morpheus up for sale. We had imported her into the country (paying import duty and GST to the Australian Government) so she could legally stay here indefinitely. This process resulted in a document called 'Authority to Deal' which is a customs declaration that confirms we have permission to sell the boat in Australia so we had decided to test the market.
So the next question is why? Well, we have owned Morphie since she came brand new out of the factory in 2008 and started cruising in 2012 crossing oceans, experiencing lots of unique destinations and cultures having made it half way around the world. We have had amazing experiences and don't regret any of it. However, Richard's heart attack in 2020 gave us both a shock and, to be honest, we simply don't want to head offshore to third world countries where medical assistance in another emergency would not be readily available. Richard is absolutely fine and has recovered amazingly well but these random curve balls do make you think.
Of course the global Covid pandemic has left us "trapped" in Australia for over two years now. We have absolutely loved our time here and recognise that we were very lucky to have avoided the significant lockdowns at home or, like some of our friends, ended up being locked out of the country with our boat abandoned overseas. Looking forward, even though international borders have reopened, there remains significant challenges in continuing with a cruising lifestyle. And, of course, on top of that my hip is causing some mobility issues. To leave Morphie here in Australia in storage is not inexpensive with large monthly bills and we would probably be gone for almost 12 months while I get fixed up. So, decision made, we decided to test the market because going home unencumbered was definitely a relatively attractive proposition.
Boat brokers are pretty expensive here in Australia – 7.7% of value being the norm – so we decided to try to sell the boat ourselves although we did actually engage a broker to do the legals plus supply the escrow account which gave confidence to any potential purchaser that we wouldn't do a runner with their deposit. We wrote an advert, cleared the contents of the boat to a local lockup, tidied up and took photos. We then published the advert and received some initial calls…. We had a couple of viewers – one hippy 'influencer' couple followed by a serious contender. However, he was talked out of it by his wife as they had just had grandchildren and she wanted to spend time with them…. And then it went quiet. We decided to reduce the price to stimulate some interest and this worked – Island Packets are not particularly well known here in Australian and are expensive when compared to what else is available on the market. Discerning sailors will know why but the newbies don't… So we expected a bit of uphill struggle.
But, unlike many international sellers, we weren't desperate to sell and, if it didn't work out, we were very happy to keep Morpheus. Anyway, long story short, we advertised on the 5 February, we got a serious offer and banked a 10% deposit. We did a sea trial followed by a survey which Morphie passed with flying colours…. And, this week, on Thursday 21 April the sale went through. OMG can't quite believe it. It has been incredibly emotional to say goodbye but we also know that the new owners will love her and cherish her going forward.
So we have temporarily moved in to Sandra and Nigel's apartment here on Hope Island. Friday was a manic day of clearing out all our belongings and I admit to being very emotional most of the day. But, we broke into our day by continuing to socialise and had a very tasty lunch out on Friday with Lester and Helen (SV Joule). Afterwards we returned to Morphie and said our very sad and emotional goodbyes before heading to Sandra and Nigels where I admit we probably drank way too much!
Saturday we headed over to Morphie and met with the new owners again and did a final handover. And here they are looking very excited and happy with their purchase. This time I managed to walk away without too many tears….
Saturday night we headed out to George's Paragon restaurant in Sanctuary Cove for dinner. Fantastic food – as always – and a great fun evening despite the problems with getting taxis to and from LOL.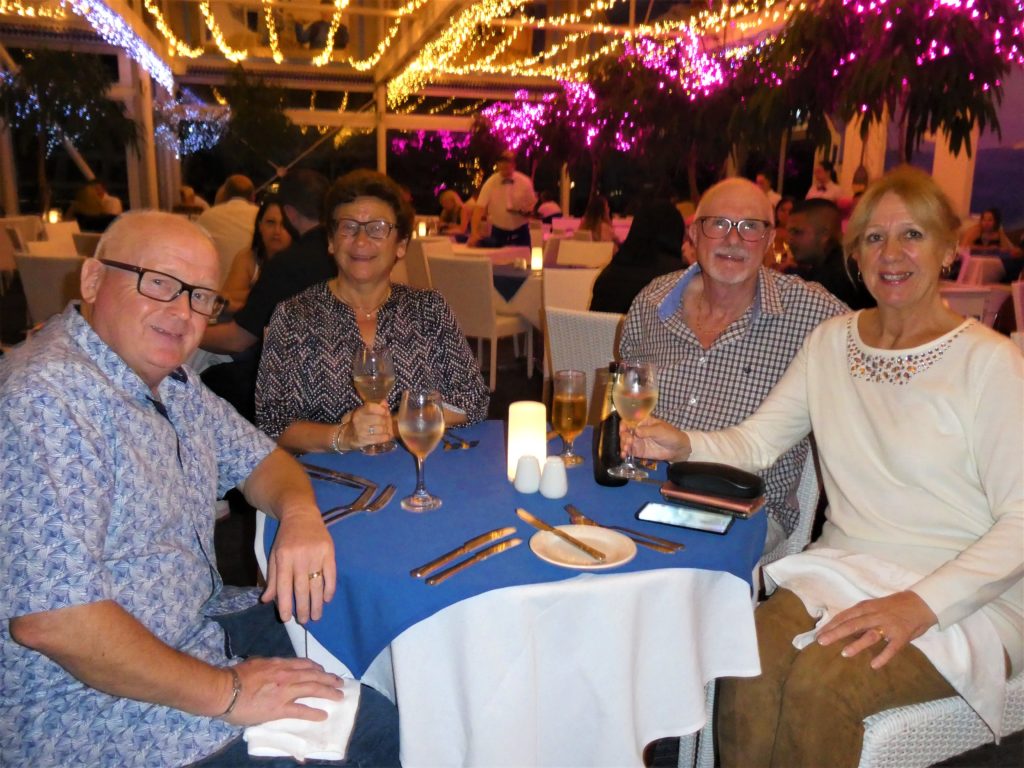 Anyway, we are going to stay in the area for a few more days before we then start heading south to New South Wales to visit with my nephew and his family again. And, of course, there is also our touring holiday to Tasmania too which we are really looking forward to. So yes we are coming home and we are coming home for good! We need to get ourselves fixed up and then we can plan the next adventures! It will be a huge difference for us and we know we will definitely miss our cruising lifestyle but we are really excited to be going home, moving back into our house and, last but not least, catching up with all our family and friends.
Bye for now
Jan