Friday lunchtime we arrived in Prickly Bay and mooched around looking for a good spot to anchor. Bit deep here behind the reef in the middle of the bay – around 30ft – so we'll need to put out a lot of anchor chain….. First spot didn't get a good set, so picked up and tried again – great set second time. Hurrah!!!  Looking around we were amazed by all the huge houses surrounding this anchorage with their manicured gardens running down to the shoreline.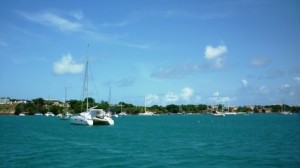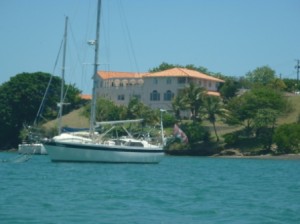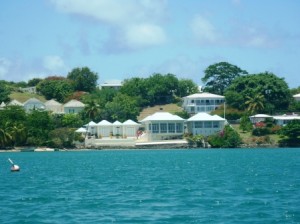 After sorting ourselves out we went ashore later in the afternoon to the Prickly Bay marina and caught up on the internet. While we were there Belinda and her daughter Jean came by – they wanted to sample happy hour drinks and the steel band that was playing later. So we stayed with them for a while and enjoyed the music. We went back on board Morphie around 7pm for dinner and an early night.
Saturday morning we took off in the dinghy to explore. Visited the Big Fish restaurant and enjoyed their great dinghy dock, had a look at a resting Grenadian coast guard boat, and of course this was all in close proximity to Budget Marine…. So inevitably we got some more stuff in the chandlery – all essential, honest!!! Then we dinked around to the nice beach at the top of the bay – and this is where the posh Calabash hotel has their beach bar. We are allowed to use the beach, buy drinks / food, but not use their beach chairs…. Fair enough – will be back another day to enjoy the facilities. Right now we have loads of boat jobs waiting…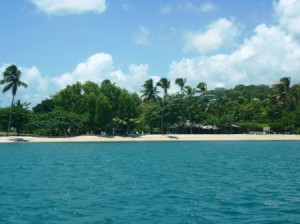 The rest of the day we worked really hard on boat jobs and had a quiet night on board.
Sunday morning we had promised Belinda and Jean – who are Australian – that we would pop by their catamaran, Free Spirit, to see if we could help them understand any of the systems. Jean is just visiting her mum Belinda who is living on board awaiting her husband's arrival. But she knows nothing about sail boats so wants a few hints and tips – well, we know nothing about catamarans but there must be some common ground here. Surprisingly there was quite a lot and we helped her with re-furling her genoa; bilge pumping; shower systems and general battery maintenance…. She was very grateful and we arranged to meet up later to go to the Sunday jam at Whisper Cove.
Courtesy bus turned up and we met with some more cruisers – as well as catching up with Chris and Linda again from Troubadour – and really enjoyed the jam session again, although I realised that in my last blog I called the old guy Harry and his real name is Jerry… Oops!!! 
More people attended this week – both watchers and performers – and good time was definitely had by all.   I am definitely turning into a Chris groupie!!!   Oh yes, almost forgot, got some great steaks from the resident butcher as well….
Monday morning and more boat jobs looming…. Jean is going home to Australia later this week so we have arranged for them to come to us for sundowners at 5pm as neither of them has been on a sailing monohull before!!!  Amazing…. We worked like stink and managed to get everything straight for their arrival…. Lots of 'oohs' and 'aahs' as they looked around Morphie – always nice when people admire her – combined with a few more technical questions from Belinda. Feels great to be of some practical help!!! During the evening – fuelled by rum punch – they asked if I knew anything about sushi as they had found loads of specialist ingredients on board Free Spirit. Well I know that I like to eat it and roughly how it is made!! Belinda admits to not being very culinary minded – and I fancied the challenge – so they promised to drop the stuff over to me in the morning and invited us on board for sundowners on Tuesday afternoon to eat the results… No pressure then eh??? We had a lovely evening on board.
Tuesday morning we were up early – Jean came by with the ingredients – and we carried on with boat jobs. Later in the morning I started on the sushi preparation – finding some mahi mahi and prawns in the freezer to go with the vegetables – and spent the next few hours playing around with sticky rice!!!! Couldn't work out how to smooth it out on the seaweed sheets without ending up with a sticky mess until I realised that a wet spoon was the answer…. All done and in the fridge to chill – and time for a relax and a swim before heading over to visit them.
Well – I have to say I was pretty pleased and impressed with the results of my first sushi attempt – and the others agreed with me. They tasted pretty good too!!!! But you don't have to take my word for it – check out the photos…. Back on board around 8pm – having said our final farewells to Jean – and early to bed.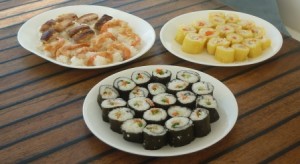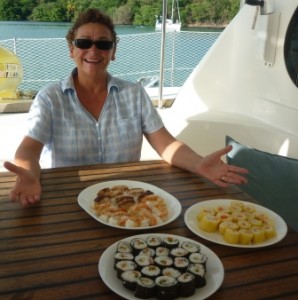 This morning (Wednesday) we were up early again – headed off to the bank for more drinking vouchers – and then did a bit of essential shopping before coming back on board to get on with boat chores again. Loads to do right now – and we have decided to get things done sooner rather than later so that we can enjoy the carnival here in Grenada in the middle of August. Later on we are heading into Prickly Bay marina for happy hour but I can guarantee we won't be stopping for the bingo, which is tonight's scheduled entertainment!!!  We have a curry night on board planned instead…..
Bye for now
Jan