Sunday morning we weren't sure what to do. We knew that Sunday is Hong Kong's busiest day and when the territory's Philippine 'maids' have the day off. Apparently these women come here to earn money to support their families back home often leaving their children behind with other members of the family. They then earn meagre wages as maids / nannies / cleaners for wealthier Chinese and other ex-pats, often sleeping on the kitchen floors of their employers. So on Sunday they all congregate on the pavements around the City and enjoy being together with some of them just catching up on their sleep. What an existence….definitely a darker side.
Before we headed out we enjoyed watching some yacht racing in the harbour as they tried to avoid the commercial traffic, including the arrival of a cruise ship. This was all watched from the privacy of our lovely hotel bedroom.
We finally decided to do the double-decker hop-on hop-off bus tour as this meant we could avoid doing as much walking and still see some new sights. So we headed off over to the island on the Star Ferry and immediately came across some of the maids enjoying their leisure time.
We decided to go on the 'green line' as this took us away from the city and into the more rural areas of Hong Kong island.
We travelled through the Aberdeen tunnel, went through the beautiful Repulse Bay and then arrived at Stanley. This is a world away from the hustle and bustle and we enjoyed walking the seaside promenade and seeing all the boats.
The promenade was lined with small cafes and we found one and had a really nice Chinese lunch although we are both getting a bit tired of noodles LOL.  Interestingly every restaurant we go into here in Hong Kong from small cafes to top-end establishments give you a menu so that you can tick off the items you want to order.
We headed back up to the bus stop through the fancy mall. You can really shop until you drop here and it appears that most of the residents and mainland Chinese tourists intend to do just that!
The next stop was Aberdeen where we went on a Sampan boat ride through the fishing boat village. These people are not indigenous Chinese and are of Malaysian extraction and continue, despite intervention from the ruling bodies, to live their traditional life on their boats. All very interesting…and the living conditions look pretty harsh, however, when you realise that many people here live in a parcelled-up flat with just a bed in a cupboard to call their own….the relative freedom of having some space onboard is certainly a more attractive proposition.
This harbour is also home to the famous Jumbo Floating Restaurant which ferries in customers from all over the territory.
We then returned to Central. Not wanting to tour the City any more – as we think we have covered most of it on foot by now – we headed back across the river to Kowloon. We hopped on the bus doing the 'blue' route and watched the huge crowds swarming across the streets and into the markets – certainly didn't fancy getting off at this point LOL.
So we continued people watching until we arrived at the Sky100 building and left the bus. We got into the lift to take us to the observation deck and were whisked up into the sky at a huge rate of knots which takes just 60 seconds to ascend to the deck which is 393 metres above sea level.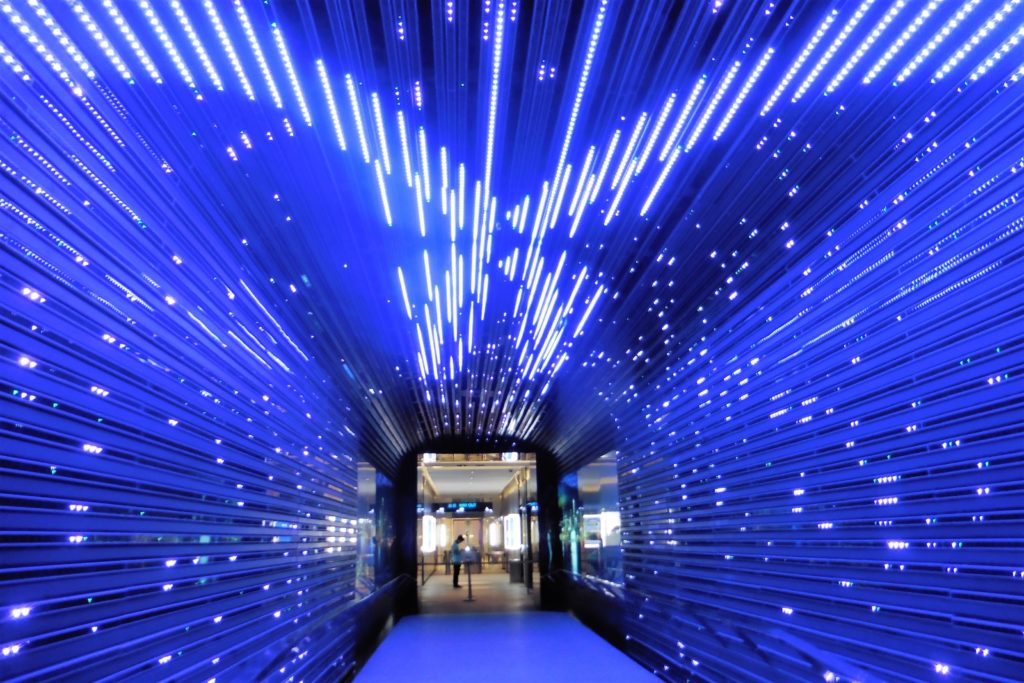 We wandered around the deck enjoying the views, especially as the sun was low in the sky, before taking the lift back down. This time the exit escalator took us into another fancy mall full of designer shops and people were shopping like crazy with fancy shopping bags full of genuine Gucci, Luis Vuitton, Chanel, Prada, Versace and other designer labels…..there is some serious cash being spent here!
We decided not to return to the bus station so, instead, headed off on the MTR back towards the hotel. It was about 7pm by now so we decided to eat out first and queued up to get into the Outback Restaurant for dinner. We just fancied some simple fare and a nice steak with a jacket potato and salad was a real treat – along with the really cold draft Carlsberg to wash it all down with. We eventually returned to the hotel around 9pm and had an early night.
Monday morning we headed off on the MTR again – our destination this time was Ocean Park. We don't usually visit anywhere that has captive dolphins but this place, allegedly, is really into conservation of the planet and is a major researcher into different species. The real reason we wanted to visit, though, was that they have Giant Pandas and this may be our only opportunity ever to see one. We arrived at this gaudy looking theme park and got our entry tickets…… immediately heading off to do some rides before the crowds built up. We were twisted upside down, inside out and generally thrown around which was great fun.
Afterwards we headed into the North and South Pole enclosures and saw different type of penguins. Didn't realise just how large some of them are and they are so graceful in the water it was lovely to see.
We also enjoyed the seals and the huge walruses. You could watch them on the surface and below the water and when we went down to see them underwater we caught the walruses having sex – seriously – and all of a sudden the Chinese were ushering their kids along LOL. The exhibits were, to our surprise, all about saving the environment for these creatures and how global warming is the biggest threat to their continued existence. All very worthwhile and they are obviously trying but then you walk back outside to a gloomy day caused by pollution being blown down from mainland China. Sigh….
We then headed back down the park on the cable car admiring the views and spotting a yacht mooring field…….and got into the queue for the pandas. But at least we had pretty flowers to look at whilst waiting.
The people in the queue were really excited and almost exclusively Chinese. There did not seem to be many almond-eyed tourists around and we got lots of looks and smiles. We shuffled forward being pushed around by the crowd as the Chinese really do not have an idea of how to queue for anything despite notices saying 'queue nicely' LOL. Finally we were inside and saw the pandas which were bigger than I expected. We also saw the cuter red pandas who were a little more active in the daytime.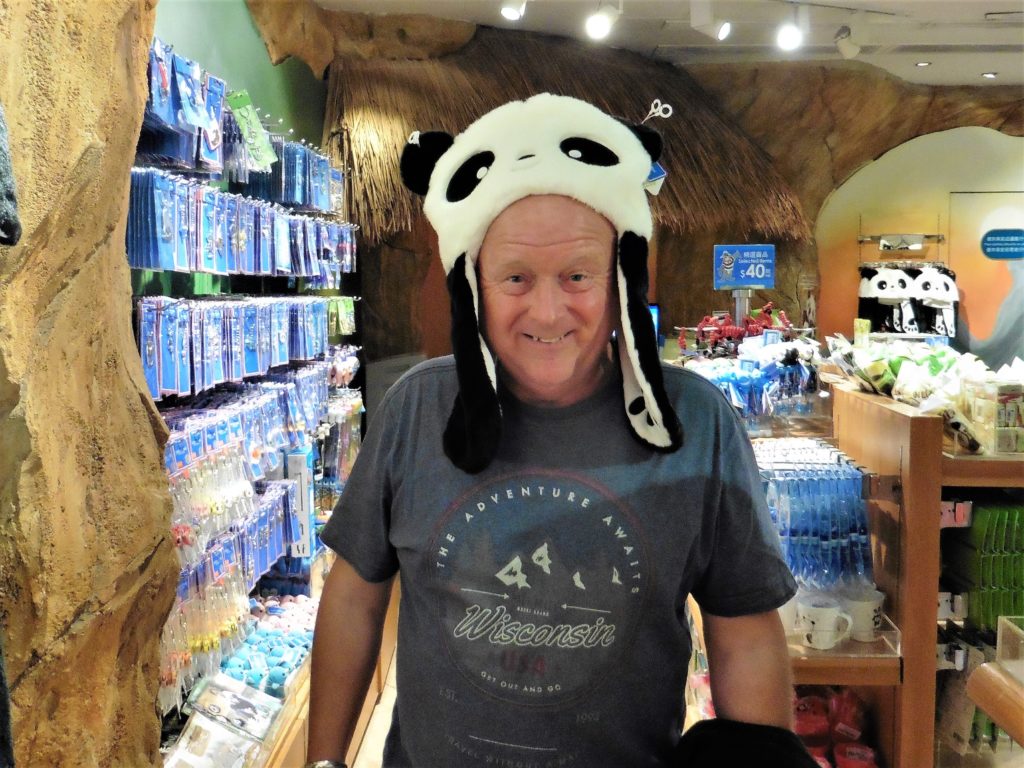 Through the Amazon exhibit we came across some pygmy monkeys and other critters including a very large two-toed sloth and lethal frogs.
We then headed to the giant aquarium and were amazed by all the different goldfish and then into a huge tunnel and watched manta rays, hammerhead sharks, southern sting rays and loads and loads of other fish. Would prefer to see them in the wild but hey ho. Again the signs were very encouraging trying to educate people about the food chain and the essential role of coral. We didn't go anywhere near the dolphin enclosure and was pleased that the whole exhibit was closed 'for maintenance'.
Leaving the aquarium we hot footed it up the hill again to see the Golden Snub Nosed monkeys which we have never seen before. The male was clearly in a mood and strolled around exerting his dominance including having sex with the female…..Chinese kids exit left LOL…..and we loved watching the baby play around in the enclosure.
By now it was getting late and the park was about to close so we enjoyed the dancing fountain with lights and music before we headed to the MTR station.
We changed stations / lines three times – clearly this was rush hour as the trains were very busy – and we finally arrived back to the peace of our hotel lobby at around 7pm. We headed to the bar for a few cold ones and then had an early night.
This morning, Tuesday, and it is our last day in Hong Kong. We have no plans other than to visit the pool area if the weather warms up enough and generally to relax before our 13 hour flight home later tonight.
So what did we think of Hong Kong??  Well, it is a fascinating place and if you like cities and shopping opportunities then this should be high on the bucket list. The cost of the transport system is both amazingly cheap and easy to navigate.  We have travelled extensively around the MTR network every day including ferries, buses and trams – and spen only £16 each.   For example a six-day Oyster adult travel pass in London would cost you £118.15!!!
The juxtaposition of rich and poor shows itself up in many ways – from the shiny new glass buildings towering into the sky next to a ramshackle falling-down apartment and the maids sleeping on the streets next to shoppers queuing outside luxury stores. The shops are luxurious whilst the markets are full of low-end tat. And that covers everything from clothing to watches to handbags to shoes…. Chinese people aren't good at queuing so be prepared to sharpen those commuter elbows to get around. Interestingly, unless they are heading to work, they all wear trainers and are constantly on their phones, including the older generation. They are watching videos, reading cartoons, playing games and are constantly texting each other. That's probably why the escalators and pedestrian crossings all emit this annoying beeping sound to let you know when you are getting near / safe to cross. This is the only time the residents look up from their screens LOL. Oh yes and babies are carried and dogs travel in prams!!!
Overall we had a great time and are glad we came – there are many highlights of this trip, particularly the temples and learning a little about their culture.   But the top thing has to be the amazing night time view across the harbour which is just simply stunning.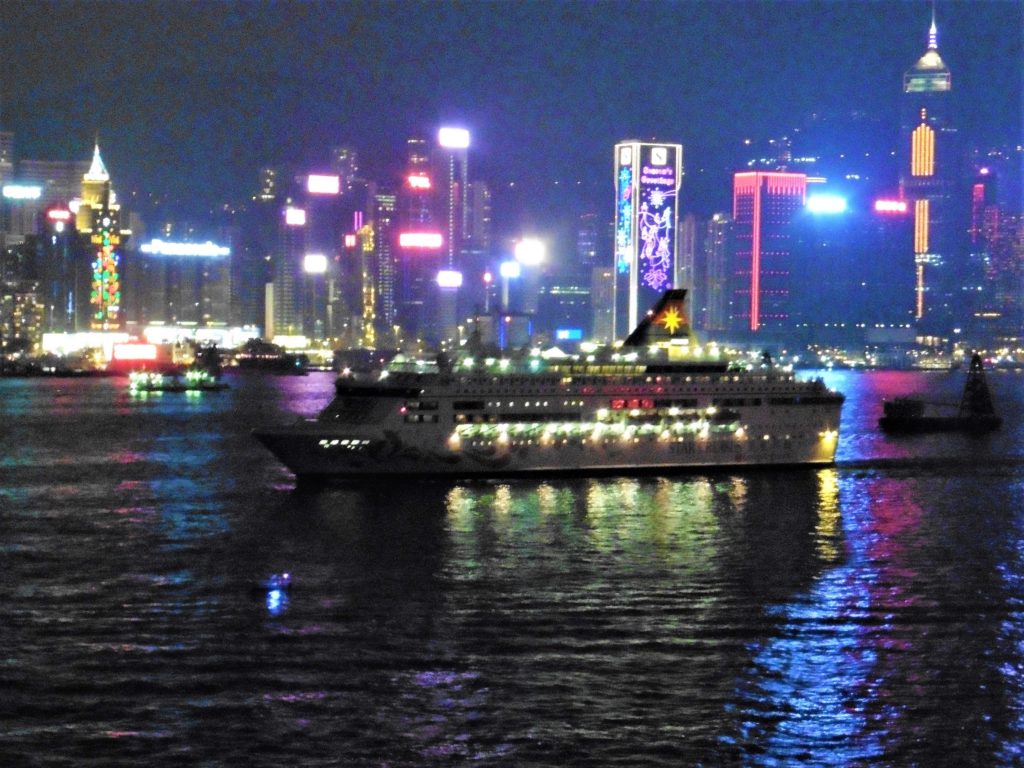 But now it is time to go home and we are very excited about seeing our family and friends, especially to share Christmas with them, which will be for the first time in five years. When we reach home I'll do a wrap-up blog about the last season and share our future plans.
Bye for now
Jan