Monday (21 October) we busied ourselves preparing for our passage. Whilst out and about we met some fellow cruisers who were giving directions to some tourists to Baie de Citron and warning them about not swimming there in the murky water. "Why not?" was our question (bearing in mind we had been swimming in this bay cleaning our hull recently) only to be told of a fatal bull shark attack in the marina next door off one of the docks. OMG! We realised at that point how naive we had been to naturally assume that it was safe to swim. Lesson definitely learnt and thankfully we still have all our limbs LOL.
In the evening we went on board SV Tamanu for dinner with Steve and Jo. Was a lovely evening and we thoroughly enjoyed ourselves.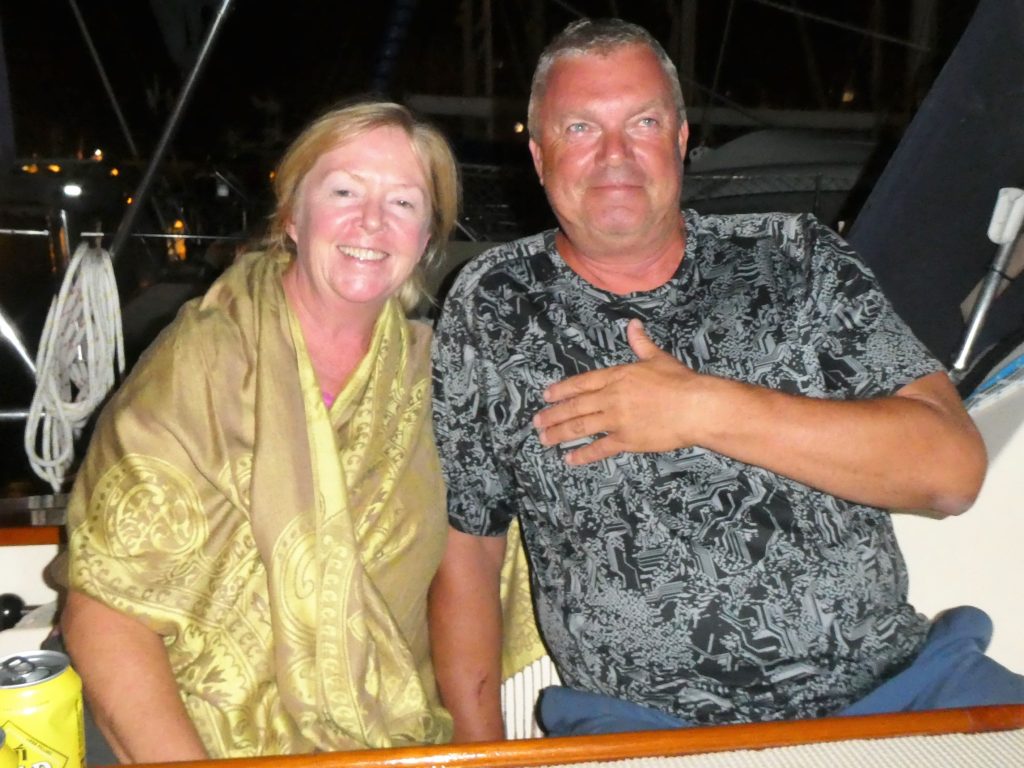 Tuesday morning at 8am we met Audrey from Noumea Yacht Services who was assisting us with our outward clearance procedures. The process is relatively simple, however, you have to visit three offices (Customs, Immigration and the Harbour Master). They are quite a distance from each other (particularly on foot) and also the Immigration office closes at 11.30 am each day. By paying a small fee, Audrey drove us around and facilitated the paperwork. When we arrived at the first building we realised that paying for this service was definitely the right decision. A nondescript building, no Doune (customs) signs, coupled with a buzzer entry system for each floor. Think we would probably have struggled at this first hurdle to be honest.
Back to the marina with exit papers in hand we carried on getting ready. We met Steve and Jo for sundowners in the bar and enjoyed our last evening together.
Wednesday morning and we were ready. We said farewells to Steve and Jo and then slipped away to the fuel dock. Having fuelled up we headed out to sea. The passage was a mixture of everything from strong winds to light airs; bumpy, lumpy seas with uncomfortable conditions; flat calm and perfect sailing conditions; and motoring along under bare poles. And of course I mustn't forget the beautiful sunsets and sunrises. All in all we thoroughly enjoyed ourselves although Richard was disappointed not to catch any fish.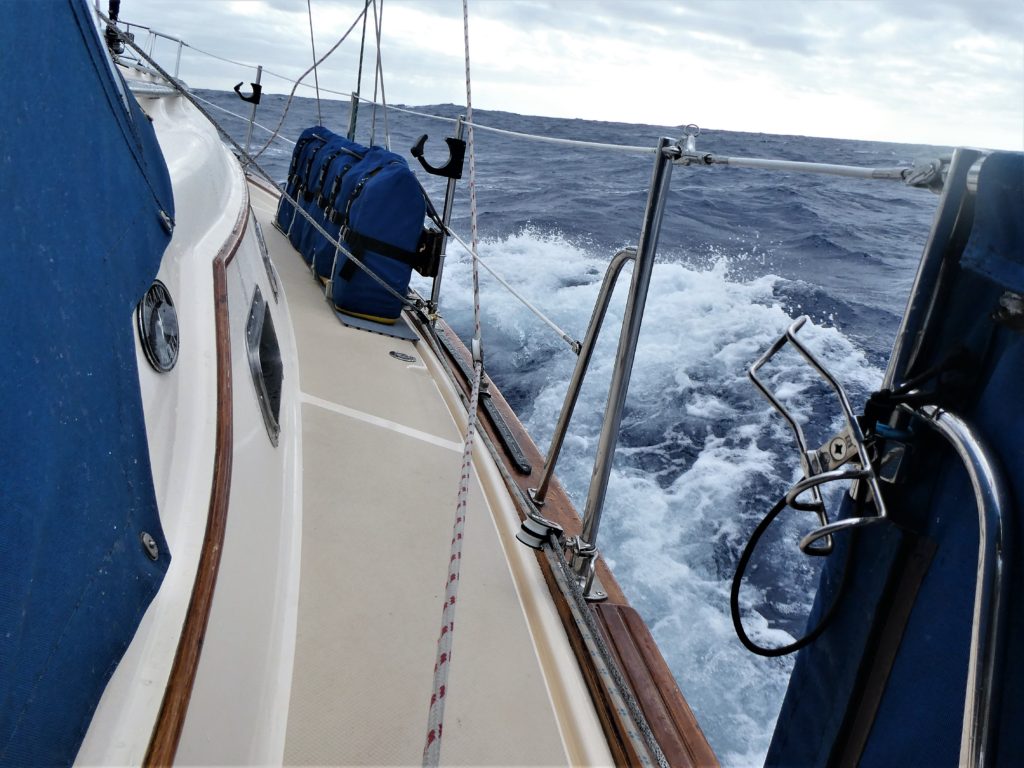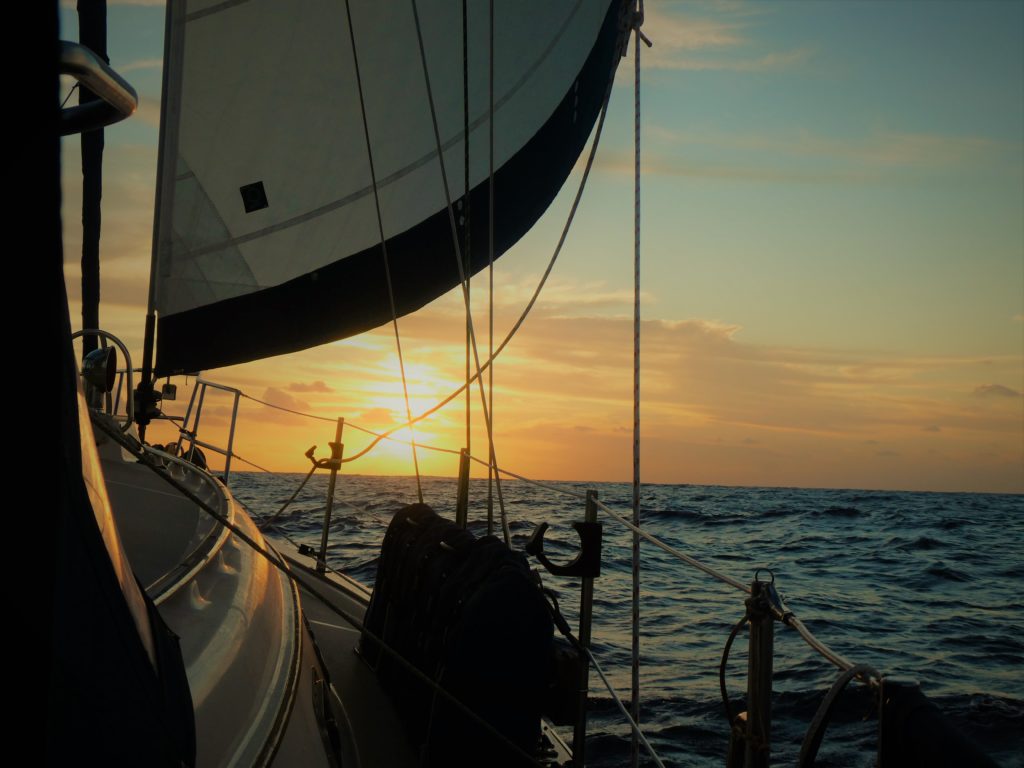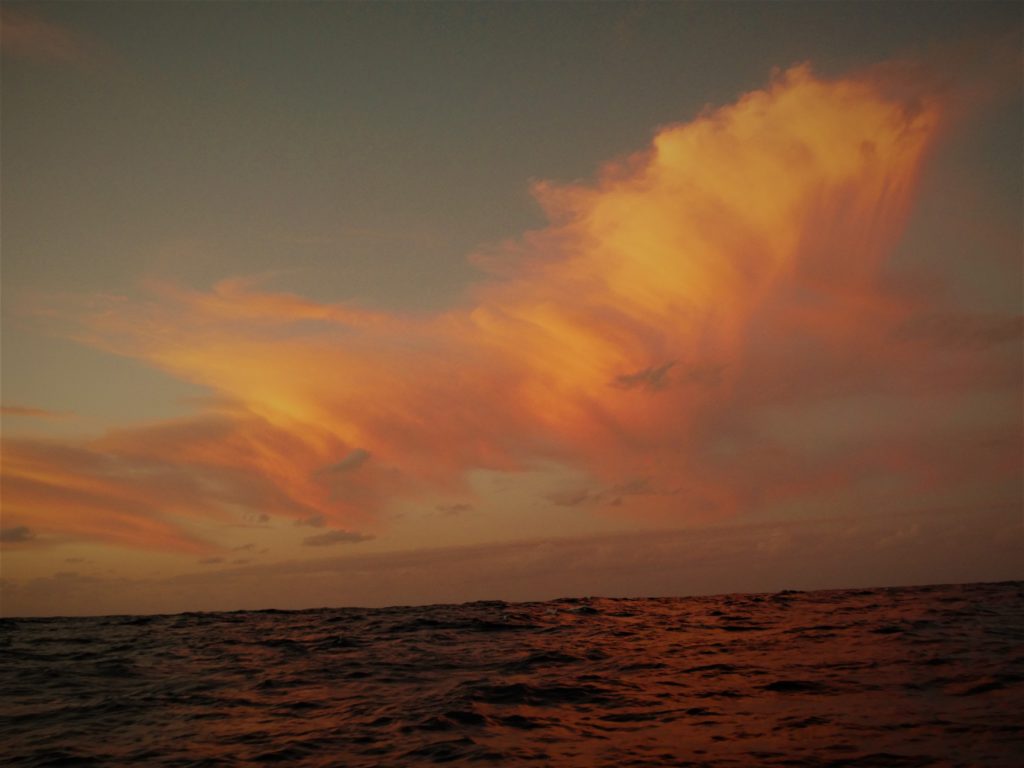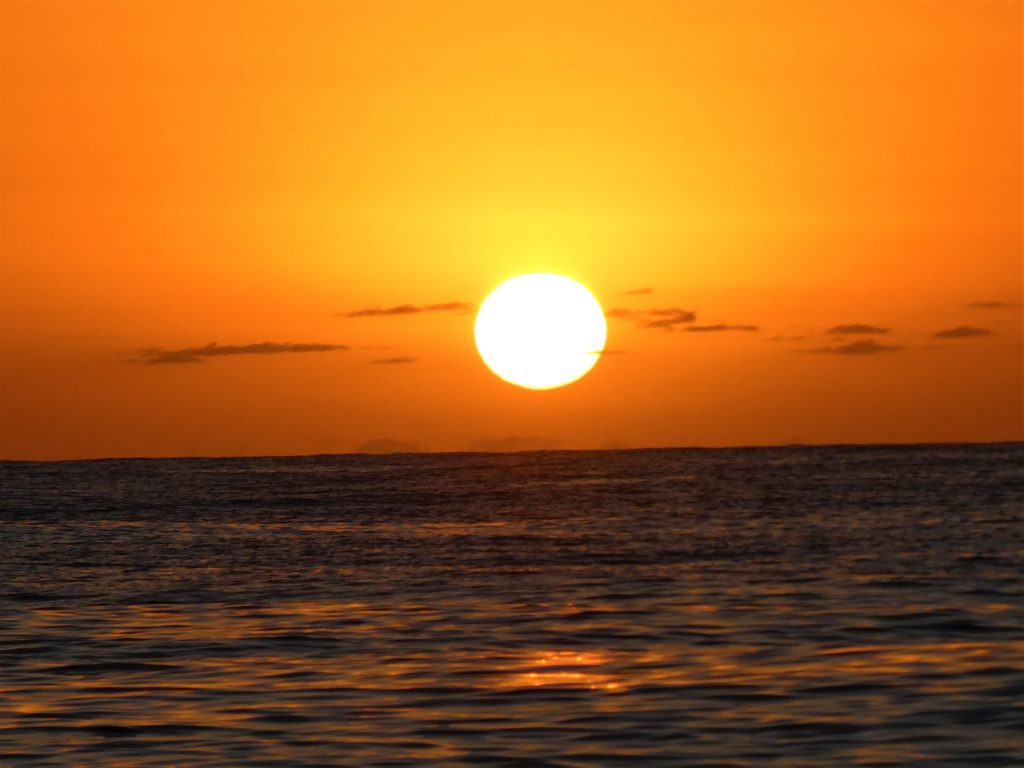 By early Tuesday morning (29 October) we knew that we would definitely arrive into Bundaberg that afternoon so emailed (using our satellite connection) both the marina and the authorities to confirm revised ETA. As we got closer to Australia we wondered whether we were in the right place as we couldn't actually see land until we were only 15 miles away!
We made contact via VHF and they gave us our slip assignment and said that they would clear us on our allocated slip. It was a tricky one being pushed off by the stiff wind and into a skinny spot next to a large catamaran. Richard made it in beautifully despite the challenging conditions. Before we were even tied up, the officials were waiting on the dock for us. We were told to get off the boat (under supervision with barely enough time just to kill the engine) and Sally the sniffer dog was put on board and promptly jumped straight off LOL. So she was put back on and did her job before we were allowed to climb back on board. Customs and immigration were first – all questions and forms completed and answered to their satisfaction and we were then welcomed to Australia. Next were the three bio-security guys who searched cupboards and lockers for evidence of insect infestation, particularly in the wood. I had one passage meal left in the freezer so that was confiscated (as we had made better time than anticipated) but otherwise we had no fresh food or meat left. The guys laughed when I told Richard he had to take me out to dinner now as the cupboards were bare. All the officials were friendly, very thorough, professional and courteous. The only thing that concerned me was that they were all wearing guns.
Woo hoo, we were legal so down came our yellow quarantine flag and up went the Australian courtesy flag. Can't believe it, we have finally crossed the South Pacific and sailed to Australia! Woo hoo….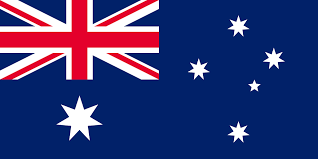 Tuesday evening we went ashore to the marina restaurant and had dinner and a few restorative cold beers admiring the view.
Wednesday morning we were up early and booked ourselves onto the marina's courtesy shopping bus to Bundaberg. This is quite a large town but we were focussed on our jobs rather than really exploring – that can wait for another day.
We found the large Hinkler Mall and purchased our TelStar SIM card; got some cash out of the ATM; I got my hair cut; we re-provisioned in Woolworths; and picked up some real bargains in the Liquor Store with bottles of NZ Marlborough Savignon Blanc costing only AUS $7 a bottle.
We returned to the boat fully laden, restocked all our cupboards and freezer, and then caught up online with emails etc. This started an increasingly frustrating sequence of events with our current yacht insurers informing us they will offer us a renewal but it is certainly a lesser product (ie more risk/cost to us) and they will definitely NOT include coverage for cyclone / named storm / numbered wind events (which we currently have). So now we are searching around to find another insurer who will supply us with a policy that actually meets our needs, particularly as we had based all our (already booked and paid for) plans around the restrictions contained in this year's policy. Talking to other cruisers and we are not the only ones facing this difficulty. Not impressed!
In the evening we got another courtesy bus to the Lighthouse Pub and Hotel in nearby Burnett Heads.
We had a few drinks there – catching up with Stella and John from SV Exocet Strike again – before returning to Morphie for some pontoonies and bed. This hotel (which is a grand word for a place that is stark and feels more like a cafe than a bar) has a big screen TV and will be screening the World Cup Rugby Final on Saturday night. Come on England!!!!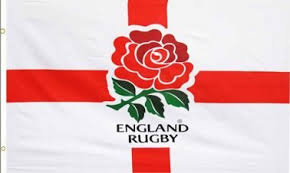 Today, Thursday, we are doing boat jobs yet again. Richard has washed the boat while I've done the laundry. He has also made up some new shore-power cables and got them PAT tested so we are compliant here in Australia and he has just topped off the diesel tank.
Going forward we'll be staying here in the marina for a couple of weeks to enjoy the events of the Down Under Rally Welcome Week before heading further south. Should be fun and very social.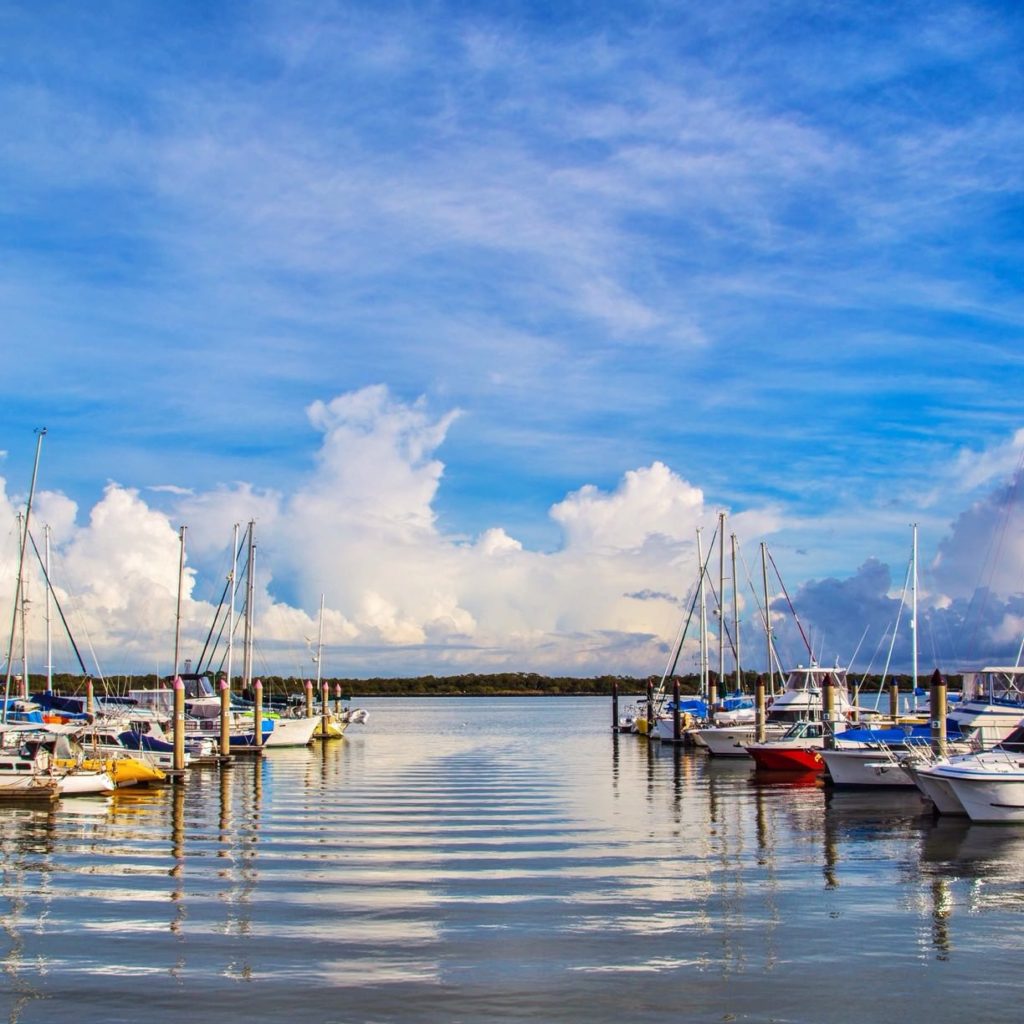 Bye for now
Jan