Wednesday (22 July) the weather forecast was for significant rain. We awoke to heavy cloud and there was definitely rain out to sea.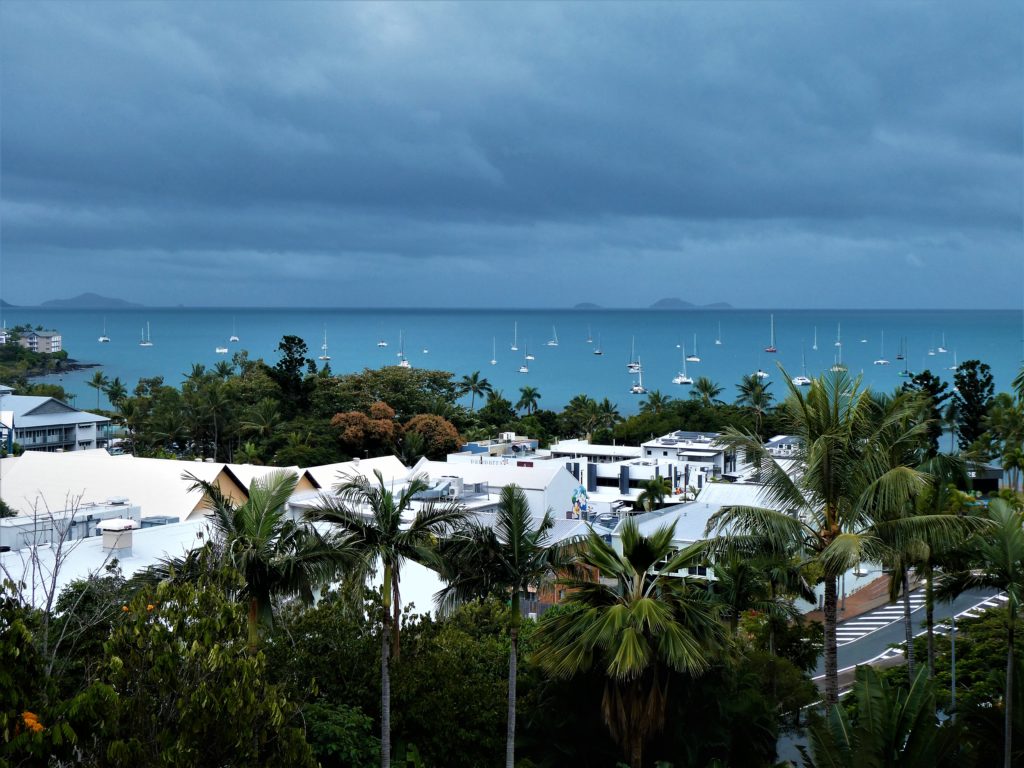 So we headed out to a local cafe for breakfast on this very hot and steamy day. Whilst sitting there the rain started and it just poured down. We made use of the free internet and checked the forecast for Thursday when we had a boat / snorkelling trip planned. Well, the forecast was for another rainy day with swells and high winds which would not be exactly ideal conditions. So we headed to the tour operator and asked whether we could move the trip to Sunday – this was done quickly and at no cost.
So we decided instead we'd hire a car so visited various car hire companies and, eventually, were able to secure a car for Thursday lunchtime from Gypsy Rentals. Rainy / cloudy conditions may not be perfect for boat trips but certainly OK for exploring inland. Having done a quick stop at Woolworths we headed back to our apartment where we stayed for the rest of the day as the rain just got heavier and heavier……
Thursday morning it was cloudy with rain in the air and was also pretty chilly. We had a leisurely start and picked up the car before heading out. First stop was the Cedar Creek Falls which were very accessible by road and a short walk. The falls were running quite hard due to all the rain overnight and some hardy (young) things were swimming in the freezing cold pool whilst others were hiking across the top. We just stood and watched.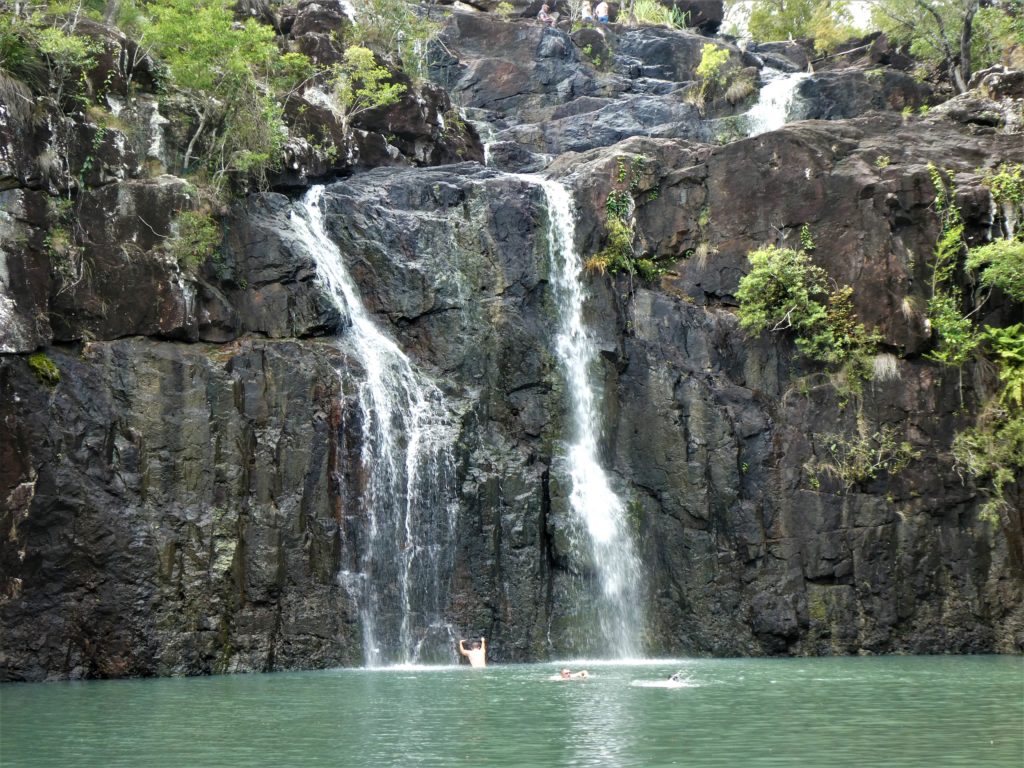 Moving on we headed to Conway Beach which was only occupied by birds and fishermen on this inhospitable day.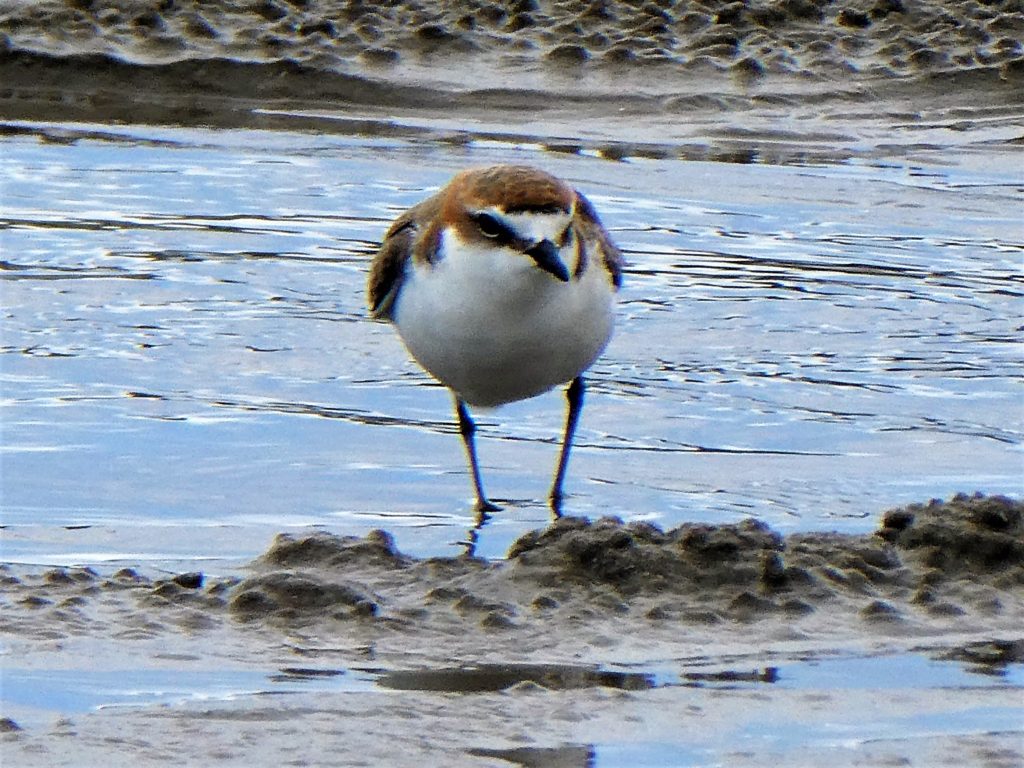 Afterwards we stopped at George's Diner. This is a 1950's style American diner which even includes Elvis background music. We stopped for a snack (which was delicious) and couldn't believe that we had found this place here in Australia LOL.
Oh yes and what about this guy who had driven up from New South Wales and clearly didn't want to leave his tinny behind!
Next stop was Lake Proserpine and the Peter Faust Dam over the Proserpine River with its views over to Mount Pluto. This reservoir was completed in December 1990 to control flooding in this area and was completed just in time for a massive downpour which filled the 10,690 acre site to a maximum depth of 130 feet. Was very beautiful and we enjoyed the peace and quiet, although wouldn't fancy camping here (which is allowed) as this is the same river that houses the crocodiles…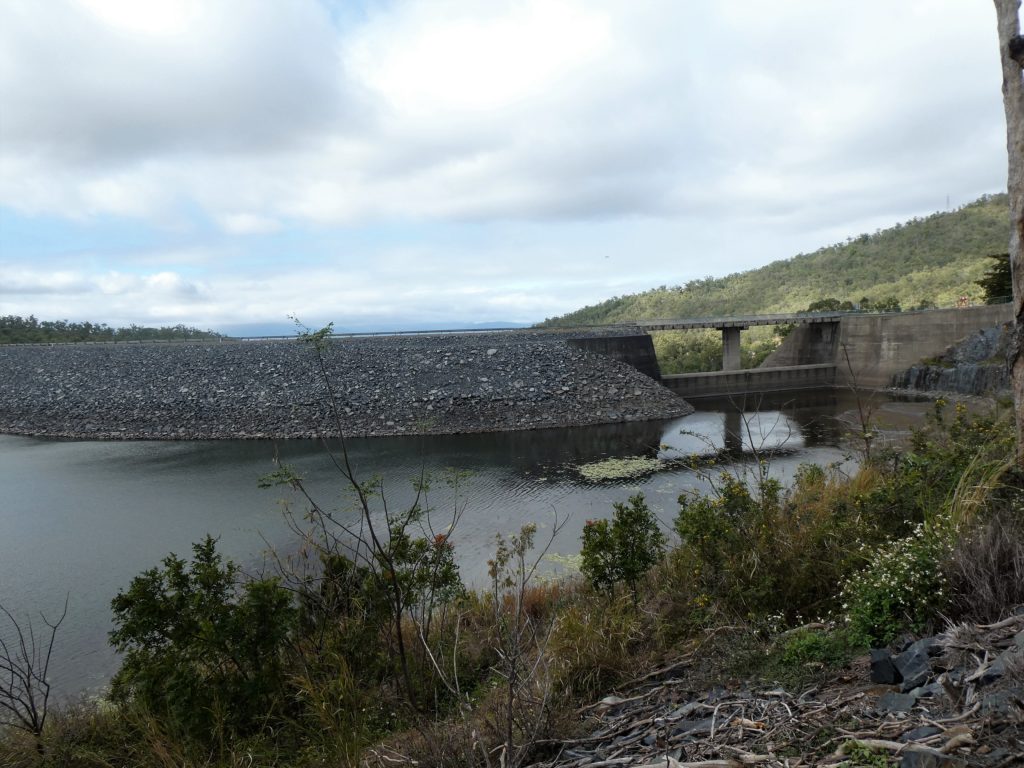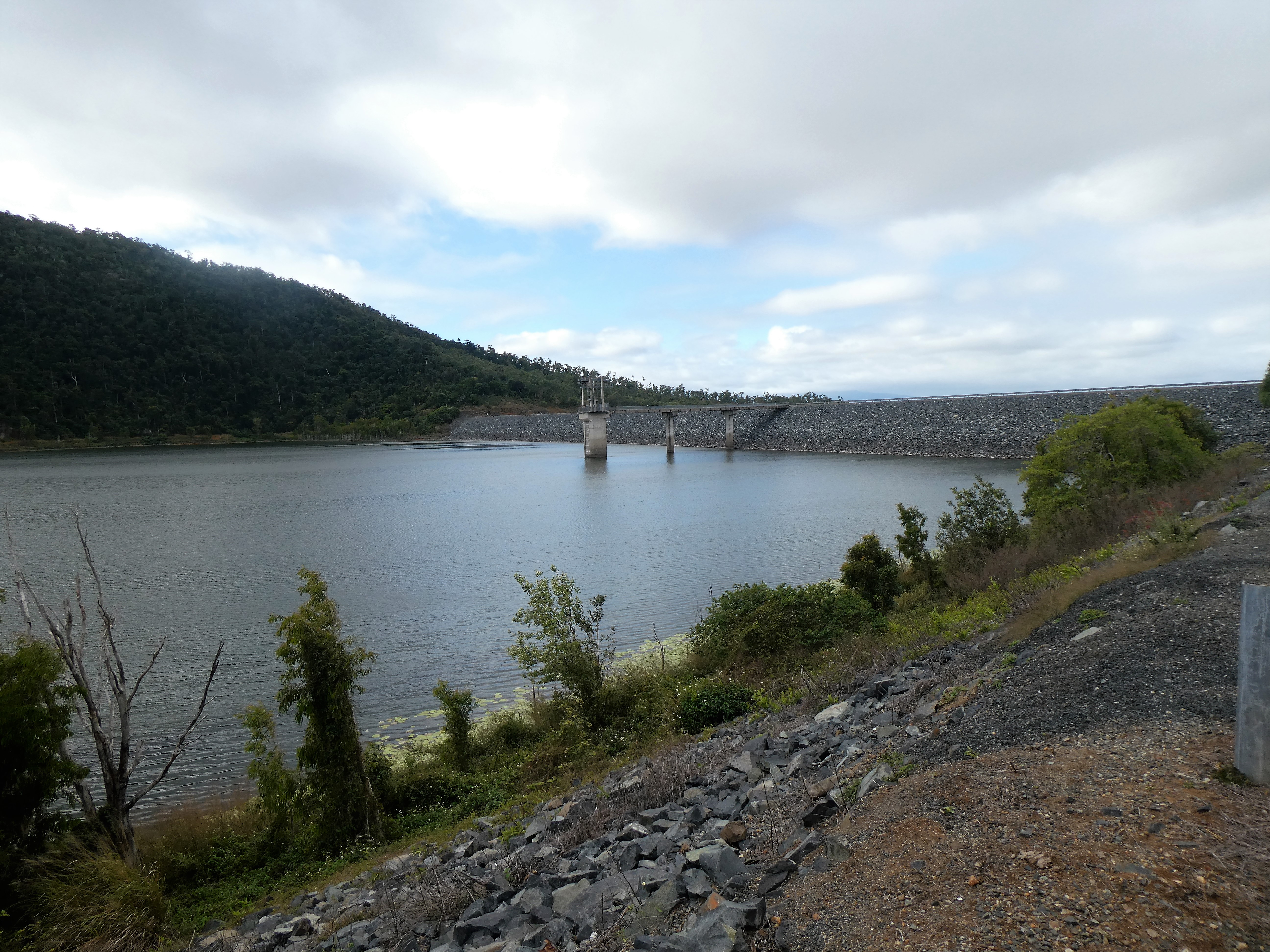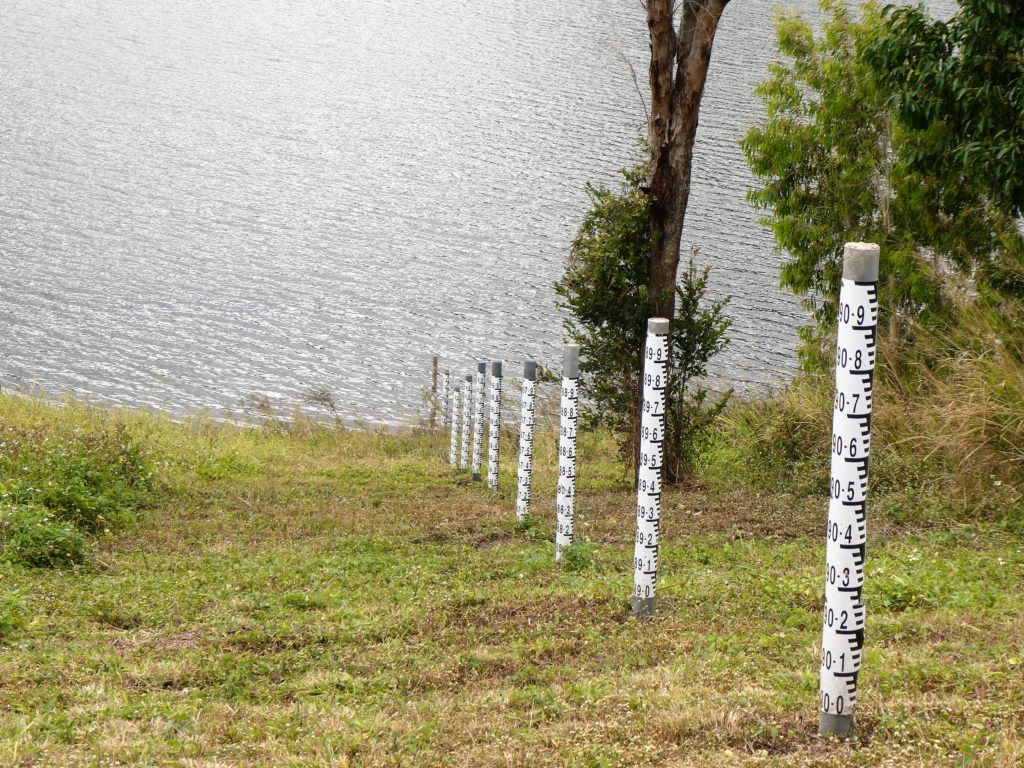 We then headed to a resort called the Northerlies where we thought we could catch a few rays as the sun was trying to come out. But we were a little late in the day (just before 4pm) and they were closing so we just wandered around and checked it out. All the rooms at this resort are inside boats on stilts and people pay a lot of money for the privilege – not sure this would be one for us LOL.
From there we went to the Coral Sea Marina and had a drink in Sorrentos before heading back to the apartment. We parked in the underground car park and then went to The Pub for dinner. Again there was live music which was fun….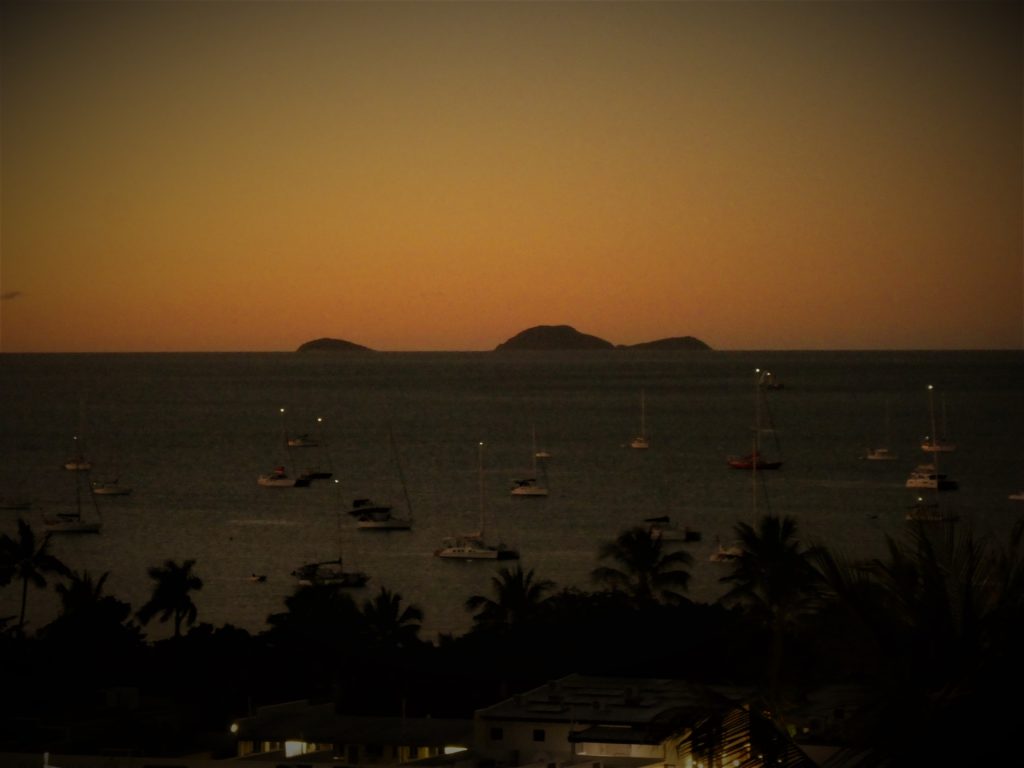 Friday morning we headed out again in our car – first destination was Bowen. We drove into the town centre, then to the marina, and throughout the surrounding area to find it was closed. Felt like a ghost town with cars parked but nobody around at all. All very strange. Moving quickly on we continued on to have a look at Queens Beach and Rose Bay.
Heading back south our next destination was Hydeaway Bay thinking we'd grab a coffee at Montes Reef Resort. So we wound our way up and down the steep roads and eventually onto an unmade one. We continued for a while until we got to Montes to find the resort was closed. We weren't the only ones who had planned this as at least three cars behind us ended up doing u-turns when they came around the corner. So we continued to Cape Gloucester where we had coffees (finally!) at the Eco Resort. Was quite warm so we sat there for a little whilst enjoying just being out and about.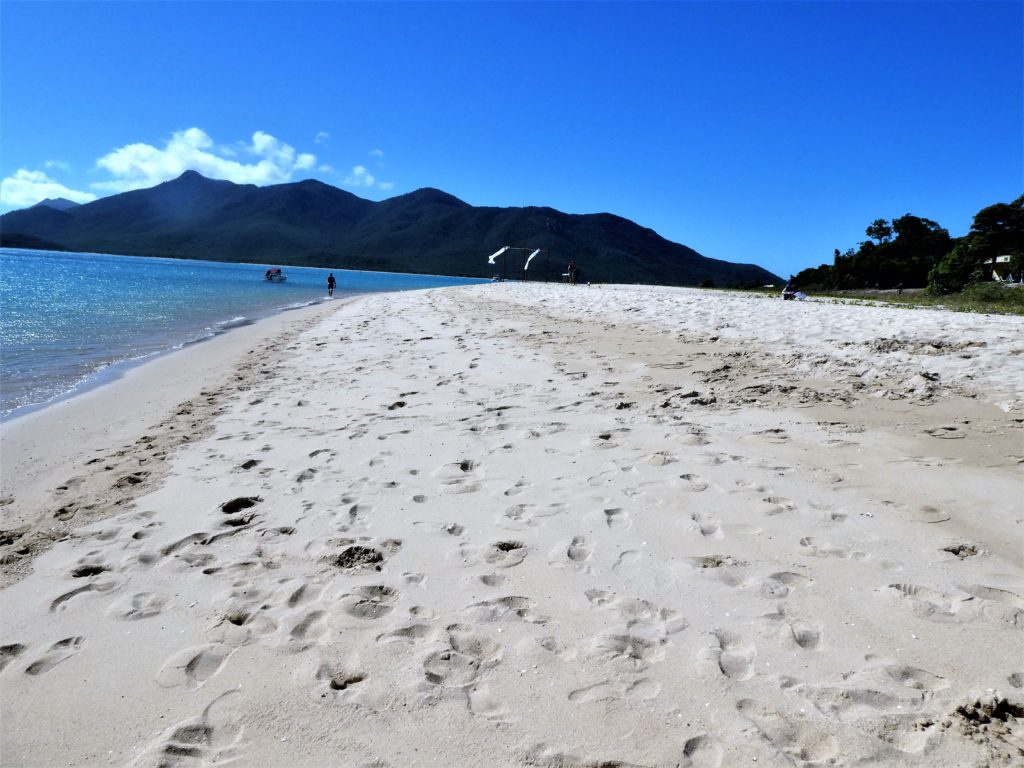 Leaving Cape Gloucester behind we headed back towards Airlie Beach via Dingo Beach.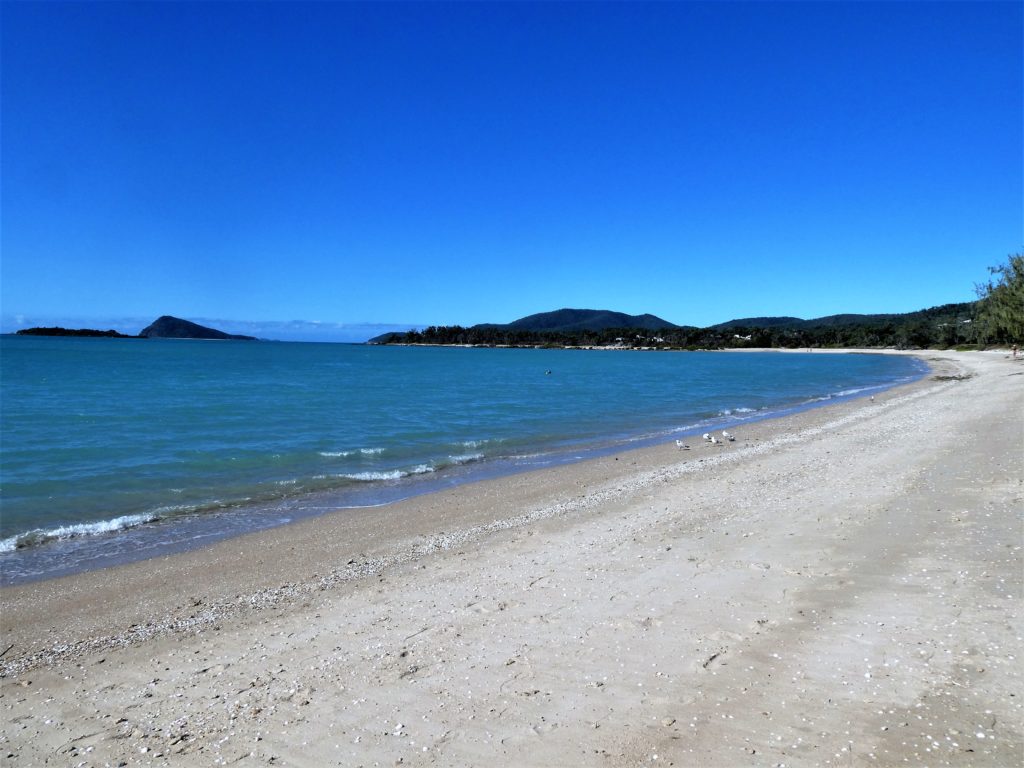 We saw some unusual roadkill as we drove through this vast sugar country area ie a dingo and a wallaby. We did, at least, see one live wallaby but it was too skittish to grab a photo. This plantation area of Queensland goes on for miles and is backed by mountains with lots of unmade roads leading off. We also crossed numerous small train lines which is how they move the cut sugar from the fields to the huge sugar mill that towers over Proserpine.
Back at the apartment we cleaned up before we headed back over to Sorrentos for sundowners with Steve and Jody (SV Enavigo) who had pulled into the marina. Great timing or what?!? Was lovely to catch up with them over a drink or two or three…..
Saturday morning we had to return the car so we used our time wisely and went to Proserpine to visit the Big W. We wanted to get a new (cheap) unlocked smart phone to replace the iPhone that had recently died and came away with a Nokia 1.3. We did some food shopping, filled the car with petrol and returned it. We had coffee on the way back to our apartment before we spent the rest of the day relaxing in the sun by the pool. The weather was glorious as the low weather system had continued south and we were left with beautiful blue clear skies.
Sunday morning we headed over to the Port of Airlie to pick up our boat with GSL Marine. We were all checked in and then boarded – the seats were allocated to us at the start and would remain ours for the day to ensure no cross contamination which was fine. We enjoyed the fast drive out around between Hayman Island and Hook Island – keeping an eye out for whale sightings. This area is so similar to the BVIs with numerous islands and lots of charter boats, just without any density of population as most of the islands are uninhabited (other than high-end resort islands) and are part of the national park.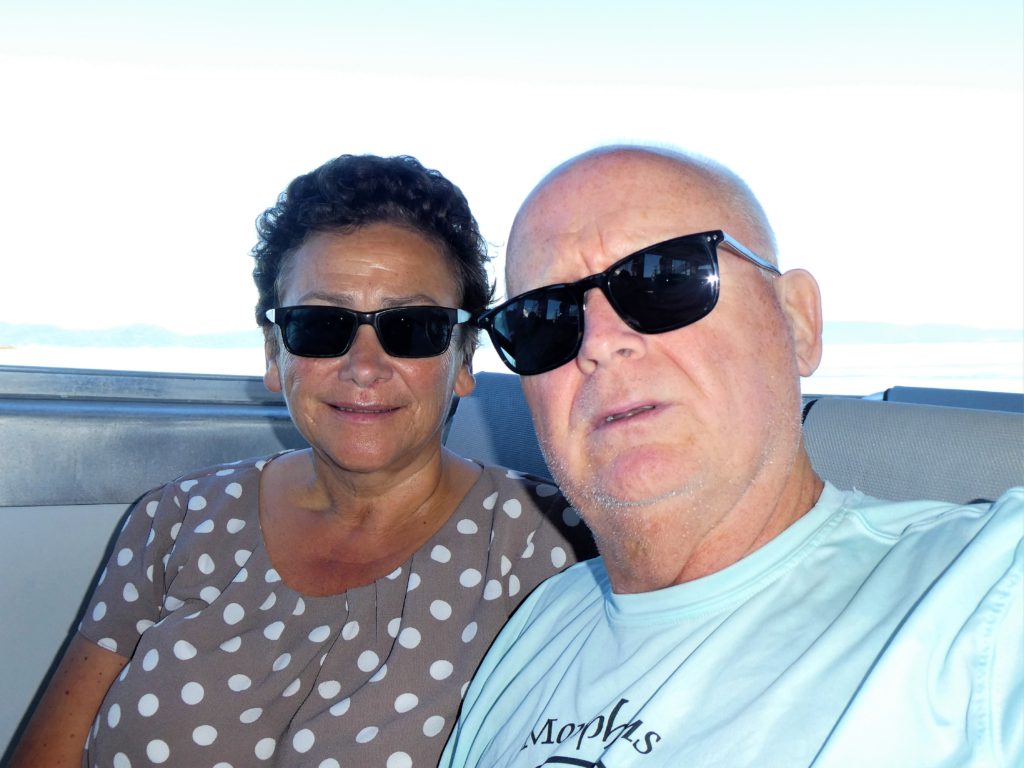 We came to a stop at Chalkies Beach which is located on the western coast of Haslewood Island. This was to be our snorkel stop. The sea temperature was way too cold for our liking so we enjoyed the peace and quiet of the boat on the bow while most of the tourists jumped in and swam around being escorted by a rib and a stand-up paddle boarder just in case of difficulty.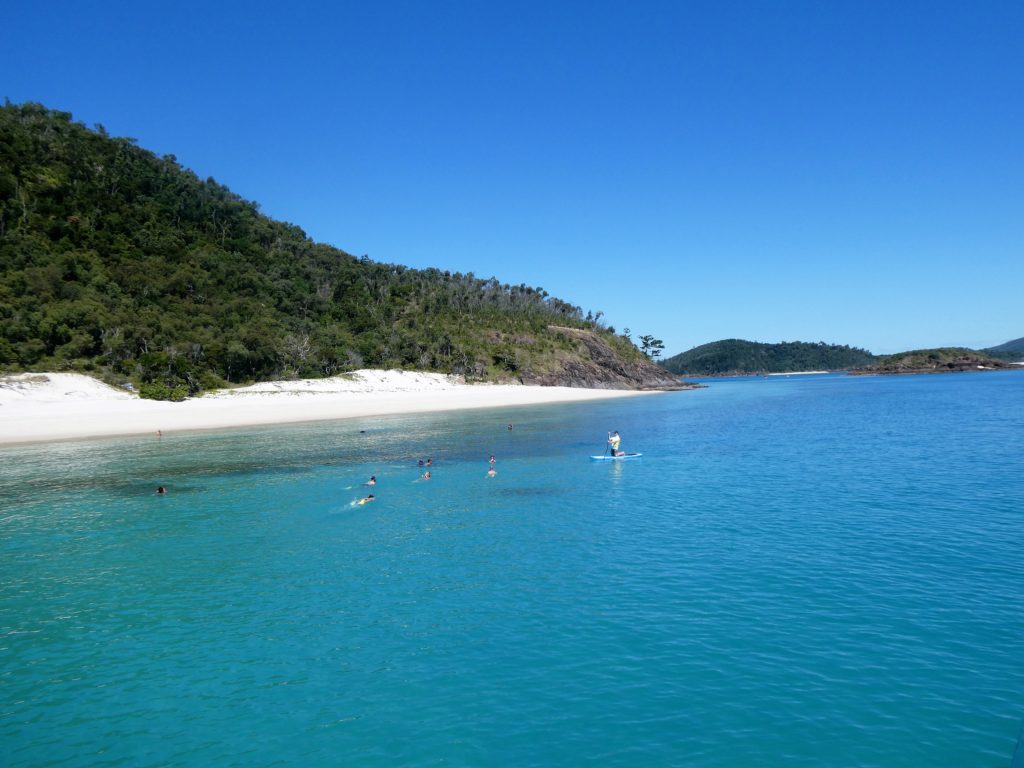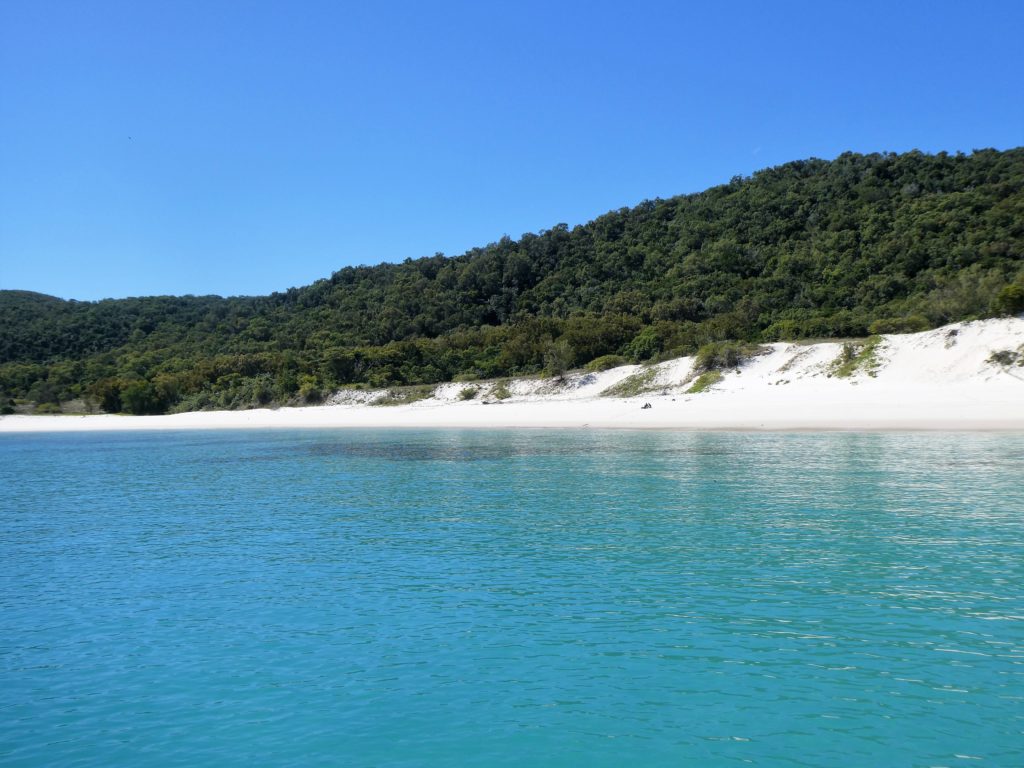 Once they were back on board (shivering) we were fed our lunch. Because of Covid there wasn't a self-service buffet just one of the guys making rolls to order like Subway. Good selection of fillings but one roll per person really wasn't enough and there were a few grumbles about it. There were also no hot drinks which had been promised.
After lunch we headed over to the famous Whitehaven beach which is on Whitsunday Island. The sand here is 98% pure white silica and is beautiful so we can understand why it has been voted the best beach in the whole of Australia. We had one and a half hours here to enjoy so we just lazed around taking in the sun and I even braved the terrors of the water (stingers / sharks / crocodiles and stonefish to name just a few) to do a bit of bobbing which was fun although very cold and didn't go above my waist! Richard declined the invitation to join me briefly LOL.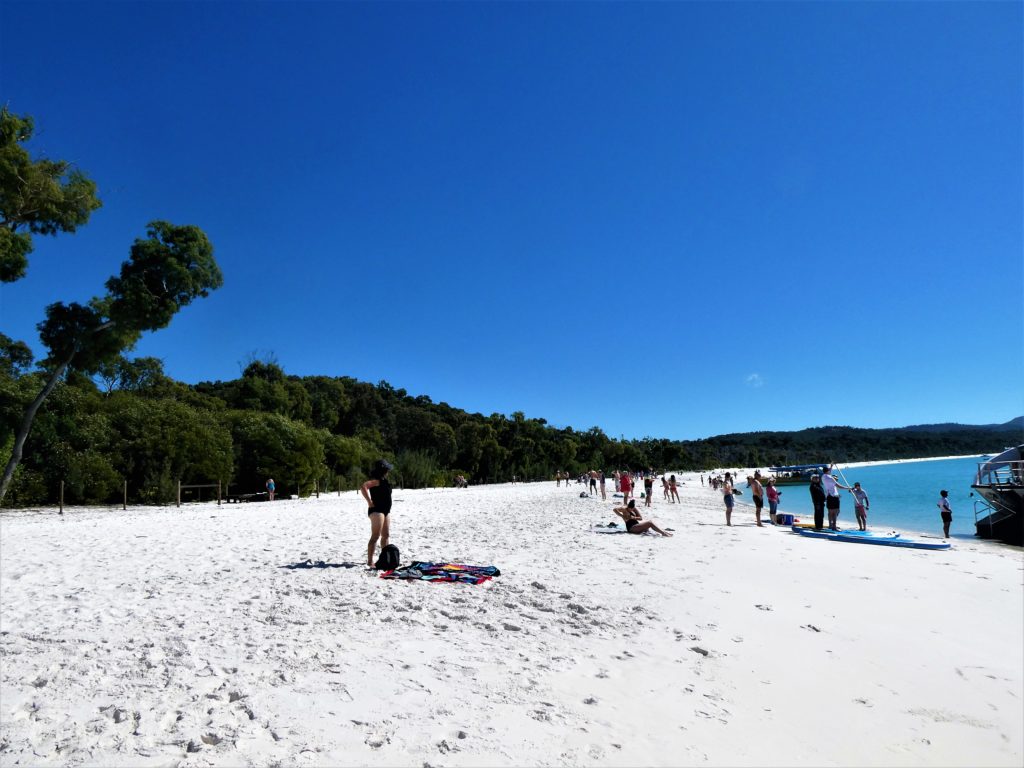 All too soon it was time to get back on the boat and we motored around the corner to the Hill Inlet and climbed up the path to the viewing platforms at the top. I struggled a bit on the steps but we did make it and enjoyed the views although it would definitely have been better if it had been low tide when the swirling sands would be much more visible.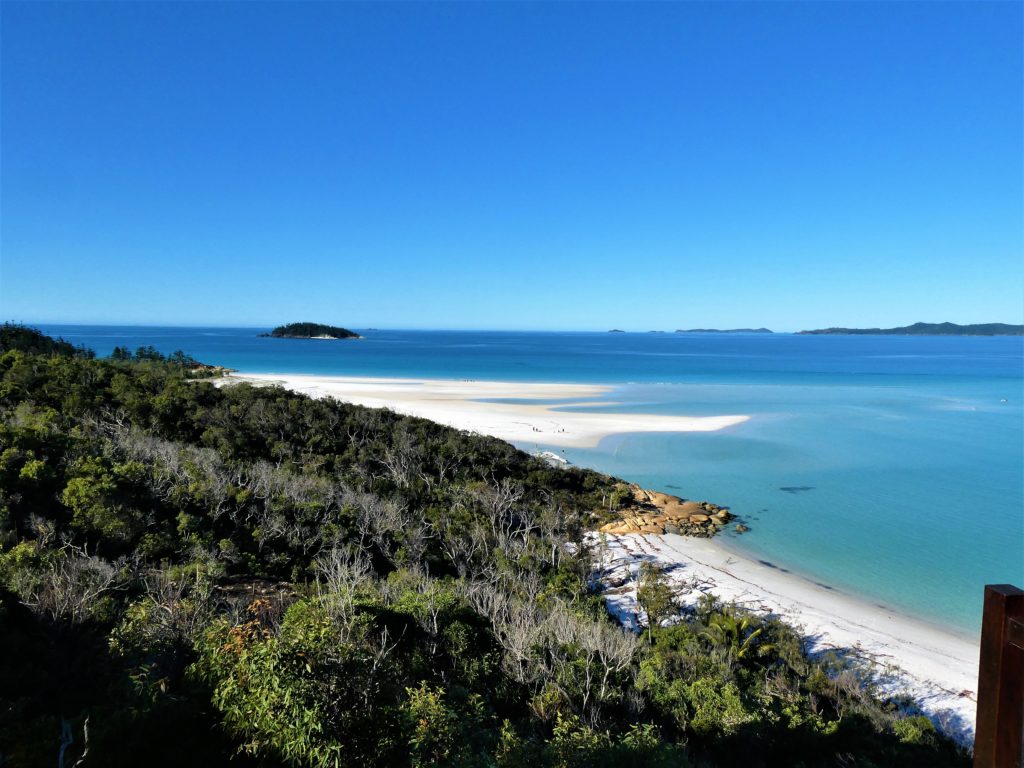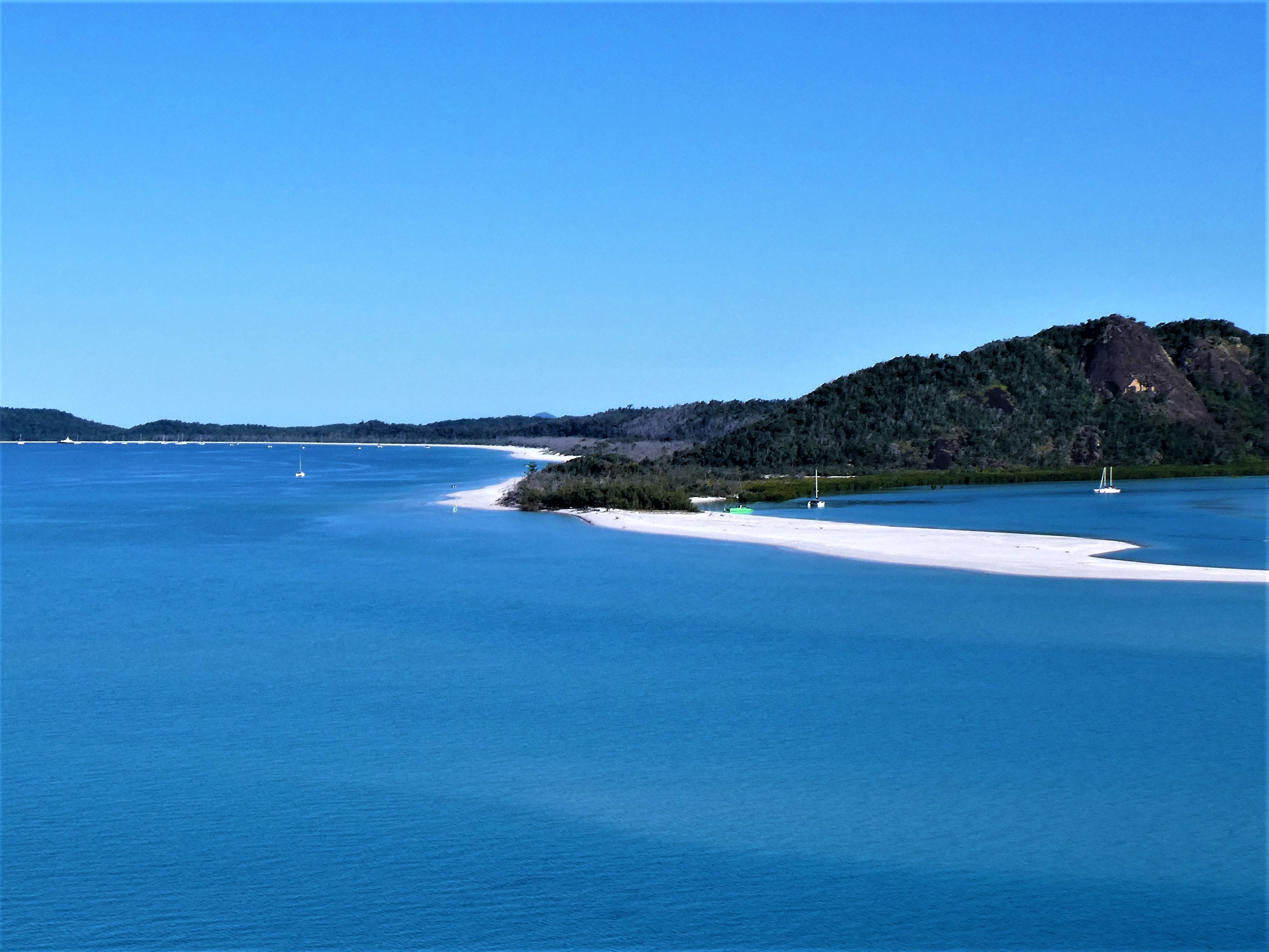 After that it was a fast ride back to the Port of Airlie and we returned straight to our apartment. We got the last bits of laundry done whilst we cooked and ate dinner then packed our bags in preparation for the morning.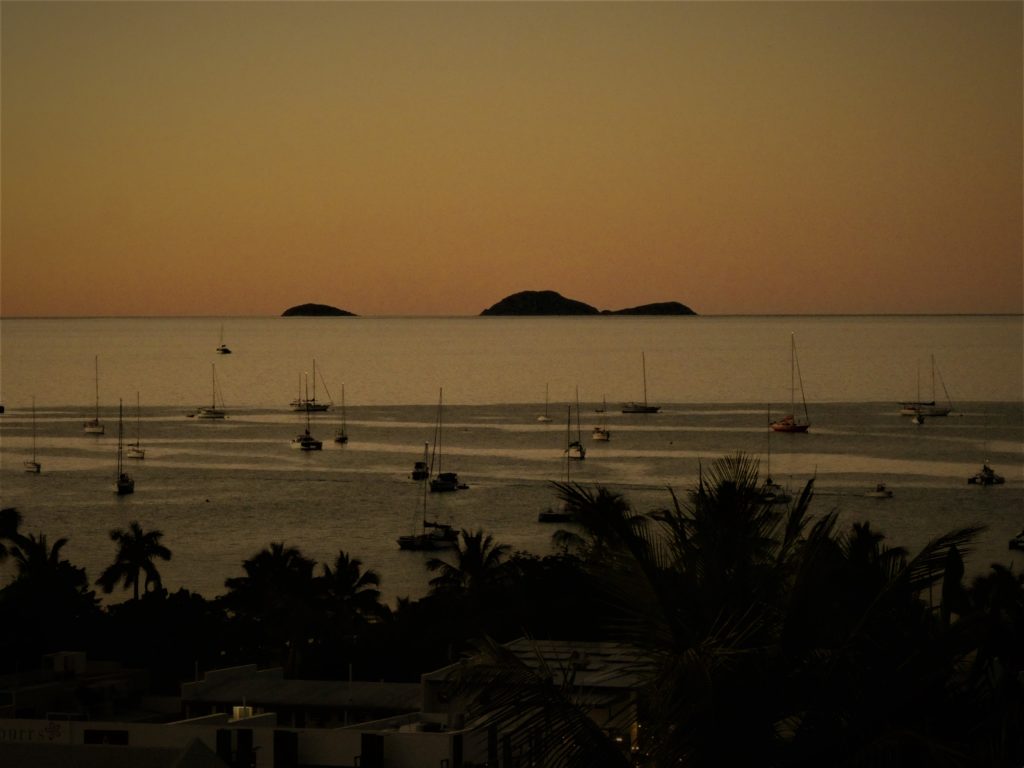 Monday morning, at 6.50 am, we were at the bottom of the steep drive ready to go.
The airport shuttle bus picked us up and we left Airlie Beach behind. We made good time and got our boarding passes from the desk despite checking in online – which meant that we had the front row seats again – so pleased about that.
We took off just before 9am and landed into Brisbane about an hour and a half later. We were met by our Uber and then were driven back to the Boatworks. Morpheus was looking very clean and tidy (having been rained on heavily over the weekend) and we unpacked quickly. At 1pm we picked up our courtesy car and headed to the Coomera Medical Centre for Richard's latest doctors appointment. That all went very well and he remains very happy with his progress. Whilst Richard was occupied I did some shopping for fresh provisions and then back to the Boatworks where we had a lazy evening on board reading and relaxing. Felt very good to be back on Morpheus although we had really enjoyed our explorations elsewhere.
This morning, Tuesday, and Richard picked up the outboard which was finally ready to go. Yay! We got it up and secured onto the rail, so was happy about that. Afterwards we treated ourselves to breakfast at The Galley which was nice. Richard then filled up the bilges with fresh water to flush them through and has also just emptied the water tank completely and refilled while I've been down below blogging. Afterwards he started reinstating all the lines in preparation for getting the genoa and staysail on.
This week will be about completing our boat jobs and getting Morphie ready to move down the river to Sanctuary Cove Marina so we have a list of things to keep us busy.
Bye for now, stay safe and well everybody,
Jan