Tuesday morning (23 November) we were picked up in the car by Mike and Karen (SV Island Girl) on a very cloudy and rainy day in Mooloolaba. They took us out and about to visit Noosa (where they live) and we had a lovely time exploring this beautiful area – despite the weather – and finding out a bit more about it. Such great tour guides! Check out the views out to the Noosa Bar – despite the rain this wasn't even a windy day. Certainly wouldn't fancy trying to navigate in through that narrow and shallow river entrance.
And what about the Tawny Frogmouths we came across up at one of the lookout points? They are so serene and laid back and we were transfixed having never seen anything quite like them before.
We decided to drop Dudley (the dog) off at home before we headed out for lunch and had a quick look around their neighbourhood. Now this has to be the most unusual fence you will ever come across – who would want or even need to make a driveway fence out of giant pencils? Just plain weird!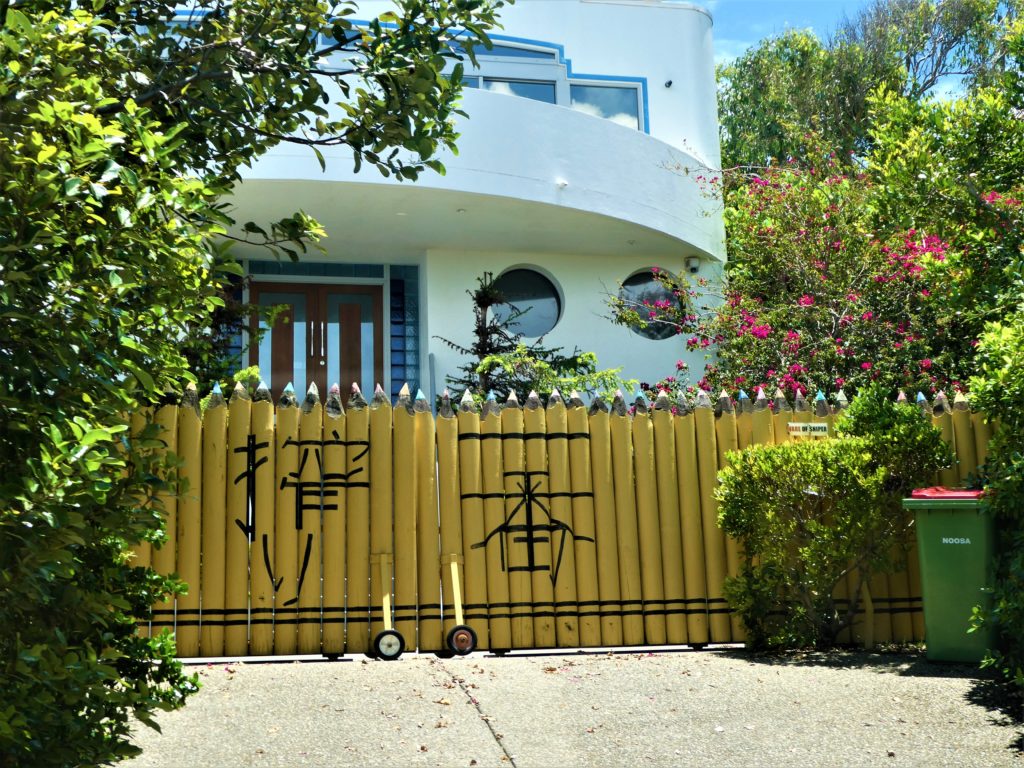 We have noticed here in Australia that building styles can be extremely varied and Noosa has an eclectic mix of properties scattered around the hills of this beautiful neighbourhood – which is delightful in that it does not allow high rise properties in the town. It was very strange for us to see so many different styles in the same place…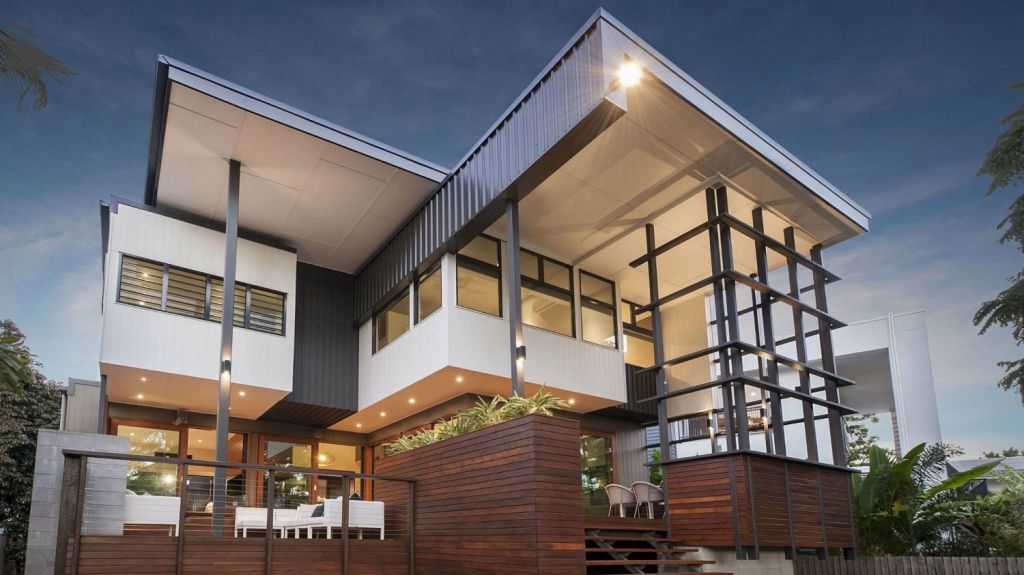 At Mike and Karen's home we were completely blown away by the way in which their architect had designed the house to flow up/down the hill with the different areas being very distinct but discretely linked. Absolutely amazing job and brought to life by Karen's stunning artwork and some fantastic design features within the decor. The whole place is just simply fantastic – they should be so proud of what they had achieved! I could live there in a heartbeat…
Moving on we headed back through the main street in Noosa – which has a very laid back village-type vibe to it. Destination was the Noosa Heads Surf Club where we had a lovely late lunch.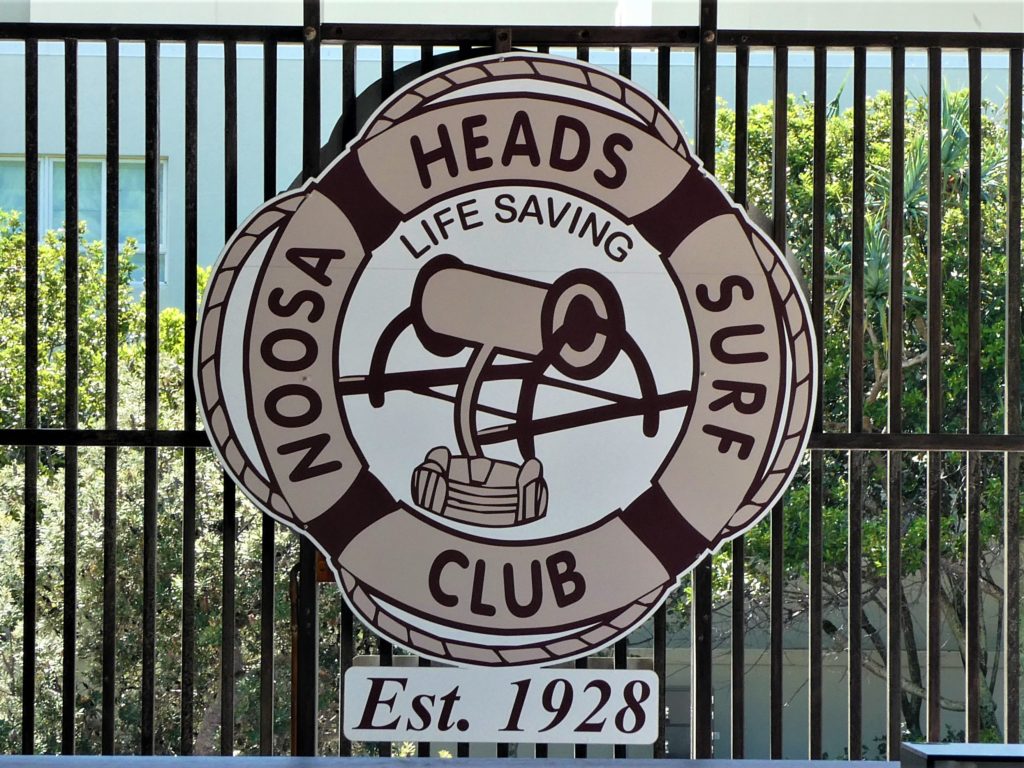 We then headed back towards Mooloolaba via more scenic routes and stops along the way – including picking up some fresh prawns for me and a spanner crab for Richard for tea.
Finally back at the marina we said our sad farewells and returned to Morphie – had been an absolutely fantastic day. That evening we had fun demolishing the seafood before having a quiet night in.
Wednesday we were getting ready to depart Mooloolaba so were doing usual jobs and checks – getting rid of the rubbish / engine checks / inputting route to the plotter / topping up water etc. We then headed out of the marina admiring the fishing fleet as we went through and headed out to cross the river bar at 10am, around slack tide. Thankfully it was flat calm with very little swell so no dramas as we headed out towards Moreton Bay.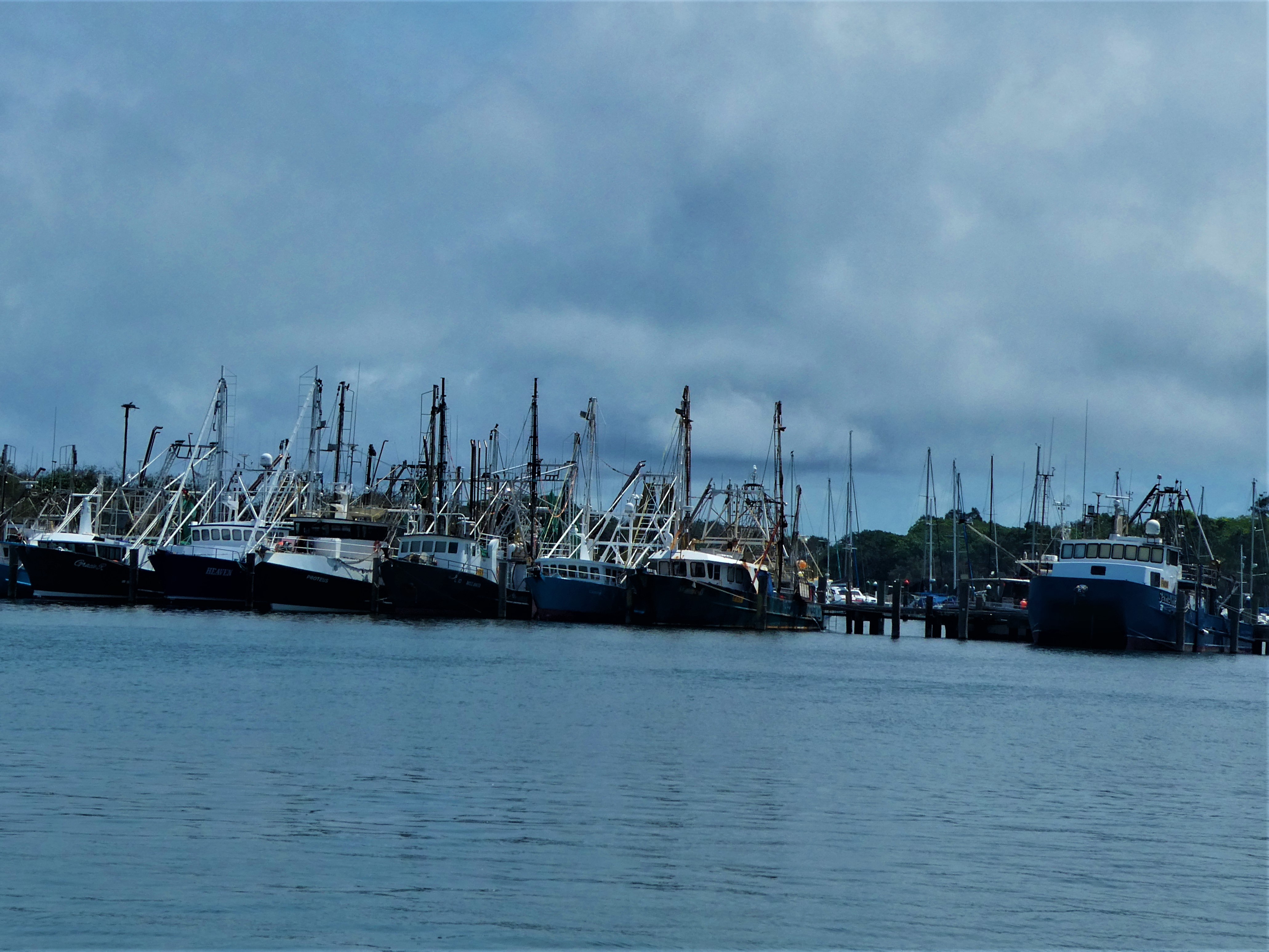 As we continued down the coast we had a stormy sort of view of the Glass House Mountains, they look quite menacing in these cloudy and miserable conditions. There were a lot of ships about and a particular shallow-draft ship – The Brisbane – went outside of the official shipping channels so it could overtake a large container ship – so we had to keep our wits about us.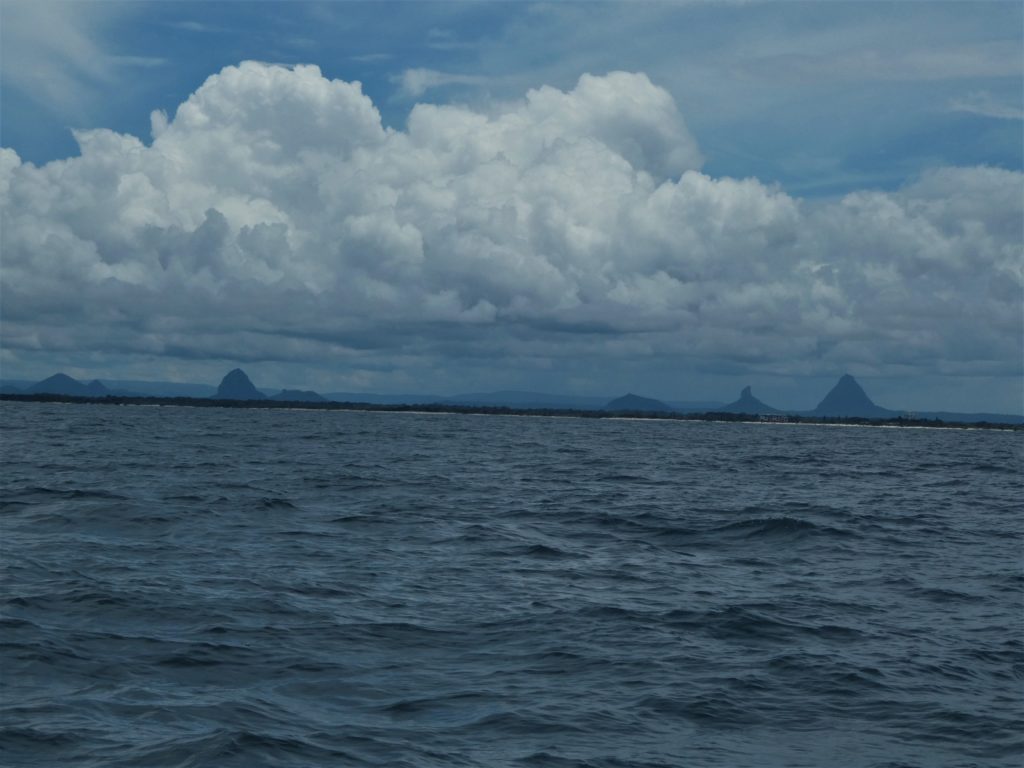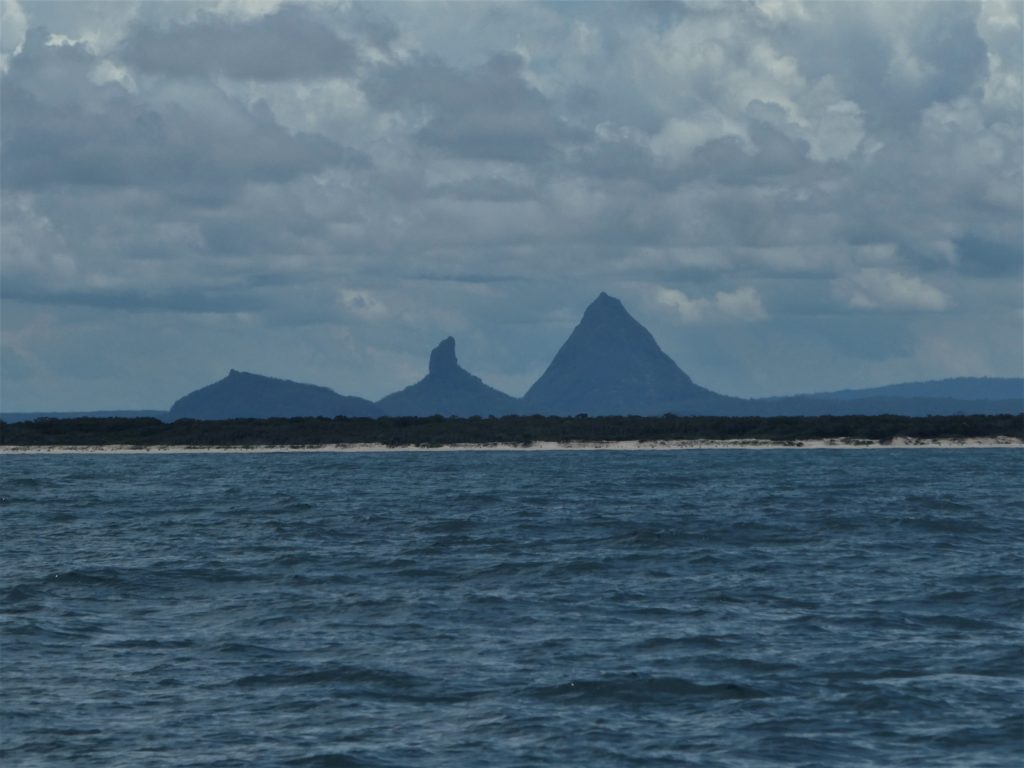 The wind was light but at least from the right direction (northerly) and we had to push hard to maintain speed to arrive before dark. At 5.30 pm, having travelled a distance of 38 miles, we had the anchor down just south of the resort near Tangalooma wrecks and opposite some people 'wild camping' on the island. We celebrated our arrival with dinner down below as the heavens opened yet again.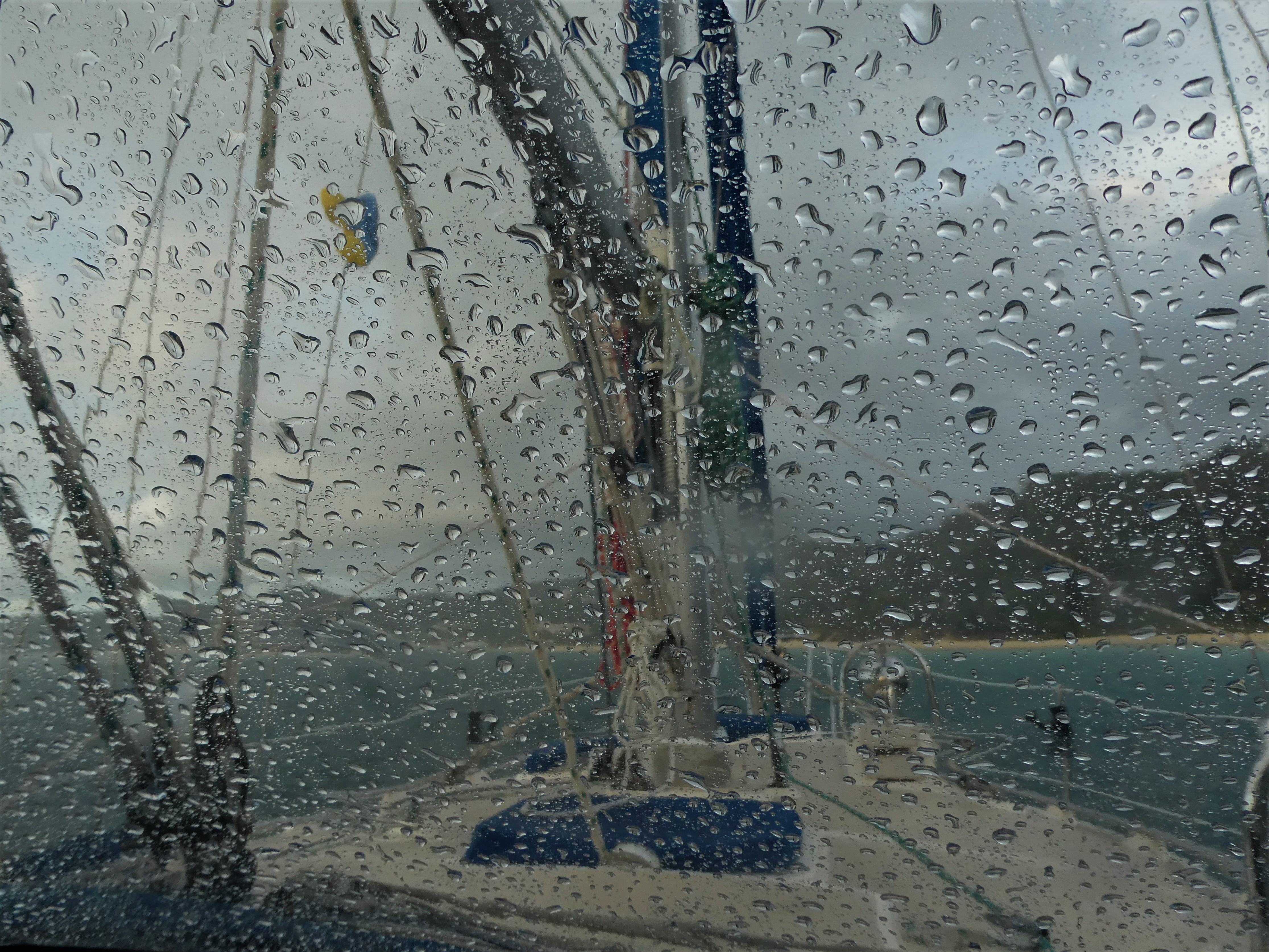 Thursday morning we had our anchor up by 6am and motored out in horrendous rainy conditions. Thankfully the rain eased and we ended up motor sailing with both main and genoa deployed watching out for rain squalls all around us.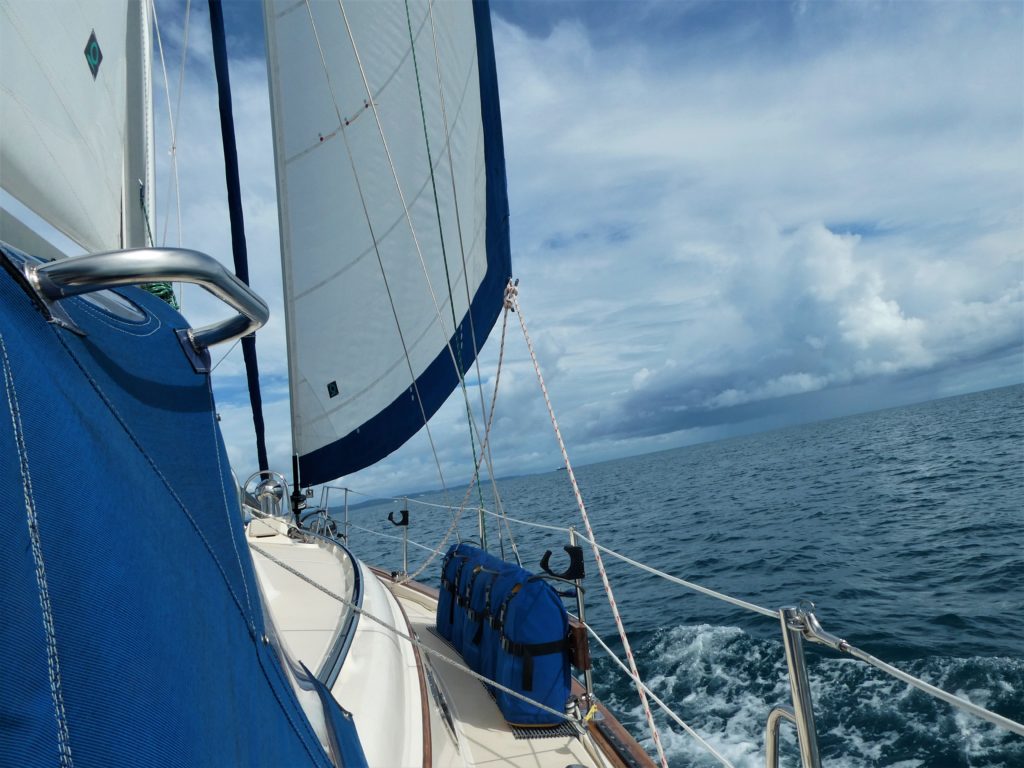 And, of course, when it was time for fenders and lines to be deployed before heading into the marina the heavens opened yet again….sigh….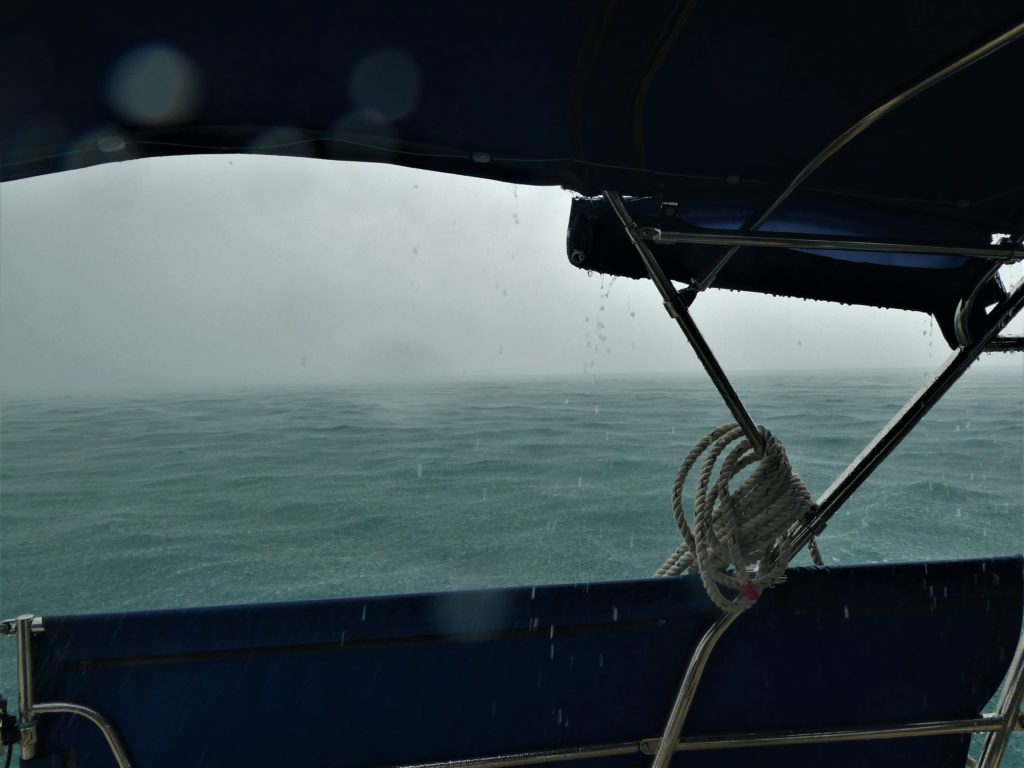 At 10.25 am we came through the leads into the Royal Queensland Yacht Squadron marina (RQ) at Manly having covered 21 miles. RQ promised assistance on the dock (which we were sceptical about) and there was no-one there when we found our allocated berth. So Richard did a 360 whilst I got ready to lasso a cleat and then, suddenly, we had company and assistance so we went in and got ourselves tied up quickly. The wind had started kicking in by now at 15-20 knots and we were being blown off so was grateful for the berthing help.
Richard went to the office to check in but I stayed onboard. It was a long walk and by now I was seriously hurting from the top of my head to the tips of my toes. I believe it was a fibromyalgia flare up so I gave in, listened to my body, took some strong pain relief, and went back to bed. Richard returned from the office and joined me as he felt a bit weary too. And that was it for the day – with the rain thundering down on the coach roof above us – we just relaxed, rested, read and snoozed the day and evening away.
Friday morning we awoke to more rain and strong winds. So we stayed down below getting on with admin / banking / computer type jobs and I continued to be careful when moving around but was very pleased that I felt much better for taking some time out. At 6.30pm we headed out to meet Steve and Jo (SV Tamanu) for dinner at the Moreton Bay Trailer Boat Club. We hadn't seen them since the Shaggers Rendezvous back in August. So we had a great meal (curry of course LOL) and lots of laughs.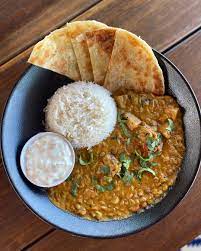 Saturday morning we were up early and I was relieved to feel completely back to normal. So we decided to stretch the legs and walk into Manly. We were lucky to avoid the rain showers and enjoyed watching all the kids getting ready to go out sailing at RQ. We admired the views of the marinas as we walked along – there are four in this basin – and then arrived at Manly after about 25 minutes.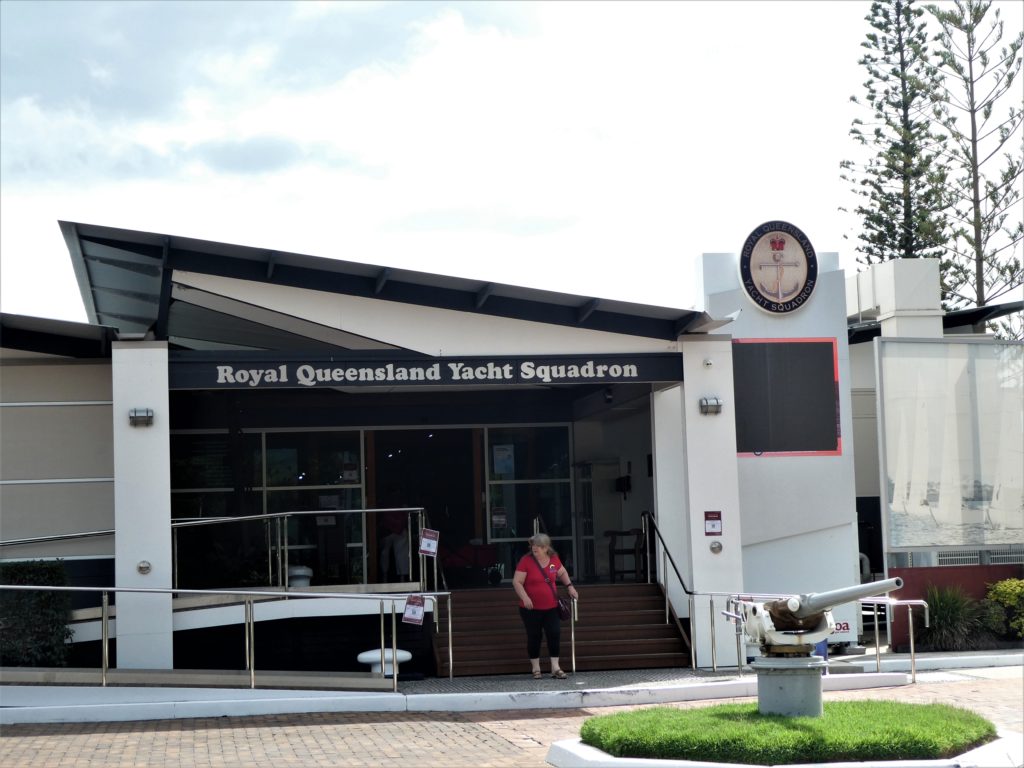 We had breakfast out at a local café called Keiths on Cambridge. We didn't have high expectations of the place but preferred the menu here more than the up-market Sea Vibes across the road. Well, we were very pleasantly surprised, this was the nicest breakfast we had had in a very long time. It could be our bias towards 'fat' toast being included though LOL.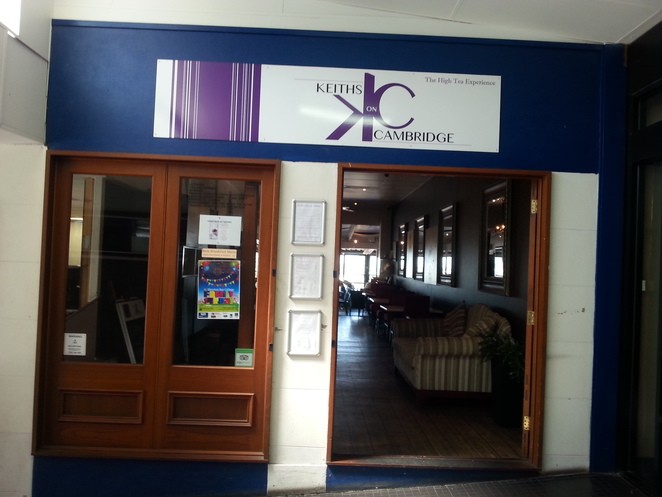 After breakfast we did a little bit of shopping – just fresh fruit, vegetables and some bread from the bakery. Then we took the slow walk back. I did have to stop for a breather once we got back to RQ so enjoyed a soda water watching all the little 'ducklings' go out racing for the day. Lovely to see the kids having so much fun and wonder how many Australian champions are here in the making?!?

We rushed back to Morphie as the clouds started building again and wondered if we were about to get the thunderstorms that have been forecast for days. But we just got the torrential rain instead and some very strong winds. So we had a quiet afternoon and evening down below.
Sunday morning we were up at a reasonable time and I headed to the laundry having stripped everything whilst Richard cleaned and tidied the boat up down below. By the time I came back he had even re-made the bed and polished the teak. Amazing job…. At 5pm we had sundowners onboard Morphie with Steve and Jo plus Ed and Yvonne (SV SteeLee). So another Shaggers reunion! Was fun to catch up again and we had a really nice evening.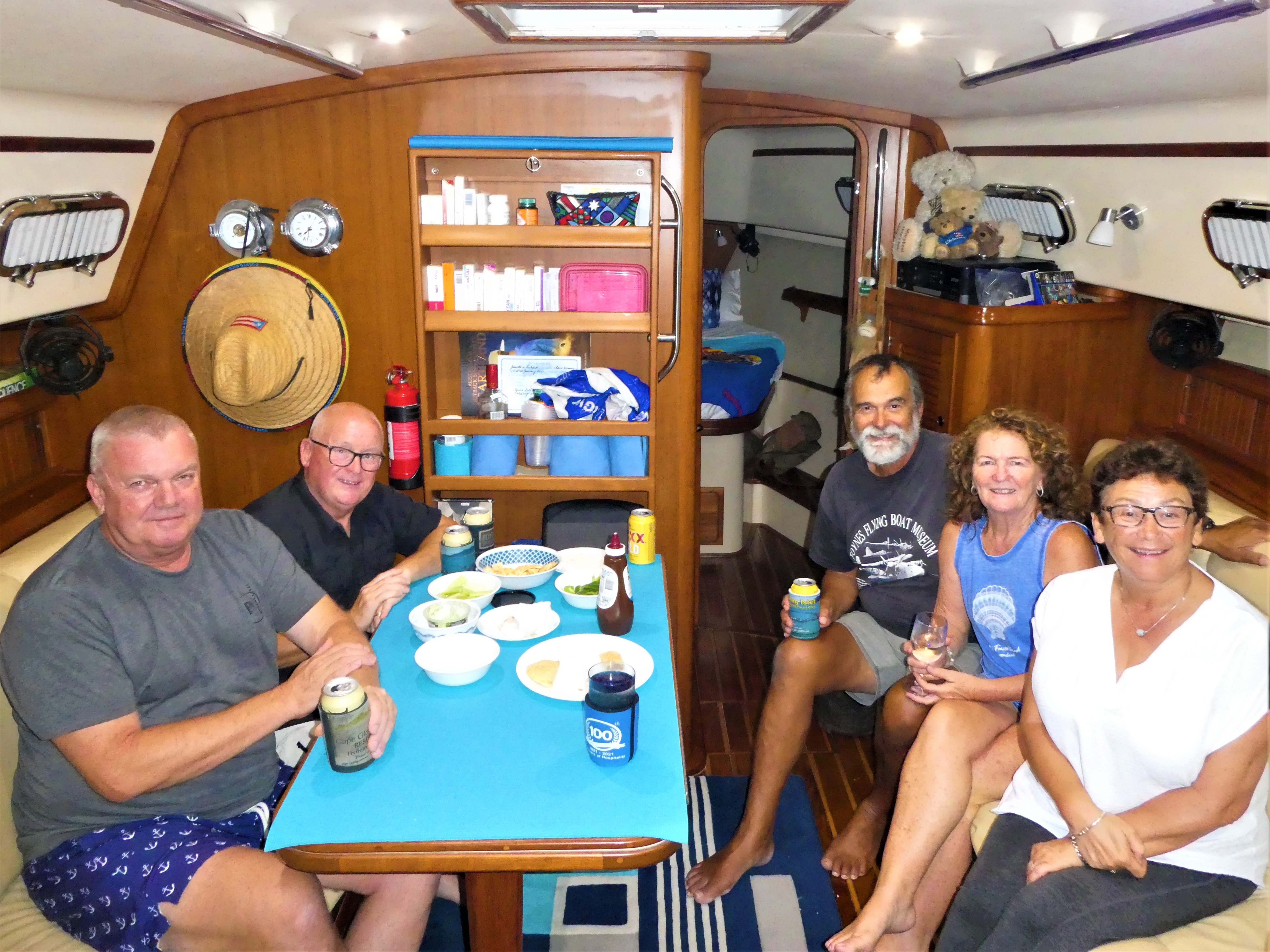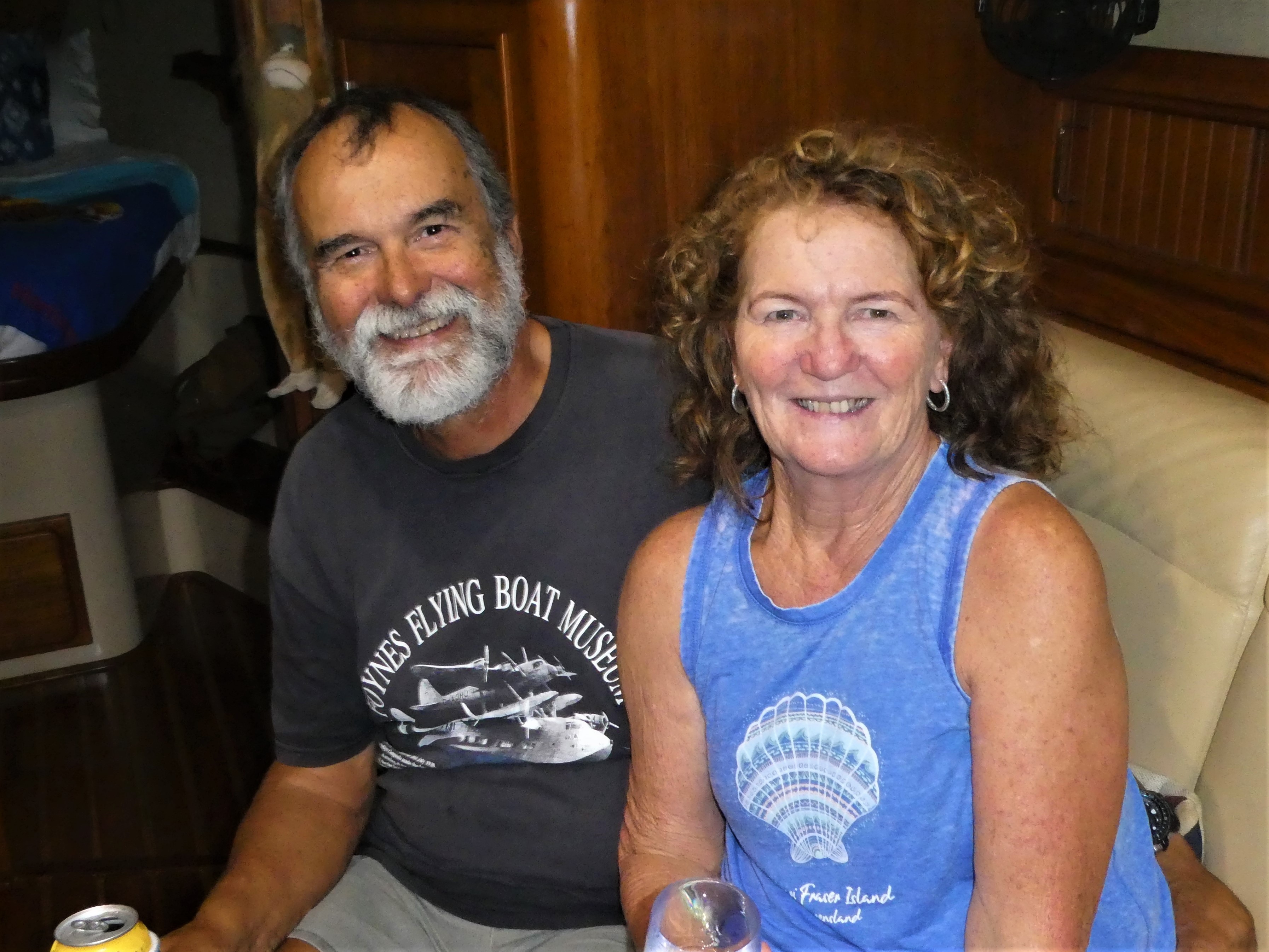 Monday morning, after a bit of a lay in, we checked the tides and weather in preparation for our departure on Tuesday. The wind continues to howl and is quite strong with gusts up to 30 knots from the south – which is exactly the direction we are heading. The forecast for Tuesday had the winds moderating slightly but a very heavy rain day so we decided to extend – we will be leaving here on Wednesday now instead. Oh well, never mind! ,
In the afternoon we were joined by Steve and his friends Ron and Annette for sundowners. They had recently sailed into Australia from New Zealand on their Tayana yacht (they are Australian citizens) and were forced into hotel quarantine (at their own cost) for 14 days on arrival into Queensland with no time allowed for their passage at sea. Queensland have been trialling home quarantine for double vaccinated returning citizens but, unfortunately, yachts (along with caravans / lodges etc) are not considered to be suitable places for home quarantine purposes. Again more examples of rules being made on the hoof that really don't make much sense. Would have thought a double-vaccinated couple isolated on their yacht at sea was a much lower risk than someone who flies in on a commercial airline! Anyway, it was lovely to meet them and we had a good evening.
So what else is going on? Well the Australian international border was supposed to be opening soon to international students / visa holders and some 'green list' countries such as Korea and Hong Kong. But, of course, since that announcement we have the new Omicron strain and the whole border opening has been delayed by a further two weeks. So here we go again! Just hoping that we will be able to go to visit my family in NSW in January but know that it will not be a certainty until much nearer the time. Many people here in Queensland support the regional Government for their tough border stance – despite some heartbreaking stories – but the restrictions for non-vaccinated people that are due to be coming into play in December will certainly be contentious. Check them out below. Will certainly be very interesting to see how all this pans out!
Anyway, time to lighten up LOL. To cheer us all up I thought I'd stick with the Christmas animal theme from last week – so here is a cute but puzzled dog dressed as Father Christmas. Enjoy, it made me smile!
Bye for now, Jan