Sunday (8 May) was Mother's Day here in Australia so Hayley was awakened with gifts from the boys whilst I prepared a large late breakfast for everyone to enjoy. Feeling very full, around noon, we said 'goodbye for now' and drove down to Sydney. The traffic was pretty heavy but the extensive underground tunnel / toll system enabled us to make it to Sydney airport in a good time. We navigated our way to the international airport car rental returns car park and found a Hertz space – but the booth was unoccupied. Not wanting to just drop keys into a box we took photos of the 'full tank' and the mileage done then walked into the terminal to deposit the keys at the rental desk. All done we then headed to the Rydges Hotel which is literally just across the road from the terminal. At this point we were glad we only had a small amount of luggage to drag with us LOL. We checked into the hotel, got ourselves sorted, and then headed to Smithy's Bar for some dinner before having an early night.
Monday morning we made a very early start and was on the courtesy bus to the domestic terminal by 7am in preparation for a 10am departure to Hobart. We were only supposed to be there an hour before the flight but we thought we'd rather have breakfast once we had checked in and got through security. On arrival we were met by absolute chaos. First we had to join the queue to get to the self-service check-in desks to get boarding passes and baggage labels. After shuffling along we finally made the front of the queue, printed off our tags, and secured them to our bags. Then we had to join another queue to get to the bag drop off desks. More shuffling along amongst a pretty irritated group of people.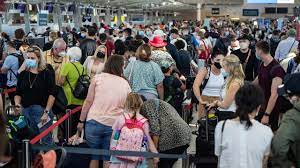 Bags dropped off we then joined the security line which was also long. Eventually we were through – woo hoo – and had a chance to grab a quick cuppa and breakfast bite to eat before boarding our flight to Hobart. And, of course, after all the queuing the flight was delayed by over an hour but, hey ho, guess this is the new 'normal' of flying anywhere. It certainly wasn't much fun!
Finally on the plane we took off and, after a couple of hours, we saw our first sight of Tasmania. The first European to land on the shores was the Dutch explorer Abel Tasman in 1642 and the island became known as Van Diemen's Land until 1856 when it was changed and became known as Tasmania. Due south of Tasmania, across the infamous Southern Ocean, is the Earth's southernmost continent of Antartica. Really can't quite believe we are here!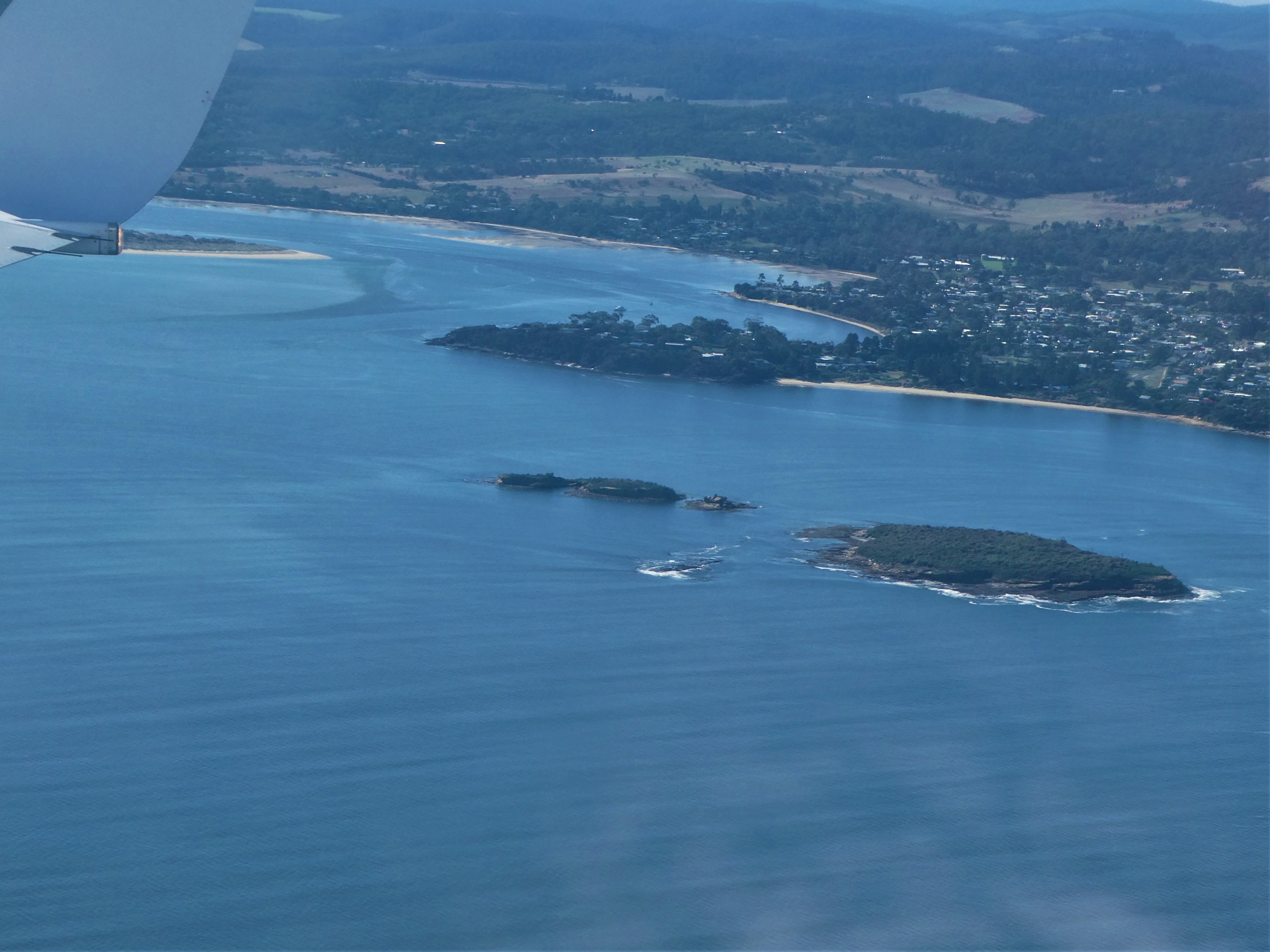 We landed into Hobart on a brilliant clear day with blue skies but pretty chilly. We found our pre-arranged car and were taken direct to our hotel The Vibe. Despite the documentation saying a 2pm check-in, the hotel confirmed it was actually 3pm. So rather than waste any more of the day we dropped our bags off and went for a wander.
First stop was the harbour and docks area – particularly Victoria Dock which is the home of Hobart's commercial fishing fleet and has a selection of cafes, bars, galleries and boutique stores along with some interesting statues. So was a nice place to spend a few hours and was surprised to see the number of fishing boats that were using traditional fishing baskets. We were also very tempted by the small seaplane doing 30 minute tours over the area but, unfortunately, was not tempted by the price LOL!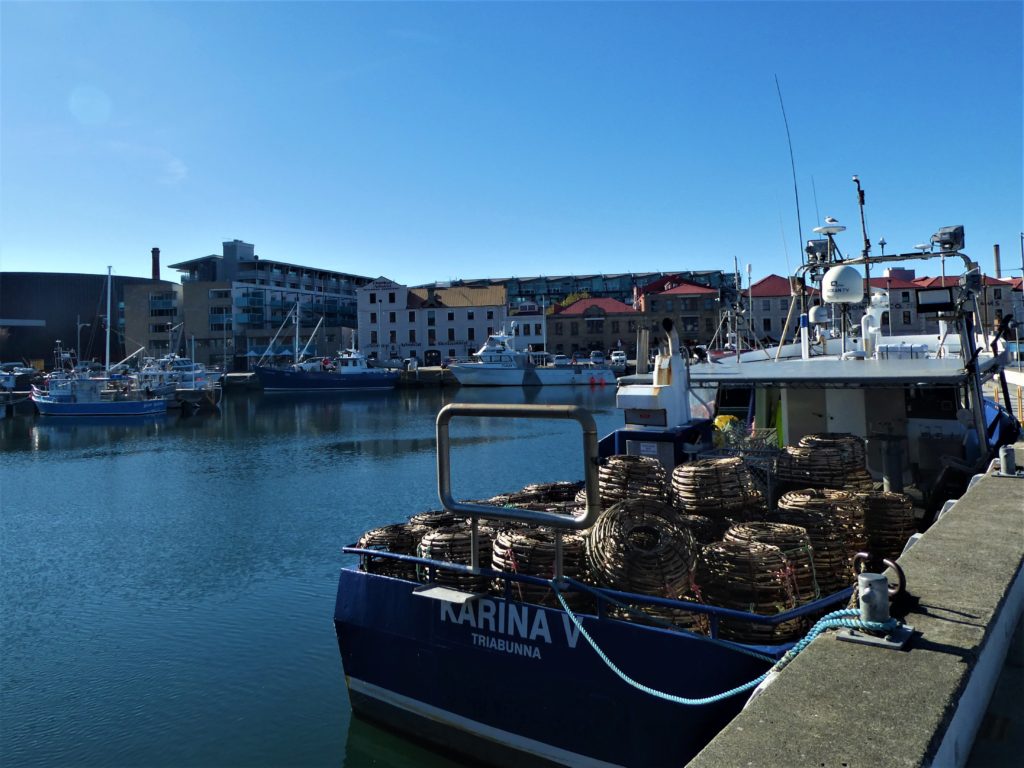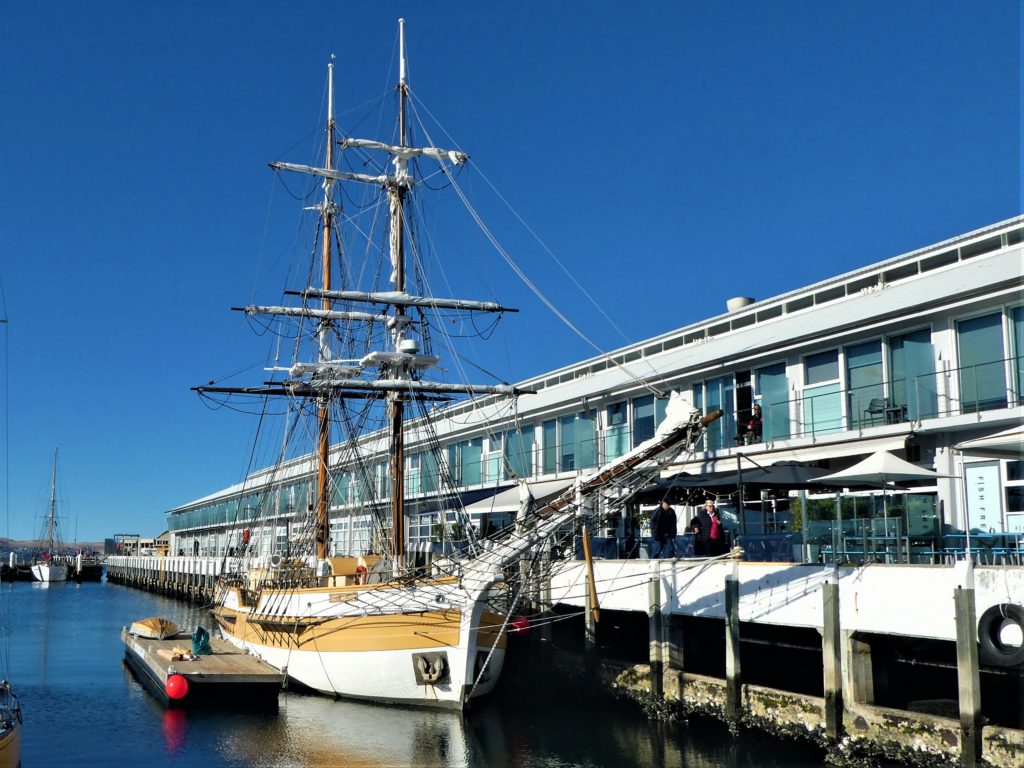 Heading back we admired the mix of historic and modern architecture – and the odd quirky item – before we returned to our hotel and finally checked in.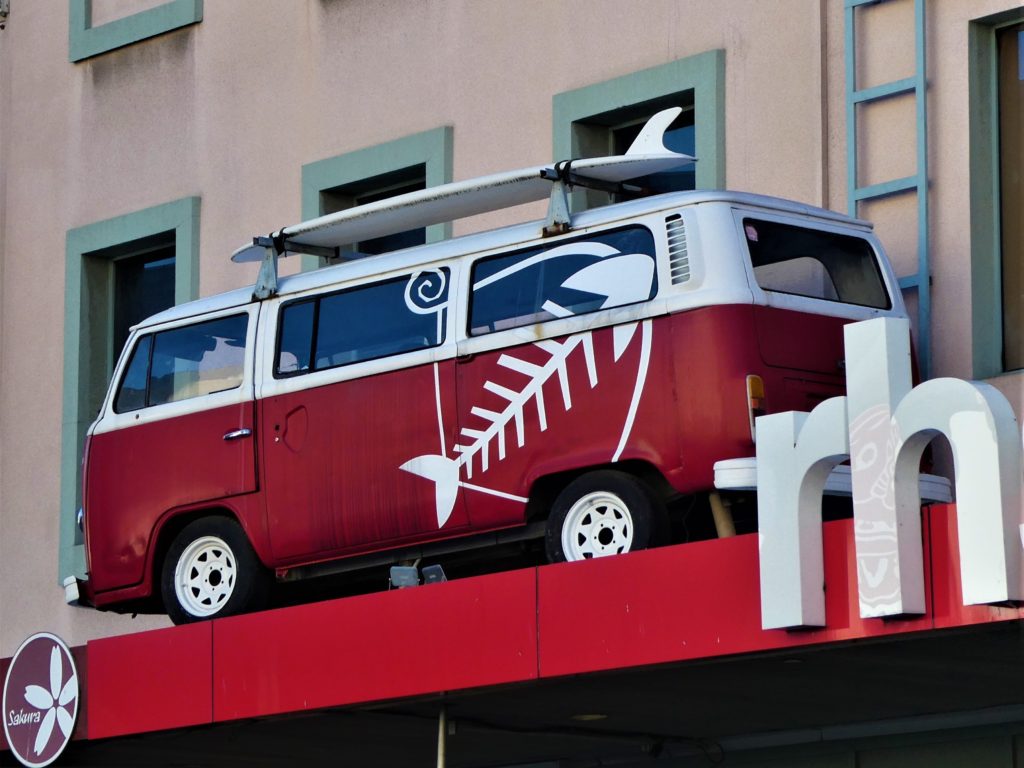 After resting up for a little while, we headed out to the historic Salamanca Place where we found a bar called The Den for a few drinks followed by a lovely Italian dinner at The Maldini restaurant. What a great start to our trip!
Tuesday morning we had hoped to go to visit the iconic MONA (Museum of Old and Modern Art) but, unfortunately, its opening hours had been reduced for the winter and was now only open at the weekends. Oh well, never mind. Instead, we found a nearby cafe for breakfast where we did a bit of research online and came across a hop-on / hop-off double decker bus tour to see the city. Perfect! So we booked online and then headed down to the bus stop on the waterfront to start our day out.
We enjoyed the sights and sounds of such iconic places at Battery Point, the modern marina near the casino, and beyond with many of the properties looking very 'English'.
We hopped off the bus at the The Cascade Brewery. This is Australia's oldest brewery but, unfortunately, no guided tours were available so we just enjoyed a few local cheeses washed down with some tasters of their brews. Their lager was actually really quite nice!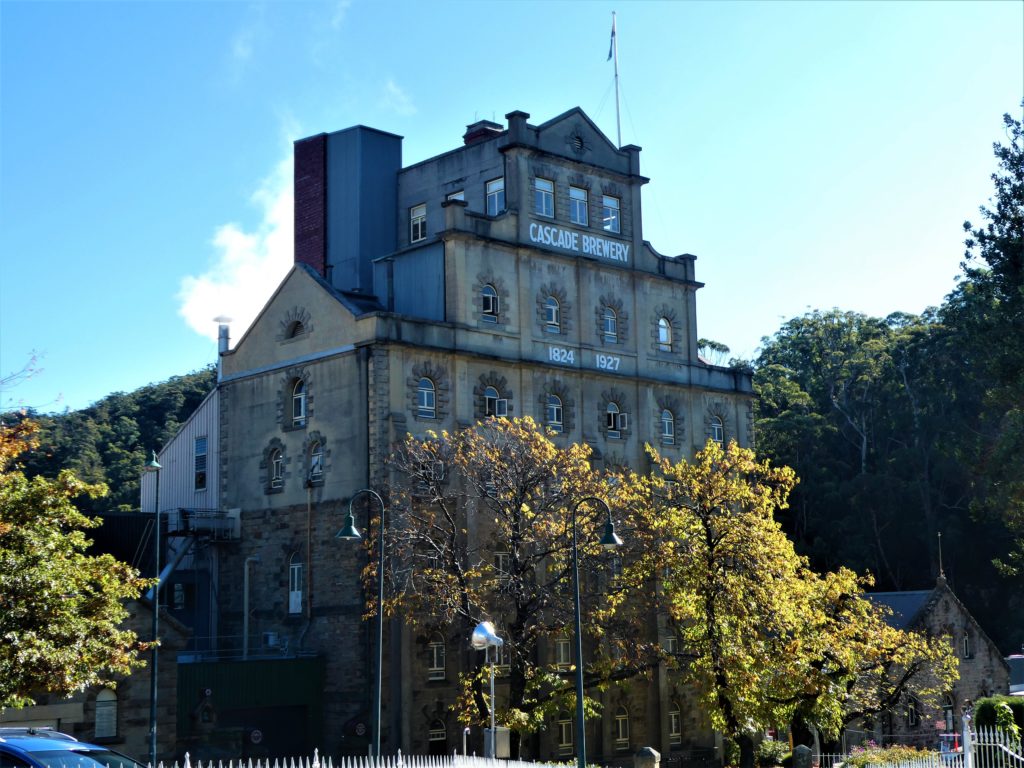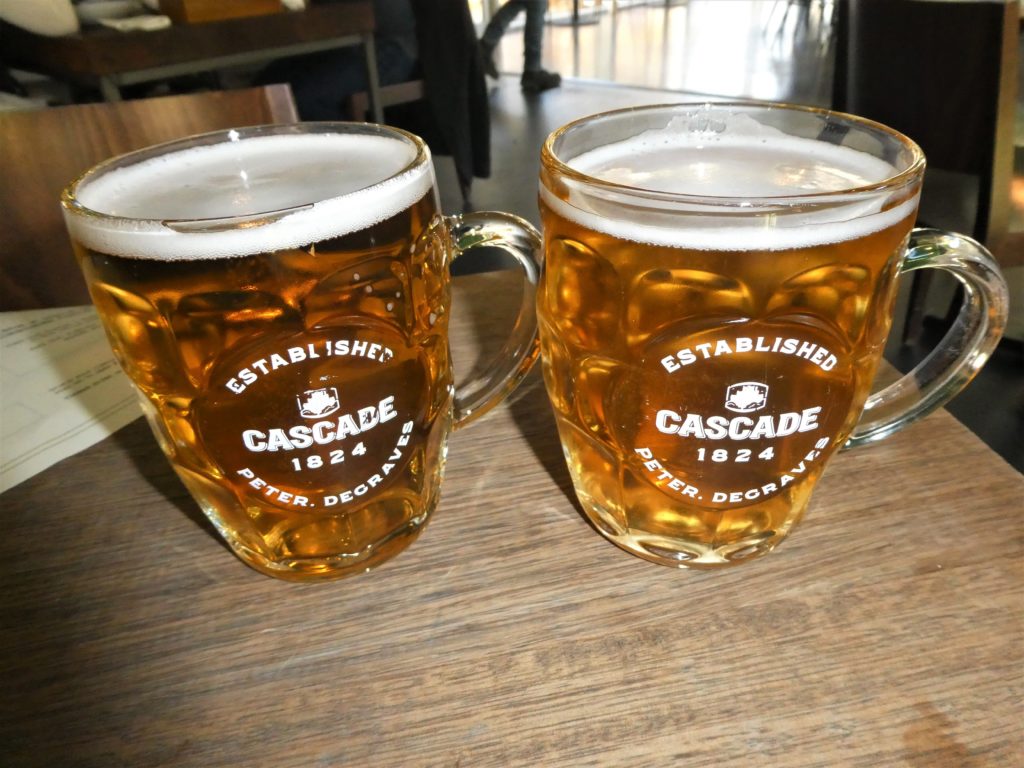 Moving on we took the Hobart Rivulet Walking Track to the Cascades Female Factory which was a penal colony for women.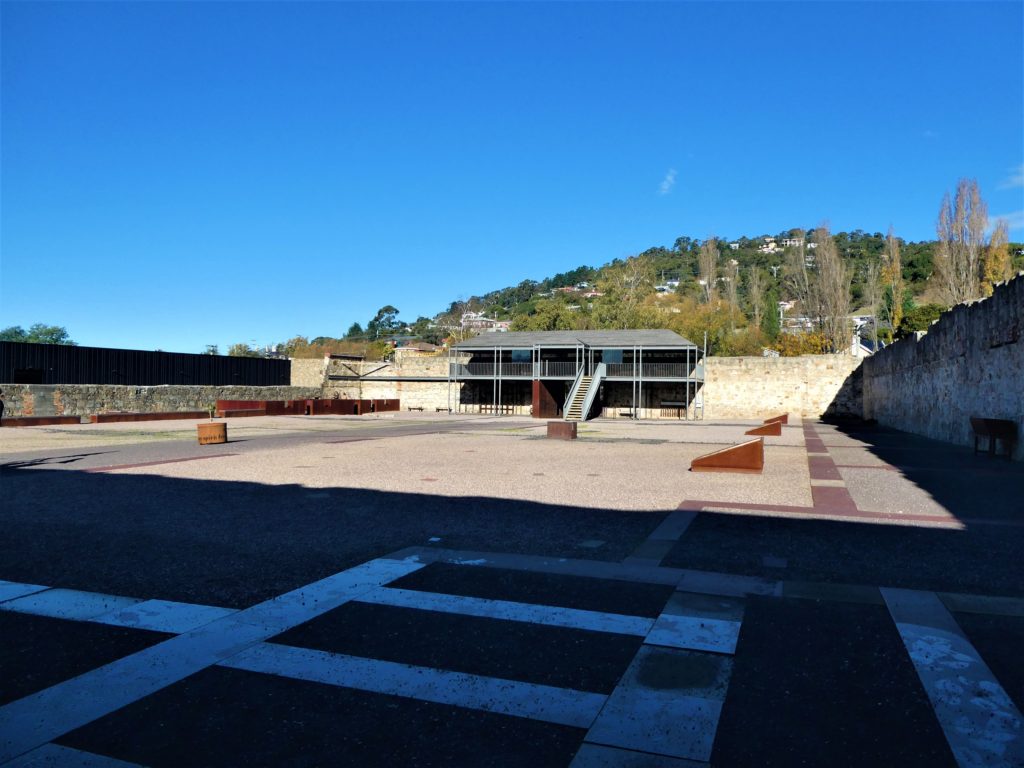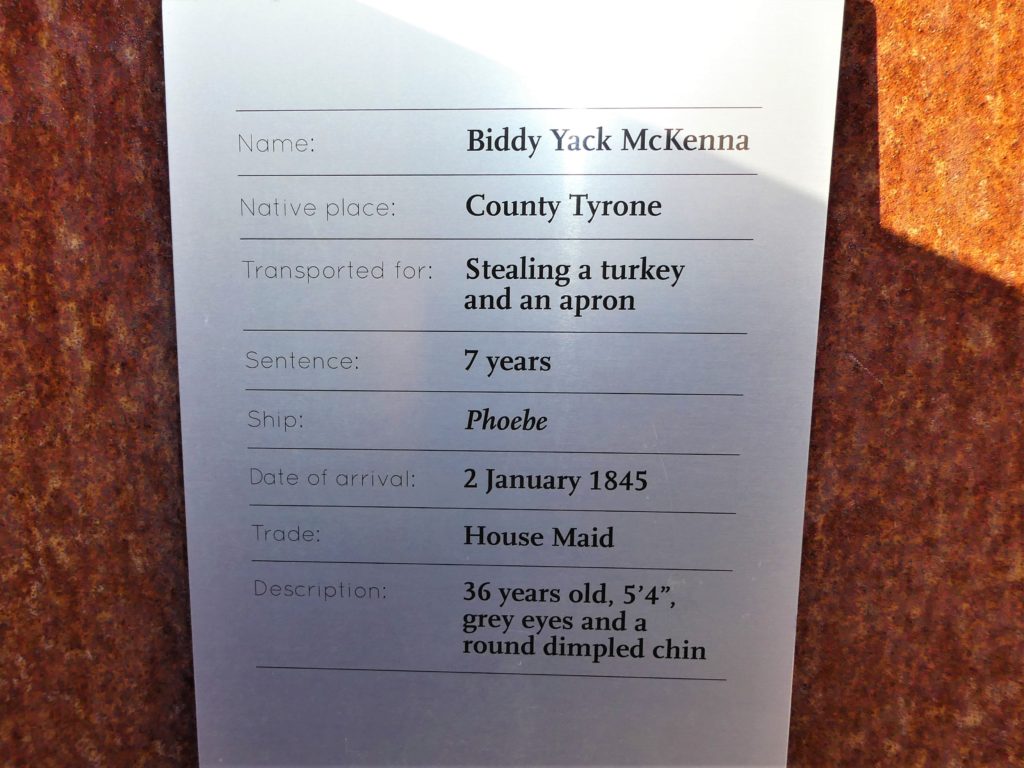 We walked the site and watched some re-enactments on a really informative video. The conditions the women were held in were pretty shocking with many of them also enslaved to local houses as housemaids and returned to the prison each night. The saddest fact was that those who got pregnant (in a women's only prison remember!!!) had their children forcibly removed from them immediately after birth to be given to local 'free' families. We also learned that, although convicts (including men, women and children alike) were sent from the UK to the colonies for the smallest crimes – such as stealing a loaf of bread or pick-pocketing – transportation was not the penalty for a first offence so these were all repeat offenders. Increased transportations, in part, resulted from less death sentences being handed down by the courts which strained the jail system so the numbers of convicts being cruelly despatched on a nightmare boat trip to the bottom of the world increased. Was sobering to find out more about this part of our country's history. All quite shocking really…. There was, in some penal colonies, an element of rehabilitation with the prisoners being taught how to read and write and perhaps a trade such as carpentry giving them a better chance of staying out of jail on their release. But that was the exception rather than the norm and has to be considered against the backdrop of inhumane torture and food deprivation. Those released back into society having served their sentences were largely dumped back onto the unfamiliar streets with no money nor accommodation so often turned to crime to support themselves and the downward spiral continued.
After this visit, we wandered back to The Cascades Brewery to pick up the bus to find out that there had been a bad road crash so the schedule was significantly impacted – so we had another brew while we waited. Back to the City we hopped off in the shopping district and picked up a few things we needed, including a pair of secateurs…seriously LOL! No, actually, what had happened was that one of our suitcase padlocks had broken in the locked position so Richard couldn't access his clothes. So we needed to break it open and we couldn't find any pliers – no hardware stores were within walking distance – so we bought secateurs as the only local option. We also had to buy another padlock to replace it. Mission accomplished we returned to the hotel and managed to break open the suitcase so we got ourselves cleaned up and headed back to the waterfront for dinner and enjoyed a lovely meal in Lower Deck Mures on Victoria Dock before having a final pontoonie at the historic Hope and Anchor Pub before an early night.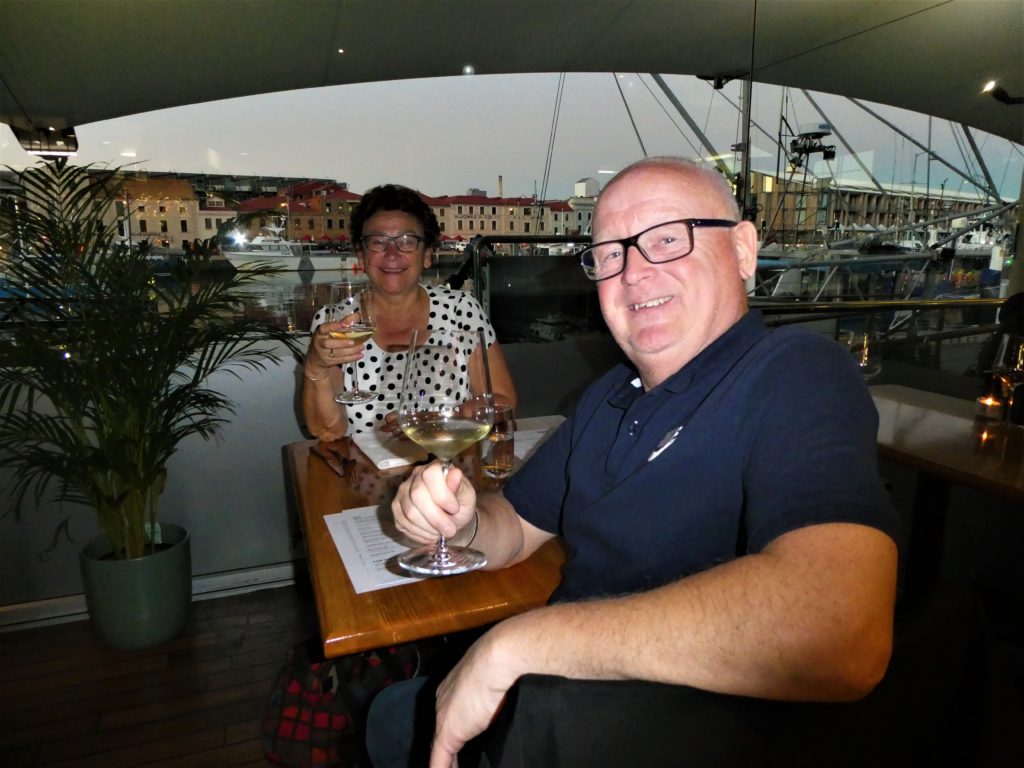 Wednesday morning we headed back to the local cafe for breakfast and then walked to the car rental pick up office. Not really happy when they gave us an MG3 as we had found this model to be a bit basic previously but, sadly, we didn't find out until it was too late so we just went with it. At least it was small and would be easy to navigate the winding and mountainous roads on this beautiful island. We drove back to the hotel, checked out, admired the view from our room for the last time, picked up our bags and headed off.
First stop was to Mount Wellington where we were lucky enough to be able to admire the amazing views despite the very cold wind…. Richard climbed to the highest point he could… We were so lucky with the weather – absolutely fantastic spot!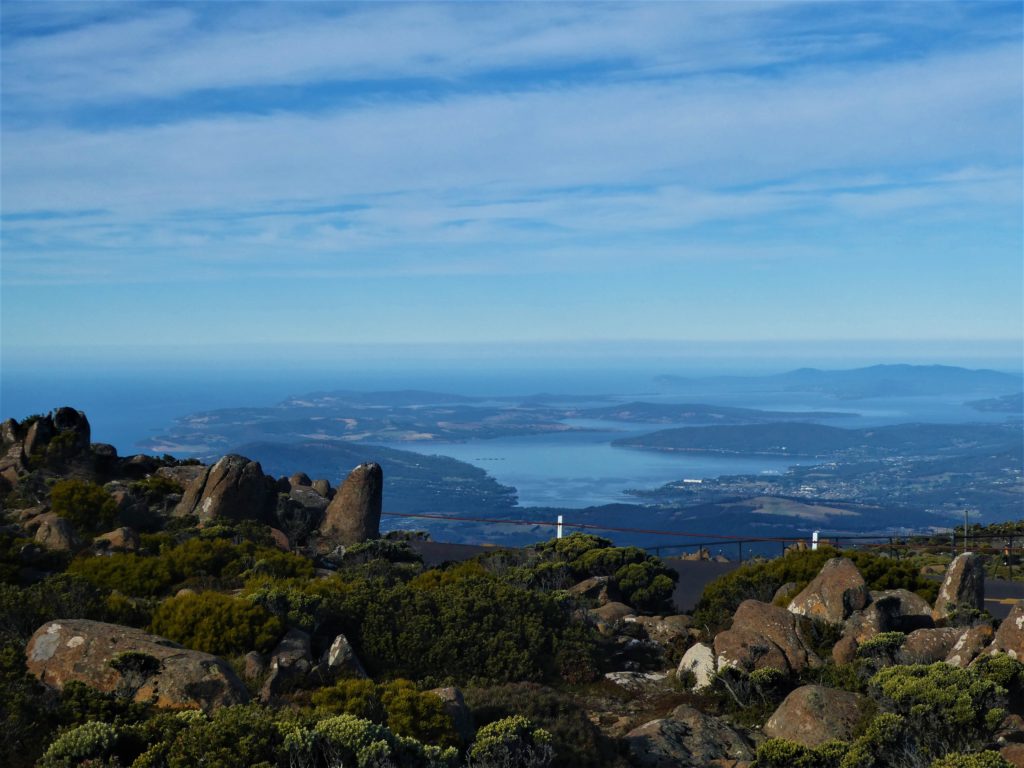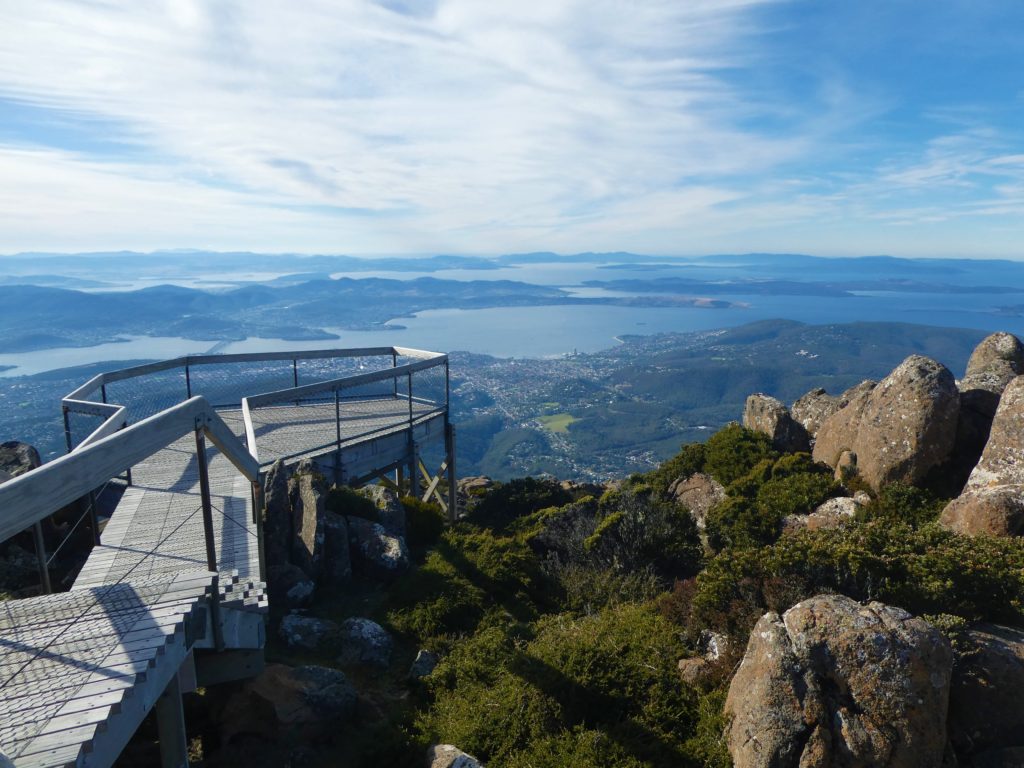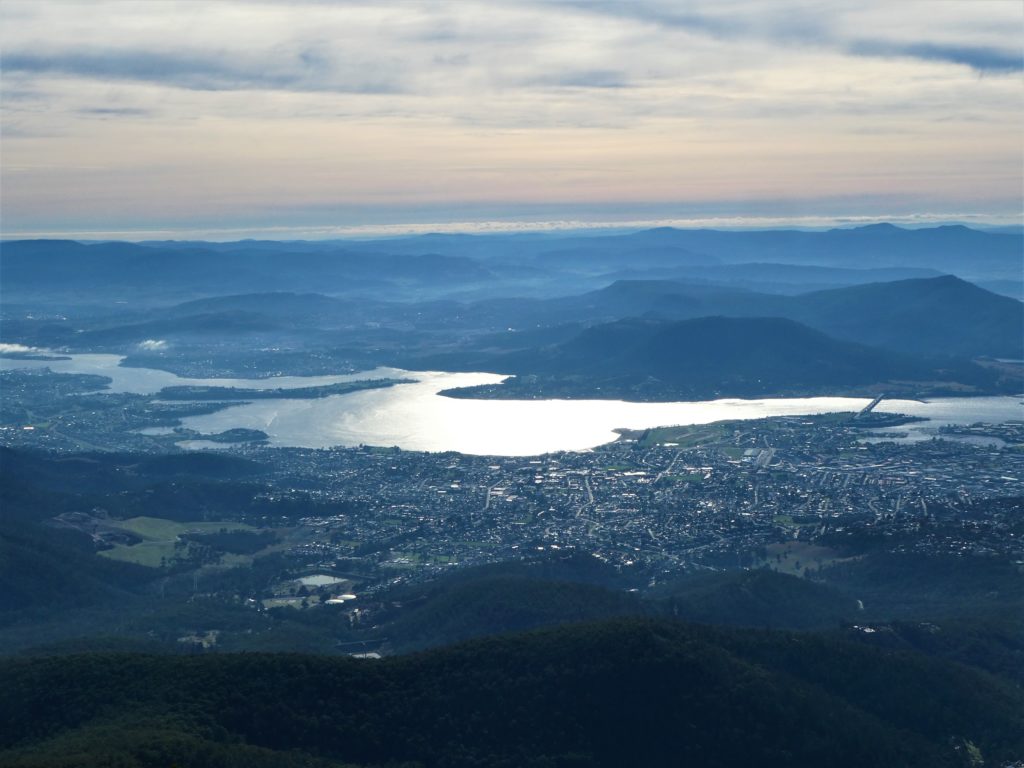 Leaving Mount Wellington behind we then drove towards Strahan – through mountains, chicanes, hydro-electric power stations, copper mines, feeling very at home with the names of the small towns and rivers as we navigated the five hour drive. We took it easy and thoroughly enjoyed the sights along the way although saddened by the amount of road kill of indigenous animals such as wallabies, Tasmanian devils and wombats….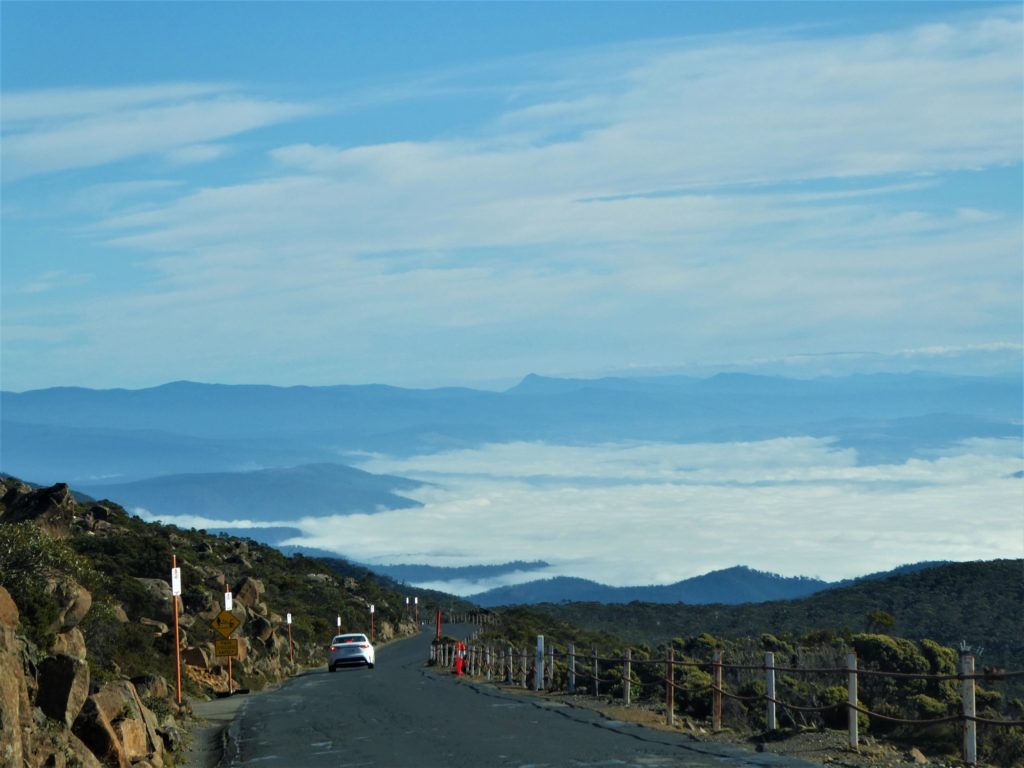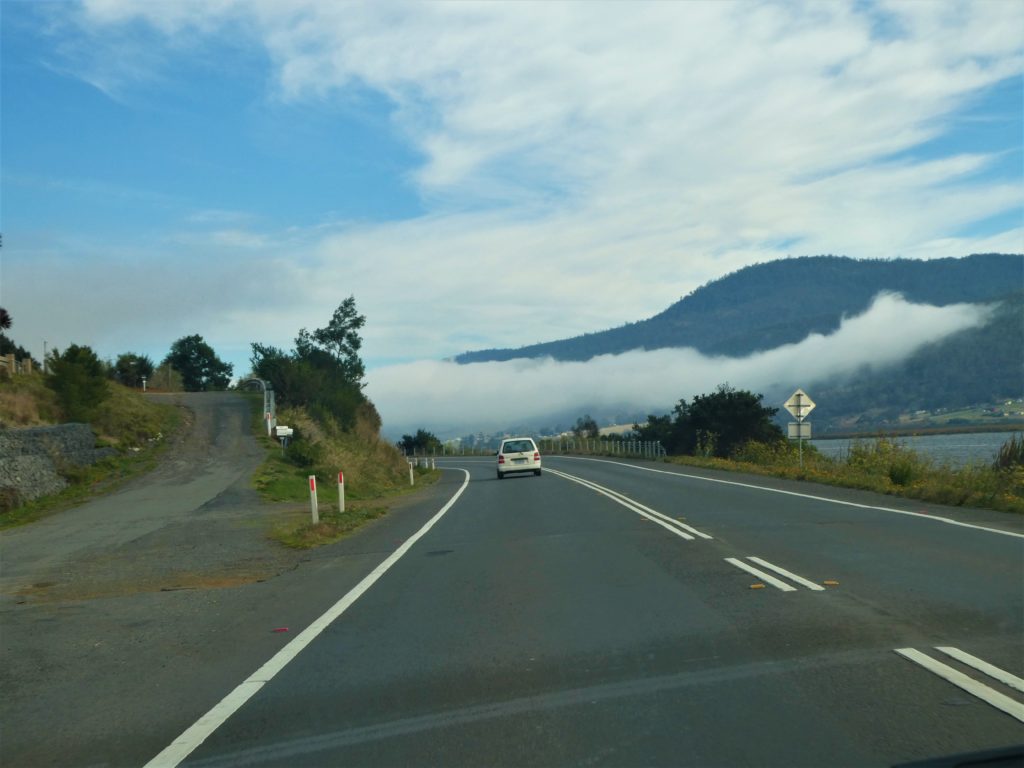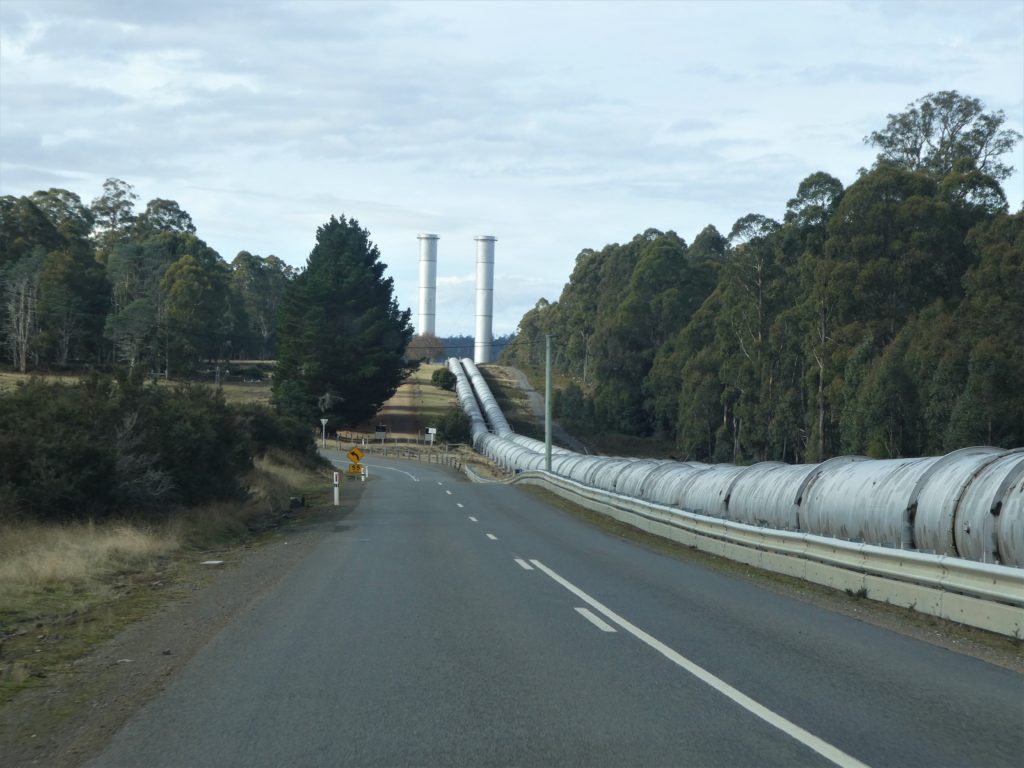 Arriving at Strahan Village, we checked into our hotel room which was within a lovely historic old building. The room was comfy and clean although was a bit shabby chic. We then wandered the old town, found out where to pick up our river cruise the following morning, and had a couple of drinks in Hamar's Bar and Bistro while we waited for a table to become available in the restaurant next door. Eventually we were paged so we had a simple meal before heading back to our room for an early night.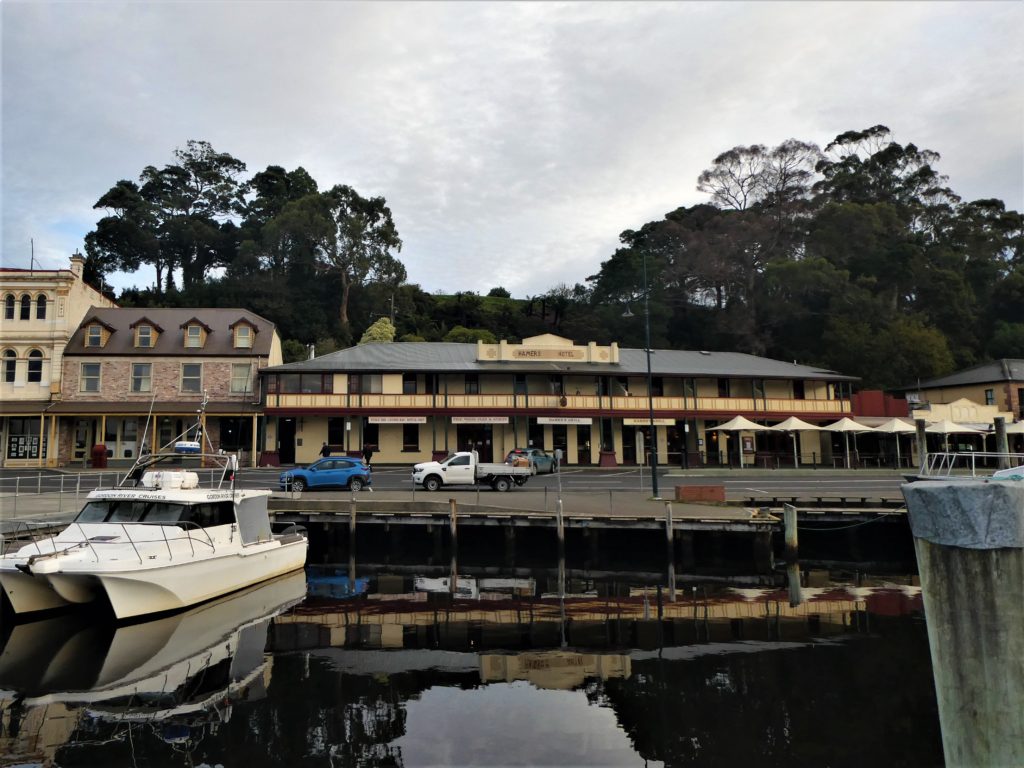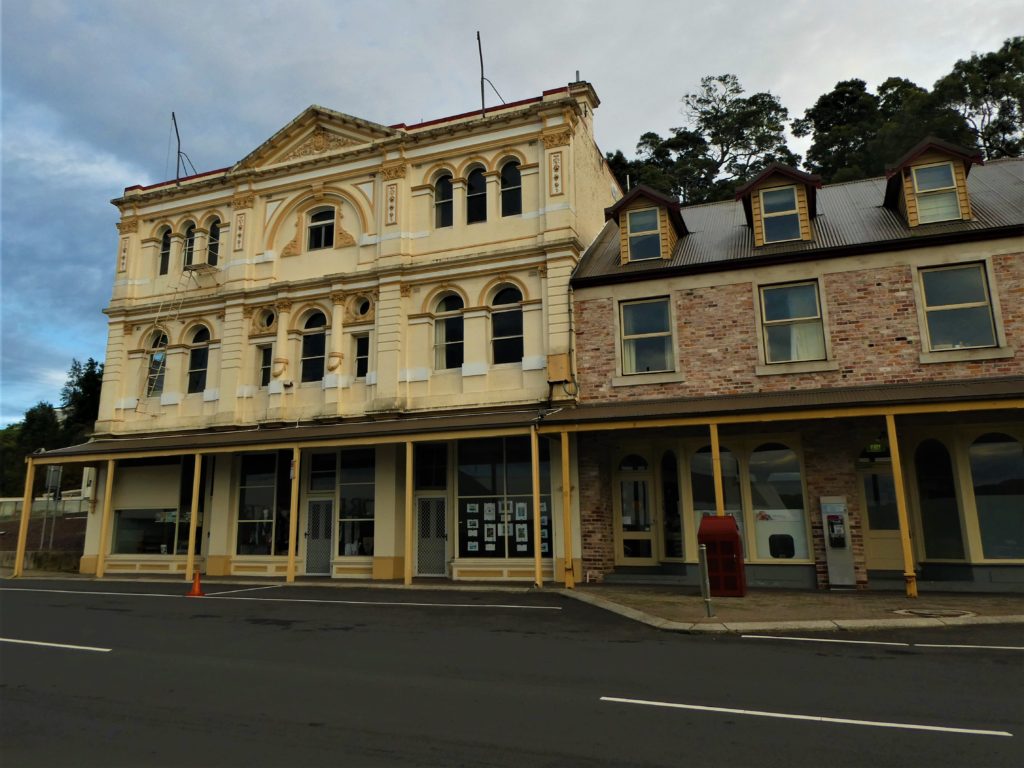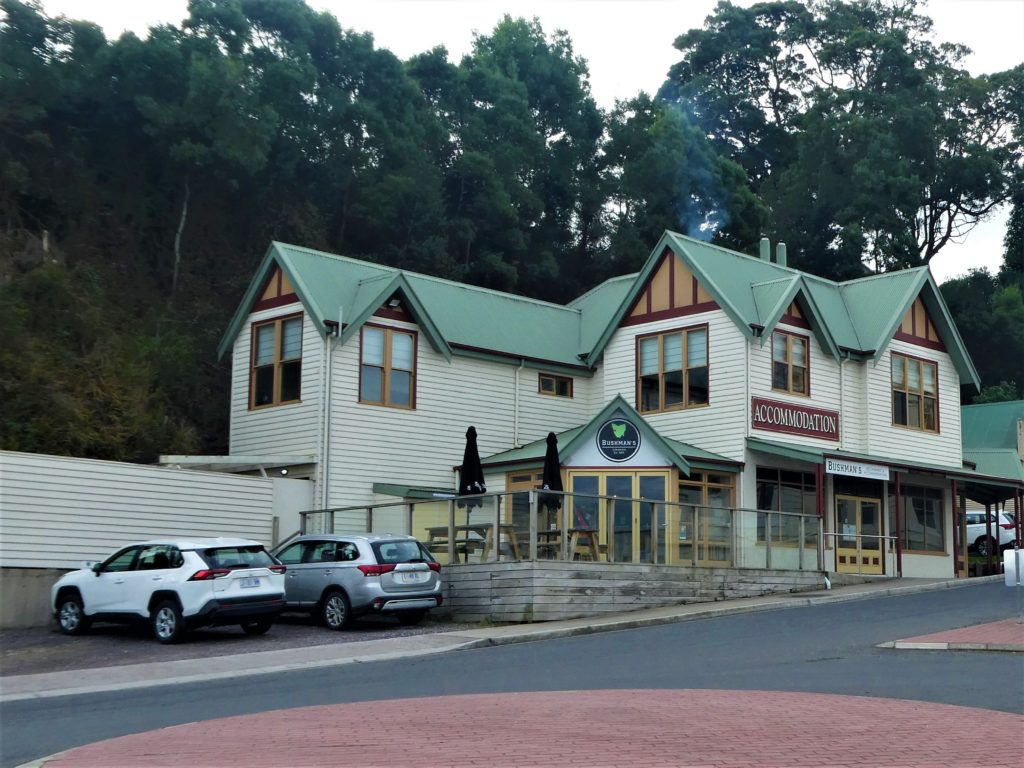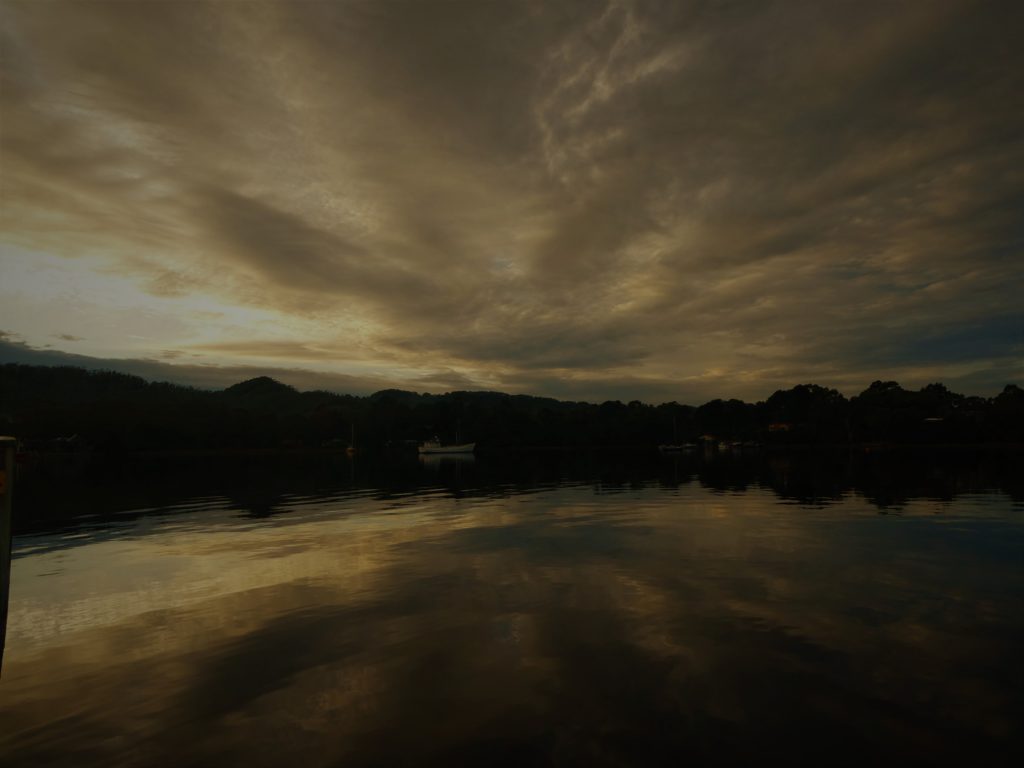 Thursday morning, up very early, we had breakfast at The Coffee Shack and then picked up our tickets for the cruise aboard the Spirit of the Wild catamaran up the Gordon River.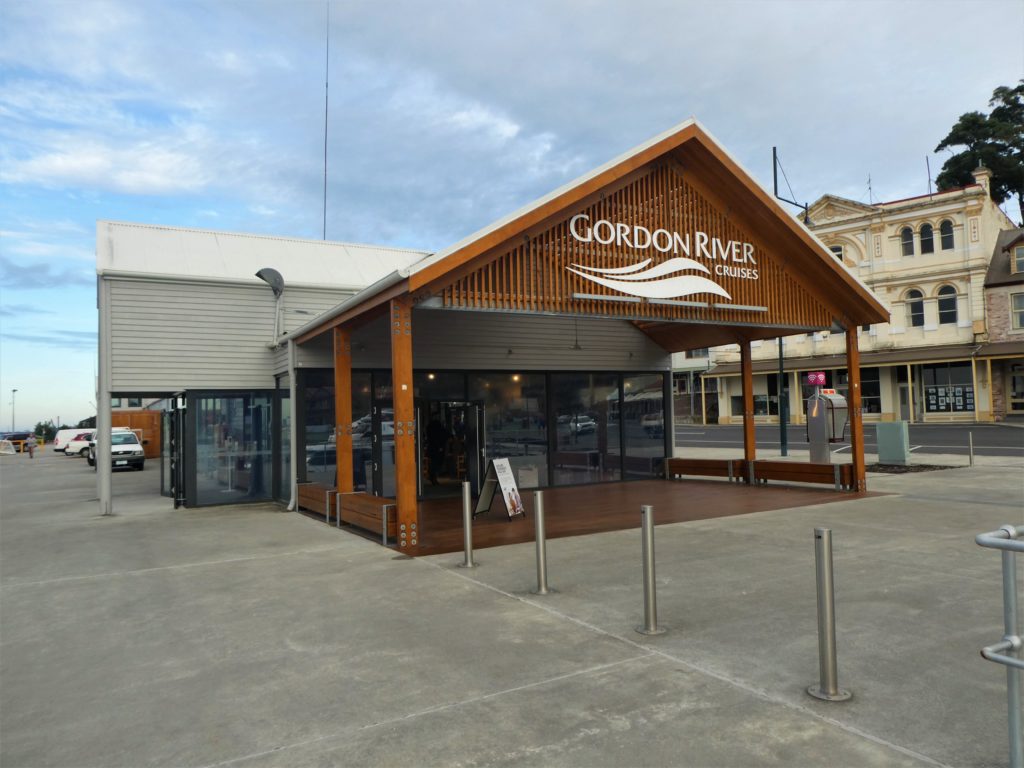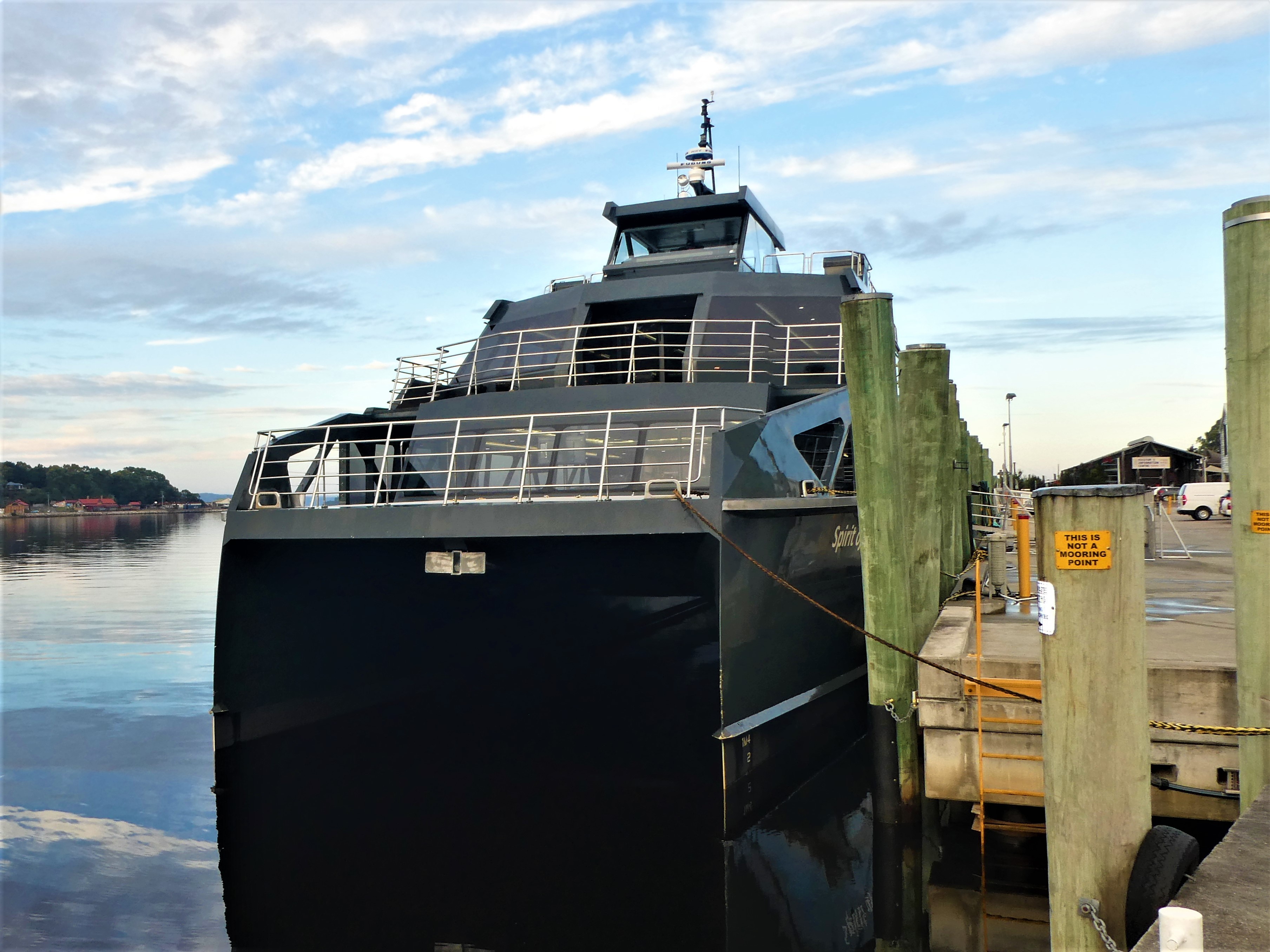 We boarded – allocated seats for the whole trip – and we left the dock heading first out towards the Southern Ocean.
The conditions were very cold but the sea state was serene with not much wind so we were able to stand outside on the bow as we navigated through the narrow channel at Hell's Gate and out from Macquarie Harbour into the Southern Ocean marvelling at the 3km long training wall to stop the entrance silting up which is an engineering marvel of the 1890s. OMG never thought we would do this so definitely another tick on the bucket list. Bearing in mind this was a very light wind and low swell day, check out the breaking waves… Can't imagine the horror of trying to make your way through this narrow entrance in a large tall sailing ship in bad weather, guess you can easily understand why they called it the entrance to Hell! Certainly there was significant loss of life from a number of shipwrecks here….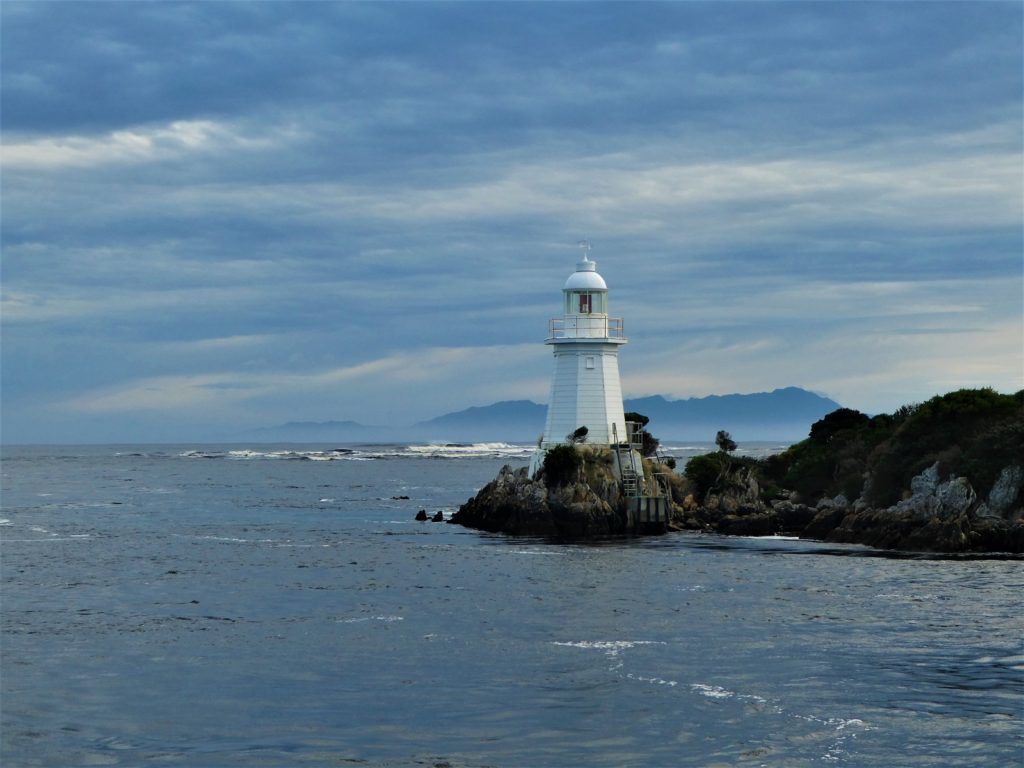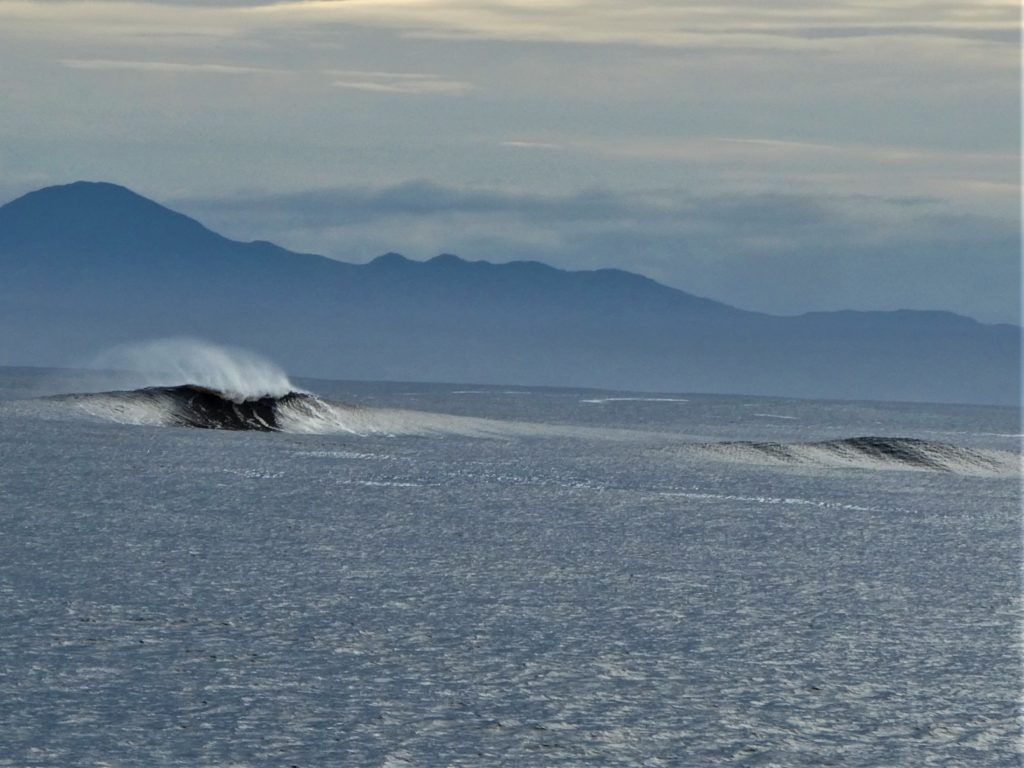 We stayed outside on the bow for far too long – getting really cold – but we didn't want to give up any of this experience! Once we had passed safely back through Hell's Gate into the Harbour we took our seats and warmed ourselves up with a hot chocolate… We then headed up the Gordon River during which we did a quick visit to the bridge to chat to the captain.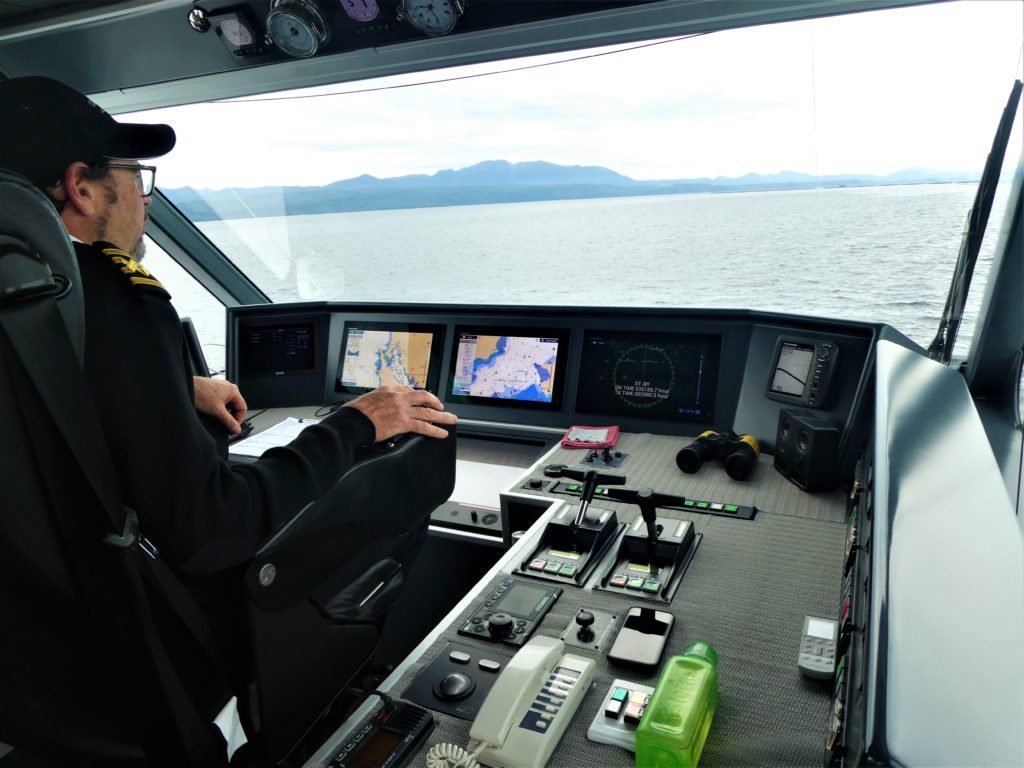 The captain then turned off the boat's diesel engines and we moved silently under generator power into the UNESCO Tasmanian Wilderness World Heritage Area learning about the history of this area.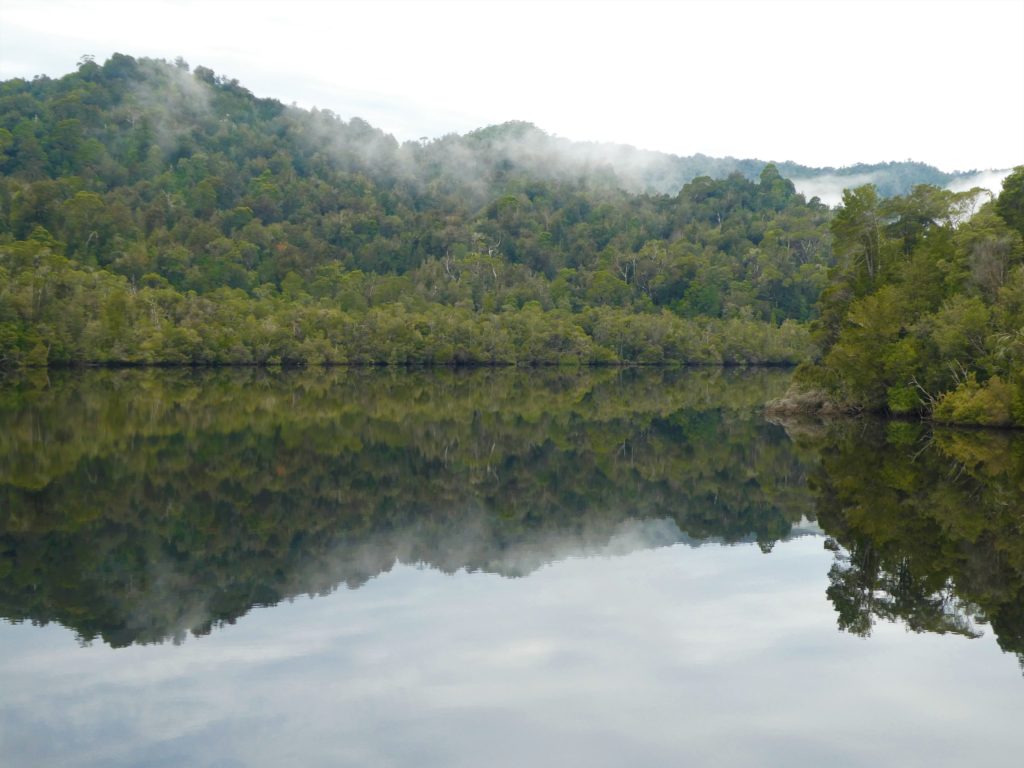 We then disembarked for a Nature Walk at Heritage Landing and did a boardwalk through the forest admiring the local flora and fauna. Amazing how mushrooms grow on the old wet tree trunks.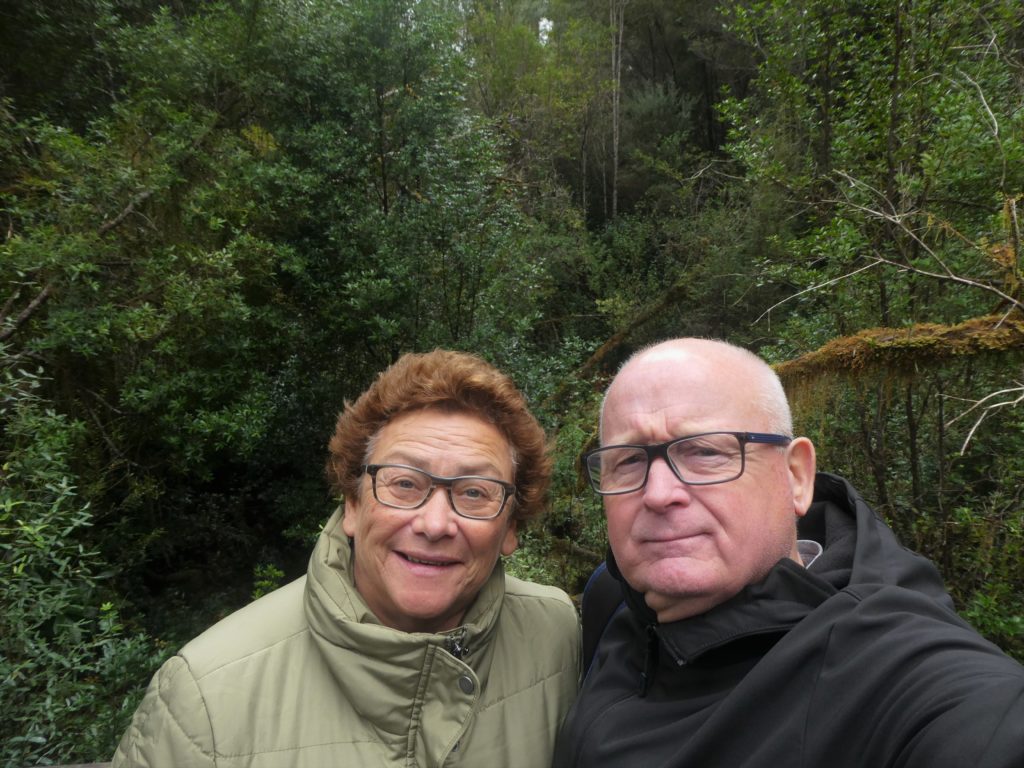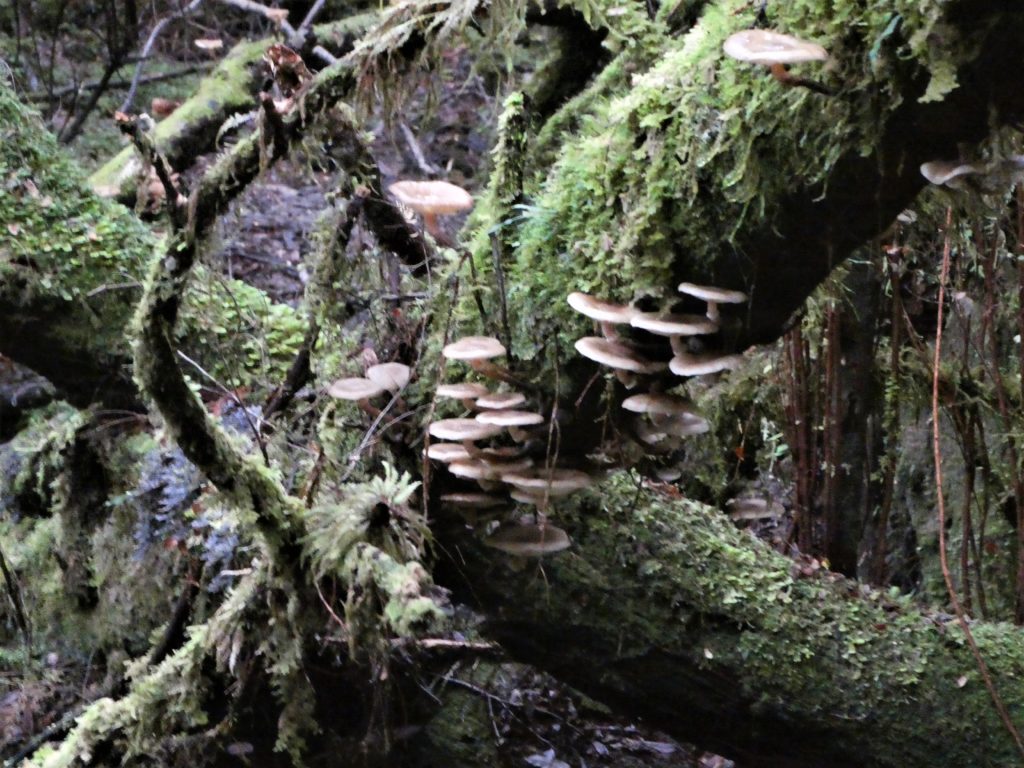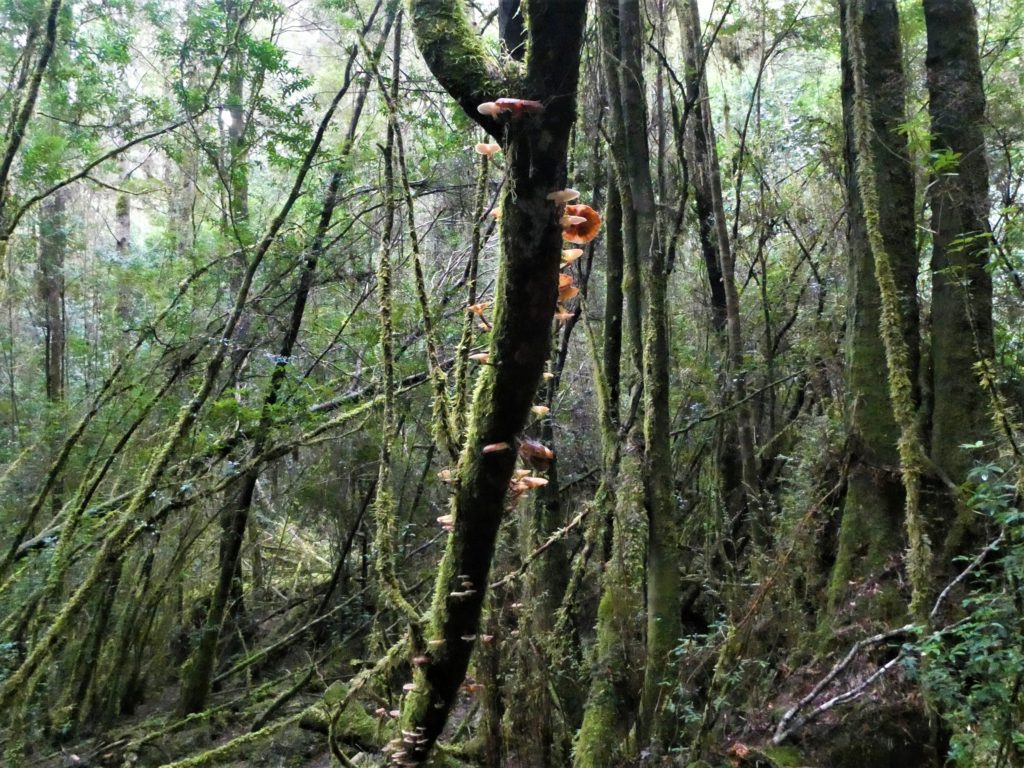 Leaving the rainforest behind we had a buffet lunch on board before we disembarked for a walking tour on Sarah Island which was Australia's first convict settlement at the bottom of the world This was guided and was really interesting although not a lot of the buildings remain it was clear to see how brutal and inhospitable this place (which doesn't even have a natural water source) would have been for both the convicts and soldiers alike. Sarah Island was primarily for convicts who re-offended in Australia after their original sentences had been served and, under the watchful eye of a shipbuilder, they were eventually utilised to build a large number of sailing ships out of local pine to service the colony.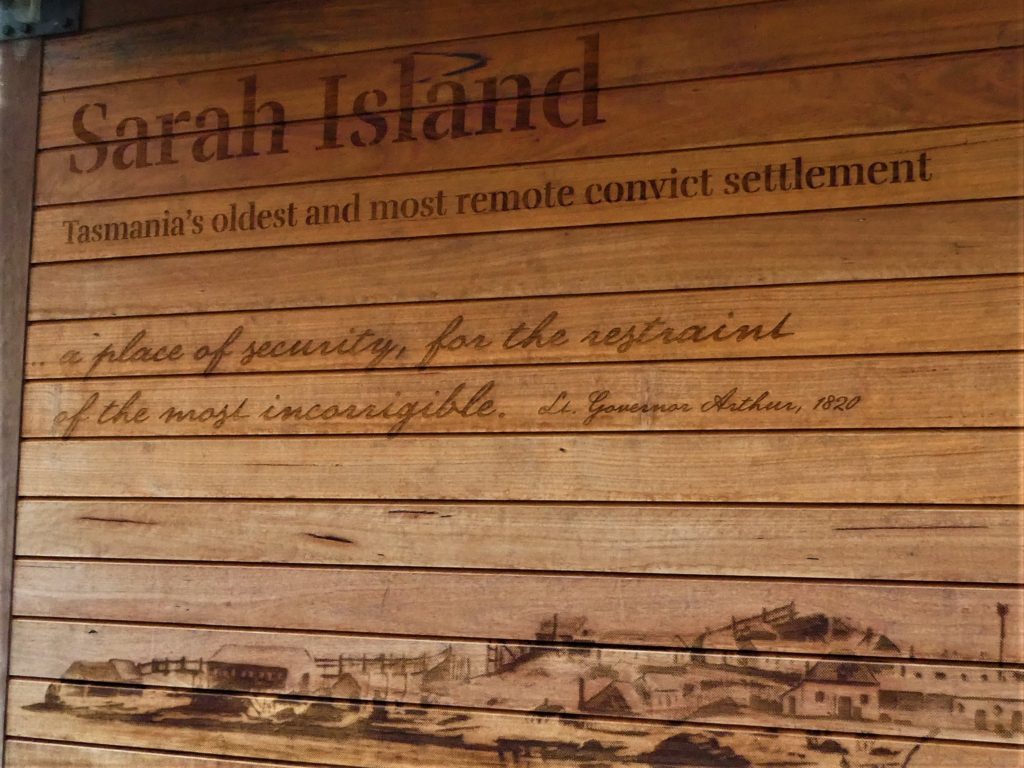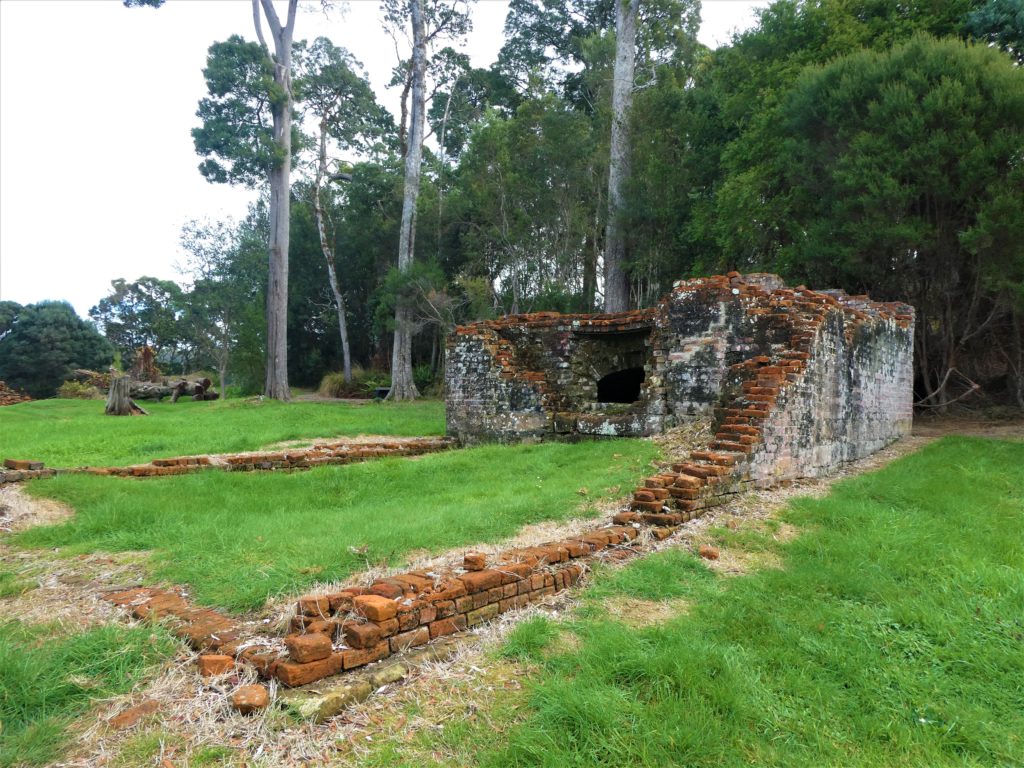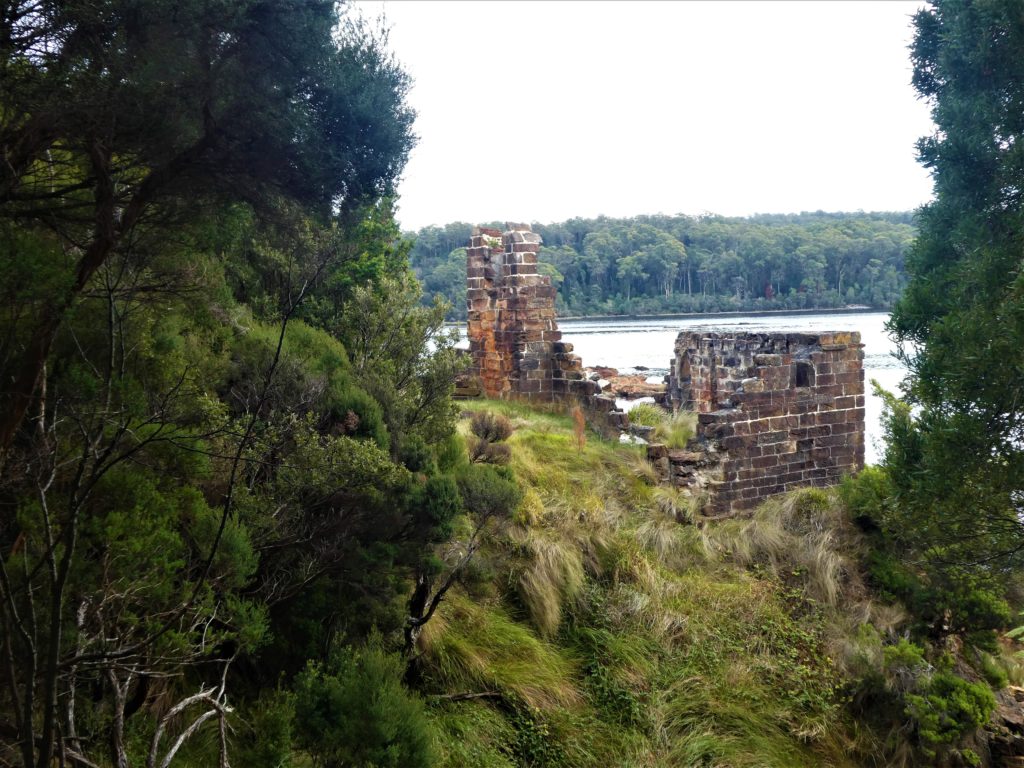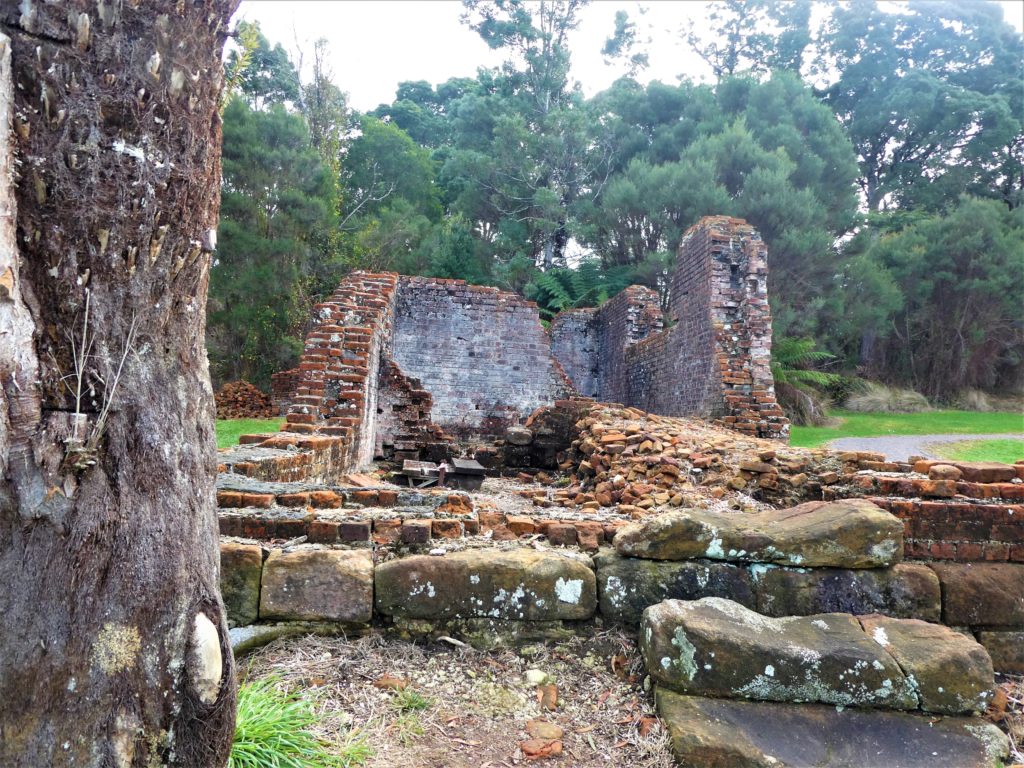 We then returned back to Strahan Village and visited the Huon pine shop which had some spectacular pieces of workmanship but, sadly, nothing that would fit in our luggage LOL. During our boat trip we had found out about a play called The Ship That Never Was which tells the dramatic and hilarious true story about the last Great Escape from Sarah Island in 1834. These convicts did actually steal the last ship before it was quite finished and, with hand pumps to keep the bilge dry as the boards had not been properly sealed, managed to sail all the way from Australia to Chile through the Southern Ocean (against the trade winds and current) where, eventually, they were recaptured and returned to Australia. An amazing feat!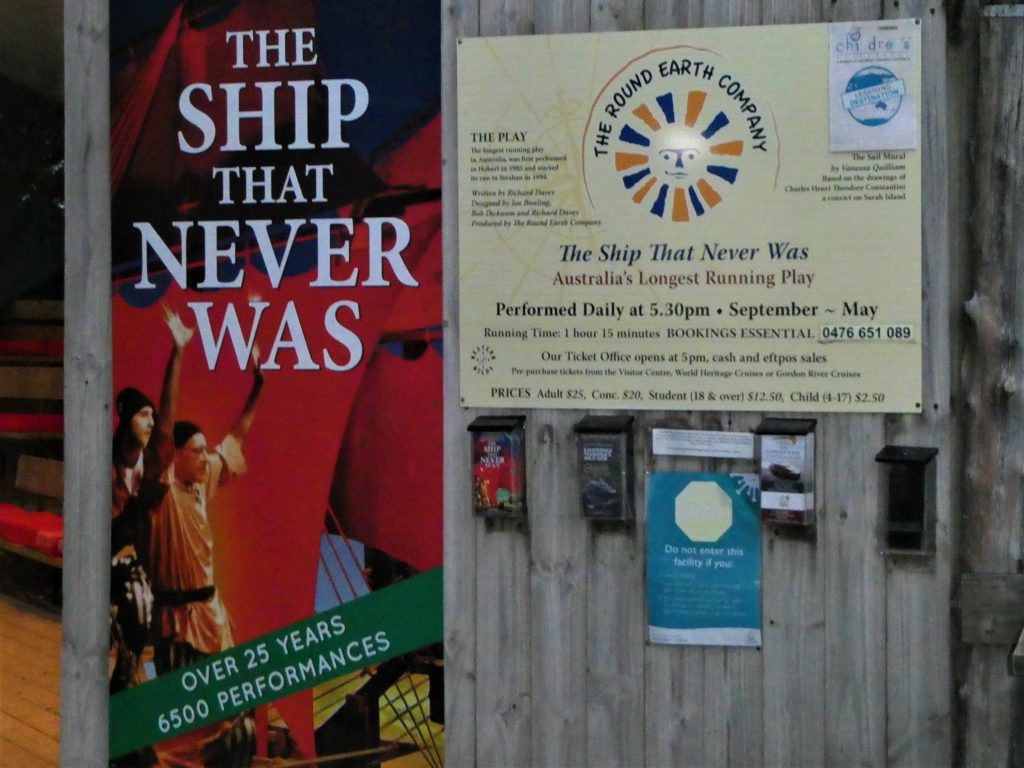 We purchased a couple of tickets and after a warming cup of soup in our hotel room we headed out to the open amphitheatre for the performance. We weren't expecting much, to be honest, but thought it would be a good way to spend a few hours. Well, we were blown away by the whole performance, including audience participation, where Richard was responsible for the often required rousing chorus of 'What Do You Do with a Drunken Sailor' during the performance. Absolutely hysterical and so much fun – would definitely recommend this to anyone who visits Strahan in the future.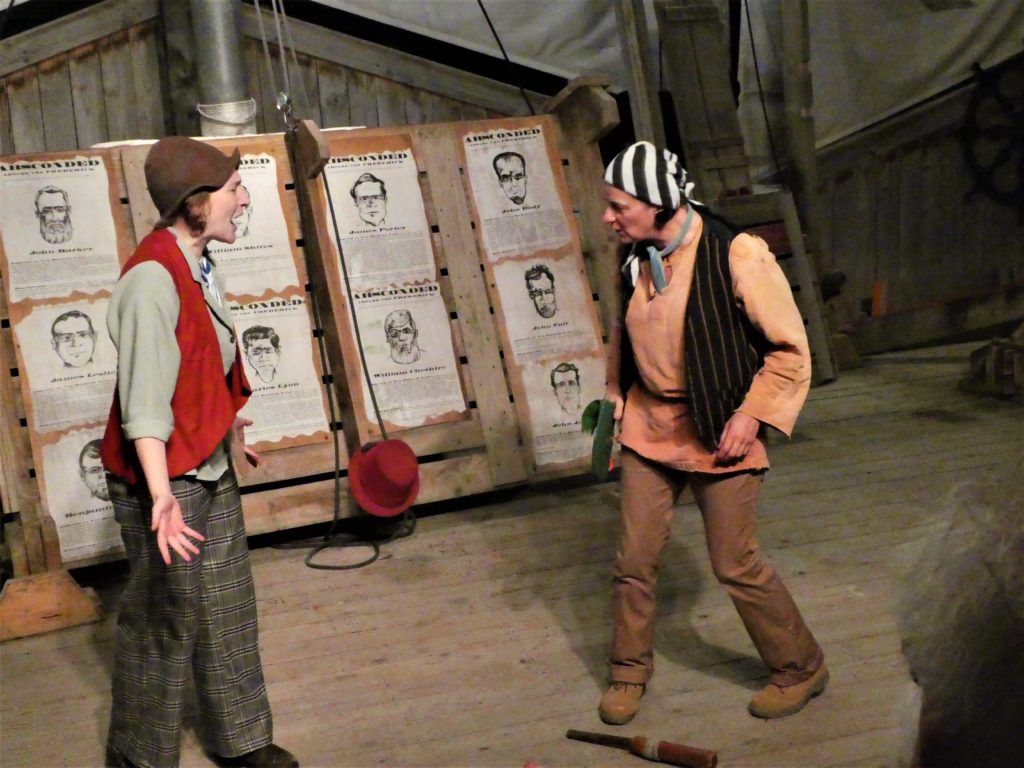 After the play we headed back to Hamar's Bar and Bistro for dinner before having another early night. Goodnight Strahan, what a great day!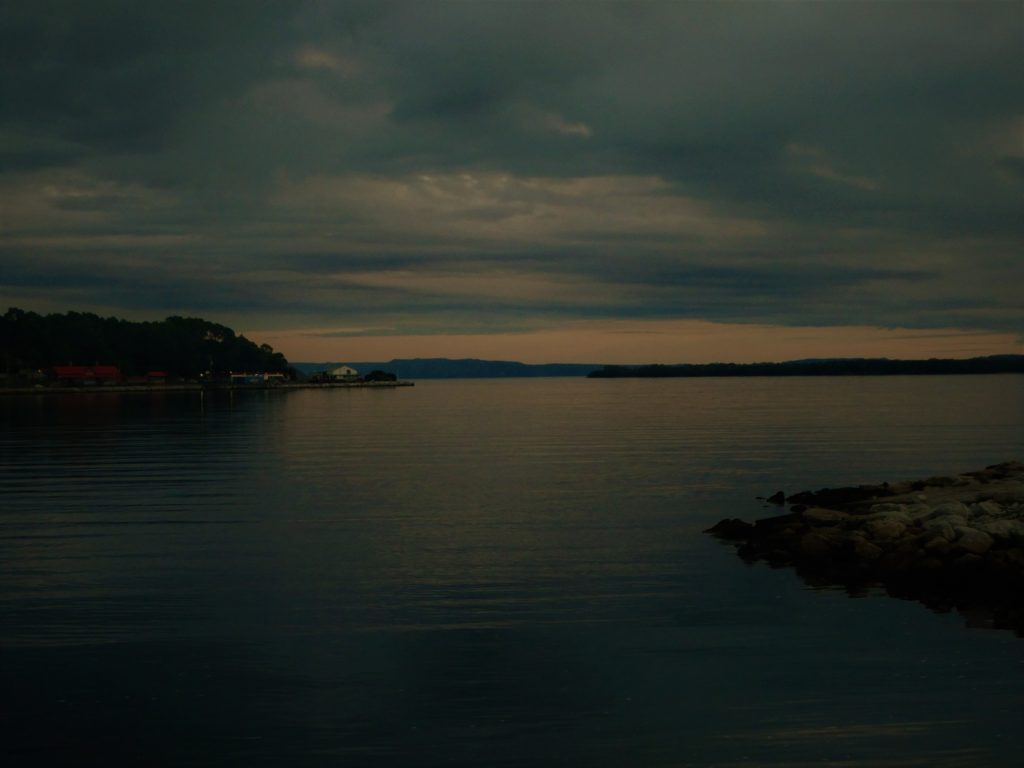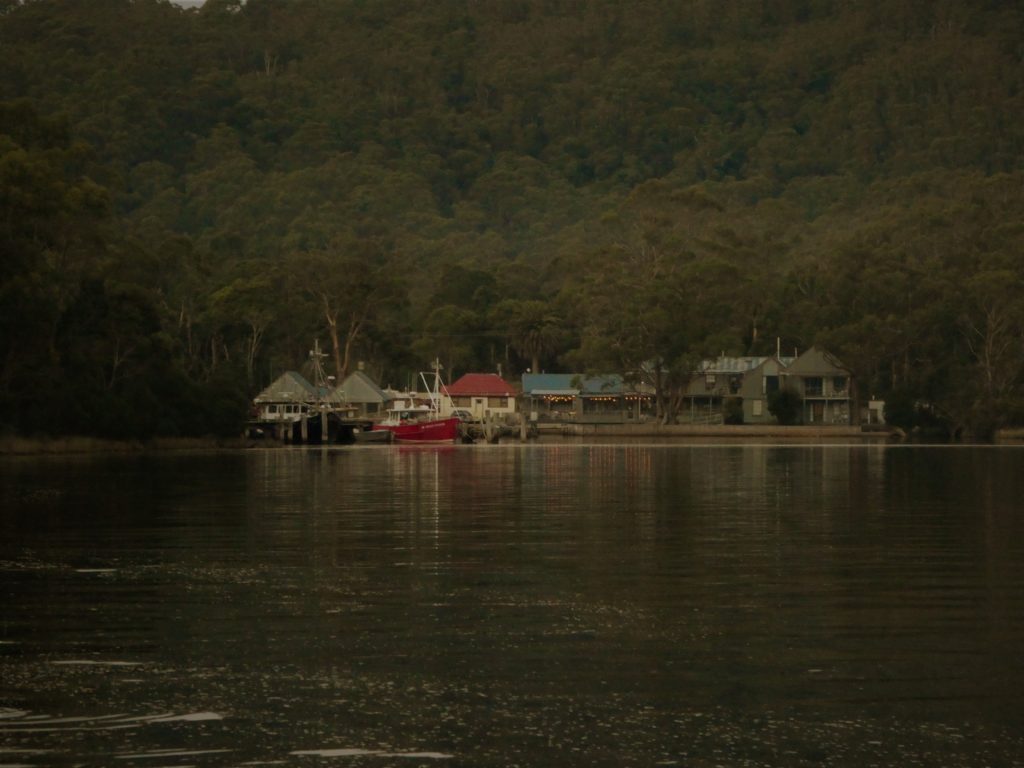 And that is as good a place to finish the first part of our amazing Tasmanian adventure. The second instalment will follow soon.
Bye for now, Jan