Sunday morning we met up as planned for breakfast and then wandered around waiting for a taxi to take us across the hill to White Bay. So, of course, we played in the hammock…
When we arrive at the Soggy Dollar it is a bit cloudy and a little overcast so we find some chairs tucked away at the top of the beach and set up camp. We chilled for a while – with Richard enjoying the hammock – and then we bobbed and had fun in the water.  There were showers but it didn't dampen our spirits – and we stayed out in the warm rain rather than rush for cover along with the rest of the day trippers.   Lunchtime we decided to try the little shack on the beach and had some fantastic ribs… Really tasty and a huge portion too!   We then carried on people watching – getting a bit annoyed when bobbing in the shallows by the arrogance of the day tripper skippers who just threw anchors out and expected us to get out of the way with very little warning.   It was sheer madness – someone is going to get hurt one of these days if they are not paying close attention. They even swore at us when we didn't move quickly enough…. Not impressed!   It was a very crowded and noisy day in White Bay…..
We returned to Great Harbour and went our separate ways – Carolyn and Ron retreating to their air conditioning while we returned to Morphie.   Later on – suitably refreshed and cleaned up – we headed off to Corsairs for dinner.   Was a mad night there too…   So loud and busy…. Don't know how JR coped with that many covers to cook for – despite that, the food was great as usual….
Monday morning and we were up early and headed in for breakfast temporarily getting distracted by the crane fishing from the dinghy and the pelican resting up on one of the motorboats tied to the dinghy dock…..
We were excited today as we were going out with Vinny and Lori for a spin in their new speedboat.   We confirmed arrangements and met up at noon – with Vinny and Lori wading out to prepare the boat before coming alongside the dock to pick us up.   Beautiful boat! We left Great Harbour at great speed – with the amazing sound system blaring out – and turned right to do a run through White Bay. What a sight…..beautiful.   We felt like rock stars – with people recognising Vinny and waving at us LOL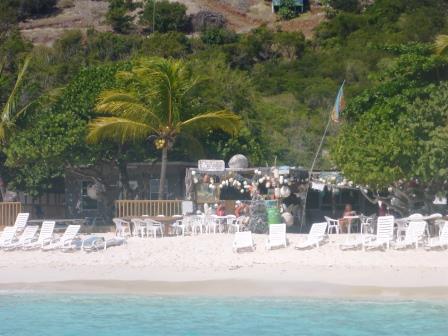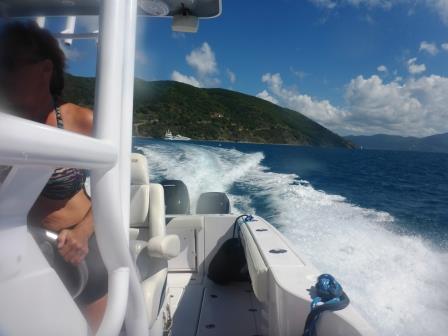 Then we powered up out of there and ran – at about 45 mph – down the cost of Jost to Little Jost…. We pulled up alongside the jetty and walked to the Beeline bar.   Met up with Jerry the barman – and we had a few hours having fun.   Was a great afternoon!   Then we had the fantastic return trip at speed back to Great Harbour.   Back on the dock we said goodbye for now to Vinny and Lori, piled into dink, and returned to Morphie for cheese and wine.   Richard then took Carolyn and Ron back to their guest house and we had a few hours recovering before heading back to shore for dinner.
Tonight was crew shirt night – so we headed into Corsairs and thanked Vinny once again for a wonderful afternoon. Was a real adventure and we all thoroughly enjoyed it!   We had dinner before wandering down to Foxys for a couple of drinks.   Ron met Foxy at the bar and when we turned around and they were having a man hug – not sure what all that was about LOL.   Anyway, after stretching our legs, we wandered back to Corsairs to catch up with the gang.   I don't think they had realised that we were not returning again for some time so there were sad farewells before we finally called it a night and headed back to Morphie.
Tuesday morning up bright and early preparing Morphie to go to sea – and Richard went and collected Carolyn and Ron.   After a quick breakfast on board we headed out – and, thankfully, there is wind! Hurrah!   And….so lucky…we have some south in it so we can actually sail pretty much the whole way.   We hoisted the sails – waved goodbye to Great Harbour – and sailed up the coast of Tortola…..   The wind was about 22 knots so we had a reef in both the genoa and the main and we made good speed at over 7 knots a lot of the way.
We then tacked to go behind Guana Island – took down the headsail – and then motor sailed through the cut between Great Camanoe and Little Camanoe.   Having got through there safely and passed the rocks marking the entrance to Trellis Bay we pulled out the genoa again and sailed alongside Beef Island into the Sir Frances Drake channel. Once we had a visual on Cooper Island we let Captain Ron take the helm and he did brilliantly, especially as it was a bit like the M25 out there LOL.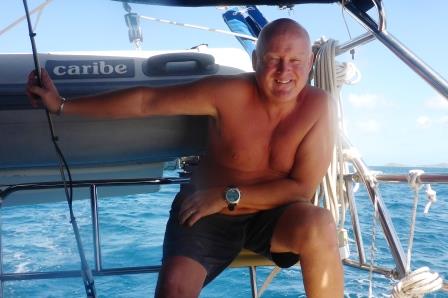 Arriving into Cooper Island and the mooring field is full – so we dropped anchor in 65 feet of water – and I stayed with Morphie while Richard took them ashore to check in.   When he came back a boat moved off and a mooring ball came free so we snapped it up.   We then went ashore to meet Carolyn and Ron and had some lunch.   I then went to visit their room – OMG – talk about leaving the best until last!   Fantastic huge four poster bed, sofa, balcony, private garden, anchorage views, massive showers…. you name it, they've got it!   Me, jealous, er YES!!!!!
Back on Morphie we rested up – feeling tired after all that sailing business – enjoyed a fantastic sunset and then went ashore for dinner.   Had dinner in the restaurant and then retired to the Rum Bar so that Richard and Ron could try out the special dark and stormys there before heading to bed.   Lovely day…..
Wednesday morning and a mooring ball closer to the beach came free – so we moved to it.   We relaxed on board, swam off the boat and then went ashore to meet Carolyn and Ron. We made camp on the beach – and, yes, Richard really is drinking coffee!!!! Then we were just about to go in the water when we realised that Morphie was swinging a bit close to another boat – so we went quickly in dink to check it out.   Luckily the charterers had been on board when this happened so they had fended Morphie off….   Because of the swirling currents here – and our long keel – we often swing the other way when there is no wind…..and not helped by the length of their line either. Never mind, no harm done, the other boat picked up and moved elsewhere and we took the mooring ball pennant on board to reduce Morphie's movement. Back on the beach and it started to rain – so we moved quickly to the bar to avoid the toxic sap from the manchioneel tree that we had been sitting under.
We weren't hungry – but Carolyn and Ron had lunch – and there is a new contender in the conch fritter competition!  Cooper Island was awarded the winning rosette nudging Soggy Dollar into second place…..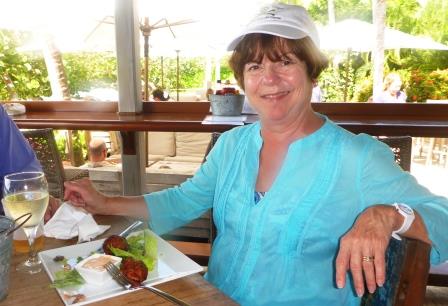 Later on, as the weather cleared up, we went bobbing again – this time with style and wine!   Had a great time before deciding to call it for the day.   We met up again later and had dinner in the restaurant.   Unfortunately the kitchen doesn't quite get it right at dinner time and we had to send Carolyn's tuna back – but the replacement was good. My lamb was great – the potato salad was dire!  Very strange flavour combinations here….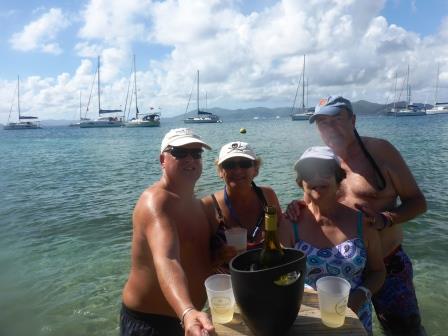 After dinner we retired to the Rum Bar for pontoonies again…. Richard and Ron again tried out the dark and stormys – their new favourite drink – and Carolyn and I made time for wine…..   Was a great end to a really nice day.
This morning up early to get this done – then we are going to meet up, have some retail therapy in the gift shop, and then enjoy our last full day together….
Bye for now
Jan